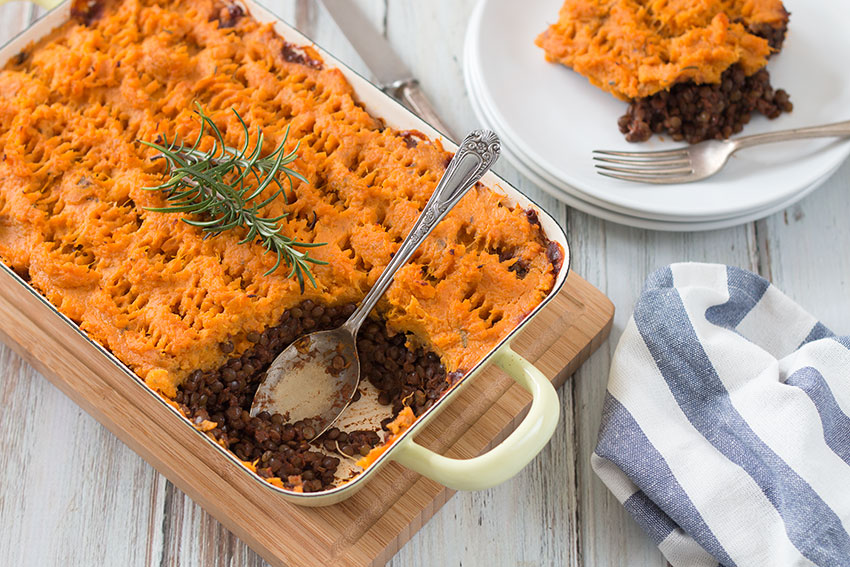 The Beast from the East has arrived
Today I woke up to a thick layer of snow on my balcony furniture, gone are the days where I could sit outside enjoying my cup of tea first thing in the morning. The beast from the East has arrived.
As I am watching the majority of people rushing into town wrapped up in their winter clothes, I spot a few lucky individuals who are already on their way home carrying a sliced pan like a trophy in front of them. As many of us weren't able to make their way into work today I thought I would keep you busy in the kitchen with some delicious and warming winter recipes.
I have also added an additional bread recipe for those of you who were staring at the empty bread shelves in the supermarkets today.
Put the apron and let's get cracking!
Apple & Cinnamon Baked Oatmeal makes a delicious and comforting breakfast which will warm you up from the inside out. It is vegan, gluten-free and packed with natural protein. What's not to love about this?
While it ticks all the health boxes it's also easy to make and will help you wake up your taste buds. Make a big batch and keep chipping away at it over the next couple of days. It will keep it in the fridge for 3-4 days.
You could also prepare it overnight in a slow cooker and you will wake up to the most amazing smell of cinnamon and apple.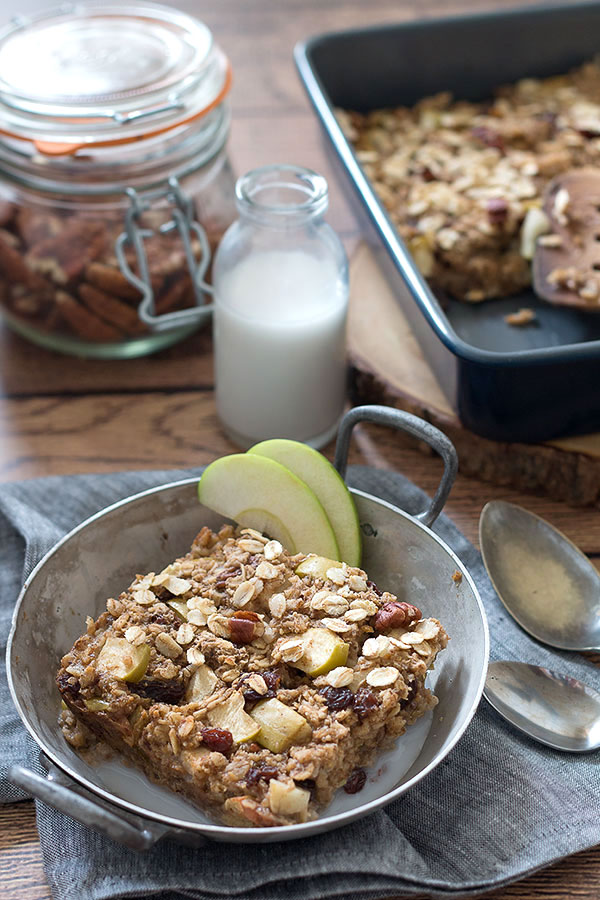 This warming Moroccan-Spiced Sweet Potato And Lentil Soup is a fantastic dish for cold winter days. While it is not only nourishing and bursting with oriental flavours it's also vegan and gluten-free. Trust me, this is a real crowd pleaser and your family and friends are going to love it.
My favourite things about Morrocan recipes are their intense flavour and spices. Every time I prepare this soup its fragrance reminds me of the buzzing market streets of a Middle-Eastern city.
Most likely, you won't even have to go to the shops because you will have most of the ingredients on hand. Lentils are rich in protein and fibre which makes it a very satisfying and filling dish. Get your apron on and show this dish a little love.
Vegan Shepherd's Pie With Sweet Potatoes, is a meatless and dairy-free version of the well-loved Irish classic. It's simple to make, delicious and perfect to help protect you from the cold outside.
The puy lentils used in this vegan shepherd's pie give it an earthy and meaty flavour, which lets most meat-eaters forget that it's vegan. Other than most lentil varieties, puy lentils don't need to be soaked in advance which makes them easy to work with and don't require any planning ahead.
Although it's a healthy version of the classic shepherd's pie it is a very filling and wholesome meal which easily serves up to 6 people.The rosemary and thyme add a slightly Mediterranean touch which blends nicely with the flavours of the sweet potatoes and coconut milk.
It's a fabulous dish for the entire family which neither breaks the bank nor requires an enormous amount of prep-work.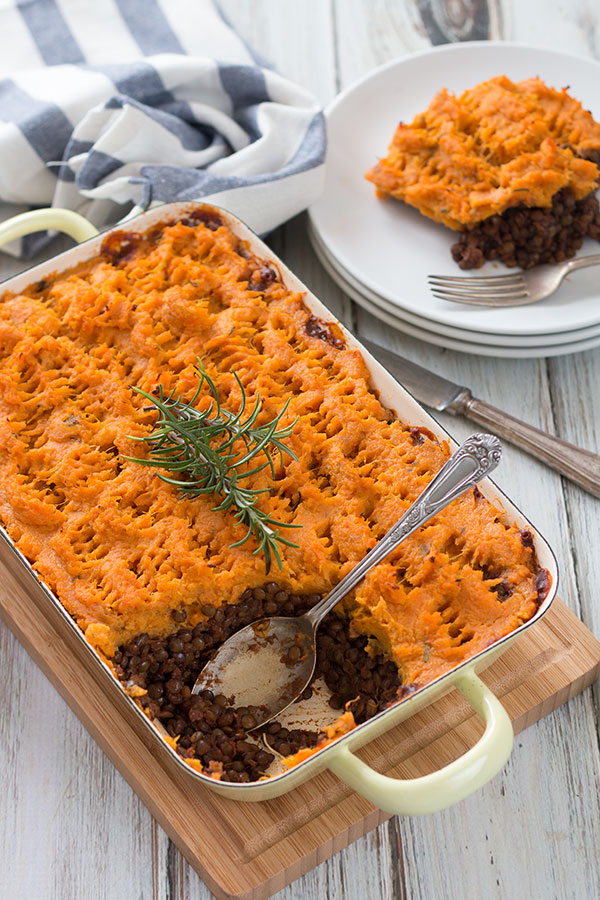 This cheap and easy chickpea and potato curry is the perfect weekday dinner. It is gluten-free, vegan and can be prepared in less than 30 minutes.
As a big fan of curries, they are my go-to option whenever I am looking for a quick, comforting lunch or to simply clear out my pantry.
You can get as creative as you like, there are no hard and fast rules. They are fabulous for meal prepping, therefore, I always make a big pot of curry and freeze the leftovers in individual portions to take them to work with me.
Look at that, how could you possibly resist a steaming hot bowl of this?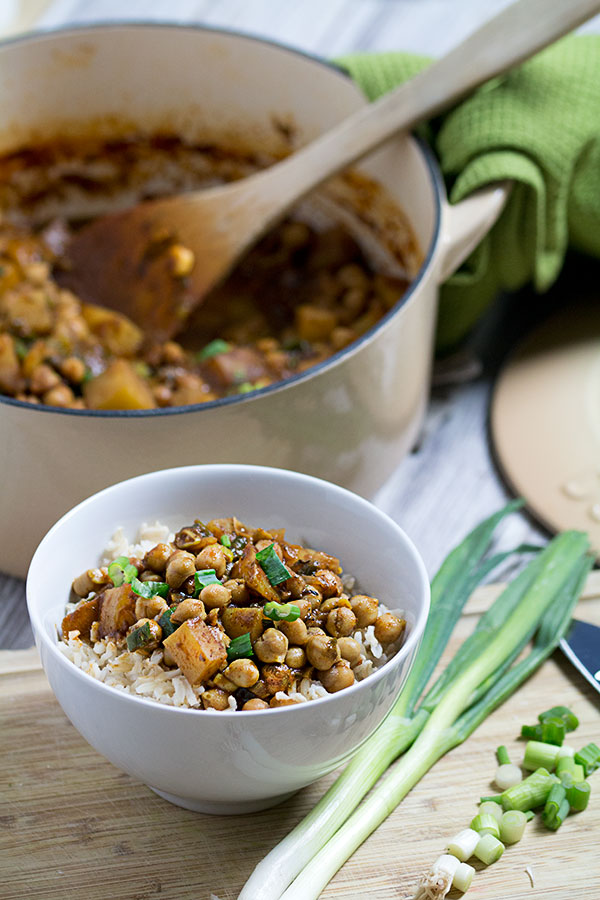 If the cold weather has already gotten to you, you should definitely give this Turmeric and Ginger Tea a shot. Ginger has a very long history of use in various forms of traditional/alternative medicine. It is potently aromatic with a warm, "zingy" essence, which has made it one of the world's most sought-after spices.
It has been used to
help digestion
reduce nausea
help fight the flu and common cold
aid weight loss
boost immunity
reduce pain
just to name a few.
Ginger and turmeric are particularly powerful used in tandem, such as in this turmeric ginger tea.
Turmeric Ginger tea is a fabulous all natural remedy for a nasty cold or sinus infection and is by far my favourite. If you don't just want to give your immune system a boost but also lift your mood, try this comforting Protein Hot Chocolate with Orange or Energy Boosting Green Smoothy.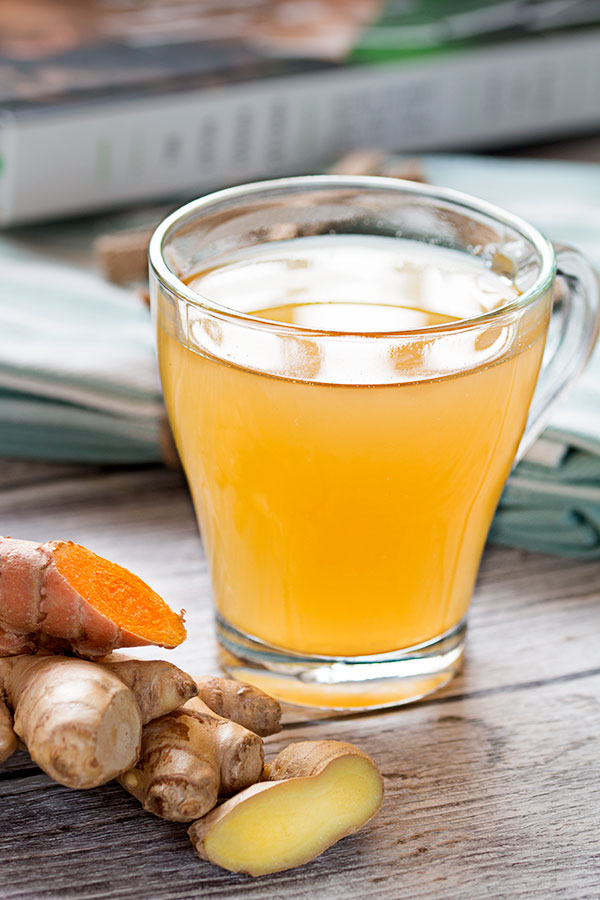 This is not a warming winter recipe as such but as all the shops have seemingly run out of bread and milk I thought I would throw in this flour-free, gluten-free bread recipe to give you a healthy alternative to snack on.
It certainly is very different to your regular sliced pan bread but don't knock it before you have tried it. Hands down, this is one of the tastiest gluten-free bread recipes I have ever made.
It's bursting with nuts and seeds which makes it extremely nutritious, high in protein and fibre. Best of all, it's fool-proof and doesn't require any form of kneading.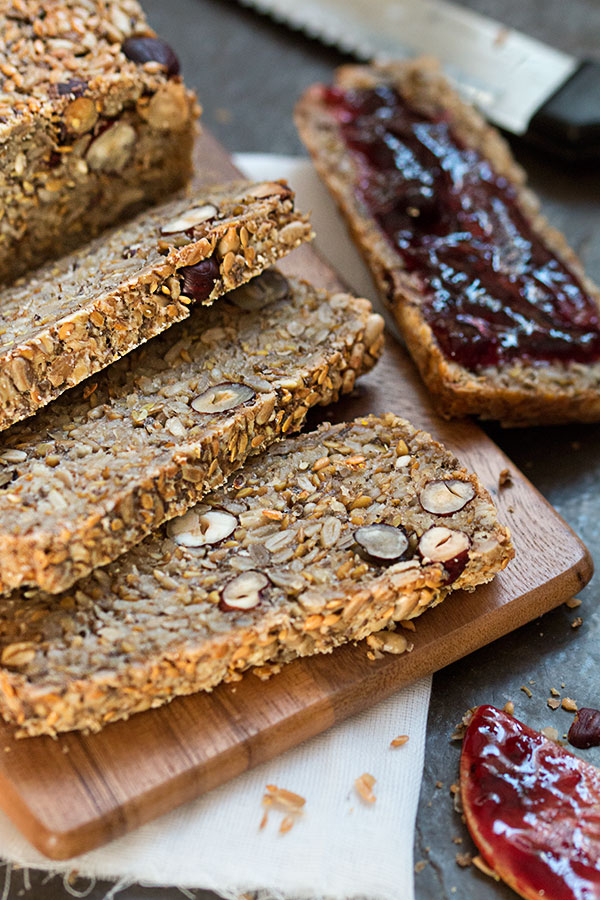 Your turn
What are you making to keep yourself warm for the next couple of days? I'm looking forward to reading your comments.
For more updates follow me on Facebook, Twitter, Instagram, Pinterest or subscribe to my YouTube channel!