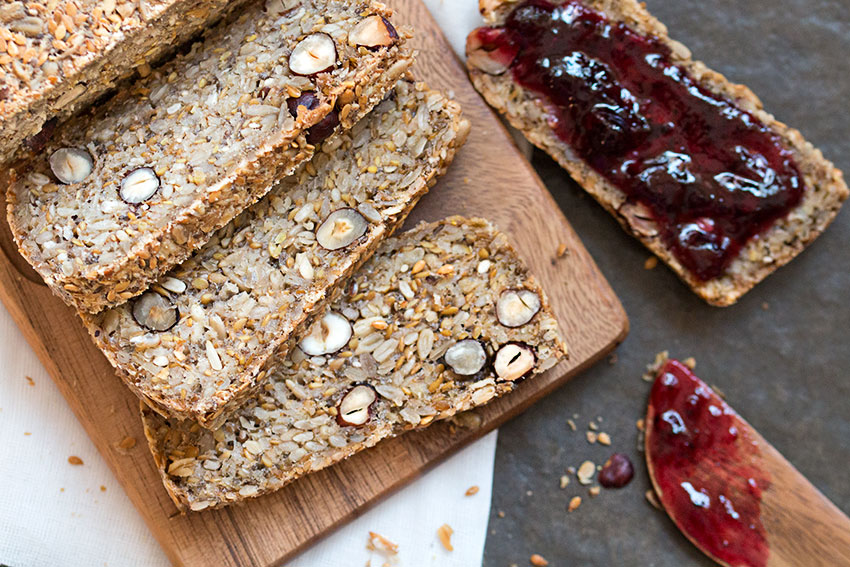 Best gluten-free bread recipe
This is hands down the best gluten-free bread recipe I have ever made. It is nutritious, high in protein, fibre and best of all, it's fool-proof. Most of you might know that I was born and raised in Germany and only moved to Ireland a couple of years ago. Whenever people ask me if there is something that I miss about Germany, I can certainly say it's the bakeries. Germans seem to have a sheer endless variety of bread with most of them being much moister and denser than the typical Irish white pan bread. Personally, I find it really hard to buy "real" bread nowadays, many loafs you find in the supermarkets have a longer ingredient list than my shopping list.
Have you ever asked yourself why the bread from the supermarkets lasts so much longer than the traditionally baked bread? The answer is very simple, it is full of additives and preservatives to make it last as long as possible. You might say: "Well, but it's so convenient to get and I am not a great baker anyway" but this "best gluten-free bread recipe" is as easy as it gets, no kneading or proofing and then, even more, kneading is required. You simply mix all the ingredients together, let it soak overnight and bake it the next day.
Usually, I slice up the entire loaf and freeze it in portions of 4 slices. Whenever I am craving a sandwich I take one of the little bags out of the freezer and defrost it in the toaster. You will notice the lovely, nutty smell of roasted seeds starting to fill your kitchen. It tastes simply divine, no matter if you prefer sweet or savoury toppings both work well.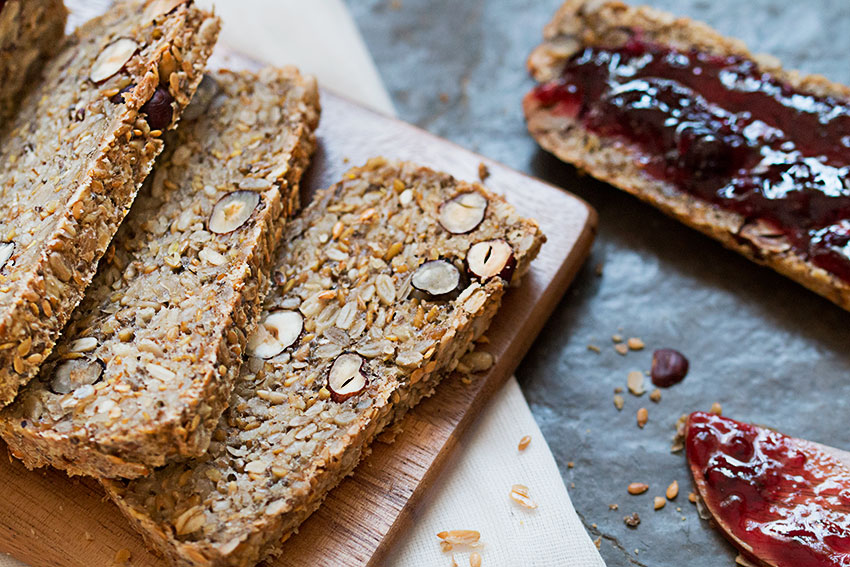 The difference between wholemeal and refined white flour
Would you know the difference between 100% wholemeal and a whole grain bread? You probably head to the supermarket thinking, I will do myself some good by buying whole grain bread instead of white bread but you might be surprised if you actually check the label.
A bread labelled as whole grain bread can still be mainly manufactured with white flour. It can be referred to as a whole grain bread simply because it may contain a few e.g. sunflower seeds. On the other hand, a company can only call a bread a 100 % wholemeal bread if it has been exactly made from a 100 % wholemeal flour.
Stoneground flour contains far more nutrients and fibre than white flour. During the refining process, white flour gets stripped off all its goodness. In many countries including Ireland, it's required by law to fortify refined flours with vitamins and minerals but don't be fooled, you will still be missing out on important nutrients and fibre. Most commercial white flour in the US is bleached, using chemicals like acetone peroxide, chlorine, and benzoyl peroxide.
Everybody seems to be in love with sourdough these days but yet again check the label carefully, you might be surprised to find out that in certain cases only sourdough flavour has been added. Using commercial yeast instead of real sourdough helps the manufacturer to cut the proofing time from 8-24 hours to a couple of minutes. Many people experience problems with bread not because they are intolerant to gluten but because of the way, it's manufactured. Buying your bread in a bakery doesn't necessarily mean that it has been manufactured the traditional way, ask your baker to be sure.
A traditional sourdough bread like this Sourdough Rye Bread Recipe will only ever call for 3 simple ingredients, water, flour and salt, no nasty commercial yeast, additives or preservatives required. Learn how to make your own sourdough starter, it's so simple.
Like it? Pin it!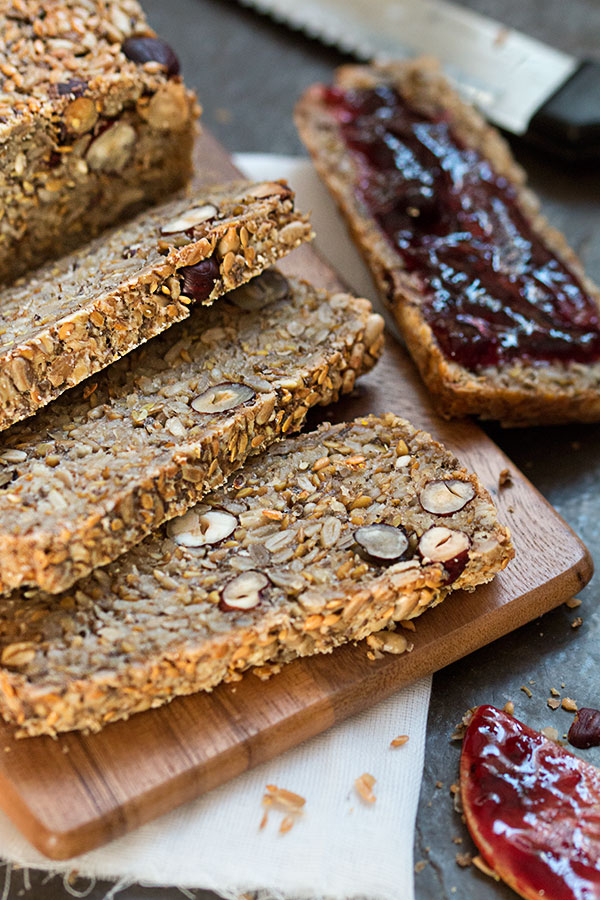 Is this gluten-free bread really healthy?
The simple answer, unless you are being intolerant to any of the ingredients is, yes. You might have noticed that this recipe isn't calling for any flour but how is this possible you might ask. The answer is psyllium husk. Psyllium husk can absorb 10- times its weight in water and therefore functions perfectly as a binder. In case you have never heard about this fibre, it is a real multi-talent, it may help you to:
to reduce cholesterol levels
aid digestion and weight loss
alleviate diarrhoea and constipation.
Many high protein breads use a lot of eggs which rules them out for vegans, I'm delighted to inform you that this "best gluten-free bread recipe" is fully vegan.
Feel free to experiment with different ingredients to adjust it to your own liking, as long as you stick to the measurements you should be fine.
Your turn
Are you baking your own bread and which one is your favourite? I'm looking forward to reading your comments.
For more updates follow me on Facebook, Twitter, Instagram, Pinterest or subscribe to my YouTube channel!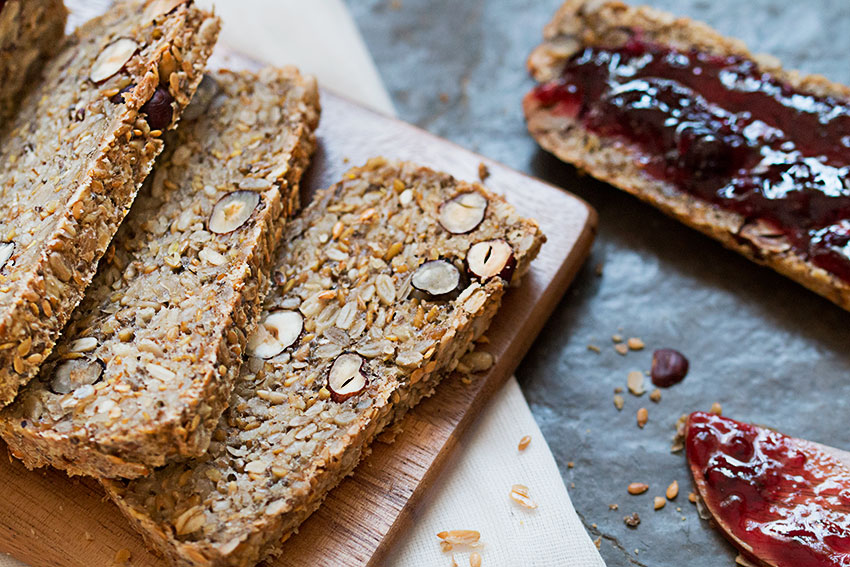 Print Recipe
Best Gluten-Free Bread Recipe
This gluten-free bread recipe is nutritious, high in protein, fibre and best of all, it's fool-proof.
Instructions
In a medium-sized bowl, combine all the dry ingredients. Whisk together the maple syrup, melted coconut oil and water in a measuring jug.

Add the wet ingredients to the dry ingredients and stir until well-combined. If you have the feeling that the dough is too thick for stirring simply add another 1-2 teaspoons of water.

Pour the mixture into a greased and parchment paper-lined loaf tin and let soak for at least 2 hours or even better overnight.

Preheat the oven to 350°F/175°C.

Place the loaf pan in the oven on the middle rack, and bake for 20 minutes. Remove bread from the loaf pan, place it upside down directly on the rack and bake for another 30-40 minutes. The bread is done when it sounds hollow when you tap it.
Nutrition
Calories:
154
kcal
|
Carbohydrates:
11
g
|
Protein:
4
g
|
Fat:
11
g
|
Saturated Fat:
2
g
|
Sodium:
140
mg
|
Potassium:
142
mg
|
Fiber:
5
g
|
Sugar:
1
g
|
Vitamin C:
0.3
mg
|
Calcium:
42
mg
|
Iron:
1.3
mg
This recipe has been adapted from The Life-Changing Loaf of bread which was created by nutritionist Sarah Britton.