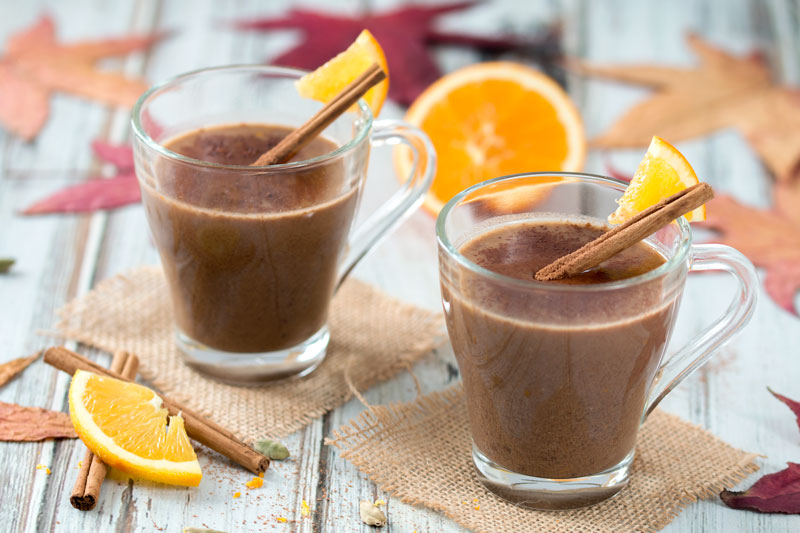 This super creamy Protein Hot Chocolate with Orange will provide you with some warming comfort on these cold winter days. In my opinion, chocolate and orange is a match made in heaven which is hard to beat. Best of all it is vegan, gluten-free and healthy, yes, you read that right, it is healthy. It is full of antioxidants, protein, fibre, magnesium, iron and calcium, are you wondering how this can be?
Two reasons, one is that I used cacao powder instead of cocoa powder and the other reason, I added Linwood's Hemp+ Protein powder. All its protein is plant-based and comes from natural sources like hemp, flaxseed, chia seed, cocoa and beetroot powder. It also contains a range of vitamins and minerals. It also works great with Apple & Cinnamon Baked Oatmeal. This protein hot chocolate with orange recipe has been created in collaboration with Linwoods Healthfoods.
How to make Protein Hot Chocolate with Orange
Recently, I have been feeling a bit unwell and I will have to undergo sinus surgery this week, therefore I have been a bit whiny lately. I hate to admit it but when I am sick I turn into a big child and what could be comforting and uplifting than drinking a hot chocolate?
When it comes to homemade hot chocolate I am very picky and I find the creamier the better. For this hot chocolate recipe, I used regular coconut milk if you prefer it less cream you can use a light version or add some non-dairy milk to dilute it. Try using almond or oat milk both work really well. Keep in mind that the flax- and chia seeds in the Hemp+protein powder will add some additional creaminess.
Even though there isn't much science to making a hot chocolate there are a couple of things to consider if you want to maintain its nutrient profile as high as possible. Other than minerals, most vitamins are easily damaged by heat, therefore you want to make sure to add the orange juice and protein powder at the very end after it has cooled down a bit. Technically, you could drink it straight away but I recommend putting the lid on and letting it infuse for another 10 minutes.
This way it will set free all the delicious aromas and flavours of the cardamom and orange zest. After 10 minutes, you can add the orange juice and protein powder.
If you are suffering from a cough or cold you should also check out my Turmeric and Ginger Tea it is a real immunity booster.
Benefits of Cacao vs Cocoa
Initially, it might seem like the only real difference between cacao and cocoa is the spelling. But there's a little more to it than that…
Raw cacao offers amazing health benefits for your entire body! The Incas considered it the drink of gods, an association that gave rise to the scientific name of the cocoa tree, Theobroma cacao, from the Greek words theo (god) and broma (drink).
Cacao can refer to any of the food products derived from cacao beans – the seeds or nuts of the cacao tree. Cocoa looks the same but it's not.
Cocoa powder is raw cacao that's been roasted at high temperatures. Sadly, roasting changes the molecular structure of the cocoa bean, reducing the enzyme content and lowering the overall nutritional value. Cacao powder is known to have a higher antioxidant content than cocoa and has been linked to a variety of health benefits. The sugary cocoa powder you find in supermarkets will do you more harm than good, keep this mind.
Cacao is believed to improve heart health, cholesterol, stress levels, and inflammation, to just list a few advantages. It also releases anandamide, endorphins, phenylethylamine, and serotonin, into the brain which helps lift your mood.
Unbelievable that all this satisfying goodness comes from a simple, creamy hot chocolate. It's no wonder the Spanish called it "black gold."
Another very comforting recipe in the runup to Christmas is my Magical Vegan Gingerbread Mousse but I am afraid you can't expect any nutritional wonders from it.
Your turn
What is your favourite drink to warm you up? Let me know, I'm looking forward to reading your comments.
For more updates follow me on Facebook, Twitter, Instagram, Pinterest or subscribe to my YouTube channel!
Like it? Pin it!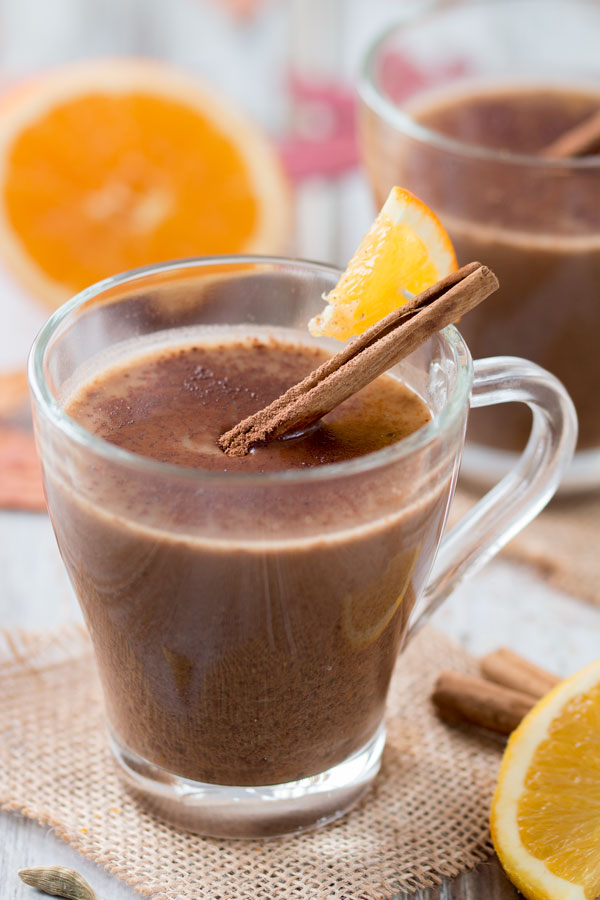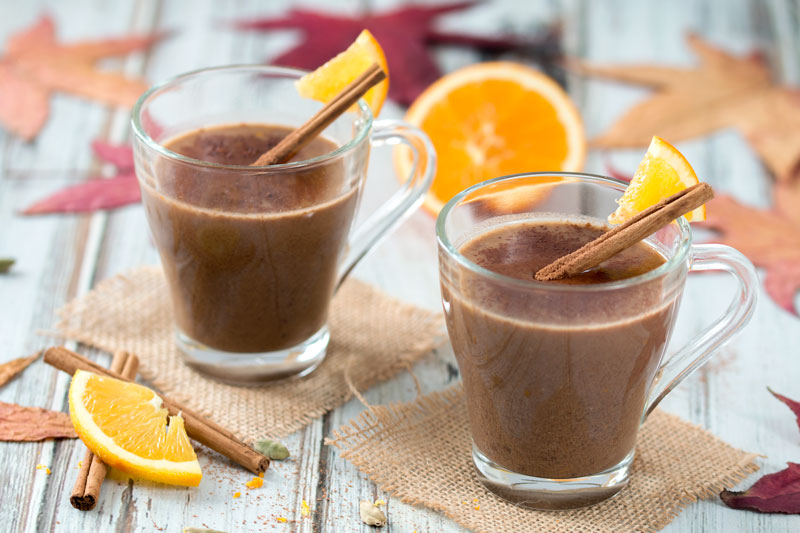 Print Recipe
Protein Hot Chocolate With Orange
This healthy Protein Hot Chocolate with Orange will provide you with some warming comfort on these cold winter days. Chocolate and orange are a match made in heaven.
Instructions
Pour the coconut milk into a small saucepan, add the cardamom, cinnamon, vanilla extract, orange zest and bring to a simmer.

Once it's simmering stir in the cacao powder, take it off the heat and allow it to cool and infuse for a couple of minutes.

Now add the in the Hemp+ Protein Powder and orange juice, enjoy.
Notes
If you prefer it less creamy you can use light coconut milk instead of regular coconut milk or add a bit of almond milk.
Nutrition
Calories:
416
kcal
|
Carbohydrates:
11
g
|
Protein:
6
g
|
Fat:
41
g
|
Saturated Fat:
36
g
|
Sodium:
26
mg
|
Potassium:
518
mg
|
Fiber:
3
g
|
Vitamin C:
2.3
mg
|
Calcium:
48
mg
|
Iron:
7.6
mg
Also, check out the fab creations from my fellow Free From bloggers:
Vegan Christmas Biscuits  by the Intolerant Gourmant
Non-Alcoholic Paleo Christmas Cake (GF, DF, Paleo, Refined Sugar-Free) by Mummy tries
Clementine & Cranberry Wreath Bread by Free From Fairy
Mini Christmas Cakes; gluten-free with nut-free marzipan by Glutarama
Pork and Sage Onion Stuffing Balls by Easy Peasy Foodie
Homemade Delicious Dairy Free Bailey's Liqueur Recipe by Glutarama
Traditional Christmas Cake by Dairy Free Kids
Boozy Baileys Real Hot Chocolate with Festive Christmas Marshmallows  by Gluten Free Alchemist
#FreefromChristmas Biscuits (Dairyfree, Eggfree, Glutenfree & Vegan)! by The Peachicks Bakery
#FreeFromChristmas: Glutenfree Vegan Black Forest Christmas Cake (Eggfree, Glutenfree) by The Peachicks Bakery
How to have a Happy Free From Christmas from Emma at Free From Farmhouse
Healthy Cinnamon Hot Chocolate from Emma at Free From Farmhouse
The Ultimate Christmas Sandwich from Jenny at A Balanced Belly (GF, DF)