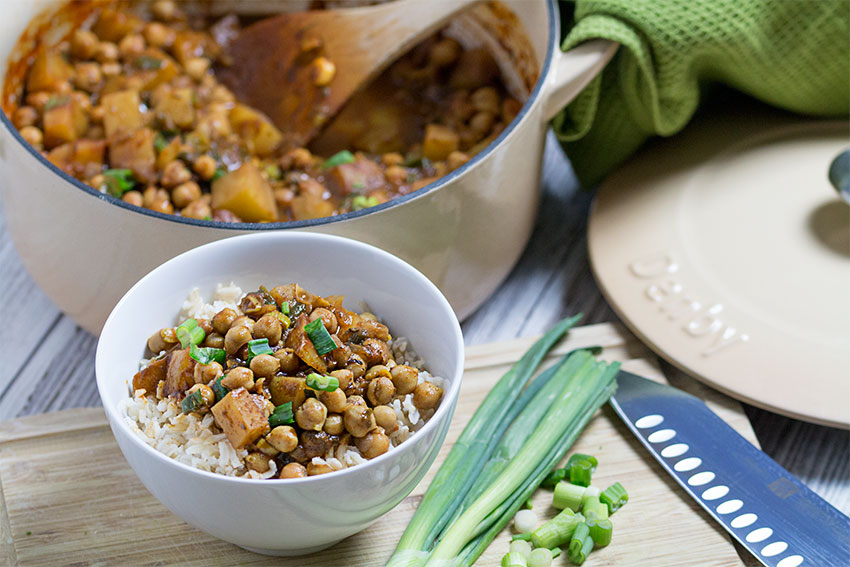 Chickpea And Potato Curry
This cheap and easy chickpea and potato curry is the perfect weekday dinner. It is gluten-free, vegan and can be prepared in less than 30 minutes.
As a big fan of curries, they are my go-to option whenever I am looking for a quick lunch or to clear out my pantry. They are fabulous for batch cooking, therefore, I always make a big pot of curry and freeze the leftovers in individual portions to take them with me to work.
It wasn't until I moved to Ireland that I noticed how much I actually liked chickpeas. While back in Germany, I might have eaten the odd bit of hummus but it never occurred to me to use them as an ingredient until my boyfriend started serving them in salads.
Since then I have discovered many different uses for chickpeas. Apart from being the star of my chickpea and potato curry, I enjoy eating them in form of Spicy Oven- Roasted Chickpea Snack,  Roasted Carrot Hummus or my Mediterranean Chickpea Bake.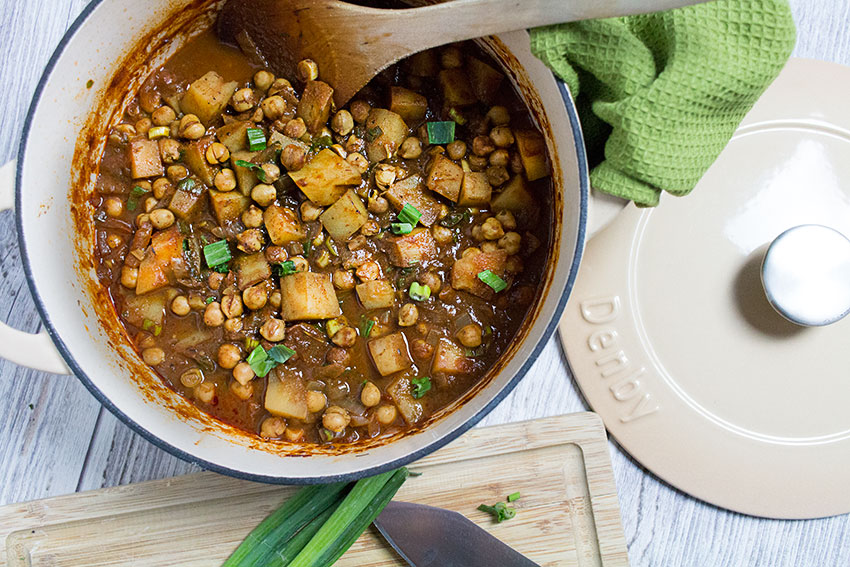 Health Benefits of Chickpeas
Chickpeas are a type of legume that offers a range of health benefits. Chickpeas may help to increase satiety, boost digestion, keep blood sugar levels stable, increase protection against disease and more.
Most of all, chickpeas nutrition is a potent package of protein, vitamins and minerals, which is why they are often included in many healing diets.
Just one cup of chickpeas contain (in daily recommended values):
268 calories
12.5 grams of dietary fibre
14.5 grams of protein
4.2 grams of fat
84% manganese
71% folate
29% copper
28% phosphorus
26% iron
17% zinc
Your turn
What kind of curry do you prefer, spicy or mild? I'm looking forward to reading your comments.
Sign up to my Newsletter to get healthy recipes and my eBook "10 Easy Dessert Recipes " for FREE.
For more updates follow me on Facebook, Twitter, Instagram or Pinterest.
Like it? Pin it!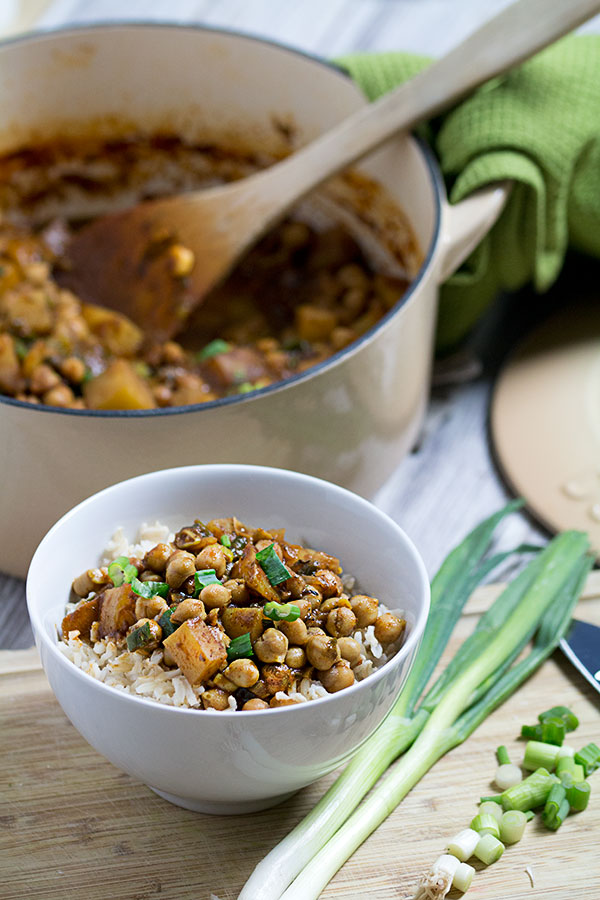 Rating 5.0 from 3 reviews
Prep time:
Cook time:
Total time: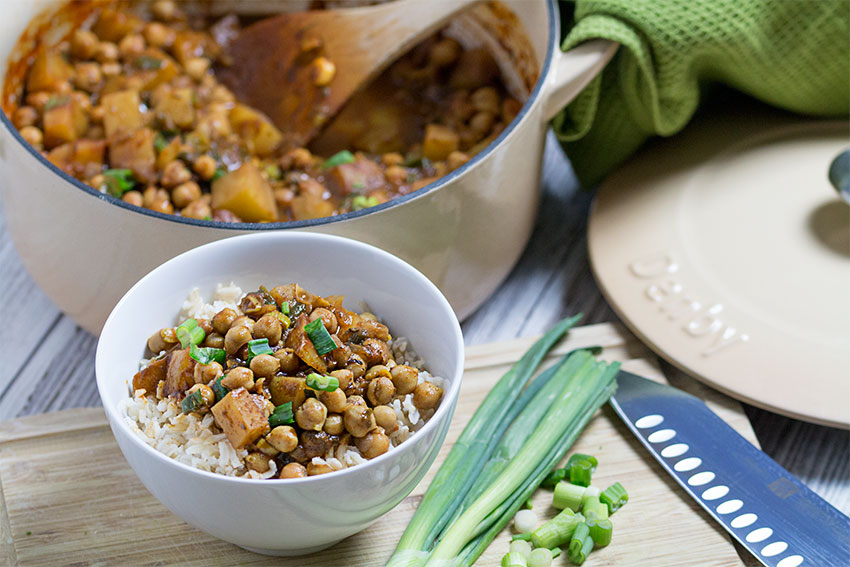 This cheap and easy chickpea and potato curry is the perfect weekday dinner. It is gluten-free, vegan and can be prepared in less than 30 minutes.
Ingredients
3 tablespoons coconut oil
Spice Mix
1 large onion, diced
2 large garlic cloves, finely chopped
2 tablespoons curry powder
½ teaspoon cinnamon
¼ teaspoon ground cloves
1¼ teaspoons nutmeg powder
1½ teaspoons smoked paprika
2 teaspoons dried thyme leaves (or 3 tsp fresh thyme leaves)
1 teaspoon cumin powder
¾ teaspoon cayenne pepper (reduce or omit if you don't like it spicy)
½ teaspoon black pepper
Curry
1½ cups potatoes, cut into ½" cubes
800g canned chickpeas, drained
400g canned diced tomatoes
2 cups vegetable broth/stock
2 scallions, sliced (green & white part)
2 tablespoons fresh parsley, finely chopped (plus more for garnish)
Salt to taste
Instructions
Heat oil in a large pot over medium-high heat.
Add the Spice Mix ingredients and cook for 3 minutes or until the onion becomes translucent.
Now, add the potatoes and cook for a further 2 minutes. In case the spices start sticking to the bottom of the pot, add a tiny splash of water. Keep stirring.
Then, add the chickpeas, tomatoes and vegetable broth. Bring to a boil, lower the heat to medium and let simmer for 15 minutes, or until the potatoes are cooked and the sauce has thickened.
Adjust salt to taste, stir in scallions and parsley.
Serve with brown basmati rice.