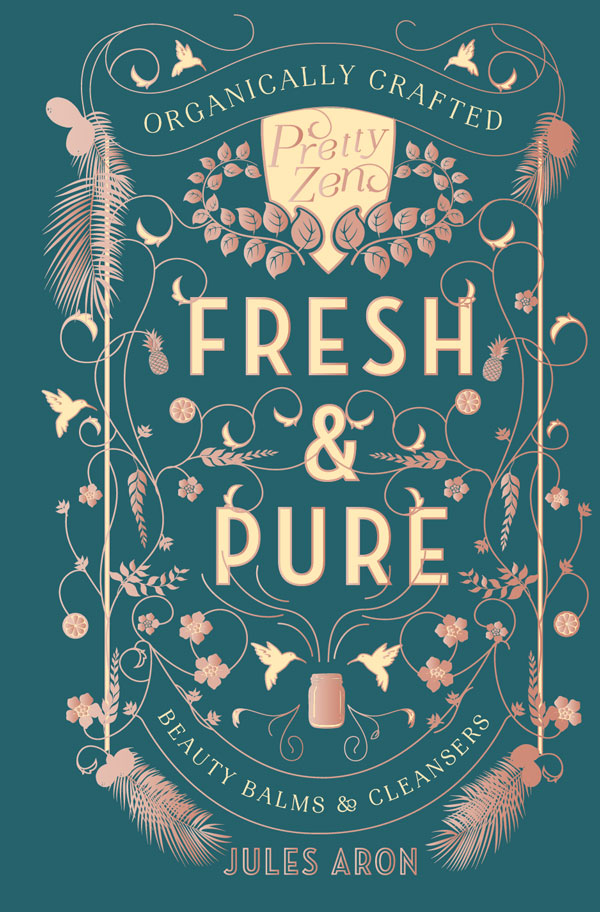 AN ALL-NATURAL PRESCRIPTION FOR RADIANT BEAUTY
75 simple recipes for natural homemade beauty products from the best-selling author of Zen and Tonic
Tired of wondering exactly what went into her beauty products, holistic health and wellness coach Jules Aron decided to make her own.
Whipping up a luxurious face mask using little more than honey, apricots, and coconut oil, and an acne-fighting toner with cooling cucumber and antioxidant-rich green tea, she knew without a doubt that no preservatives or toxic chemicals were used.
In Fresh & Pure, Jules Aron explains how to use fruit, flowers, herbs, and minerals to craft healthy beauty products that promote radiant skin, strong nails, and shiny hair.
With this helpful guide, you will be able to pamper yourself from head to toe with aromatic, forward-thinking potions like:
Papaya Facial Scrub
Chocolate Lip Butter
Cucumber + Aloe Cooling Eye Gel
Shea Butter Beet Lip + Cheek Stain
You might have read in my post "Why I decided to switch to Natural Skin Care Products & why you should too" that I only switched to using natural skin care products recently.
While eating healthily has always been a no-brainer I never thought too much about what I was applying to my skin. As most of us, I have been buying products from well-known brands who I trusted.
Only when we started talking about beauty product ingredients in college it hit me that many products available on the supermarket shelves contain substances that are believed to be toxic or hormone disrupting.
I had toyed with the thought of making my own beauty products for a while but until now I never had the confidence to do it.
With the lovely recipe for Chocolate Soufflé Body Butter below, I finally dipped my toe into the big world of homemade beauty products.
It was easy and quick to make and my skin felt simply amazing afterwards.
While my book copy is plastered with little post-its indicating the things I want to try, I feel slightly intimidated by all the new ingredients.
What recipes to expect?
Jules Aron is doing a great job at explaining the different ingredients and their uses.
While it doesn't require a big skill set or toolkit to make any of her recipes it does require a few ingredients you probably won't have at home.
Like its sister-book, Nourish & Glow which focuses on healthy food recipes Fresh & Pure provides recipes for beginners and more advanced "lotion & potion makers".
Fresh & Pure is well structured and broken down into the following chapters: Facial Skin Care, Natural Makeup, Body Care, Hand and Foot Care, Hair Care, Health and Hygiene and Spa Day Treats.
The detailed descriptions and explanations have given me the confidence to keep experimenting with her beauty recipes.
Please keep in mind that even if everything is natural some people can still react to certain ingredients. If you have sensitive skin I advise doing a patch test first.
Fresh & Pure is lavishly illustrated with stunning colour photographs and if you want to make your own beauty products I can only recommend getting a copy.
Click here to get your copy of Fresh & Pure, now!
Your turn
Make sure to enter the Giveaway below to be in with a chance of winning a copy of Fresh & Pure and Nourish & Glow by Jules Aron.
For more updates follow me on Facebook, Twitter, Instagram, Pinterest or subscribe to my YouTube channel!
Print Recipe
Chocolate Soufflé Body Butter by Jules Aron
Admit it! At some point in your life, you've dreamed of slathering yourself in chocolate. I know I have! Now you can safely indulge in the fantasy without making a mess. This indulgent, antioxidant-rich body butter is everything. I can't get enough.
Instructions
Melt the cocoa butter and coconut oil in a double boiler or a heat-safe bowl perched over a saucepan of simmering water. Remove from the heat and allow to cool. Stir in the cacao powder and vanilla. Let chill in the refrigerator for 30 minutes, then blend the butter, using a whisk, until fluffy. Transfer to a lidded glass jar.

To use: Smooth the creamy butter onto your skin for a moisturizing treat.

Store in a sealed glass jar in a cool, dry spot. For maximum freshness and potency, please use within 6 months.
Giveaway
Disclosure
I was kindly given a copy of each book by The Countryman Press with the purpose to review and a further copy for running a giveaway. The recipe above has been republished with the permission of the author.