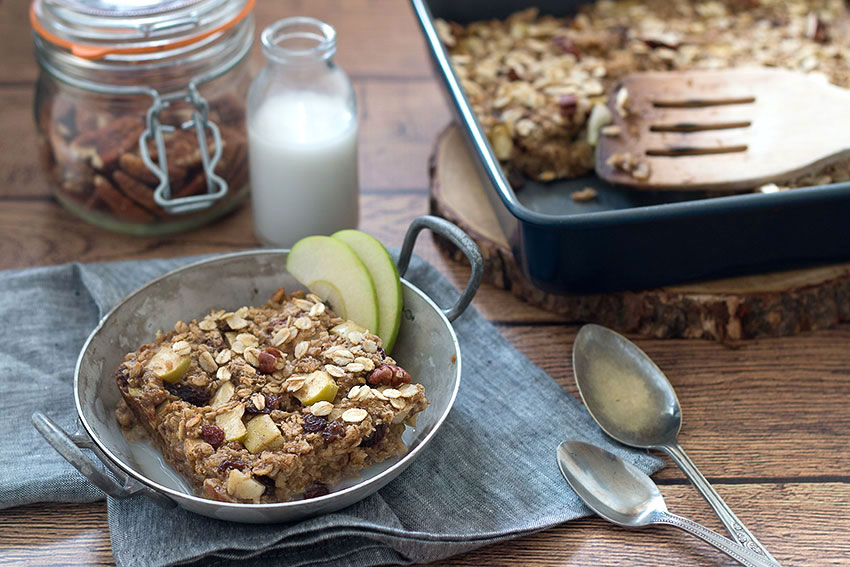 Apple & Cinnamon Baked Oatmeal With Natural Protein
Apple & Cinnamon Baked Oatmeal makes a delicious and comforting breakfast. It is vegan, gluten-free and packed with natural protein.
It's the time of year where the leaves turn into their most beautiful colours and the nights are getting longer. Here in Ireland, it's apple season and at the minute you find me busy in the kitchen making applesauce or Apple Cake with Date Caramel Filling, one of my all-time favourites. Of course, pumpkins are also in season and my Raw Pumpkin Seed Butter will be a staple for the next while.
I enjoy snuggling up in my humongous bean bag and dive into a good book? What about you? Do you have any autumn rituals or are you still mourning the end of summer?
A change that I certainly feel around this time of year is a craving for warming and comforting foods like my Vegan Pumpkin and Kale Soup with Orzo, casseroles or Healthy Chocolate Porridge With Poached Pear.
Apple & Cinnamon Baked Oatmeal ticks all the boxes and is so easy to make. Usually, I make a big batch and keep chipping away at it over a couple of days. It will keep it in the fridge for 3-4 days.
It can also be made overnight in a slow cooker and you will wake up to the most amazing smell of cinnamon and apple.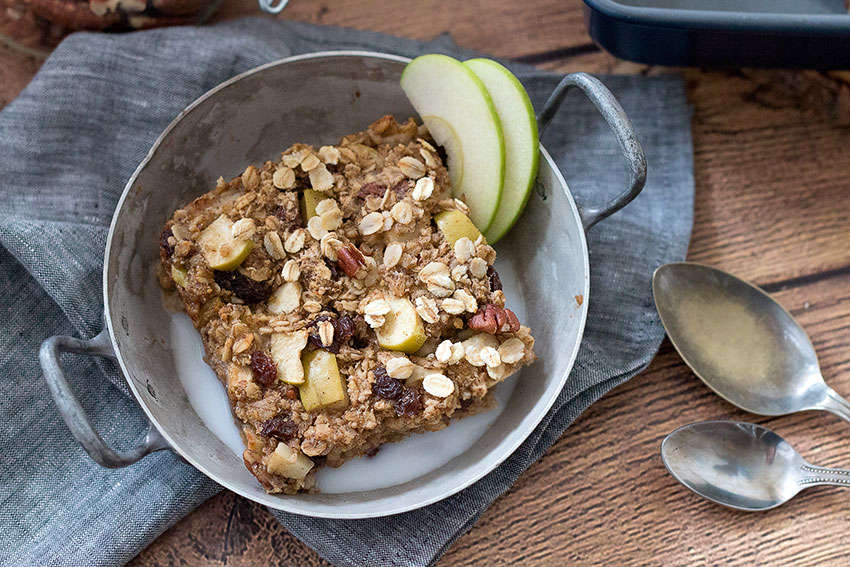 Benefits of adding Protein to your Oatmeal
Oats on their own are believed to have pretty amazing health benefits but I decided to team up with Linwoods Healthfoods for this recipe to add in even more goodness. I wanted to keep this recipe vegan and therefore the Organic Linwoods Hemp Protein+ suited my needs perfectly. All its protein is plant-based and comes from natural sources like hemp, flaxseed, chia seed, cocoa and beetroot powder, it also contains a range of vitamins and minerals. In my Apple & Cinnamon Baked Oatmeal, the hemp protein powder acts as an egg replacement and also helps you stay full for longer. Whenever I eat carbohydrates I add a little bit of protein or healthy fats to achieve a slower energy release and to avoid blood sugar spikes.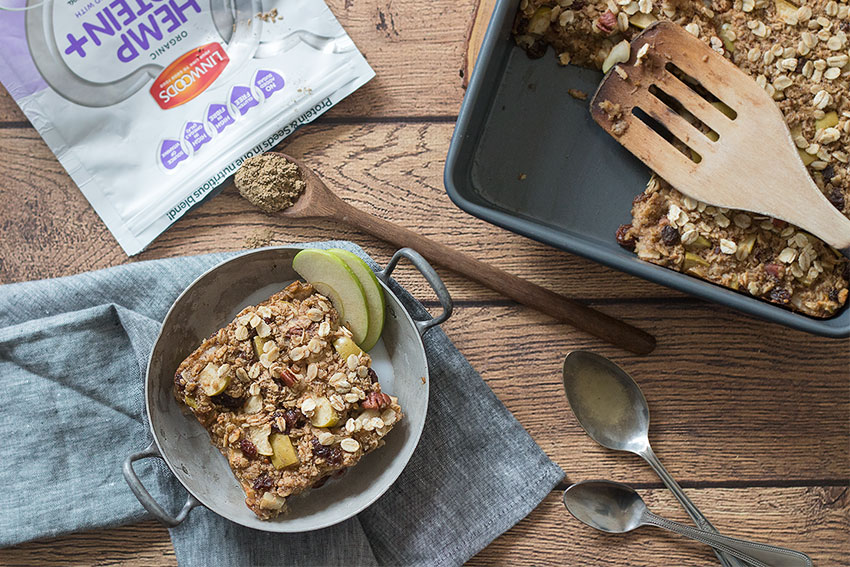 Health Benefits of Oats
Oats contain soluble and insoluble fibre which is great for digestion. Unlike insoluble plant fibre, which does not dissolve in water, soluble fibre absorbs water and turns viscous. Rather than passing straight through the digestive system, foods with soluble fibre digest slowly, releasing the sugar content of a food at a gradual rate. Apples are also high in soluble fibre, in this recipe I used Granny Smith apples.
According to the Mayo Clinic, Soluble fibre can reduce the absorption of cholesterol into your bloodstream. Five to 10 grams or more of soluble fibre a day decreases your total and LDL cholesterol. Eating 1 1/2 cups of cooked oatmeal provides 6 grams of fibre. If you're used to a bowl of instant oatmeal in the morning, try steel-cut oats, which have a heartier texture and a lower GI.
Like it? Pin it!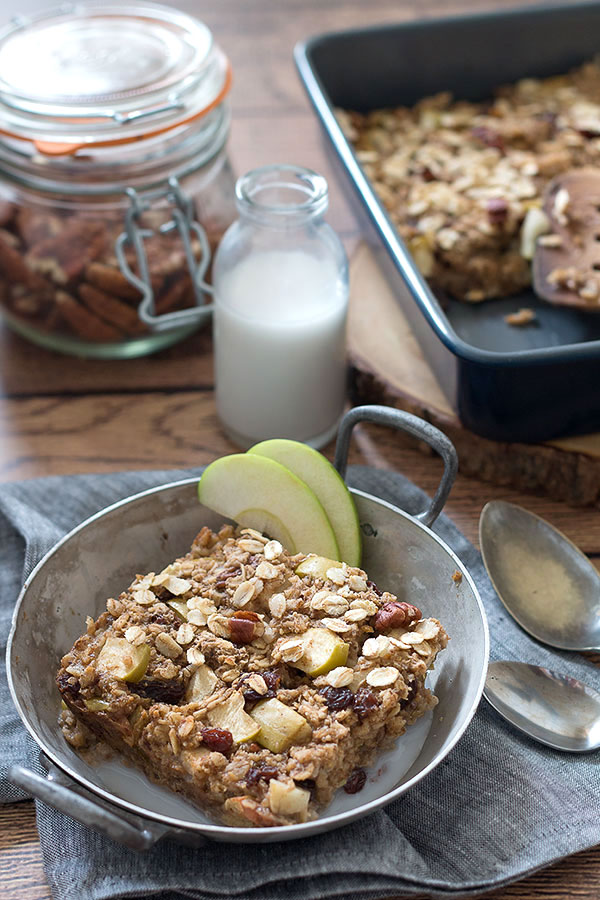 Your turn
What is your favourite comfort breakfast food? Let me know, I'm looking forward to reading your comments.
For more updates follow me on Facebook, Twitter, Instagram, Pinterest or subscribe to my YouTube channel!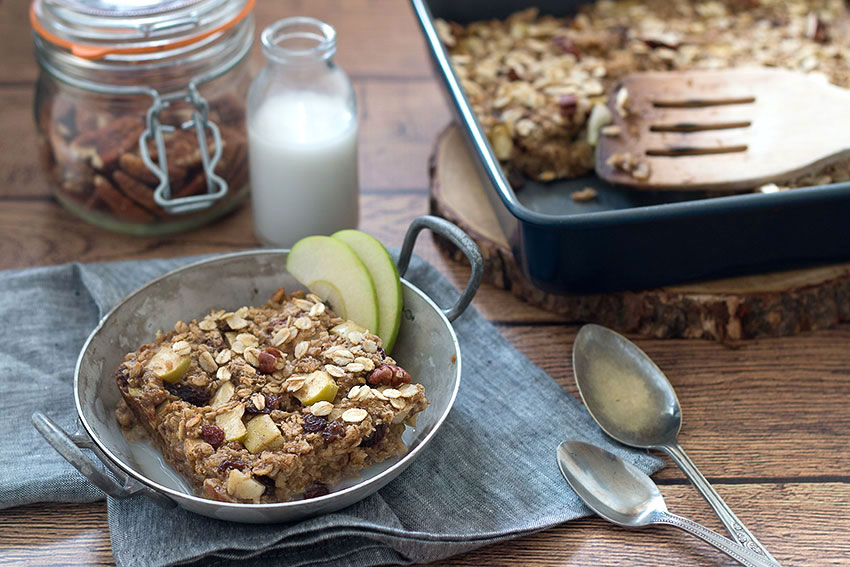 Print Recipe
Apple & Cinnamon Baked Oatmeal With Natural Protein
Apple and Cinnamon Baked Oatmeal makes a delicious and comforting breakfast. It is vegan, gluten-free and packed with natural protein.
Instructions
Preheat your oven to 350°F/175°C.

In a small bowl, mix the Linwoods Hemp Protein+, flaxseed and water, let sit for 5 minutes. It will go gloopy and act as an egg replacement. If you can't source this particular protein powder simply replace it with more ground flaxseeds.

Soak the raisins in warm water for 5 minutes or until they become plump.

In a big bowl combine all dry ingredients including the apples and raisins.

In another small bowl mix the wet ingredients until well combined.

Add the wet ingredients to the dry ingredients and stir until it starts forming a sticky dough.

Fill the mixture into a greased 8x8-inch baking pan and bake for 35minutes or until golden brown.
Nutrition
Calories:
202
kcal
|
Carbohydrates:
26
g
|
Protein:
3
g
|
Fat:
9
g
|
Saturated Fat:
5
g
|
Sodium:
252
mg
|
Potassium:
169
mg
|
Fiber:
3
g
|
Sugar:
7
g
|
Vitamin A:
15
IU
|
Vitamin C:
1.6
mg
|
Calcium:
77
mg
|
Iron:
1.2
mg