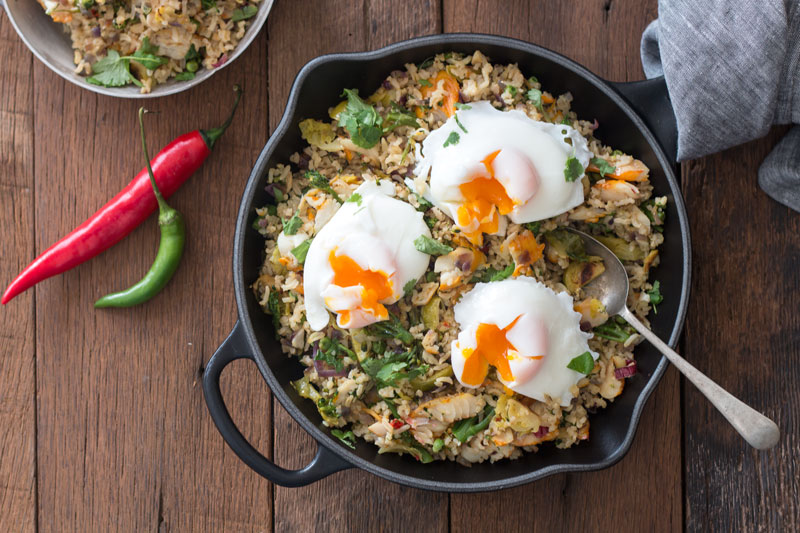 What is Kedgeree?
Kedgeree is a delicious and easily made breakfast, lunch or dinner. It is extremely versatile and also makes a wonderful hangover cure. First I have to admit that I had never heard of Kedgeree until I saw Jamie Oliver preparing it on Jamie & Jimmie's Friday night feast.
Immediately, I fell in love with the recipe assuming that it was Indian. Well, I might not have been that far off but nowadays it rather seems to be a staple of the British cuisine. As it is a fairly modern dish I didn't feel too bad about messing around with it.
Its roots are dating back to the British colonisation of India where it started as a humble dish called khichari. Kichari initially consisted of curried rice and lentils. When the first colonists returned to Britain they brought back their new found love for kichari.
Not being able to leave the dish alone they started adding kippers, boiled eggs, parsley and lemon juice. Today smoked haddock is commonly used instead of kippers.
If you can't get enough of Indian cuisine you should definitely give my Best Red Lentil Dahl With Broccoli a try.
How to make Kedgeree?
Personally, I feel like it is the ideal dish to use up some leftovers and to sneak in a bit more fish and vegetables into your diet. This Chickpea And Potato Curry and Healthy Baked Sweet And Sour Cauliflower are two great vegetarian options to try and some of my personal favourites. 
The most important part, that shouldn't be messed around with in Kedgeree is the rice. Whenever you want to fry rice it needs to be cooked in advance and left to cool or cooked fresh and run under cold water to cool it down before frying.
If you omit that step you will end up with a fairly lumpy and sticky mass instead of nice and fluffy rice. Also, make sure to fold in the rice gently using two forks.
Smoked haddock is fairly easy to source but try to buy undyed fish from sustainable sources.
Get creative with the kind of greens you would like to add, go with the season or whatever cooked veg you have left over. In this recipe, I used Brussel sprouts, kale, tenderstem broccoli and frozen peas.
Usually, kedgeree is served with boiled eggs but because it can be slightly on the dry side I prefer serving it with poached eggs instead. Let's be honest, an oozing poached egg yolk is hard to beat. If you prefer hard-boiled eggs go ahead, whatever floats your boat, after all, it's about enjoyment and nourishment, isn't it?
Instead of parsley and lemon, I used coriander and lime because that's what I had available. I really love the citrusy flavour of coriander but it's like marmite, people either love it or hate it.
Like it? Pin it!
Your turn
How do you prepare your Kedgeree and do you enjoy it for breakfast, lunch or dinner? I'm looking forward to reading your comments.
For more updates follow me on Facebook, Twitter, Instagram, Pinterest or subscribe to my YouTube channel!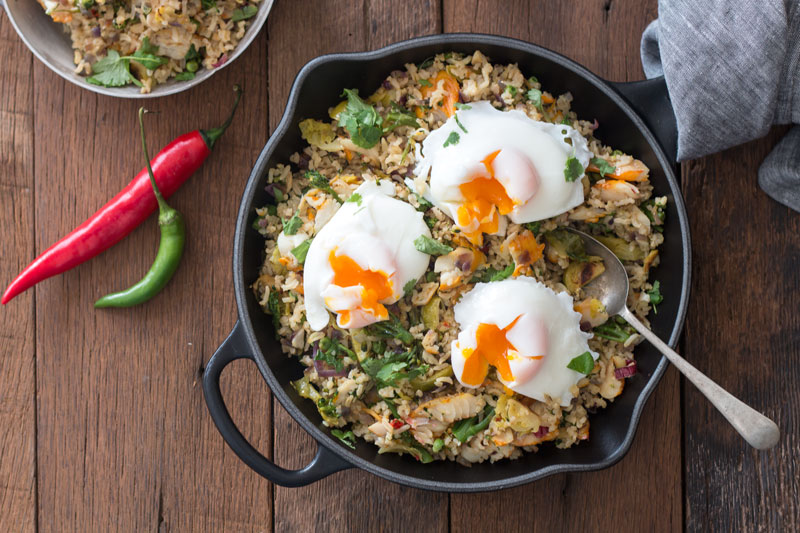 Print Recipe
Easy & Healthy Kedgeree Recipe
This comfort oozing Kedgeree recipe is a real crowd pleaser. Kedgeree is a delicious and easily made breakfast, lunch or dinner. Being extremely versatile makes it the perfect dish to use up leftovers or to miraculously cure a hangover.
Ingredients
1

cup

brown basmati rice

12

ounces

undyed smoked haddock fillets

from sustainable sources

1 1/2

red onions

1/2

fresh red chilli

½

bunch

fresh coriander

2

cloves

garlic

1 1/2

inch

ginger

1

tablespoon

unsalted butter

1

teaspoon

curry powder

2

cups

leftover cooked greens

such as Brussels sprouts, kale, broccoli

1

cup

frozen peas

1

lime

4

large

organic eggs

Salt

Pepper
Instructions
Thoroughly rinse the rice with water. Add the rice to a saucepan, pour in about 5 times the amount of water to rice and cook it accordingly to the time on the package instructions. Pour the rice into a colander, rinse with cold water and set aside.

At the same time, heat salted water in a big pan and poach the smoked haddock fillets for 10 minutes. Remove the fish with a slotted spoon and peel off the skin. Bring the water back to a simmer to poach the eggs.

Meanwhile, peel the onions and finely slice with the red chilli (deseed if you like) and coriander stalks. Peel and finely chop the garlic and ginger. Place it all in a large frying pan on a medium heat with 1 tablespoon of oil and the butter, and cook for 10 minutes, or until soft but not coloured, stirring occasionally.

Stir in the curry powder.

Slice your leftover vegetables and add them to the pan along with the frozen peas. Gently fold in the rice using two forks so that it remains fluffy.

Flake in the poached fish, gently fold again, season with sea salt, black pepper and lime juice, then keep on a low heat for just 3 or 4 minutes while you poach the eggs to your liking in the simmering water.

Place the eggs on top of the kedgeree and scatter over the coriander leaves.
Notes
Delicious served with mango chutney or dollops of lemon-spiked yoghurt.
This recipe has been adapted from Jamie Oliver's Kedgeree recipe.
Nutrition
Calories:
442
kcal
|
Carbohydrates:
51
g
|
Protein:
35
g
|
Fat:
10
g
|
Saturated Fat:
3
g
|
Cholesterol:
259
mg
|
Sodium:
741
mg
|
Potassium:
884
mg
|
Fiber:
4
g
|
Sugar:
5
g
|
Vitamin A:
4170
IU
|
Vitamin C:
71.4
mg
|
Calcium:
157
mg
|
Iron:
4.2
mg