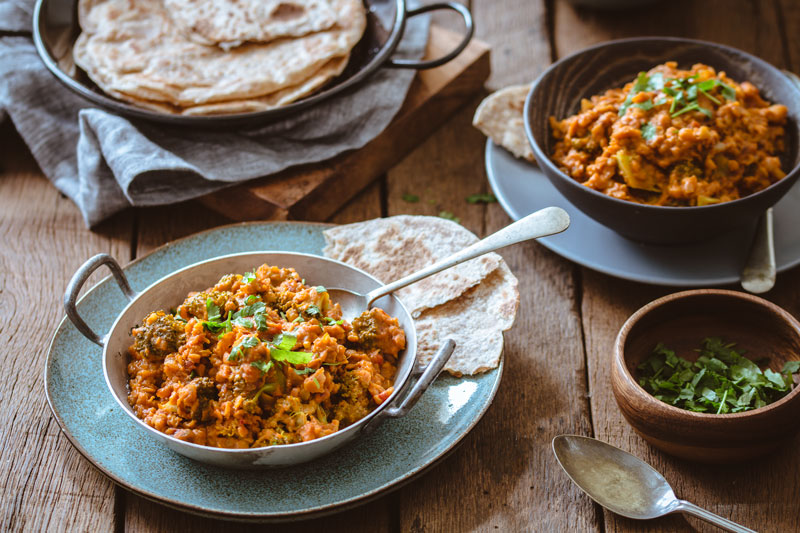 Best Red Lentil Dahl With Broccoli
Red Lentil Dhal is an Indian staple made from split pulses, it's healthy, tasty and very cheap. It's also easy to make and prepared in less than 30 minutes. Red Lentil Dahl With Broccoli has become one of my go-to dishes whenever I am short on time. I find it to be an incredibly warming, comforting and fragrant dish.
There are different kinds of spellings such as dahl or dal as well as many different ways of preparing it.
From Pakistan to Bangladesh, from Sri Lanka to the West Indies, red lentils, green lentils, split peas, mung beans, kidney beans, chickpeas and others are being turned into dhals.
You can add vegetables to the dhal to add texture and flavour and create a more substantial vegetable curry. Try blanching or roasting a mixture of cauliflower and broccoli florets and stirring them in at the end. French beans, spinach and asparagus also work well. If you can't get enough of Indian cuisine just like I make sure to check out my Easy & Healthy Kedgeree Recipe.
Another favourite of mine is this Chickpea And Potato Curry it also seems to be one of your favourites as it is one of the most popular dishes on the blog. Feel free to check out these 5 Warming Winter Recipes To Keep You Nice And Cozy as well.
Benefits of Lentils
Lentils have been a staple of Middle Eastern and Indian cuisine for thousands of years; in fact, lentils go back to Neolithic times and are believed to be one of the oldest crops there is, with records showing that in the Near East, lentils were eaten as far back as 6,000 to 13,000 years ago!
Today, lentils are enjoyed all over the world in many types of recipes and are one of the best all-natural meat-substitute foods. Lentils are loved by vegetarians and vegans because they're a great high-protein food, are rich in nutrients and have a hearty, dense texture.
I'm super-fond of those little pulses because they're quick and easy to cook, ludicrously cheap, substantial, versatile and delicious.
How to Cook Red Lentils
There are a number of different kinds of lentils, but the chief three groups are brown, green and red, with each group containing lentils of varying colours and origins.
Brown lentils range from an almost sandy colour to deep black and cook very fast.
Green lentils, particularly popular here in Europe, cook in around 45 minutes and make for lovely rich stews. Both retain their shape well when cooked.
Red lentils range from a golden colour to red and tend to lose their shape somewhat when cooked, which makes for wonderfully thick and mushy dishes (essential for Indian dhals). Red lentils cook in as little as 20 minutes and don't require soaking. You simply boil them in water until they become tender.
Like it? Pin it!
Your turn
What is your favourite lentil dish? I'm looking forward to reading your comments.
For more updates follow me on Facebook, Twitter, Instagram, Pinterest or subscribe to my YouTube channel!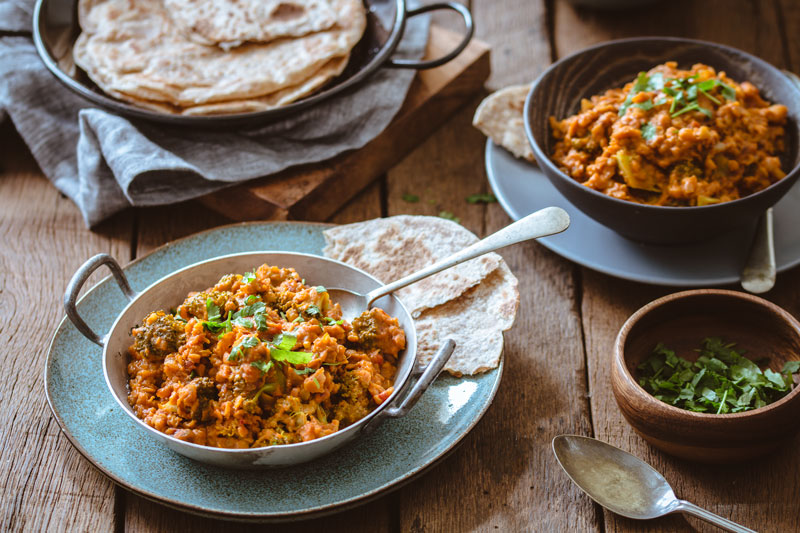 Print Recipe
Best Red Lentil Dahl With Broccoli
Dhal is an Indian staple made from split pulses, it's healthy, tasty, vegan and very cheap. It's also easy to make and prepared in just 30 minutes.
Ingredients
2

tablespoons

coconut oil

or ghee

1

large

onion

finely chopped

2

cloves

garlic

finely chopped

2

inch

fresh ginger

peeled and grated

1

tablespoon

Garam Masala

2

teaspoons

ground cumin

2

teaspoons

ground coriander

2

teaspoons

sweet paprika

1

teaspoon

turmeric

½

teaspoon

cayenne pepper

2

cans

diced tomatoes

(14.5 oz per can)

1

can

coconut milk

full-fat

1

cup

red lentils

rinsed

1

head

broccoli

florets roughly chopped

1

teaspoon

Salt
Instructions
Heat coconut oil in a large saucepan over medium-high heat.

Add onions and sauté until translucent, about 3 minutes.

Add garlic and sauté for 1 more minute. Add ginger and spices (except for salt) and sauté for 30 seconds.

Now, pour in diced tomatoes and coconut milk and give it a good stir.

Bring to a simmer, cover and cook for 5 minutes.

Add lentils and salt, cover, and cook on low heat for about 10 minutes, stirring regularly.

Now, add the broccoli and simmer for another 10 minutes or until the lentils are tender.

If the liquid has been absorbed but the lentils are still not tender, add

½

cup of water and cook until lentils are tender (don't overcook them or they will become mushy.)

Remove from the heat.

Take a taste and adjust seasoning as needed.

Sprinkle with chopped fresh coriander and serve.
Nutrition
Calories:
528
kcal
|
Carbohydrates:
54
g
|
Protein:
20
g
|
Fat:
29
g
|
Saturated Fat:
24
g
|
Sodium:
945
mg
|
Potassium:
1629
mg
|
Fiber:
21
g
|
Sugar:
10
g
|
Vitamin A:
1815
IU
|
Vitamin C:
161.1
mg
|
Calcium:
198
mg
|
Iron:
10.8
mg