Best oven-roasted chickpea snack ever
Today is one of those days where you look out the window and decide not to leave the house.
It's raining cats and dogs, I just want to snuggle up on my super-sized bean bag and catch up on my favourite Netflix series.
Certainly, I haven't moved to Ireland for the weather, but sometimes it's just nice to have a lazy day with some comfort food, isn't it?
For a long time, I have been struggling to find a healthy, savoury snack, which isn't too time-consuming to make.
I really wanted it to taste like a "real snack" something you would eat at the cinema, not just chopped up vegetable sticks.
Finally, I stumbled upon a roasted chickpea snack in a health food store, but everyone who has been following me for a while knows that I prefer making my own food.
Being high in plant-based protein and fibre chickpeas are also a fabulous post-workout snack. Another great savoury snack are these Healthy Jerusalem Artichoke Crisps make sure to check them out as well.
So, here we go, it could hardly get any easier.
Your turn
What is your favourite savoury snack? Let me know, I'm looking forward to reading your comments.
For more updates follow me on Facebook, Twitter, Instagram, Pinterest or subscribe to my YouTube channel!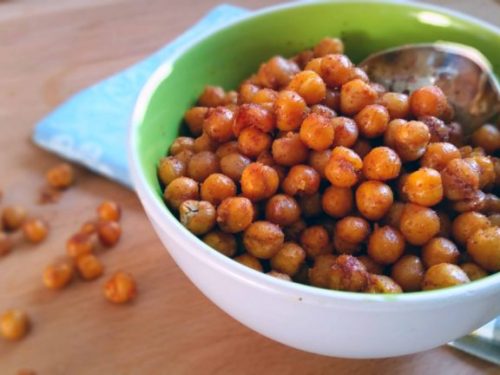 Print Recipe
Spicy Oven-Roasted Chickpea Snack
Great snack for lazy days or after workouts.
Ingredients
Instructions
Preheat oven to 425 °F/220 °C.

Drain chickpeas in a strainer. Allow to air dry for 10­-15 minutes.

Place chickpeas on a parchment-­lined baking sheet, drizzle with olive oil and stir to coat.

Sprinkle with

½

tsp sea salt.

Place in oven, cook for 20­-25 minutes, stir every 5 minutes or so, until golden brown. Some of the chickpeas may start popping like popcorn, this is a good sign, it means that they're properly crisping.

Mix remaining sea salt, cayenne, chilli powder, cumin, paprika, garlic powder and cayenne.

Toss hot chickpeas in spice mixture. Salt to taste. Serve and enjoy immediately.
Nutrition
Calories:
83
kcal
|
Fat:
9
g
|
Saturated Fat:
1
g
|
Sodium:
391
mg
|
Vitamin A:
190
IU
|
Iron:
0.2
mg