Blueberry Oat Breakfast Bars
These Blueberry Oat Breakfast Bars are here to switch up your morning routine but be warned they are addictive.
As much as I like my Chai Chia Pudding or Homemade Coconut Milk Yoghurt in the morning these vegan, gluten-free and refined sugar-free bars are definitely a keeper.
Crunchy on the outside and chewy on the inside, they are superfood bars you can feel good about. Due to their high fibre and protein content, they will keep you full until lunchtime.
This is probably, one of the most delicious ways to get plant protein, omega 3s, vitamins and minerals into your body first thing in the morning or as a post-workout snack.
Natural Sweeteners
While many shop-bought bars contain a lot of sugar, I prefer using natural sweeteners like maple syrup, bananas and applesauce. None of these sweeteners causes blood sugar level spikes the way regular sugar does, therefore you don't need to be afraid of sugar crashes.
Natural sweeteners release their energy steadier and slower than their processed cousins, which makes them my preferred choice. Click here to check out my favourite sweeteners.
If you fall into the category of people who get hangry easily or you have a colleague who does, take a batch of Blueberry Oat Breakfast Bars to work and see the magic happen 😉
Why Homemade Is Always Better
Of course, most people are incredibly busy nowadays and it's tempting to pick up something unhealthy and overpriced at the kiosk but if you can spare just 15 minutes of your day, it will give you a week load of healthy snacks.
While it is much cheaper to prepare breakfast bars yourself, it is also healthier and gives you full control of the flavours and ingredients. Refrigerated they last up to a week, not that mine ever would, but theoretically, they do. If you like doughnuts in the morning check out this Healthy Vegan Doughnut Recipe With Blueberries.
Your turn
What is your favourite food to start your day? Let me know, I'm looking forward to reading your comments.
For more updates follow me on Facebook, Twitter, Instagram, Pinterest or subscribe to my YouTube channel!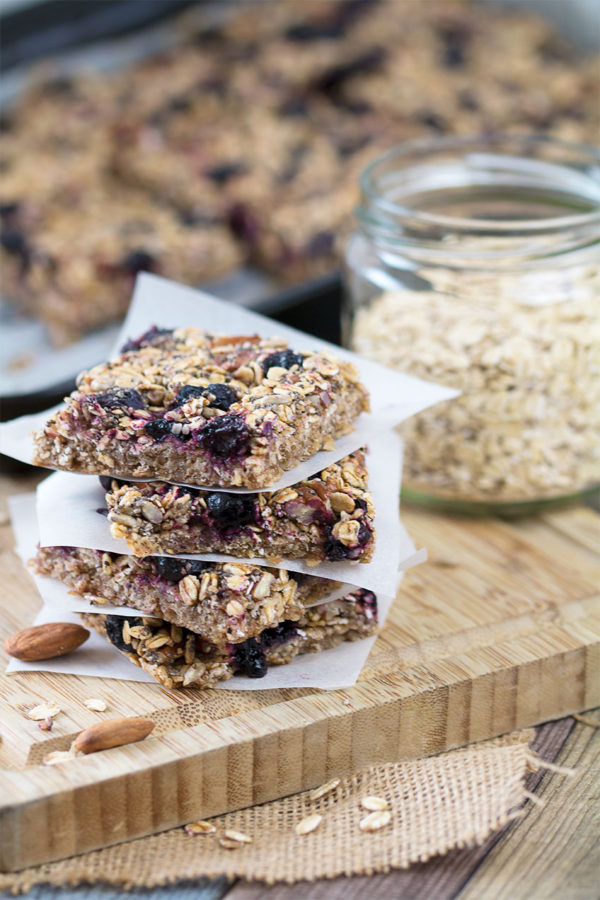 Print Recipe
Blueberry Oat Breakfast Bars
These delicious, vegan and gluten-free Blueberry Oats Bars are the perfect start for the day.
Instructions
Preheat oven to 350 °F/175 °C.

Line a 9x9in square pan with parchment paper.

Mash the banana in a mixing bowl and add maple syrup, applesauce, coconut oil and vanilla extract.

Mix well using a hand mixer.

Add the oats, cinnamon and salt, mix until well combined. The mixture will be quite moist.

Transfer the base layer into the square pan. Smooth it out with a spatula until nice and even. Bake for 11 minutes.

In the same mixing bowl, combine all the ingredients for the topping until well combined. Remove the pan from oven.

Pour topping mixture over the base and spread it out evenly.

Press it down into the base layer with a spatula or cover it with parchment paper while you are pressing it down with your hands. If using the method with the parchment paper remove the paper before putting the tin into the oven again.

Bake for an additional 20 minutes.

Allow the bars to cool and set before slicing the squares.

Enjoy!
Notes
The bars can be stored in the refrigerator for up to a week.
Nutrition
Calories:
211
kcal
|
Carbohydrates:
32
g
|
Protein:
5
g
|
Fat:
7
g
|
Saturated Fat:
1
g
|
Sodium:
132
mg
|
Potassium:
193
mg
|
Fiber:
4
g
|
Sugar:
11
g
|
Vitamin A:
35
IU
|
Vitamin C:
4
mg
|
Calcium:
52
mg
|
Iron:
1.8
mg