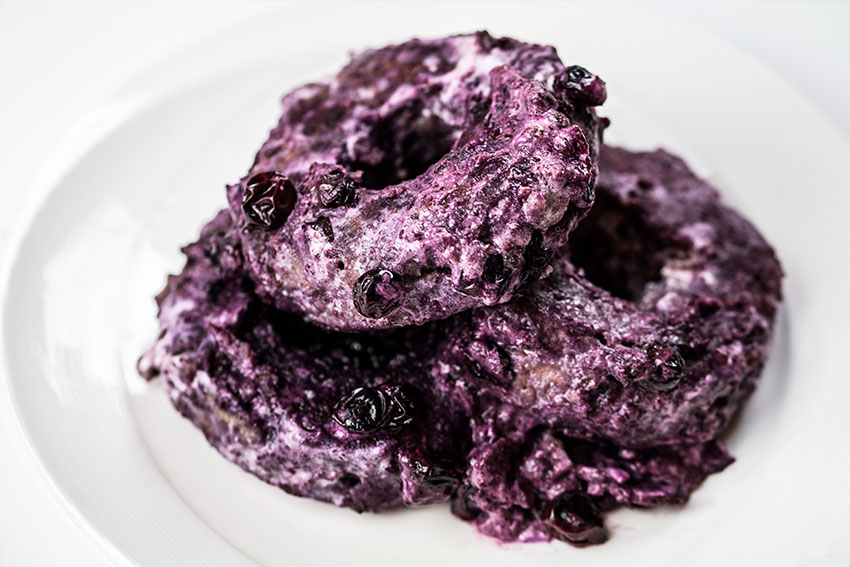 Healthy Vegan Doughnut Recipe With Blueberries
I have never been a big fan of doughnuts, but this Healthy Vegan Doughnut Recipe With Blueberries is a real game changer.
 
Recently I stumbled across one of Jamie Oliver's healthy doughnut recipes and was fascinated by the fact that he simmered his doughnuts in water rather than frying them in a big pan full of oil. This got me so intrigued that I decided to come up with an even more nutritious, sugar-free, vegan option.
 
Therefore, I got my organic whole grain spelt flour of the shelf and enthusiastically started replacing the dairy and egg products to make it vegan-friendly.
 
If you follow my blog regularly you will probably know that I'm a big fan of chia seeds. Consequently, I grab every chance to incorporate them into my dishes as often as possible. In case you would like to learn more about the health benefits of chia seeds I recommend checking out my post about Chai Chia Pudding.
 
How to make homemade doughnuts
Healthy doughnuts are fairly simple to make, once you have mixed the dough roll it out 1.5cm thick. While I like keeping things simple by using a pint glass and an empty spice shaker to cut out the doughnuts, you could also use an 8cm and a 3cm cutter.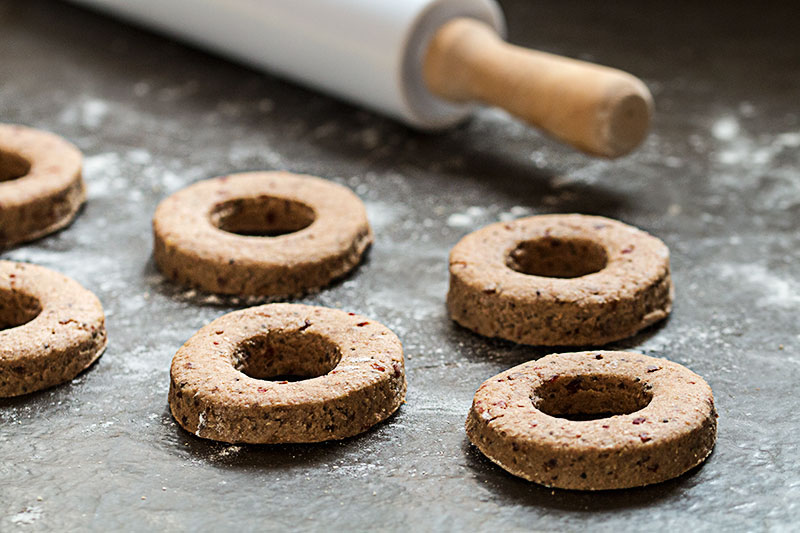 Afterwards, carefully transfer them into a pan with boiling water and watch them puffing up just as nicely as their unhealthy cousins. For me, this is like watching my favourite tv-series, I'm quite a big child when it comes to these kinds of things. 😉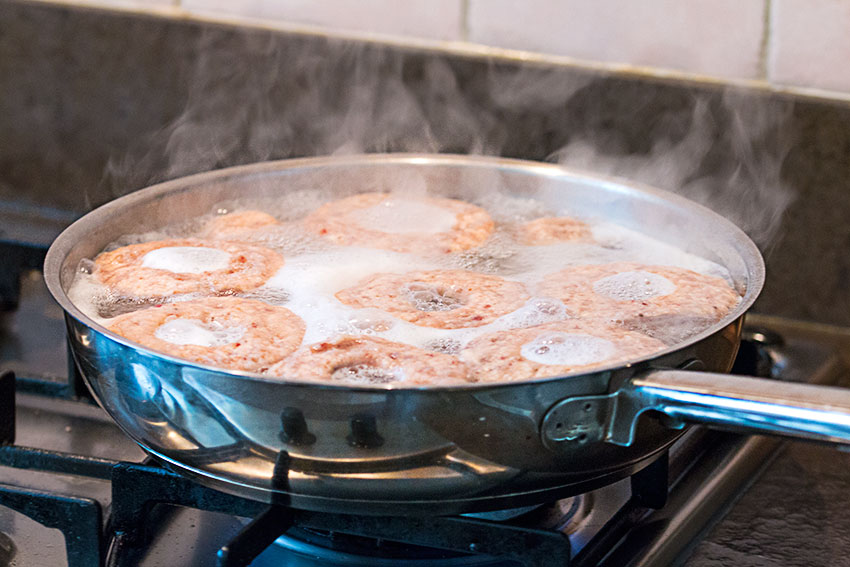 Once 10 minutes have past transfer the doughnuts to a frying pan with a tiny bit of oil and fry them until they get a nice golden-brown crust. Add the blueberries and keep flicking the doughnuts until they are fully covered in jammy blueberries. Finish them off with a dairy-free yoghurt of your choice and sprinkle with cinnamon.
 

Your turn
What about you, have you ever had healthy doughnuts before? Are you going to try them? I'm looking forward to finding out in the comments. 🙂
 
Sign up to our Newsletter to get healthy recipes and my eBook "10 Easy Dessert Recipes " for FREE.
 
Follow us on Facebook, Twitter, Instagram or Pinterest for more updates.
 
Enjoy 🙂
 

Prep time:
Cook time:
Total time: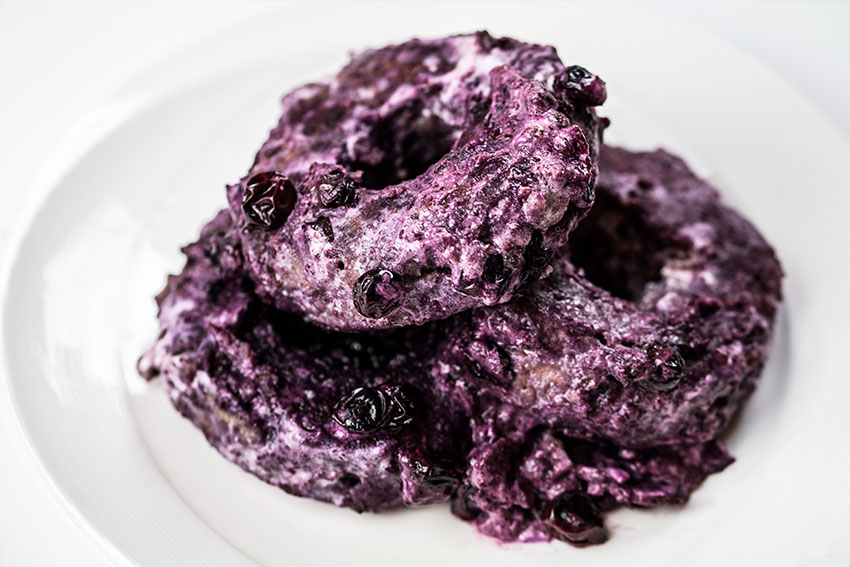 Deliciously healthy, vegan doughnut recipe.
Ingredients
1 tbsp. milled chia seeds
3 tbsp. filtered water
100g Medjool dates
100g wholegrain spelt flour
100g plain flour
1 tsp. baking powder
1 tsp. bicarbonate of soda
30g ground almonds
70 ml filtered water
pinch of sea salt
olive oil
320g blueberries
1 tbsp. maple syrup (optional)
4 tbsp. coconut or soy yoghurt
ground cinnamon (optional)
Instructions
Stir the milled chia seeds into the water and let sit for 10 minutes to make chia egg.
Place the pitted dates, flours, baking powder, bicarbonate of soda, ground almonds, the chia egg, a pinch of sea salt and 70 ml of water into a food processor and blitz until it starts forming a dough.
Knead the dough ball on a dusted surface for about 2 minutes.
Roll out the dough 1.5cm thick, cut out the doughnuts with a pint glass or an 8 cm cutter. Use a 3 cm cutter or any other round utensil to cut out the centre.
Repeat the process until all the dough is gone.
Fill a large pan with water and bring to boil, simmer the doughnuts for 2.5 minutes from each side.
Remove the doughnuts carefully and empty the water from the pan.
Heat up the oil in the frying pan over medium heat and fry the doughnuts from each side until golden-brown.
Add the blueberries to the pan and let simmer until they release their juice.
Keep turning over the doughnuts until they are fully covered in blueberry sauce.
Drizzle the maple syrup on top or just add the yoghurt of your choice.
Sprinkle with cinnamon and serve immediately.