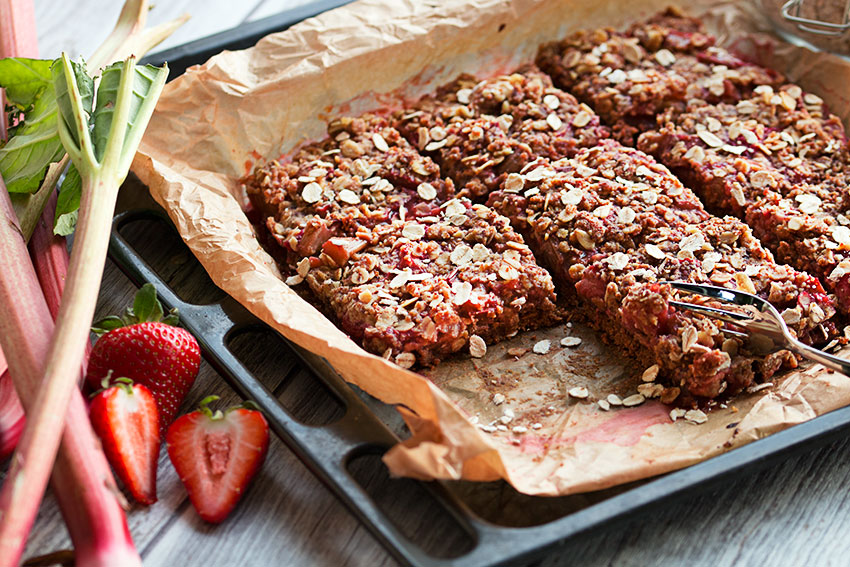 Strawberry Rhubarb Crumble Squares
Strawberry Rhubarb Crumble Squares are the perfect spring dessert or lunch box addition. They are easy to make, gluten-free, vegan and refined sugar-free. I couldn't think of a more seasonal dessert and I love to shop Irish produce whenever I can. If you keep it as seasonal and local as possible and you will be rewarded with big, sweet and fragrant strawberries and deliciously fresh rhubarb. If strawberries and rhubarb are not in season at your end of the world don't despair simply check out my Blueberry Oat Breakfast Bars instead!


How to make Strawberry Rhubarb Crumble Squares
As promised, they are very simple to make, it will only take 9 ingredients and about 60 minutes of your time but believe me that are 60 minutes well spent. It won't be finicky at all as even the fruits are just roughly chopped into big chunks. If you have young ones at home they would probably love giving you a hand making these Strawberry Rhubarb Crumble Squares. As usual, kids are much more likely to eat something if they have been involved in the process of making it. The only tools you will need are a blender, a bowl, a saucepan, a spoon and a parchment-lined baking pan.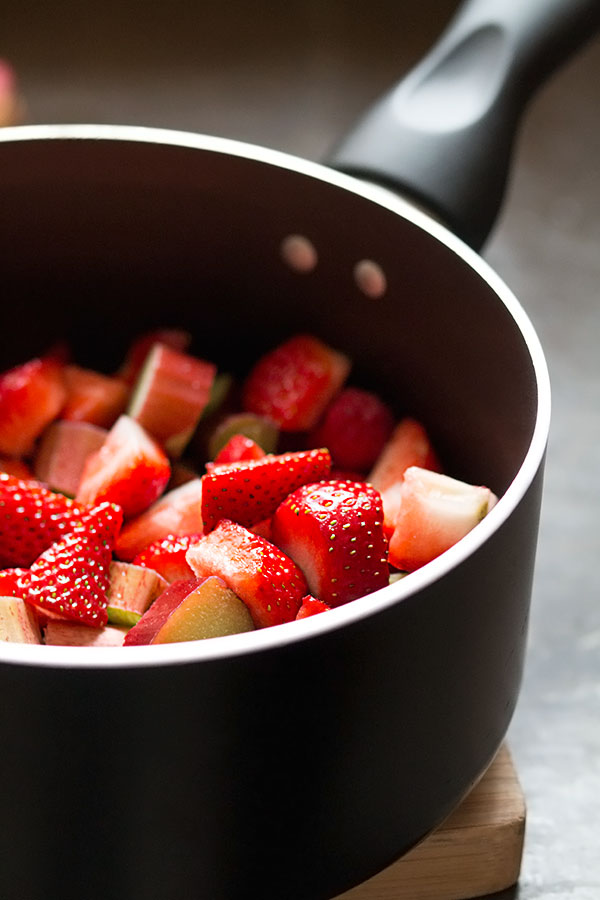 Health Benefits of Strawberries
Many berries are full of antioxidants, strawberries are no exception to this rule; in addition to antioxidants, they have many other nutrients, vitamins, and minerals that contribute to overall health. These include folate, potassium, manganese, dietary fibre and magnesium. It is also extremely high in vitamin C which will help your immunity!

Strawberries are not just great in desserts they are also incredibly delicious in salads like my Courgette, Avocado and Strawberry Salad.

When it comes to buying strawberries always try to buy organic produce. Regular strawberries, in particular, are often heavily sprayed with pesticides. If you can only get strawberries but don't want to miss out on these delicious Strawberry Rhubarb Crumble Squares make sure to wash them thoroughly in a water and apple cider vinegar mixture. This will help to take off a good bit of the pesticides but particularly if you are pregnant I would always give preference to organic produce. Of course, organic food comes at a premium but it will also help you decreasing medical costs in the long run. Check out the EWG's 2017 Shopper's Guide to Pesticides in Produce better known as the Dirty Dozen and the Clean15 to find out when it's worth to pay a little extra.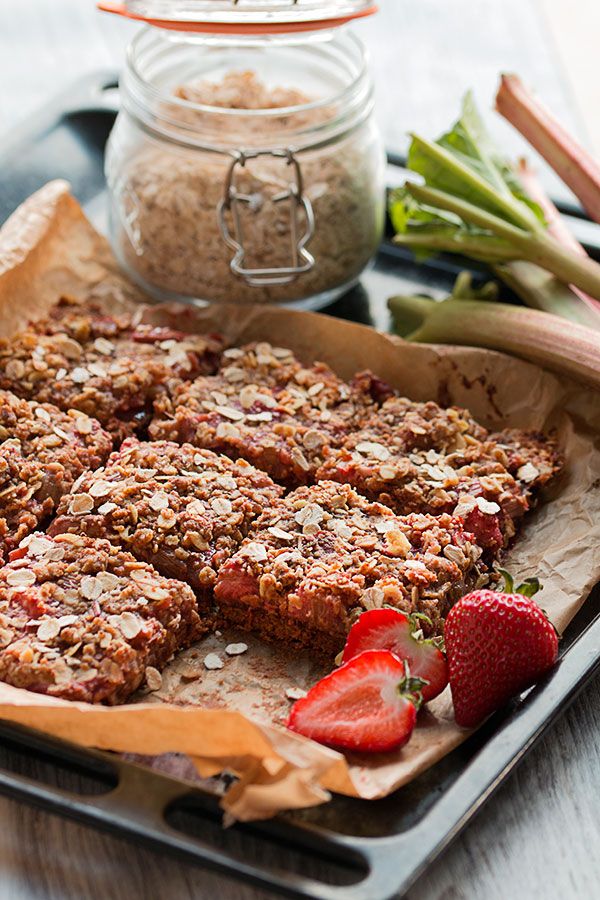 Why you should eat more rhubarb
Rhubarb is an excellent source of Vitamin C, which is important to help support a healthy immune system. It is high in dietary fibre which helps to maintain regularity within the digestive system and is a good source of calcium which is essential for strong bones and teeth. It is also high in Vitamin K, which is thought to help prevent diabetes. Of course, it has many more benefits but I know that you are here for the recipe and probably tired of me waffling on about nutrients while you just want to dig your teeth into some Strawberry Rhubarb Crumble Squares. Here you go then, just scroll down a little further to find the recipe.

Like it? Pin it!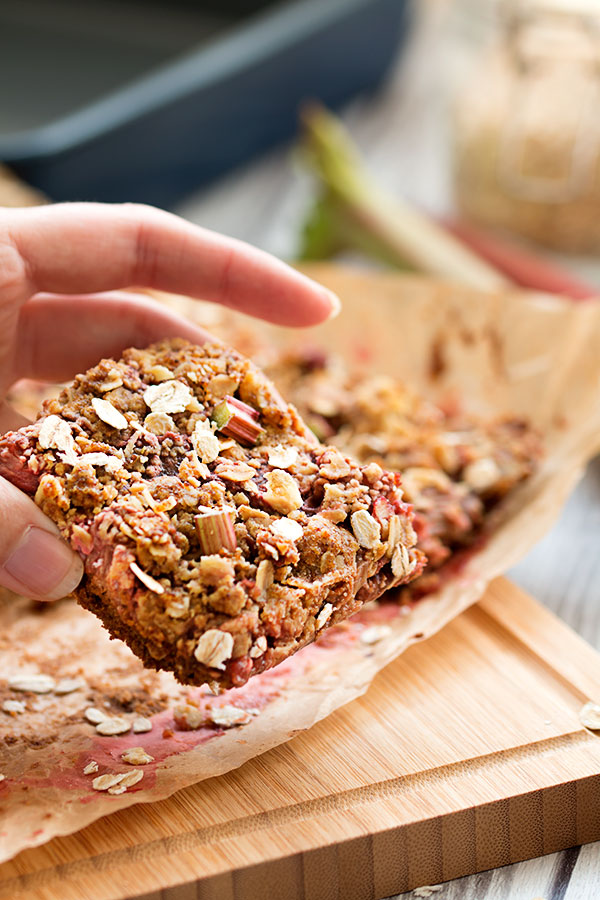 Your turn
What is your favourite rhubarb recipe? I'm looking forward to reading your comments.

Sign up to my Newsletter to get healthy recipes and my eBook "10 Easy Dessert Recipes " for FREE.

For more updates follow me on Facebook, Twitter, Instagram or Pinterest.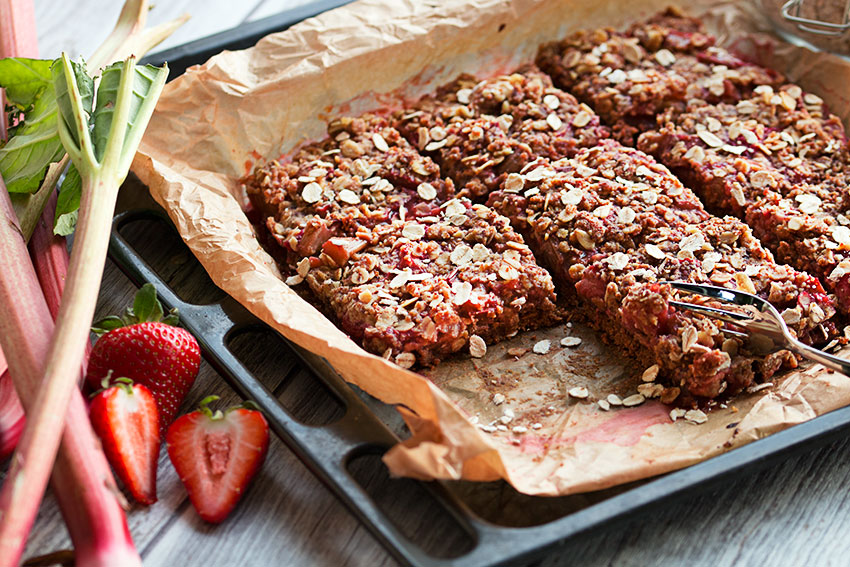 Print Recipe
Strawberry Rhubarb Crumble Squares (GF)(V)
Strawberry Rhubarb Crumble Squares are the perfect spring dessert or lunch box addition. They are easy to make, gluten-free, vegan and refined sugar-free.
Ingredients
Filling
2

cups

rhubarb

chopped (1/2 inch pieces)

1 1/4

cup

strawberries

chopped into quarters

1/4

cup

apple juice

2

tbsp

coconut sugar

1

tbsp

cornstarch
Instructions
Preheat oven to 350 °F/175 °C and line an 8x8-inch baking pan with parchment paper.
Crust
Add all the ingredients for the crust except for the coconut oil into a blender and pulse until there are no big pieces left.

Now, slowly start adding the melted coconut oil, the dough is ready when it just starts to be sticking together. Feel free to add more coconut oil if you feel like it's being too dry but don't over-do it or you will end up with a soggy crust.

Evenly spread out the dough in the baking pan and press it down firmly with your fingers.

Bake for 15 minutes, then increase heat to 350 °F/190°C and bake for 5 minutes more. Once the edges are slightly golden brown take it out and set aside.
Filling
In the meantime, add all the ingredients for the filling into a small saucepan and simmer it for 5-7 minutes over low-medium heat. Keep stirring so it won't be sticking to the saucepan. Set aside.
Topping
In a small bowl, mix all the ingredients for the topping using your fingers or a fork.

Now, spread the strawberry rhubarb compote evenly over the pre-baked crust and cover it with the crumble topping.

Bake for another 15-20 minutes at 350 °F/175 °C, or until the crumble is golden brown.

Remove it from the oven and let cool completely before cutting it into 9 even squares. If they don't feel firm enough to pick up briefly refrigerate them. Refrigerated they will last 3-4 days.

Enjoy!
Nutrition
Calories:
265
kcal
|
Carbohydrates:
26
g
|
Protein:
5
g
|
Fat:
17
g
|
Saturated Fat:
7
g
|
Sodium:
88
mg
|
Potassium:
268
mg
|
Fiber:
4
g
|
Sugar:
9
g
|
Vitamin A:
30
IU
|
Vitamin C:
13.9
mg
|
Calcium:
74
mg
|
Iron:
1.3
mg