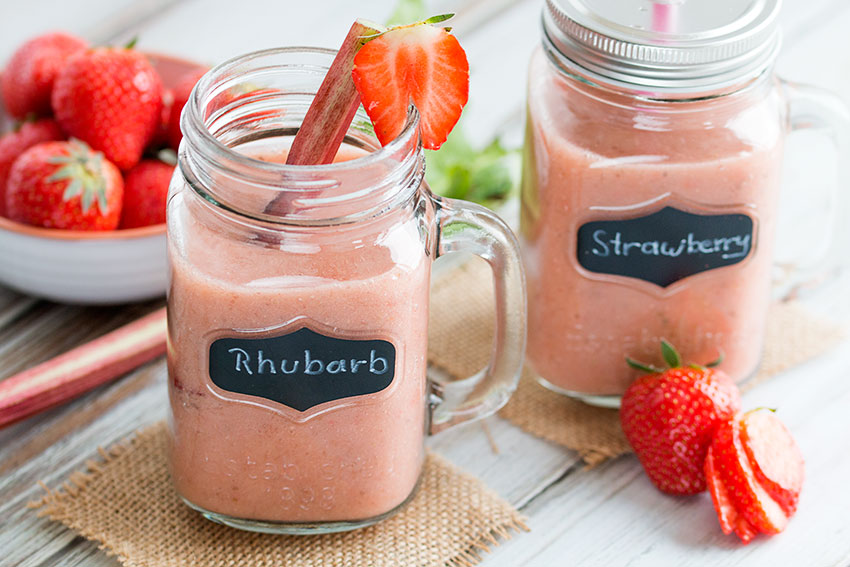 Rhubarb Strawberry Smoothie
A light, creamy, refreshing, healthy smoothie made with rhubarb and strawberries, the perfect recipe for chilling out on a summer's day.
Over the last week, we have been very spoiled by the weather in Ireland and for the first time since I moved to Ireland, I'm trying to grow some fruits, vegetables and herbs on our tiny balcony.
It's just so beautiful to lie there in my colourful, striped hammock being surrounded by the most incredible scents of herbs and flowers. I can't wait until the first big, red and juicy strawberries are ready to be picked. For the meantime, I am happy to buy my strawberries from local Irish producers.
Those of you who have been following me for a while might be aware of how much I love the combination of rhubarb and strawberries. Just a couple of weeks ago I shared these absolutely delicious Strawberry Rhubarb Crumble Squares with you, if you haven't tried them yet, go for it, they are to die for.
In case you are interested in nutrition, in this recipe, I also explain the health benefits of eating strawberries and rhubarb.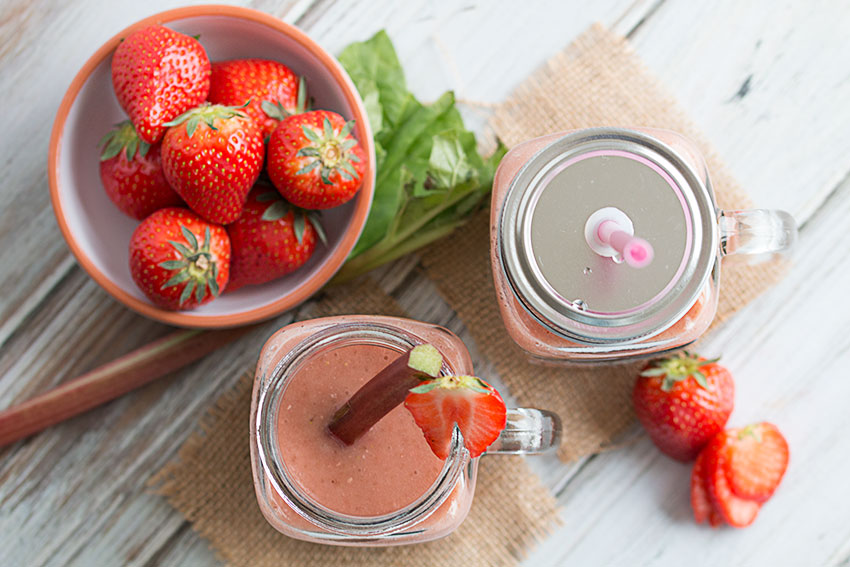 Why we all should be drinking more smoothies
Personally, I love drinking smoothies because they are an easy way of loading up with fruits and vegetables. Sometimes I would find it hard to eat 8 portions of fruits and vegetables a day if it wasn't for smoothies.
At this stage, I will admit though that I consider fruit smoothies like this Rhubarb Strawberry Smoothie an occasional treat because of their high fructose content. They are definitely healthier than having a regular milkshake but I wouldn't recommend having fruit smoothies every day.
God forbid that anybody will walk away from this recipe thinking that I was telling you to stop eating fruits. That's definitely not the case, fruits are an important part of a healthy diet.
Eat your fruits but choose wisely, in general, I am aiming to eat 2-3 portions of fruits per day and to pick the ones with a low glycemic index like berries or green apples.
There is nothing wrong with fruits like bananas, just don't go nuts with them, rather have them together with some nuts which are rich in protein. Protein slows down the release of fructose into your bloodstream, therefore, it won't spike and crash afterwards.
Vegetables make fantastic, healthy smoothies as seen in this delicious Best Energy Boosting Green Smoothie recipe.
Have you tried vegetable smoothies yet? It might surprise you how tasty they are. Spinach, celery, kale and beetroot are great vegetables for smoothies. And who says that you have to drink smoothies? You can also enjoy them in form of smoothie bowls which are even healthier because the digestion process already begins in the mouth. Check out my Best Acai Bowl Recipe Ever for more inspiration.
Like it? Pin it!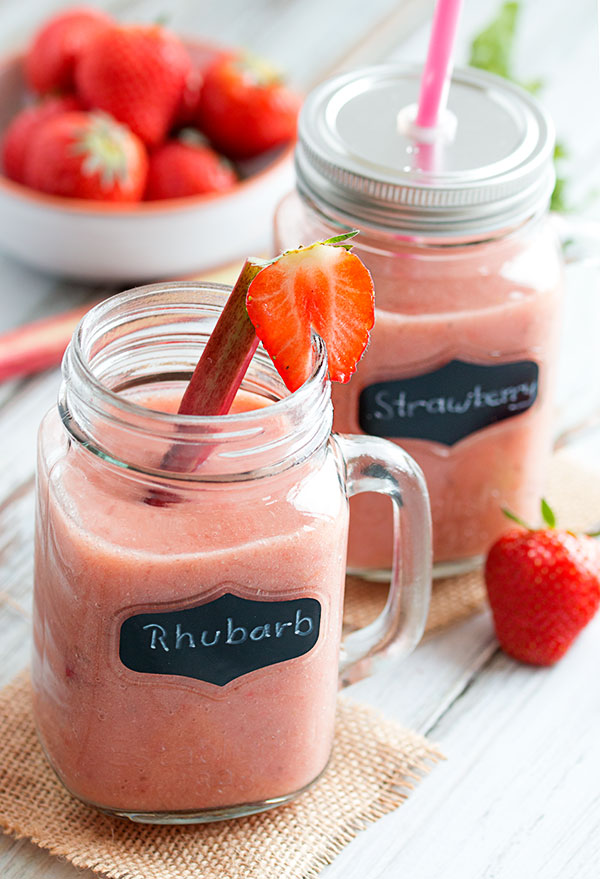 Your turn
What is your favourite rhubarb recipe? I'm looking forward to reading your comments.
For more updates follow me on Facebook, Twitter, Instagram, Pinterest or subscribe to my YouTube channel!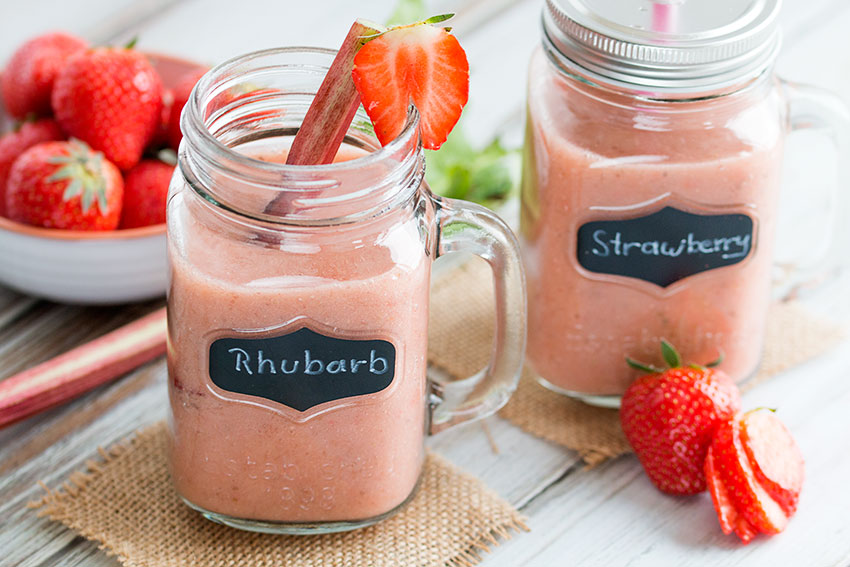 Print Recipe
Rhubarb Strawberry Smoothie
A light, creamy, refreshing, healthy smoothie made with rhubarb and strawberries, the perfect recipe for chilling out on a summer's day.
Ingredients
Smoothie
½

cup

stewed rhubarb

1/2

banana

very ripe

1/2

cup

strawberries

sliced

1/2

cup

almond milk

or other non-dairy milk

1

tsp

chia seeds

4

ice cubes
Instructions
Start with the stewed rhubarb, combine

4

cups of chopped rhubarb with

1/3

cup water and

1/4

cup maple syrup in a medium pot. Bring to a boil, then reduce heat to low and simmer for 20 minutes until tender. Makes

2

cups, store the rest in the refrigerator.

Blend

1/2

cup of the cooled stewed rhubarb with the remaining ingredients in a blender and enjoy.
Nutrition
Serving:
1
g
|
Calories:
432
kcal
|
Carbohydrates:
98
g
|
Protein:
7
g
|
Fat:
4
g
|
Saturated Fat:
1
g
|
Polyunsaturated Fat:
2
g
|
Monounsaturated Fat:
1
g
|
Trans Fat:
1
g
|
Sodium:
198
mg
|
Potassium:
1924
mg
|
Fiber:
14
g
|
Sugar:
64
g
|
Vitamin A:
546
IU
|
Vitamin C:
87
mg
|
Calcium:
701
mg
|
Iron:
2
mg