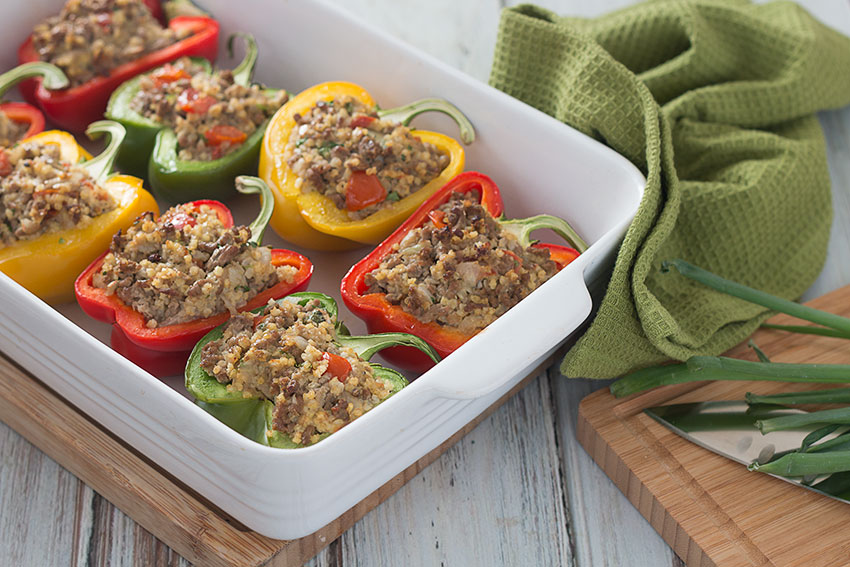 Beef And Millet Stuffed Peppers Recipe
These delicious Beef and Millet Stuffed Peppers are gluten-free, high in protein and easy to make. They are a versatile dish that can be filled with almost anything. Stuffed peppers are very popular in many countries around the world, they come in many varieties some are healthier than others. When I grew up my mother used to cut a sausage, squeeze its filling into the pepper, cover it with creamy tomato sauce and serve it with rice. Without a doubt, it was a tasty, easy dish but certainly not a very healthy one. In these Beef and Millet Stuffed Peppers, I only use lean, organic, grass-fed minced beef, none of the cheap, high-fat ones commonly found on the supermarket shelves. Another great organic minced beef recipe is this Mediterranean Meatballs With A Twist Recipe, I am almost sure that you would never guess what the twist is, go check it out.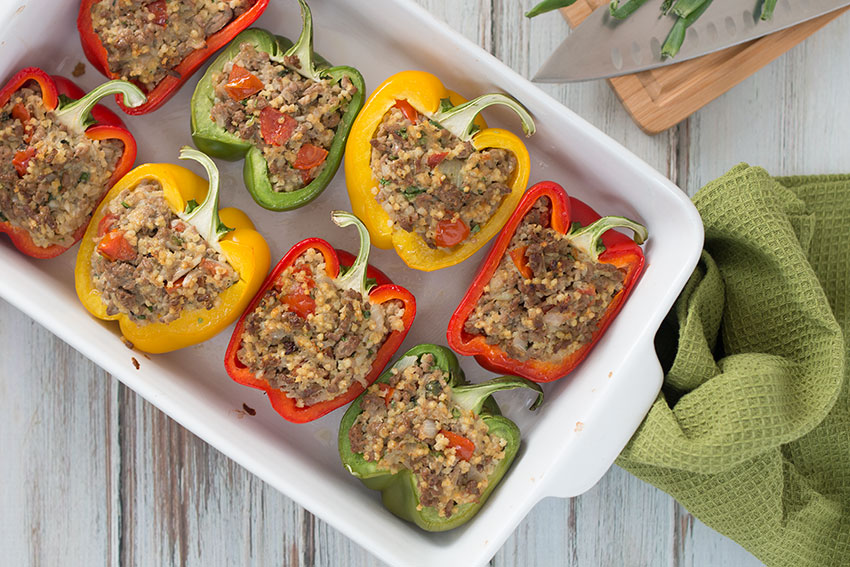 Benefits Of Millet
Millet is an ancient grain which isn't widely used nowadays but probably should be due to its high nutrient density. It has a sweet nutty flavour and is considered to be one of the most digestible and non-allergenic grains available.
With a high fibre content and a low amount of simple sugar, it has a relatively low glycemic index compared to rice and wheat, therefore it can help keep your blood sugar levels at bay. Millet is also gluten-free, so Coeliac sufferers can turn to it as their source of grains.
In terms of basic food staples we praise millet as the simplest and most valuable additions to diets around the world, it provides the most energy, as well as the most fat and B-vitamins.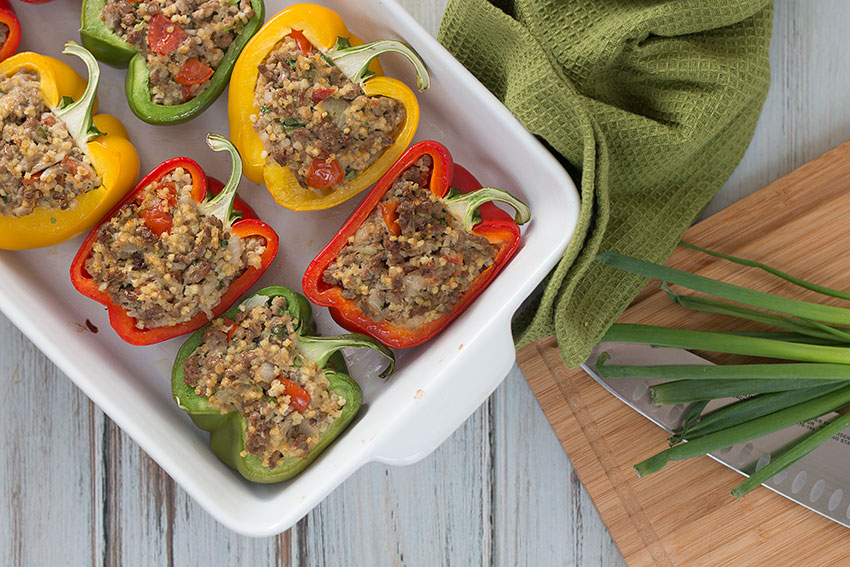 Make It Vegetarian
This recipe can easily be altered to a vegetarian option by increasing the amount of millet and omitting the minced beef. For more vegan and vegetarian inspiration check out my Quinoa Stuffed Eggplant With Lemon Tahini Sauce and Stuffed Sweet Potatoes With Avocado Sauce.
Your turn
What do you stuff your peppers with? Let me know, I'm looking forward to reading your comments.
For more updates follow me on Facebook, Twitter, Instagram, Pinterest or subscribe to my YouTube channel!
Like it? Pin it!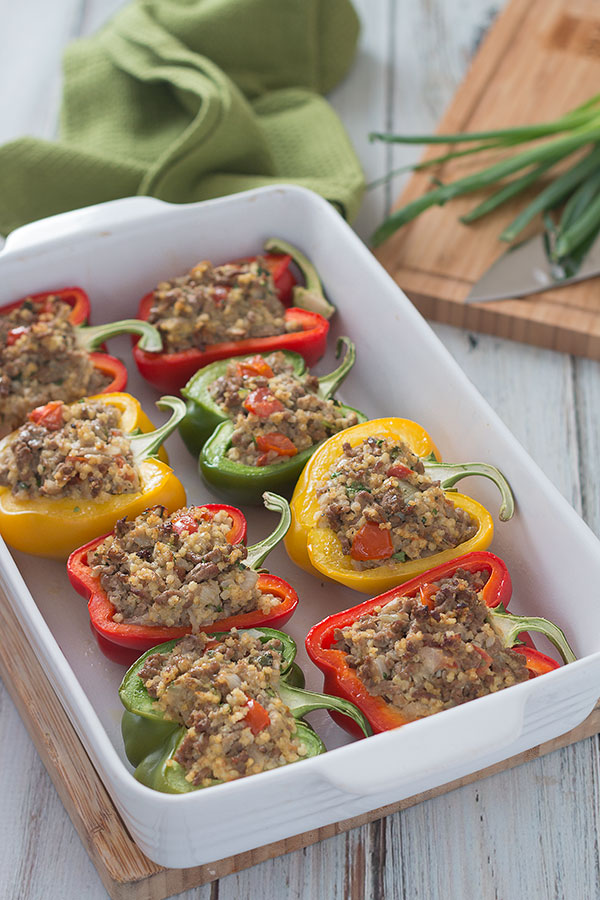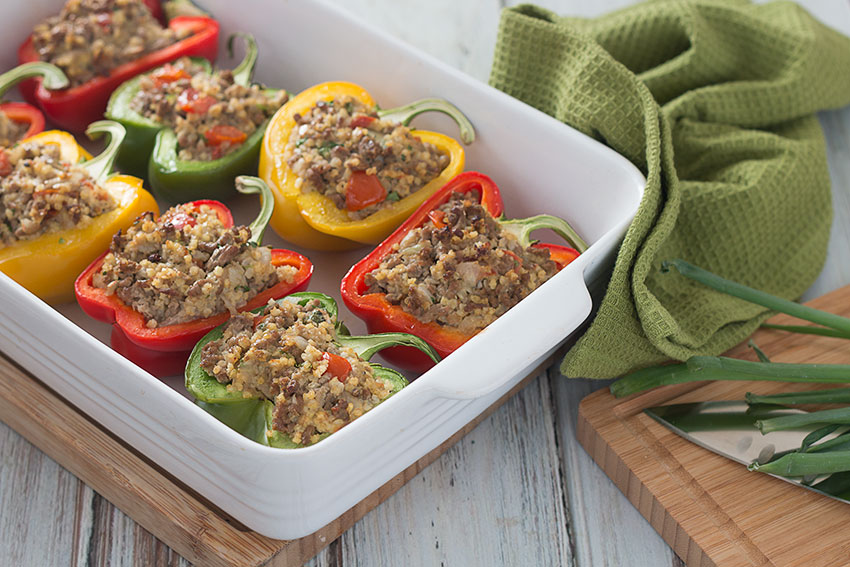 Print Recipe
Beef And Millet Stuffed Peppers
These delicious Beef and Millet Stuffed Peppers are gluten-free, high in protein and easy to make. They are a very versatile dish that can be filled with almost anything.
Ingredients
1

cup

filtered water

1/3

cup

millet

uncooked

2

tablespoons

olive oil

2

large onions

finely chopped

6

cloves

garlic

finely chopped

2

chilli

finely chopped

1

pound

minced beef

organic

2

tomatoes

chopped

2

tablespoons

fresh basil

2

tablespoons

fresh parsley

1/2

teaspoon

salt

1/2

teaspoon

pepper

2

eggs

lightly beaten

4

red bell peppers

halved lengthwise
Instructions
Preheat the oven to 350 °F/175 °C.

Place the millet in a small pot and add two cups of water. Cover with a lid and bring to a boil, once it's boiling lower the heat and let simmer for about 15 minutes or until all the water has evaporated.

In a large pan, sweat the onions, garlic, chillies with

2

tablespoons of olive oil for about 3 minutes.

Add the minced beef and cook until it is no longer pink. Now, mix in the tomatoes as well.

Slightly whisk the eggs, add them with all the remaining ingredients except for the bell peppers to the pan and stir well.

Fill the mixture into the bell pepper halves and place them in a greased oven dish. Bake at 350 °F/175 °C for 40 minutes or until tender. Depending on your oven you might need to cover the oven dish with tin foil.
Notes
In general, try to avoid the use of aluminium foil for health and environmental reasons but if it can't be avoided line it with a layer of parchment paper so that it won't be in direct contact with the food.
Nutrition
Calories:
265
kcal
|
Carbohydrates:
15
g
|
Protein:
13
g
|
Fat:
16
g
|
Saturated Fat:
5
g
|
Cholesterol:
81
mg
|
Sodium:
208
mg
|
Potassium:
473
mg
|
Fiber:
3
g
|
Sugar:
5
g
|
Vitamin A:
2395
IU
|
Vitamin C:
100.4
mg
|
Calcium:
37
mg
|
Iron:
2.2
mg