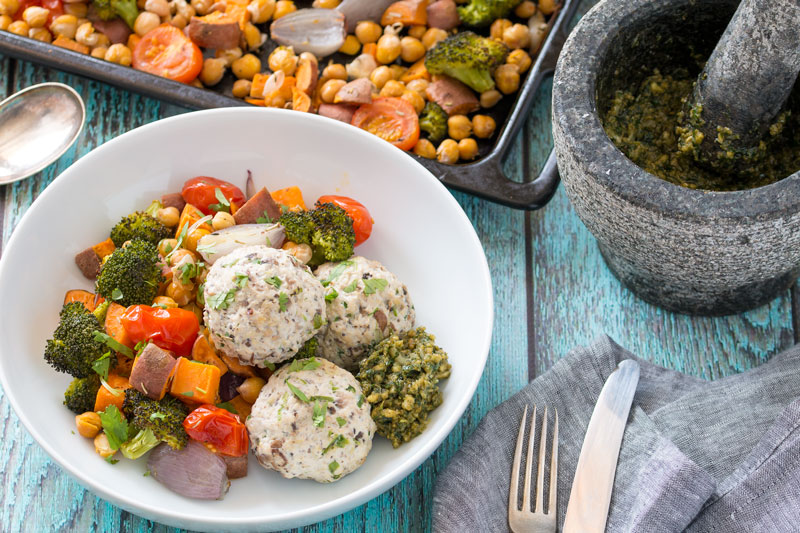 Vietnamese Style Chicken Meatballs with Sweet Potato & Chickpea Bake
This Vietnamese Style Chicken Meatballs with Sweet Potato & Chickpea Bake recipe is one of my favourite post-workout recipes, I know it looks quite random but believe me it tastes amazing and doesn't require much skill.
All it takes is a bit of chopping, rolling and throwing everything into the oven.
It is a great way of getting in your veggies and protein for the day. Served without the meatballs it makes a great vegan or vegetarian meal.
If you can't live without your piece of meat make sure to also check out my Healthy Turkey Meatballs with Asian-Style Rainbow Chard.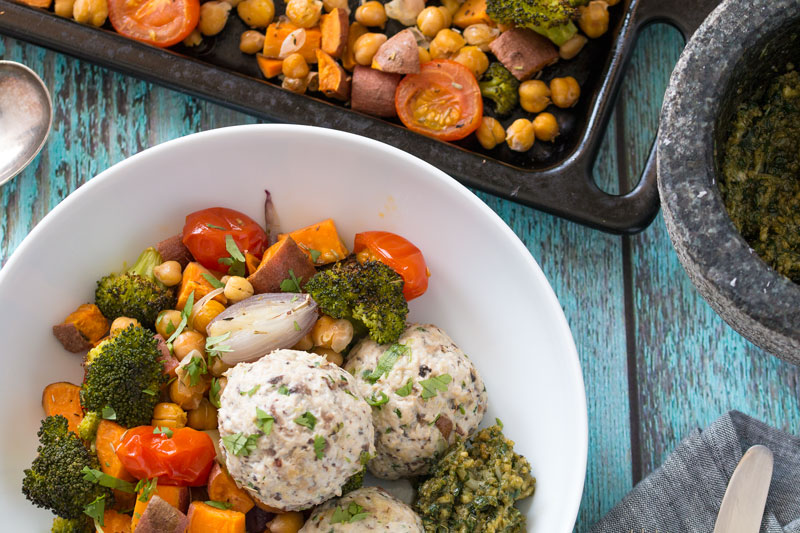 Why Vietnamese Style Chicken Meatballs?
I simply love Asian cuisine and I guarantee you that once you have tried it you will never want to go back.
They are packed with flavours and another great way of sneaking in a few more veggies.
When you cook with lemongrass always give it a good bashing, it helps to release its citrusy aroma and any frustration. 😉
It fills the kitchen with the most wonderful scent reminding me of my travels to Asia.
Only use the soft part of the lemongrass and discard all the woody bits. Also, make sure to chop it very finely, it goes really well with flavours of the ginger and coconut cream.
The coconut cream helps to make the balls stick together and prevents them from drying out.
You could also fry the meatballs instead of baking them but I prefer to stick everything into the oven and have it ready at the same time.
I like using tamari sauce and sometimes fish sauce to add a little saltiness but you can simply replace this with soy sauce.
Pesto
The pesto is optional but my partner loves a bit of sauce with his chicken meatballs, which is the reason I have included it. Feel free to leave it out or to use shop-bought pesto if you are short on time.
It adds loads of healthy fats from the cashew nuts and olive oil but some people like to avoid fats after exercising.
It is totally up to you if you want to include it or not but I would definitely recommend adding it to the vegetarian version.
Like it? Pin it for later!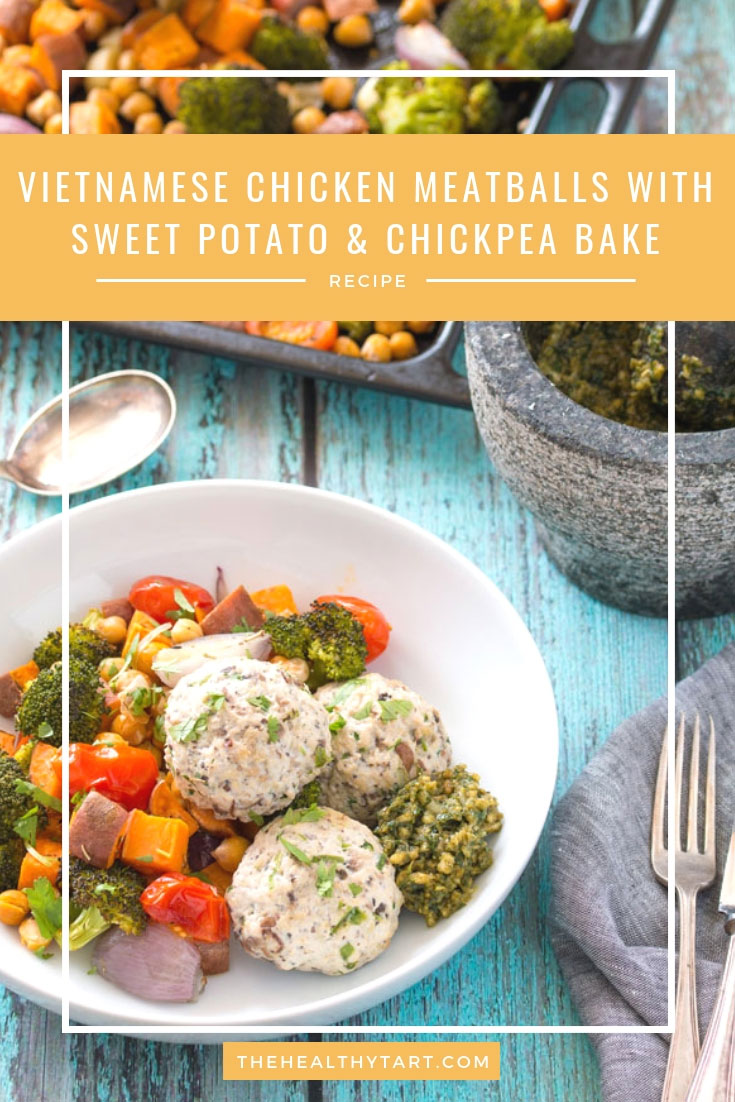 Your turn
I love Vietnamese Style Chicken Meatballs with Sweet Potato & Chickpea Bake, what is your favourite workout meal? Let me know in the comments.
For more updates follow me on Facebook, Twitter, Instagram, Pinterest or subscribe to my YouTube channel!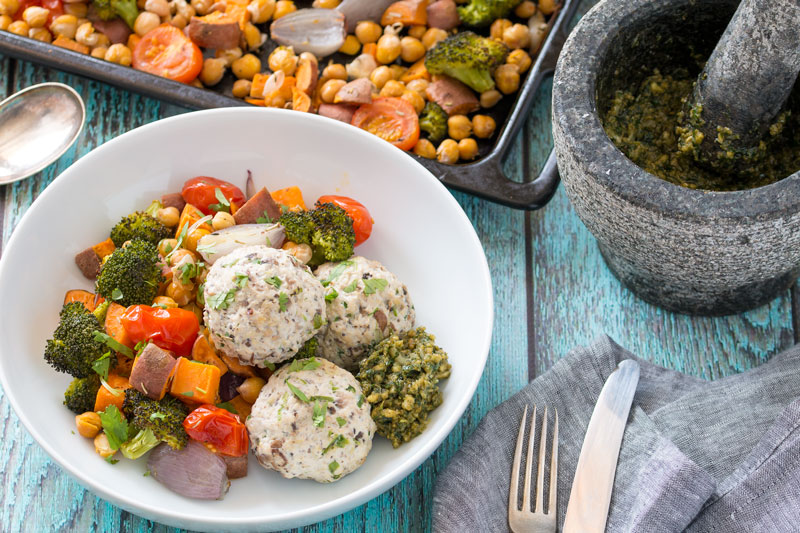 Vietnamese Style Chicken Meatballs with Sweet Potato & Chickpea Bake
This healthy midweek dinner is packed with veggies and Asian flavours. It is easy to make and perfect after a good workout. It is gluten-free and can simply be turned into a vegetarian dish.
Instructions
Chickpea & Sweet Potato Bake
Preheat the oven to 400°F/200°C.

Spread all ingredients except for the olive oil and salt evenly on a baking tray. Drizzle with olive oil and sprinkle salt on top. Toss until evenly coated and bake for 25 minutes.
Chicken Balls
Grease a baking tray with coconut oil.

Add all the ingredients except for the chicken and mushrooms to a food processor and blitz to form a paste. Now add in the chicken and mushrooms and blitz again until roughly chopped.

Roll the mixture into about 12 small balls and bake for about 12 minutes or until cooked through.
Pesto
Pound the basil, raw cashew nuts and pulp from three of the roasted garlic cloves in a pestle and mortar. Gradually add the olive oil until it reaches the desired texture. Add the parmesan.
Nutrition Facts
Vietnamese Style Chicken Meatballs with Sweet Potato & Chickpea Bake
Amount Per Serving
Calories 989
Calories from Fat 540
% Daily Value*
Total Fat 60g 92%
Cholesterol 93mg 31%
Sodium 2605mg 109%
Potassium 2534mg 72%
Total Carbohydrates 72g 24%
Protein 49g 98%
* Percent Daily Values are based on a 2000 calorie diet.