Healthy Baked Sweet And Sour Cauliflower
Healthy Baked Sweet And Sour Cauliflower is vegan, gluten-free, easy to prepare and much healthier than its fried takeaway cousin. The sweet and sour sauce is free from refined sugar but gives you the satisfaction and enjoyment without any of the nasties.
Personally, I am a big fan of Asian-style dishes but I am not a believer in deep frying. First of all, the oil gets damaged during the process which makes it very unhealthy in my opinion and secondly I don't like the greasy smell it leaves in the kitchen.
These are just two of the reasons why I decided to rather bake than frying the cauliflower for my Healthy Baked Sweet And Sour Cauliflower. I prefer preparing my own sweet and sour sauce to be in control of the sugar content, most sweet and sour sauces available in supermarkets contain vast amounts of sugar. Unfortunately, the same does apply to ketchup so make sure to pick a good brand from the health food store or even better make your own. If you like it spicy feel free to add a deseeded chilly to the sauce.
Did you know that cauliflower also makes a great pizza crust or rice replacement? Check out my Vegan Mini Cauliflower Pizzas Recipe for more inspiration.
How to cook brown rice
Brown rice is considered superior to white rice because it has been less processed and not stripped of all its nutrients. My personal favourite is brown basmati rice which might cook a little longer than the regular brown rice but I think it's well worth the wait. Of course, feel free to serve it with any rice you like all will work just fine.
Unfortunately, there is one downside to brown rice or rice in general, recent studies have found that rice can contain considerable amounts of arsenic. Brown rice tends to contain a bit more than white rice but it should only be of concern if you consume large quantities every day.
Let me tell you how you can reduce the amount of arsenic in your rice significantly by cooking it the right way. Always wash your rice properly before cooking and boil it with a lot of water, use at least 5 times the amount of water compared to rice and discard the excess water.
I know this is probably exactly the opposite of how you have been told to cook rice all your life but I ask you to trust me on this. Just washing your rice will already lower the arsenic content by roughly 20%.
A huge percentage of the world's population relies on rice as a main food source, and millions of people may be at risk of developing arsenic-related health problems.That being said, if you eat rice in moderation as a part of a varied diet, you should be totally fine. However, if rice happens to be a large part of your diet, make sure that it was grown in a non-polluted area.
If you prefer to avoid rice altogether feel free to check out some of my other favourite dishes like my Homemade Vegan Spelt Pizza Easy Ginger Sesame Noodles or Grilled Zucchini Boats.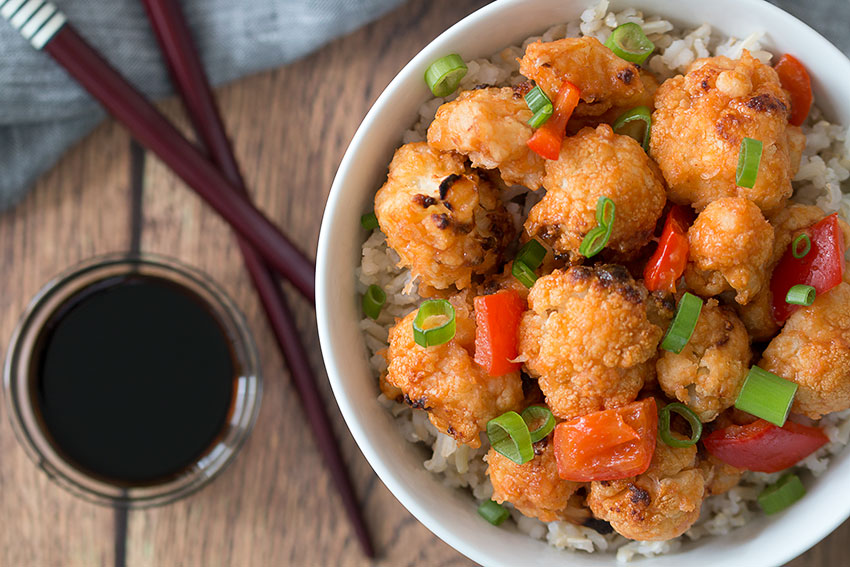 Health Benefits of Cauliflower
For multiple reasons, Cauliflower is often considered one of the healthiest foods on the planet, it contains high levels of anti-inflammatory compounds and phytochemicals.
Cauliflower is a member of the cruciferous vegetable (or Brassicaceae) family- along with broccoli, cabbage, kale, Brussel sprouts.
Recent studies suggest that cruciferous vegetables are an excellent source of natural antioxidants due to their high levels of various phytochemicals, as well as good suppliers of essential vitamins, carotenoids, fibre, soluble sugars, minerals, and phenolic compounds. In fact, it's believed that brassica vegetables are the largest source of phenolic compounds in the human diet.
A one-cup serving of cauliflower contains:
29 calories
Close to zero grams of fat, sodium, or sugar
73% daily value (DV) of Vitamin C
 19% DV of Vitamin K
 15% DV of folate14%
 13% DV of pantothenic acid
 12% DV of Vitamin B6
 11% DV of choline
 11% DV of fibre
  9% DV of Omega-3 fatty acids
Like it? Pin it!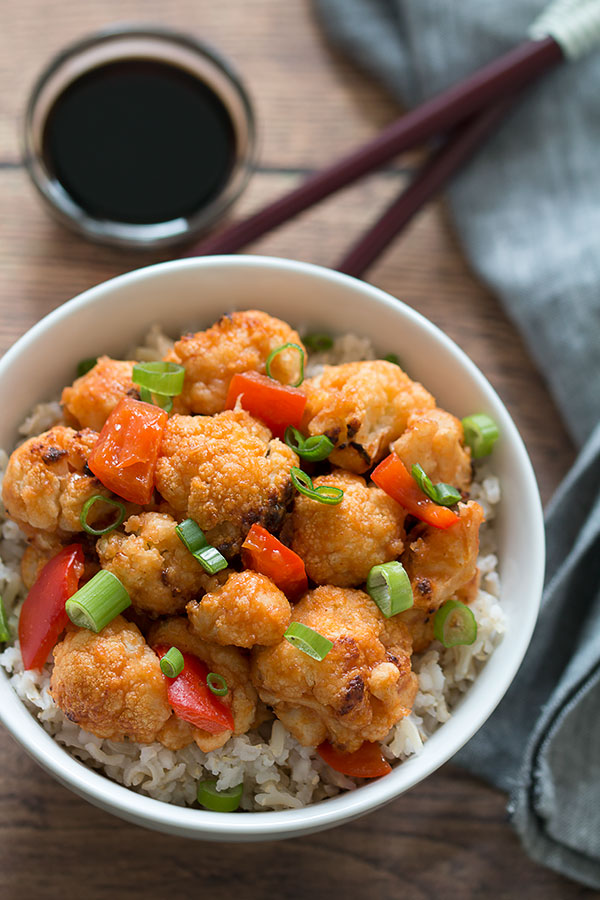 Your turn
I know that cauliflower wouldn't be everyone's favourite vegetable but I guess you wouldn't be reading this post if you wouldn't like it. What other vegetables do you cook with a lot? Let me know, I'm looking forward to reading your comments.
For more updates follow me on Facebook, Twitter, Instagram, Pinterest or subscribe to my YouTube channel!

Print Recipe
Healthy Baked Sweet And Sour Cauliflower
Healthy Baked Sweet And Sour Cauliflower is vegan, gluten-free, easy to prepare and much healthier than its fried takeaway cousin.
Ingredients
5-6

cups

cauliflower florets

about one large cauliflower head

3

tablespoons

olive oil

extra virgin

⅓

cup

corn starch

2

cups

brown basmati rice

for serving, cook according to package instructions

1-2

green onions

thinly sliced, for garnish
Sauce
1-2

tablespoons

coconut sugar

1/4

cup

apple cider vinegar

1/3

cup

water

2

tablespoons

tamari

1

teaspoon

garlic powder

¼

cup

natural organic ketchup

(low sugar)

1

tablespoon

cornstarch + 2 tablespoons cold water

1

red bell pepper

diced
Instructions
Preheat your oven to 400°F/200°C.

Add the cauliflower florets to a big bowl and gently rub in the olive oil using your hands. Sprinkle the cornstarch across and keep mixing until the cauliflower florets are nicely coated.

On a greased baking sheet, spread out the coated cauliflower evenly and bake for 15-20 minutes until the bottom slightly starts to brown. Afterwards, switch oven to grill and grill on high for 3-4 minutes just until tops start to brown. (Keep an eye on it to make sure the cauliflower doesn't burn!)

Meantime, boil the brown rice and prepare the sauce.

In a small saucepan combine coconut sugar, apple cider vinegar,

1/3

cup water, tamari sauce, garlic powder and ketchup and bring to a boil.

Dissolve the cornstarch in cold water and pour into the sauce, stir well.

Add the red bell pepper and boil until the sauce has thickened to your liking.

Serve with rice and garnish with thinly sliced spring onion.
Notes
The measurements for the sauce are just enough to cover the cauliflower but if you like a lot of sauce to go with your rice I would suggest doubling the sauce recipe.
Nutrition
Calories:
562
kcal
|
Carbohydrates:
99
g
|
Protein:
11
g
|
Fat:
13
g
|
Saturated Fat:
2
g
|
Sodium:
694
mg
|
Potassium:
728
mg
|
Fiber:
6
g
|
Sugar:
10
g
|
Vitamin A:
1040
IU
|
Vitamin C:
99.4
mg
|
Calcium:
49
mg
|
Iron:
2.4
mg