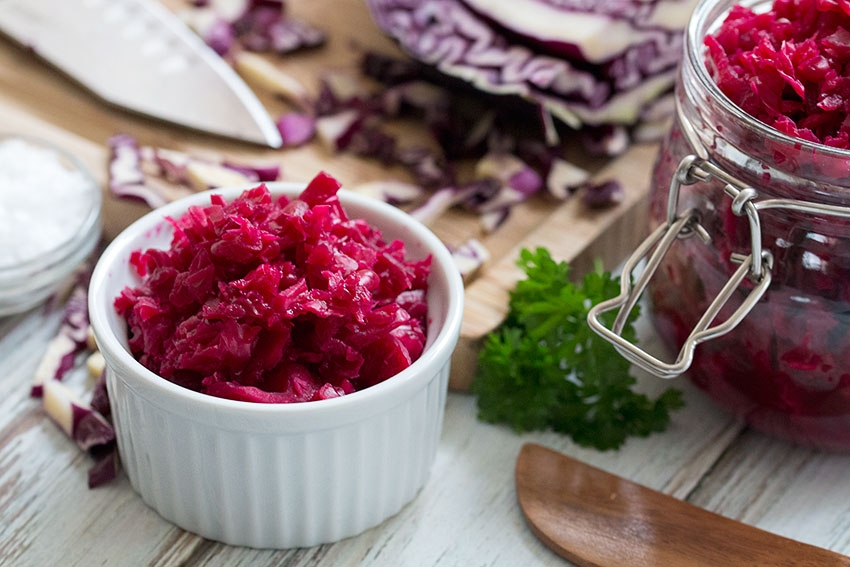 What is Sauerkraut
Fermentation is an ancient method of preserving perishable foods that dates back as far as the fourth century B.C. In Germany, we eat a lot of Sauerkraut which gave us the nickname "Krauts". Some Germans might feel offended by the term but I am all for a bit of banter so I don't actually mind it. The red cabbage sauerkraut which I am showing you below isn't the traditional German Sauerkraut, usually, we would use savoy cabbage but I like experimenting with different flavours.
Fermentation is the process of converting carbohydrates, like sugars, into either alcohols and carbon dioxide, or organic acids. Fermentation requires the presence of carbohydrates such as milk or vegetables plus yeast, bacteria or both. The yeast and bacteria will convert sugar into healthy bacteria strains that populate your gut environment which may help to regulate many body functions.
The type of fermentation that makes most foods "probiotic" is called lactic acid fermentation. Lactic acid is a natural preservative that inhibits harmful bacteria growth.
Personally, I consume many different fermented foods, besides Red Cabbage Sauerkraut I also enjoy eating Homemade Coconut Milk Yoghurt, Sourdough Rye Bread, Sourdough Rye Pancakes, Kefir and Kombucha.
How to make Red Cabbage Sauerkraut
If you are afraid of starting to ferment your own food be assured that it is very simple and doesn't require a lot of equipment, all it takes is a bit of time. To make red cabbage sauerkraut it would be very helpful to have a mandoline but you can also chop the cabbage using a knife. You can purchase fermentation jars and weights if you like but I just use a big bowl for mixing, a mandoline, a wooden spoon and a grater if I wish to incorporate things like apple and horseradish.
When you buy the products that you are going to ferment I highly recommend buying organic produce. You need the bacteria that is naturally occurring on the plant to be alive in order to start the fermentation progress. If the vegetable has been heavily sprayed with pesticides you might not get the fermentation started apart from all the other obvious disadvantages.
Instead of putting weights into my jars I simply use one of the outer cabbage leaves to keep the chopped cabbage submerged in the liquid. Another handy method is to fill little Ziplock bags with water and to use them as weights.
As always, when working with food it is important to work clean but you won't need sterile conditions to create some delicious red cabbage sauerkraut. Just make sure that there are no dishwashing detergents left on your jars. Once you have all the ingredients combined you need to keep massaging the red cabbage sauerkraut until a lot of liquid has gathered at the bottom of your bowl. If you don't like kneading it for approximately 5 minutes you can wait 30 minutes and let the salt do the work for you.
When you start filling your jar give the sauerkraut a good push after every layer and cover the top with a cabbage leaf. Never fill your jars to the very top because gas will be released during the fermentation process which might cause your jar to explode or the liquid to bubble over. Seal the jar and keep it at room temperature for two days, then the bacteria needs a drop in temperature, move your jar to the basement or a cooler hallway. A good red cabbage sauerkraut will take 6 weeks to ferment but you can certainly have a taste after 2-4 weeks but if you manage to wait for 6 weeks it will give a totally different flavour experience.
Benefits of Sauerkraut
The Journal of Applied Microbiology states that probiotic benefits from cultured foods include lowering the risk of:
brain disorders and mental illness
digestive disorders like leaky gut syndrome, ulcerative colitis and IBS
mood disorders like depression and anxiety
various autoimmune diseases
metabolic conditions such as diabetes
obesity or weight gain
asthma
hormonal imbalances
food allergies and sensitivities
cancer
The latest science tells us that probiotic-rich foods may help:
Detoxify the body, since probiotics are linked to preventing infections and combating toxins living within our digestive tract
Control inflammation which causes most of the diseases
Improve immune function, because they help to create a barrier against potential invaders including such as pathogens, viruses, fungi and parasites
Aid in digestion and absorption of various nutrients
Support brain health, even helping to prevent dementia
Handle stress through the "gut-brain" connection, your microflora's effects on your endocrine (hormonal) system
There are conflicting opinions about how many probiotics survive the digestive process in the stomach and make it alive into our intestines but the jury is still out on that.
Like it? Pin it!
Your turn
Are you already fermenting your food and what is your favourite one? I'm looking forward to reading your comments.
Sign up to my Newsletter to get healthy recipes and my eBook "10 Easy Dessert Recipes " for FREE.
For more updates follow me on Facebook, Twitter, Instagram or Pinterest.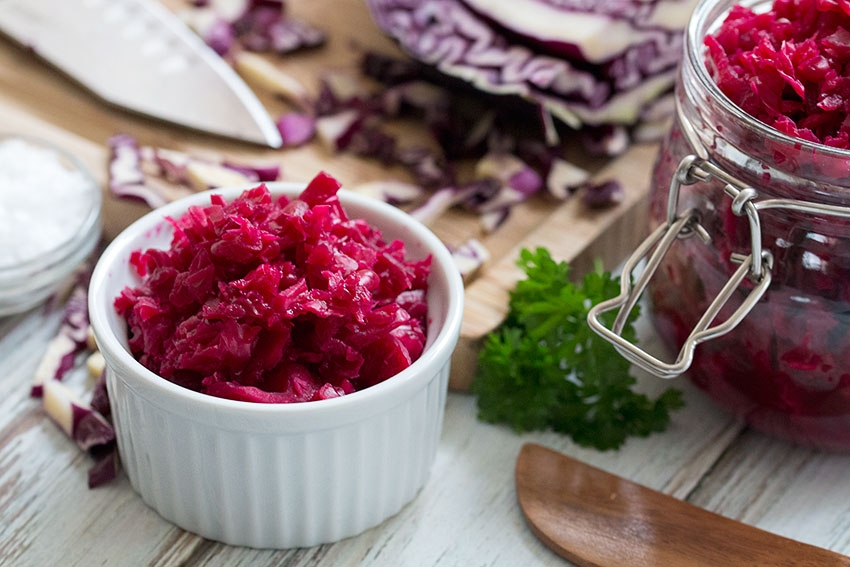 Print Recipe
Red Cabbage Sauerkraut With Horseradish And Apple
Learning how to make sauerkraut is so easy and homemade red cabbage sauerkraut is packed with probiotics and beneficial bacteria.
Ingredients
2.2

lbs

red cabbage

2.5

oz

horseradish

1/2

Boskoop apple

20

g

sea salt
Instructions
Chop the red cabbage (the finer the better) and fill it into a big bowl.

Grate in the horseradish and apple and sprinkle with sea salt.

Mix and massage the mixture until a lot of liquid starts gathering at the bottom of the bowl or let sit for 30 minutes for the salt to do the job for you. Tip: Wear gloves for this and the following tasks if you don't want stained hands.

Start layering the mixture into clean mason jars and give it a firm push with a wooden spoon after each layer. Don't fill your jars to the very top, leave about 1-2 inch.

Use a cabbage leave or a Ziplock bag filled with water to keep the sauerkraut submerged in the liquid and close the lid.

Keep the jars at room temperature for two days, then move them to a cooler place like a basement or hallway and let it ferment for 4-6 weeks.
Nutrition
Calories:
19
kcal
|
Carbohydrates:
4
g
|
Sodium:
415
mg
|
Potassium:
134
mg
|
Fiber:
1
g
|
Sugar:
2
g
|
Vitamin A:
555
IU
|
Vitamin C:
29.5
mg
|
Calcium:
24
mg
|
Iron:
0.4
mg