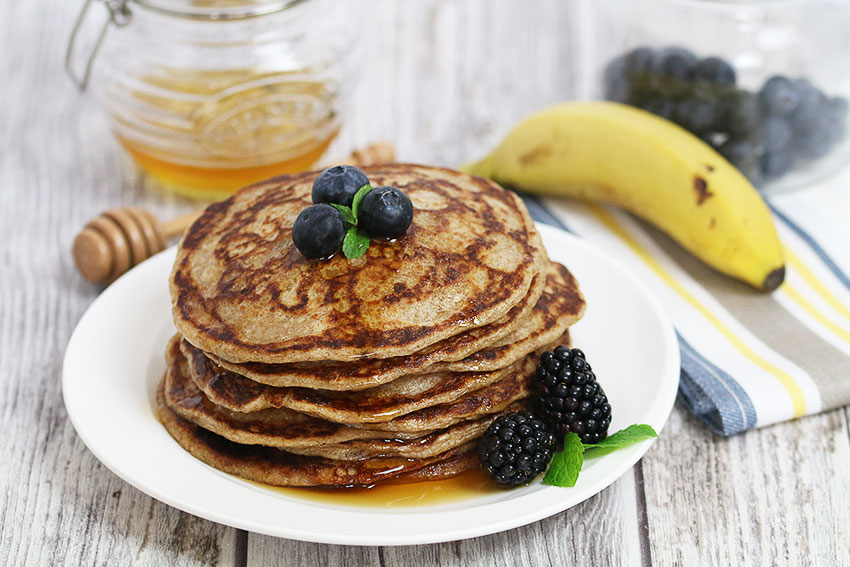 Rye Sourdough Pancakes
As the name suggests, these fluffy and nutritious rye sourdough pancakes use 100% rye sourdough starter as a leavening agent instead of commercial yeast. By cutting out refined sugar, yeast, wheat and dairy (unless fermented) from my diet I was able to cure myself of reoccurring candida. Since, my energy levels have tripled and I'm always looking for ways to incorporate sourdough and probiotics into my recipes to maintain a healthy gut flora .
Benefits Of Rye Sourdough Pancakes
Rye flour is very low in gluten which due through the fermentation process becomes far easier to digest than regular glutenous flours. Despite being very nutrient dense, it is low in phytic acid but full of vitamins and minerals not found in any other grains.
Using kefir instead of regular milk gives your gut an extra boost of probiotics which helps the good gut bacteria keeping the upper hand.
How Does Sourdough Work?
Flour naturally contains a variety of yeasts and bacterial spores. When wheat flour comes into contact with water, the naturally occurring enzyme amylase breaks down the starch into sugars, which sourdough's natural yeast can metabolise.The bacteria ferment maltose that the yeast cannot metabolise and the byproducts are metabolised by the yeast which produces carbon dioxide gas, leavening the dough.
Check out our delicious sourdough rye bread recipe! 🙂
How To Serve Rye Sourdough Pancakes?
Rye sourdough pancakes are served best immediately.
You can serve them sweet with maple syrup and fruits or savoury with sour cream dill and smoked salmon or with whatever flavour floats your boat. 🙂
Let me know how you like to eat your pancakes in the comments!
To receive FREE, healthy recipes delivered straight to your inbox sign up to our Newsletter and follow us on Facebook,Twitter, Instagram or Pinterest.
Enjoy ?
Prep time:
Cook time:
Total time: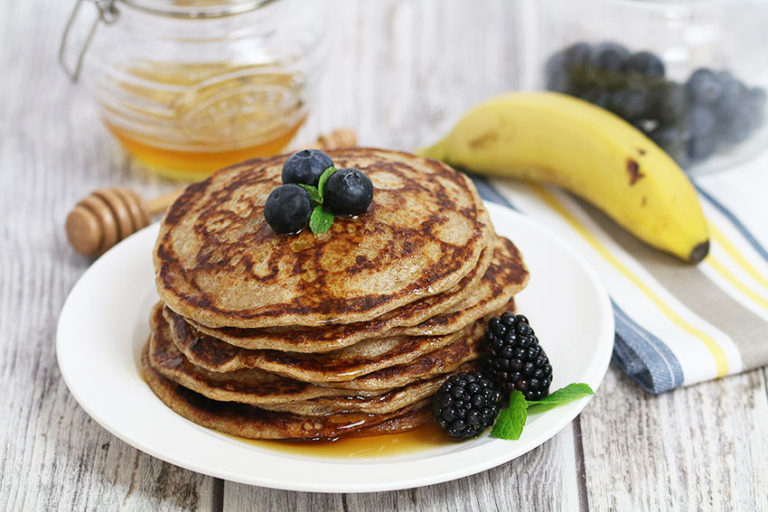 Fluffy, nutritious rye sourdough pancakes that can be enjoyed with sweet or savoury toppings.
Ingredients
1 cup kefir (you can make your own kefir or buy some at the grocery store)
½ cup water
2-3 tablespoons active, recently fed sourdough starter
1.5 cups whole rye flour
1 egg
1 tablespoon xylitol or coconut sugar
¼ teaspoon sea salt
½ teaspoon baking soda
Instructions
Add wet ingredients to a big glass jar or medium- sized bowl and stir with a wooden spoon until the starter has completely dissolved in the liquid.
Incorporate about ¼ cup of rye flour at a time into the mix while stirring continuously.
Cover the top tightly and allow to ferment for 8-12 hours. A glass container works best because you can check the activity of the sourdough.(You want it to be very bubbly).Never use any metal objects to stir or store fermenting cultures.
Mix egg, sugar and salt and stir until the sugar has dissolved.
Add mixture to the batter and stir well.
Whisk in the baking soda and allow to rest for another 5 minutes, it will help the batter to rise and to tone down the tangy flavour.
Depending on the consistency of your rye sourdough starter you might have to add a little water to achieve the typical runniness of pancake batter.
Pour the batter into a pan at medium heat and cook until the top of the pancake starts to form a film. Flip the pancake and cook until golden brown.
Serve immediately.
Enjoy 🙂
Recipe adapted from Beets and Bones.