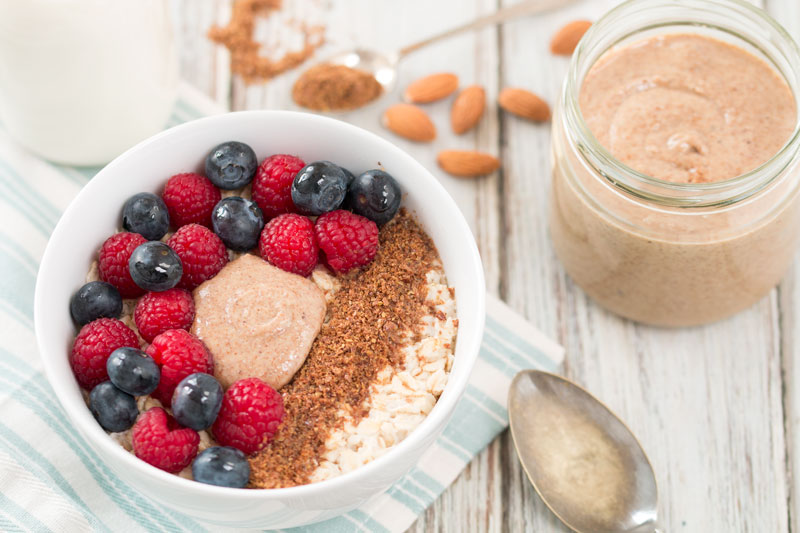 Nourishing Breakfast Porridge With Berries & Seeds
This nourishing porridge with berries & seeds provides you with a truly delicious start to your day. During the winter it is one of my breakfast staples and I keep alternating the fruits, seeds and nuts.
Some other favourites of mine are these Blueberry Oat Breakfast Bars and Chai Chia Pudding, both are easy to make and can be prepared ahead of time. This way, you can avoid any rush in the morning.
Any oatmeal recipe can be easily adapted to be vegan or gluten-free by using nut milk or gluten-free oats.
Should I have breakfast every day?
Everybody is different, some people can't imagine leaving the house without having had breakfast while others just can't get a single bite down. It all comes down to body individuality while having breakfast can certainly be beneficial to many and particularly to children, it's not essential.
If you don't feel like having breakfast don't beat yourself up about it, simply eat a little later or try having a smoothie.
Just make sure that you are prepared for when the hunger strikes so that you won't have to rely on unhealthy canteen options.
Another tip is to keep a glass of water beside your bed and to drink it as soon as you wake up. This will help your body to rehydrate and get the digestive system into motion just in time for breakfast.
Many of us fall into the trap of eating the same foods over and over again. Try to vary your meals as much as possible. That way you will feed all the different strains of gut bacteria which in return will provide you with a healthy microbiome. By eating monotonous many of the good bacteria will simply starve and die.
What's the point in buying expensive probiotic supplements if you can't keep the good bacteria alive? You need to consume enough fibre and experts recommend eating a minimum of 50 different foods a week.
There are a lot of great ways to make your own probiotics with fermentation. Fermented foods are usually much more potent than capsules and will cost just a fraction of supplements. You can ferment almost anything but kombucha, kefir, Red Cabbage Sauerkraut With Horseradish And Apple and Sourdough Rye Bread would be some of my personal favourites.
Benefits of Oats
Oats are one of the most popular whole grains worldwide, and for good reason: They're a good source of fibre, trace minerals and even plant-based protein. Like all whole grains, oats even contain some healthy fatty acids since they retain their entire germ, endosperm and bran, which is where it not only stores its nutrients but also small amounts of essential fats.
In fact, because they contain more soluble fibre than many other grains, oats are one of the most recommended grains for reducing LDL ("bad") cholesterol, total cholesterol levels and the risk of heart disease.
Oats can help support weight loss because their high fibre content makes you feel full, satisfied and less likely to deal with cravings as a result of fluctuating blood-sugar levels. By adding protein or healthy fats to your porridge with berries & seeds you can increase this effect even further.
What oats should I buy?
Steel-Cut Oats — When the whole oat groat is split into pieces. These have a chewy, nutty flavour and are also called Irish or Scottish oats. They have less of an impact on blood sugar than processed oats.
Rolled Oats — When groats are steamed to make them soft and then pressed between rollers and dried. They tend to cook quicker than steel-cut oats because they absorb water quickly but are still low on the glycemic index.
While many people still believe that buying organic oats is a gimmick I will tell you exactly why they are worth the premium.
It is common practice, particularly in colder countries that farmer will spray glyphosate ( the world's most widely used weed killer ) onto their crops just prior harvest. It doesn't wash away and you will be eating it with your lovely bowl of porridge.
The pre-harvest use of glyphosate allows farmers to harvest crops as much as two weeks earlier than they normally would, an advantage in northern, colder regions where farmers struggle to dry their crops.
Charles Benbrook, Ph.D., who published a paper on the mounting use of glyphosate, says the practice of spraying glyphosate on wheat and other cereal grains prior to harvest, known as desiccating, began in Scotland in the 1980s.
"Farmers there often had trouble getting wheat and barley to dry evenly so they can start harvesting. So they came up with the idea to kill the crop (with glyphosate) one to two weeks before harvest to accelerate the drying down of the grain," he said.
Some people believe the use of glyphosate on wheat and other cereal grains may be connected to the rise in celiac disease. Most of us don't realise when we buy wheat products like flour, cookies and bread that we are getting glyphosate residues in those products.
I don't know your thought on this but I recommend only buying organic oats and flours for this reason.
Like it? Pin it!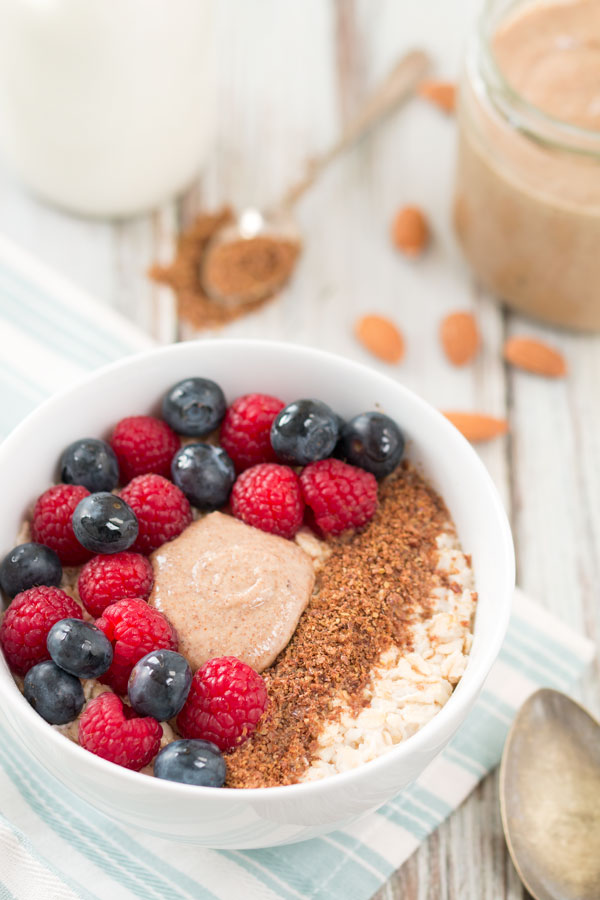 Your turn
Are you buying organic oats? Where you aware of this practice? Let me know, I'm looking forward to reading your comments.
For more updates follow me on Facebook, Twitter, Instagram, Pinterest or subscribe to my YouTube channel!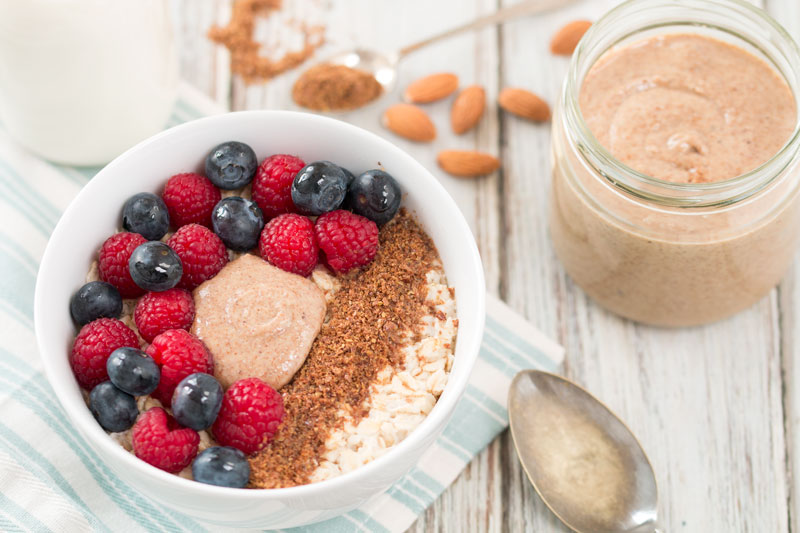 Print Recipe
Nourishing Breakfast Porridge With Berries & Seeds
This nourishing porridge with berries & seeds provides you with a truly delicious start to your day. It can be easily adapted to be vegan or gluten-free by using nut milk or gluten-free oats.
Ingredients
1

cup

coconut milk

1/2

cup

filtered water

1

teaspoon

almond butter

or nut butter of your choice

2

tablespoons

seed mixture

ground flax seeds, pumpkin seeds, sunflower seeds, sesame seeds

1

handful

berries

raspberries, blueberries and/or strawberries
Instructions
In a small saucepan, combine the rolled oats with coconut milk and water and bring to a boil.

Reduce the temperature and simmer for 10 minutes or until the liquid has been mostly absorbed. Stir constantly to prevent it from burning. You can adjust the consistency to your liking by adding more or less liquid.

Stir in the almond butter and top with berries and seeds.
Nutrition
Calories:
368
kcal
|
Carbohydrates:
20
g
|
Protein:
7
g
|
Fat:
31
g
|
Saturated Fat:
22
g
|
Sodium:
22
mg
|
Potassium:
421
mg
|
Fiber:
5
g
|
Vitamin C:
1.2
mg
|
Calcium:
65
mg
|
Iron:
5.2
mg