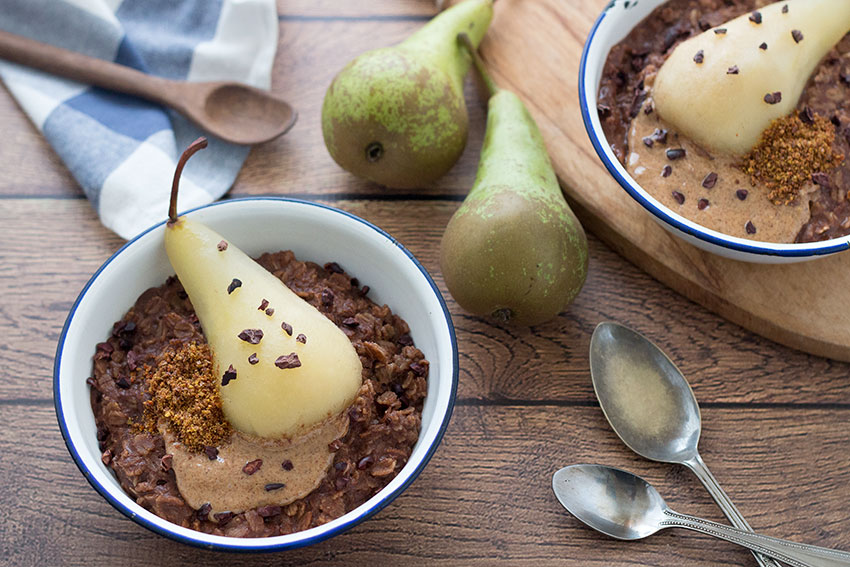 Healthy Chocolate Porridge With Poached Pear
This warming and delicious, healthy chocolate porridge with poached pear is easy to make and provides the perfect start to your day. Plus, this little bowl of goodness contains one of your five-a-day, healthy fats, minerals and an abundance of antioxidants.
For this post, I have teamed up with Linwoods Healthfoods to introduce you to one of my favourite Linwoods products their Flaxseed and Goji berry mix. Flaxseeds are sometimes called linseeds and can be brown, tan or golden-coloured. They are the richest source of a plant-based omega-3 fatty acid, called alpha-linolenic acid in the world which is why I incorporate them into my diet every single day.
Autumn is pear season, that's when they are the sweetest, juiciest and cheapest to buy. Maybe you are even lucky enough to have a pear tree in your garden or have friendly neighbours who like to share theirs with you.
This year I wasn't fortunate enough to get any pears for free but a friend of mine brought me bucket loads of homegrown apples which I turned into Baked Apple Cinnamon Oatmeal, Apple Cake with Date Caramel Filling and a lot of applesauce. I try to make use of all the parts of the fruit so that nothing will go to waste. For the first time ever I am making apple cider vinegar from the apple peels, cores and pips, it will take another two weeks until it's ready. It was really interesting to watch it turn into its characteristic yellow colour and starting to bubble. I will keep you updated on the process and the final result.
BUT it is this Healthy Chocolate Porridge With Poached Pear that I am looking forward to as soon as I wake up in the morning. I love the flavour combination of the sweet pear paired with the nutty flavour of the almond butter and flaxseeds.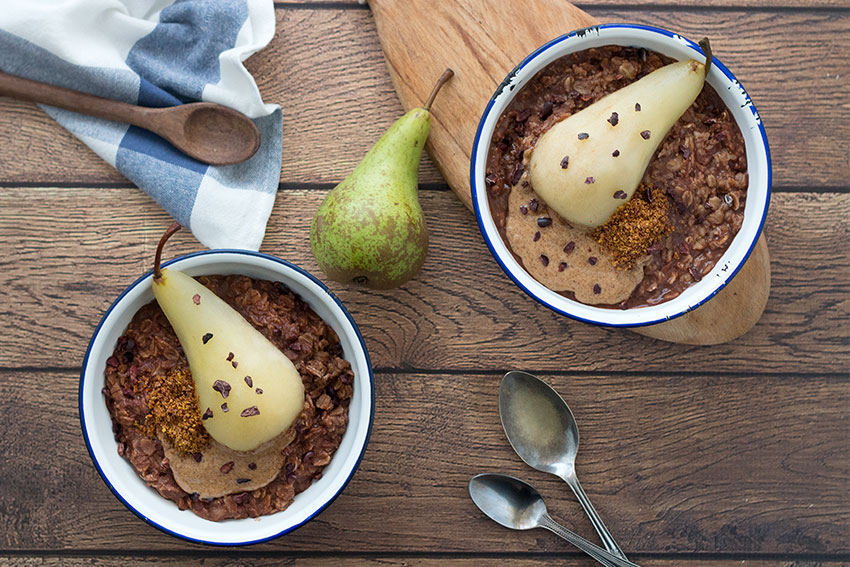 Health benefits of raw cocoa
Nowadays we are constantly exposed to pollution, sun, cigarette smoke and toxic chemicals which can release free radical activity in the body which will damage healthy tissue. However, free radicals can also be produced by factors like stress and unhealthy food. Therefore it is more important than ever that we have a varied diet rich in whole foods and antioxidants to help us combat disease by fighting harmful free radicals.
Raw cacao powder contains more than 300 different chemical compounds and nearly four times the antioxidant power of your average dark chocolate – even more than 20 times than that of blueberries. It also contains protein, calcium, carotene, thiamin, riboflavin, magnesium, sulphur, flavonoids, antioxidants, and essential fatty acids. Scientists do believe that it might have benefits throughout the body, such as lowered LDL cholesterol, improved heart function, and reduced cancer risk.
Large doses of phenethylamine get released into our brain when we're attracted to someone, but natural pain- and stress-relieving chemicals known as neurotransmitters stimulate the secretion of endorphins to help us stay alert and focused.
Most of us have heard that chocolate affects our emotions and mood by raising serotonin levels, which explains why we crave chocolate when we are feeling a bit down.
Raw cacao is also low in sugar it contains only one gram of sugar in a half-cup serving of raw cacao. Unfortunately, high heat from processing and refining to produce different types of cocoa or chocolate damages the cocoa bean's micronutrients.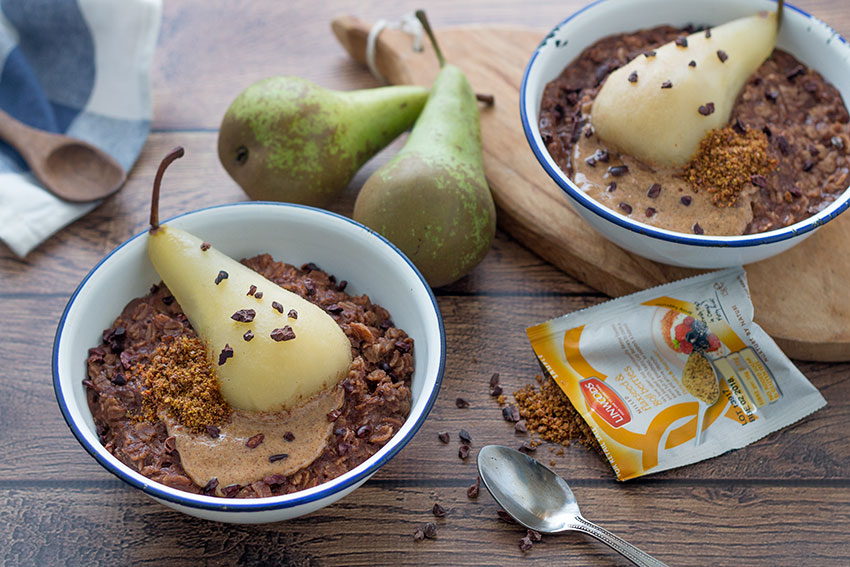 Your turn
What is your favourite comfort breakfast food? Let me know, I'm looking forward to reading your comments.
For more updates follow me on Facebook, Twitter, Instagram, Pinterest or subscribe to my YouTube channel!
Like it? Pin it!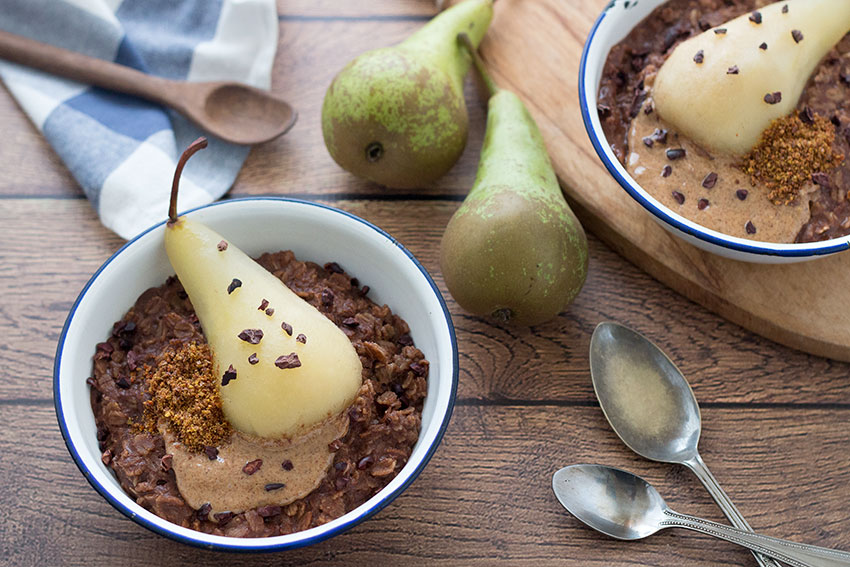 Print Recipe
Healthy Chocolate Porridge With Poached Pear
This warming and delicious, healthy chocolate porridge with poached pear is easy to make and provides the perfect start to your day.
Instructions
In a small pot, bring just enough water to cover the pear to the boil and mix in the maple syrup, cinnamon and vanilla essence.

Meantime, peel the pear, add it to the water and let simmer for 10 minutes or until soft.

While the pear is being poached prepare the porridge in another small pot. Bring the almond milk and oats to a boil and simmer for 3-4 minutes or until the oats are nice and plump. Take it off the heat, mix in the raw cacao and stir until it has dissolved completely. Adjust the texture to your liking but keep in mind that the flaxseeds will thicken it, too.

Fill the chocolate porridge into 2 bowls, cut the poached pear in half and place it on top.

Top with Linwoods flaxseed & goji berry mix, cacao nibs and a tablespoon of almond butter.
Nutrition
Calories:
567
kcal
|
Carbohydrates:
86
g
|
Protein:
17
g
|
Fat:
18
g
|
Saturated Fat:
3
g
|
Sodium:
329
mg
|
Potassium:
236
mg
|
Fiber:
15
g
|
Sugar:
21
g
|
Vitamin C:
3.8
mg
|
Calcium:
417
mg
|
Iron:
4.1
mg