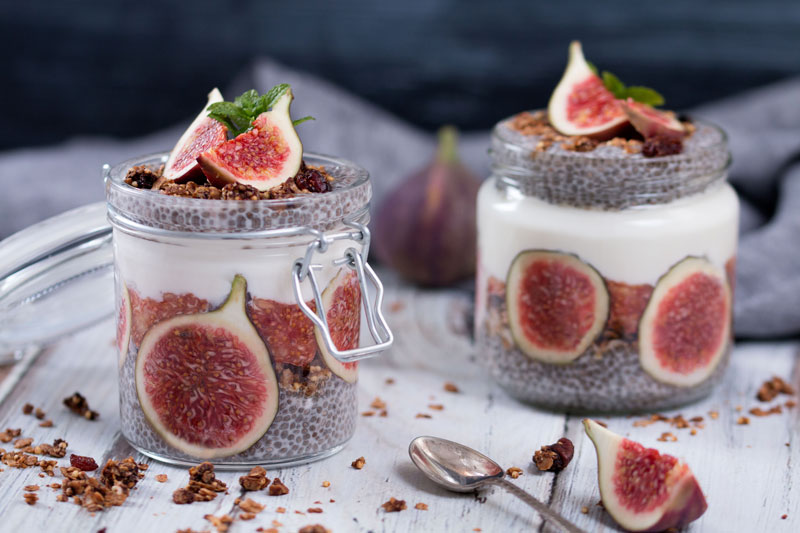 Fig Chia Pudding
This Fig Chia Pudding recipe will simply knock you off your feet, it tastes incredibly indulgent while in fact being light and nutritious. The chia pudding is complemented by a sweet and fruity fig mash, crunchy, homemade granola and coconut milk yoghurt. Best of all, it can be prepared the night before for a quick and easy breakfast. In fact, this Fig Chia Pudding recipe is vegan and gluten-free which means that it can be enjoyed by almost everyone.
How to eat Chia Seeds
You can eat your chia seeds raw, soaked, whole or ground. Very much like flaxseeds if you eat them raw and whole the omega-3s and other nutrients won't be readily available for digestion. Therefore, I recommend either grinding or soaking them to release the enzyme inhibitors which protect the seed.
Another tip, don't grind your chia seeds too far in advance or they will lose a lot of nutrients. It is best to grind and enjoy them straight away. Sometimes I prepare enough for 3 days and store them in an airtight container in the refrigerator.
If you prefer soaking them like it's done in this Fig Chia Pudding recipe you should allow at least 2 hours for the chia seeds to soak. Personally, I like soaking them overnight knowing that my breakfast will be waiting for me when I get up. There is no hard and fast rule for the amount of water required for soaking, it all depends on your personal preference, I usually use a 1:3 ratio.
Chia seeds can be enjoyed just as they are, they won't do you any harm but you wouldn't get their full nutritional benefit. They are very versatile and can be used as an egg replacement in vegan baking, sprinkled on top of salads, added to smoothies or in a variety of breakfast recipes such as my Fig Chia Pudding, Best Acai Bowl Ever, Vegan Mango Lassie Overnight Oats or Chai Chia Pudding.
Get your hands on a packet of chia seeds and get creative, you can buy them in most health food stores and supermarkets.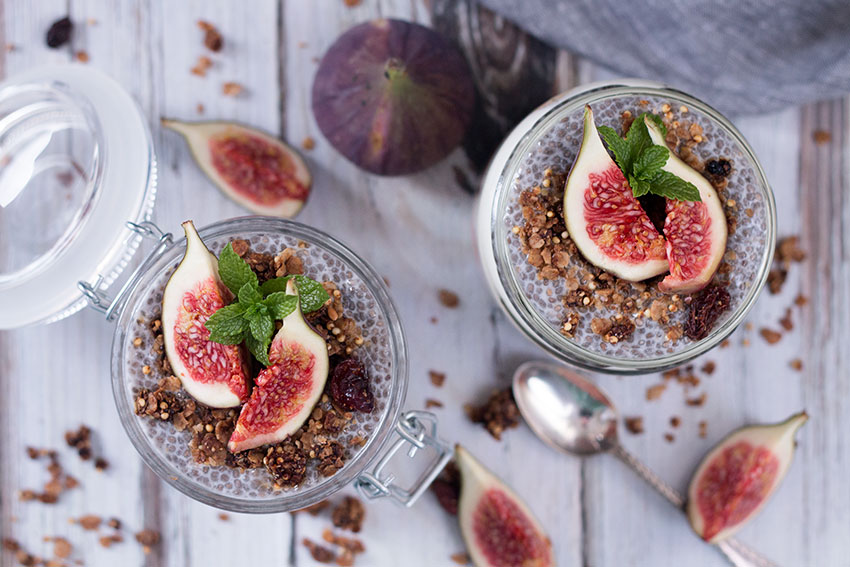 Nutritional Benefits of Chia Seeds
The reason chia seeds are so beneficial is due to their rich fibre, omega-3 fat, protein, vitamin and mineral content.
For example, one ounce (28 grams) of chia seeds contain about: (1)
137 calories
12.3 grams carbohydrates
4.4 grams protein
8.6 grams fat
10.6 grams fibre
0.6 milligram manganese (30 percent DV)
265 milligrams phosphorus (27 percent DV)
177 milligrams calcium (18 percent DV)
1 milligram zinc (7 percent DV)
0.1 milligram copper (3 percent DV)
44.8 milligrams potassium (1 percent DV)
Chia seeds also contain essential fatty acids alpha-linolenic and linoleic acid; mucin; strontium' vitamins A, B, E and D; and minerals, including sulphur, iron, iodine, magnesium, manganese, niacin and thiamine; and they're a rich source of antioxidants.
Occasionally, some people may experience stomach discomfort when consuming chia seeds, especially in large amounts, due to the high fibre content. As with any food, eat in moderation and always drink plenty of water. The recommended daily intake is about 25 grams per day.
Like it? Pin it!
Your turn
What is your favourite breakfast food? Let me know, I'm looking forward to reading your comments.
For more updates follow me on Facebook, Twitter, Instagram, Pinterest or subscribe to my YouTube channel!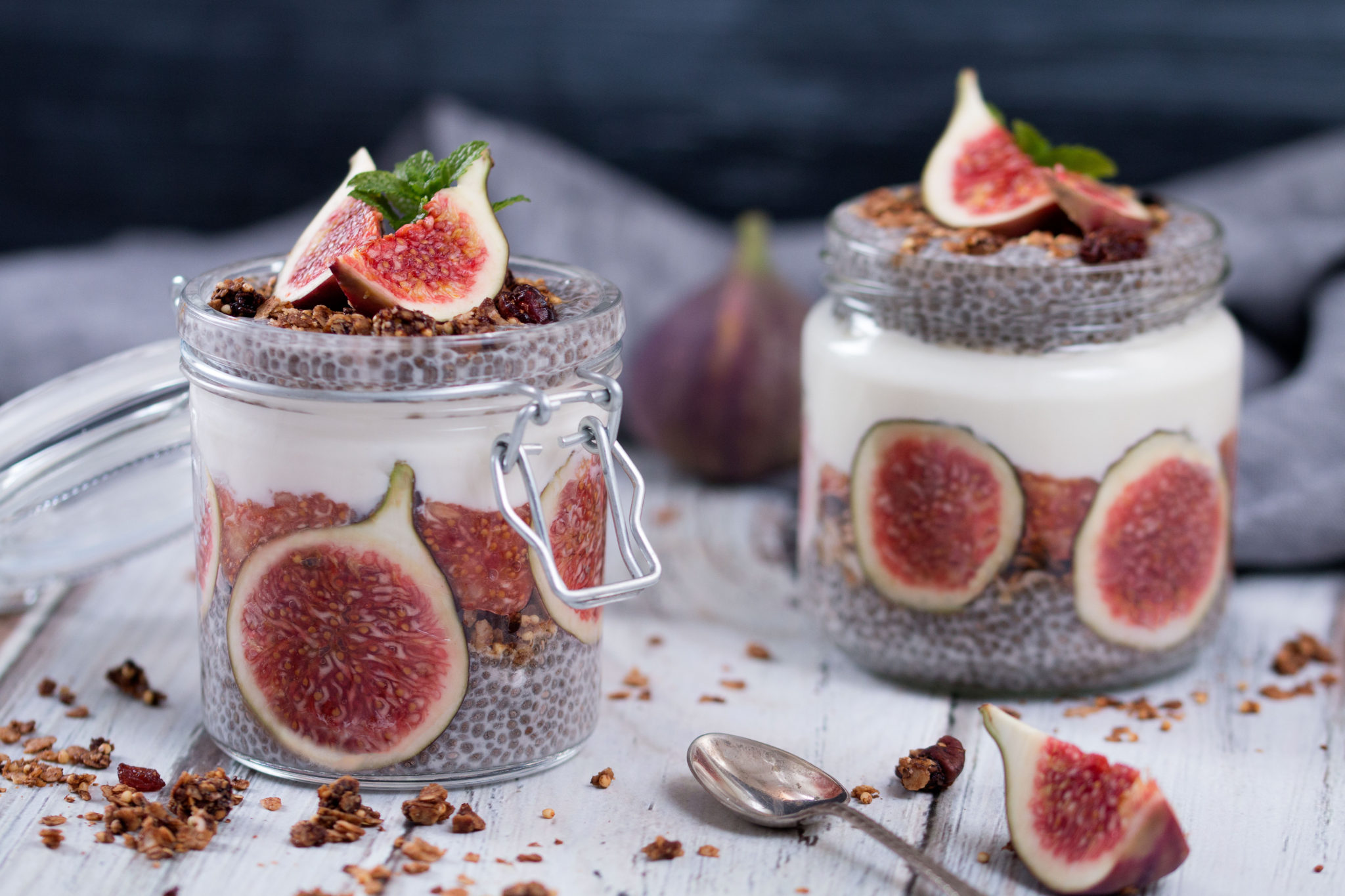 Print Recipe
Fig Chia Pudding
This vegan and gluten-free Fig Chia Pudding recipe will simply knock you off your feet, it tastes incredibly indulgent while being light and nutritious.
Ingredients
6

tablespoons

Whole Chia Seeds

1

cup

almond milk

or other plant-based milk

1/4

teaspoon

vanilla extract

1/2

cup

coconut yoghurt

or natural yoghurt

4

tablespoons

gluten-free granola

4

figs
Instructions
In a small bowl combine the chia seeds, almond or other plant-based milk and vanilla extract. Stir well, cover with a lid and soak in the refrigerate for at least two hours or preferably overnight.

Before you are ready to serve, peel

3

figs, discard the peel and mash the flesh with a fork until it turns into a jam-like texture. Cut the remaining fig into a few slices, chop the rest into quarters and use as decoration.

Take a nice jar or glass and begin to assemble, start by pressing the fig slices against the inside of the jar until they stick. Then fill about

4

tablespoons of the chia pudding into the bottom of each jar followed by a layer of gluten-free granola, fig mash, coconut or natural yoghurt, top with the remaining chia pudding and finish with a sprinkle of granola.

Decorate with the remaining fig quarters and enjoy.
Nutrition
Calories:
449
kcal
|
Carbohydrates:
56
g
|
Protein:
13
g
|
Fat:
20
g
|
Saturated Fat:
2
g
|
Sodium:
184
mg
|
Potassium:
538
mg
|
Fiber:
18
g
|
Sugar:
25
g
|
Vitamin A:
140
IU
|
Vitamin C:
10.1
mg
|
Calcium:
510
mg
|
Iron:
4.4
mg