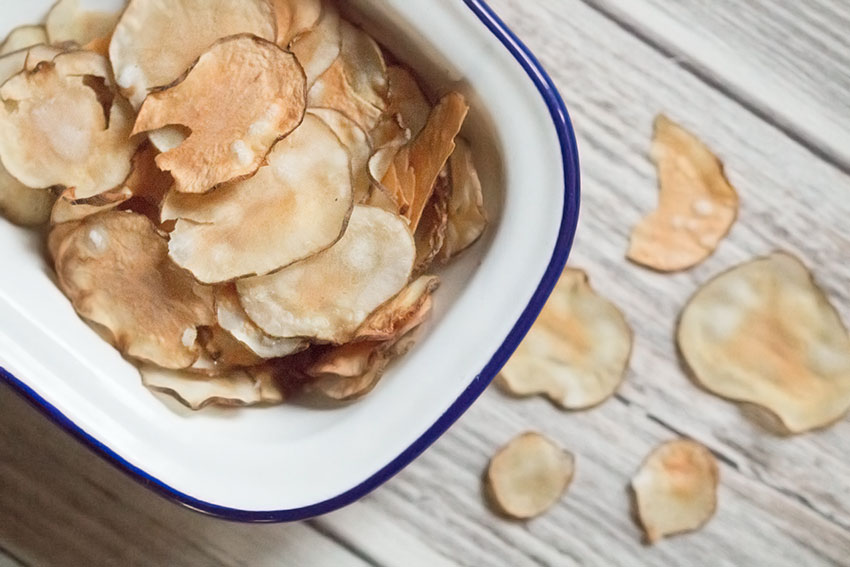 Healthy Jerusalem Artichoke Crisps
Jerusalem artichoke crisps are a fabulous healthy snack, they are easy and quick to prepare and have acquired a reputation for being a Microbiome super food. This North American tuber is known by many different names such as sunchoke, topinambour or sunroot. Even though it looks similar to a ginger root it is in fact, a variety of sunflower with a brown-skinned tuber which is not related to "real artichokes".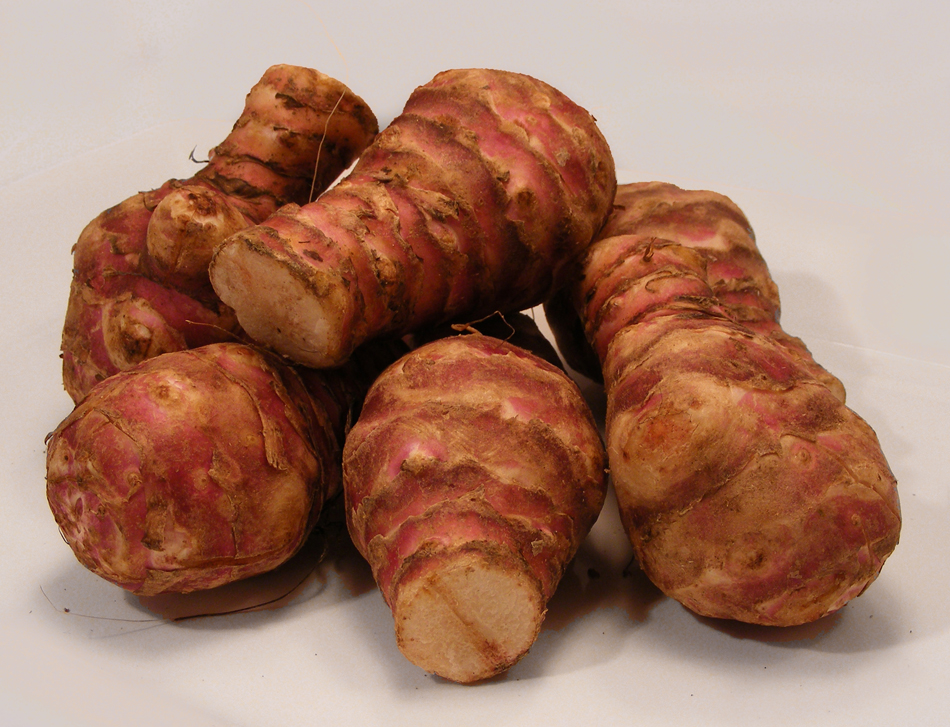 Health benefits of Jerusalem artichokes
Jerusalem artichokes are believed to have many health benefits, they are a particularly good choice for diabetics as they don't raise the blood sugar levels like starchy vegetables. Although they might have a similar texture to potatoes they don't contain starch, instead they hold a whopping 76% of a carbohydrate called inulin (not to be confused with insulin). Inulin is a prebiotic which can't be digested by the digestive system but therefore, feeds our good bacteria who pass on their health benefits to us. The longer you store Jerusalem artichoke the sweeter they will get as they start converting their inulin into fructose. One single cup serving contains 650mg potassium, is high in iron, niacin, thiamine, phosphorus, copper and contains 10-12% of the US RDA of fibre.
Other health benefits of the Jerusalem artichoke are believed to be:
Increased calcium absorption
Stronger bones and bone density
Enhanced immunity
Reduced allergies and asthma in infants and children
A lower blood triglyceride level
Appetite and weight control
Lower cancer factors in the gut
Increased sense of well being
How to prepare Jerusalem artichokes?
A lot of the time you will find them as a substitute for potatoes, but they have a slightly sweeter and nuttier flavour. You can prepare them in similar ways, you can boil, fry, bake, steam or enjoy them raw, sliced thinly on top of a salad. It seems like, they keep their shape better if you steam rather than cook them. Jerusalem artichokes should be stored in a cool and dark place and consumed within 10 days. Usually, you can buy them at farmers markets or speciality shops like Fallon & Byrne, if you are living in Dublin.

Warning: Never serve Jerusalem artichokes on a date night or to people you are not particularly close with. People nicknamed them fartychokes for a very good reason, so unless you are comfartable (sorry, I couldn't resist) with playing some tunes along with your guests you should keep them for a cosy Netflix night.
Maybe try these Spicy Oven-Roasted Chickpeas on more sociable occasions. 😉
Your turn
I don't expect you to share all the detail with me on this particular recipe but if you are happy to limit your comments to taste and texture I'm looking forward to reading your comments. 😉
Sign up to our Newsletter to get healthy recipes and my eBook "10 Easy Dessert Recipes " for FREE.

Follow us on Facebook, Twitter, Instagram or Pinterest for more updates.
Like it? Pin it!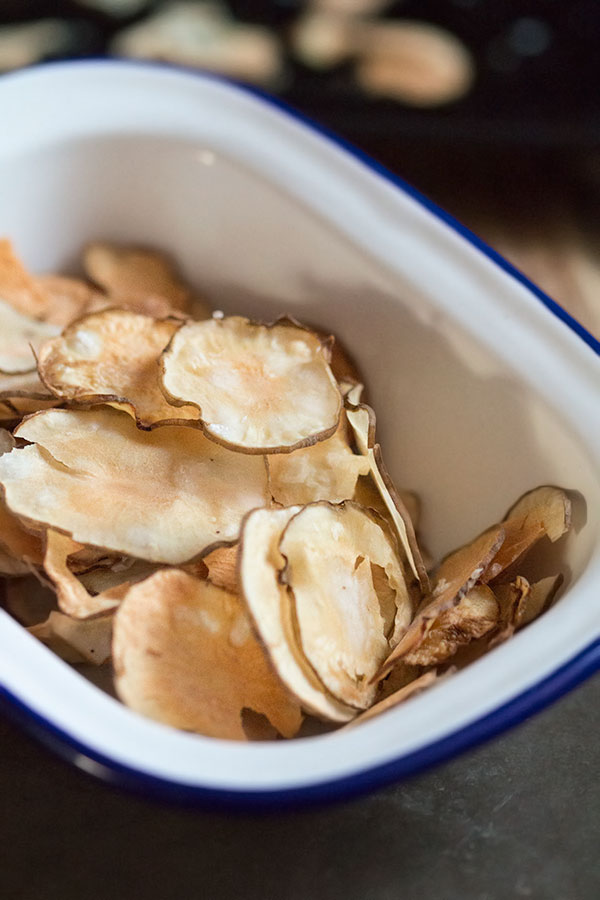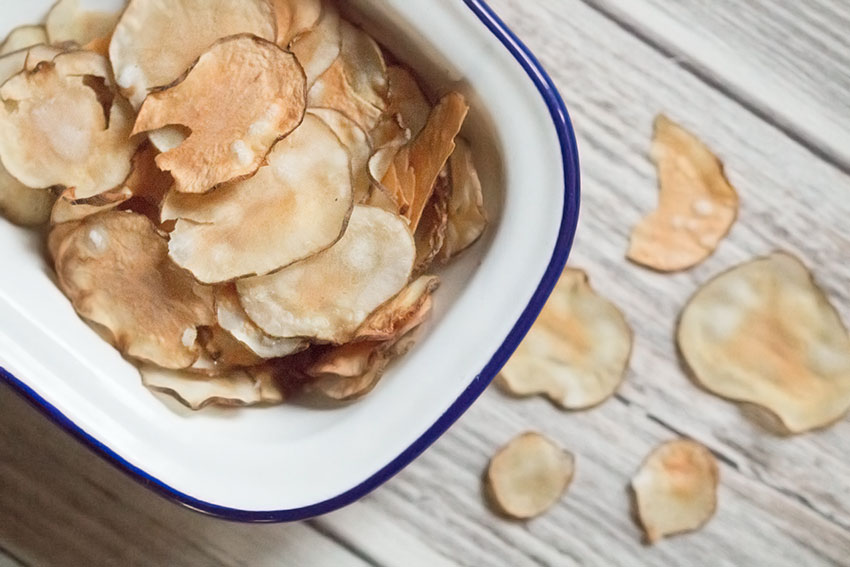 Print Recipe
Healthy Jerusalem Artichoke Crisps
Healthy, non-fry Jerusalem artichoke crisps for one person.
Instructions
Preheat the oven to 375°F/190°C.

Clean the dirt off the Jerusalem artichoke by holding it under running water and scrubbing it with a vegetable brush. This step is important because the skin is supposed to stay on.

Pat dry with a piece of kitchen towel.

Cut the Jerusalem artichoke in very thin slices. I like using a mandoline for this purpose, the thinner you cut them the better.

Spread out your crisps on a parchment paper lined baking tray. Make sure to leave enough space between them so they won't touch each other, when lined up too tightly they won't get crispy.

Sprinkle with sea salt.

Bake for 15-20 minutes.

Let them cool for 10 minutes and enjoy
Nutrition
Calories:
93
kcal
|
Carbohydrates:
22
g
|
Protein:
2
g
|
Sodium:
5
mg
|
Potassium:
549
mg
|
Fiber:
2
g
|
Sugar:
12
g
|
Vitamin C:
5.1
mg
|
Calcium:
18
mg
|
Iron:
4.4
mg