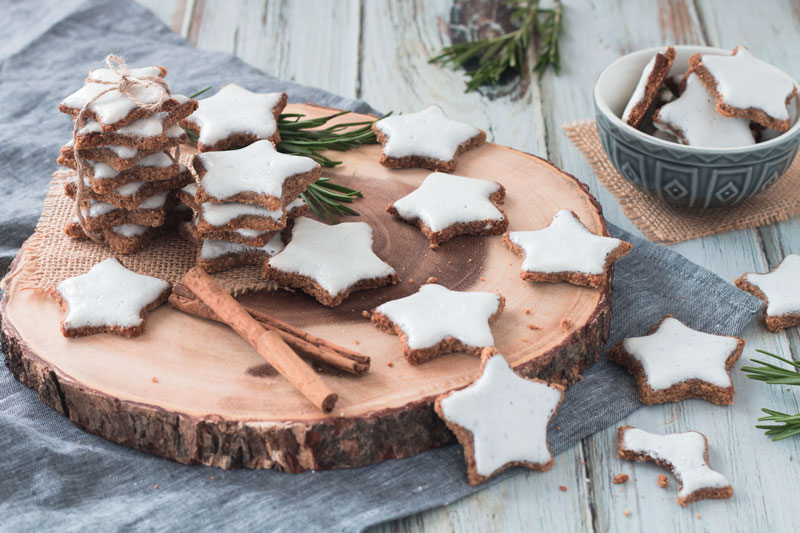 These healthier, vegan Zimtsterne are real crowd pleasers. They are a gluten-free spin-off of the flavoursome, traditional German Christmas biscuit. I can't think of a single German household where these wouldn't make an appearance on the yearly Christmas sweets platter. For me, Zimtsterne, Spekulatius and Spritzgebaeck are the holy trinity of Christmas treats. Even if I didn't have time to bake my own I could rely on any friend to share theirs or get some at a bakery as a last resort. Zimtsterne and a Hot Chocolate with Orange are just synonymous with Christmas.
Healthier Vegan Zimtsterne might be healthier but not healthy
This post has been sponsored by Linwoods Healthfoods who's seed mixtures I am using all the time. They are very versatile and you can use them in your porridge, smoothies, hot chocolates, salads and bakes. For this particular recipe, I couldn't have thought of a better match than their Milled flax, chia seeds with apple and cinnamon. It helped me immensely to make these vegan Zimtsterne a whole lot more nutritious.
Milled flax, chia seeds with apple and cinnamon are high in:
Omega 3 fatty acids
Fibre and Manganese
Protein, Phosphorus and Magnesium
Even though I have only used natural sweeteners which contain more nutrients and have a lower glycemic index than regular sugar they remain high in sugar. Have 2-3 at a time and you won't need to feel bad about indulging in sweets, it's Christmas after all, isn't it?
Christmas isn't the time to diet, so, go on, have some Vegan Gingerbread Mousse or Healthy Vegan Mince Pies for dessert. You will have the rest of the year to return to your regular, healthy diet.
Benefits of Cinnamon
One of the biggest benefits of consuming cinnamon is its ability to help regulate blood sugar. Interestingly, if you season a higher carbohydrate food with cinnamon, it can help ease the effect of the food on your blood sugar.
But cinnamon isn't cinnamon, there are two varieties, one called Ceylon Cinnamon and the other one Cassia Cinnamon (also called fake cinnamon). You are most likely to find cassia cinnamon on the supermarket shelves which isn't as sweet as the "real" Ceylon Cinnamon, it also won't give you the same health benefits.
Cinnamon is one of the healthiest spices in the world and has been used as a traditional herbal medicine for centuries. It contains antifungal and antibacterial agents which together with its other properties make cinnamon a very potent, antioxidant-filled spice.
Cinnamon is believed to have the following benefits
Anti-Clotting
Anti Inflammatory
Regulates blood sugar
Antioxidant
Anti-Bacterial and Anti-Fungal
May enhance Cognitive Processing
Scientific studies confirm that the benefits of real cinnamon are numerous.(1)
Like it? Pin it!
Your turn
What is your favourite Christmas treat? Let me know, I'm looking forward to reading your comments.
For more updates follow me on Facebook, Twitter, Instagram, Pinterest or subscribe to my YouTube channel!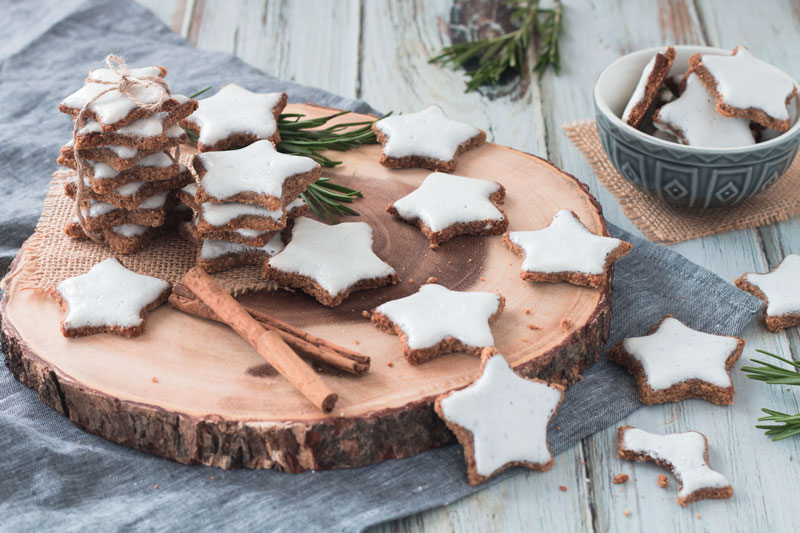 Print Recipe
Healthier Vegan Zimtsterne (Cinnamon Stars)
These healthier, vegan Zimtsterne are real crowd pleasers. They are a gluten-free spin-off of the flavoursome, traditional German Christmas biscuit.
Ingredients
Icing
3

tablespoons

aquafaba

drained liquid from a can of chickpeas

1

cup

xylitol

powdered (simply grind some xylitol in your food processor)
Instructions
Zimtsterne
In a cup, make a flax egg by mixing the Linwoods Flaxseeds with cold water and let it sit for about 10 minutes.

Meantime, mix the almond flour, coconut sugar and cinnamon in a medium-sized bowl.

Now mix in the maple syrup and flaxseed mixture until a crumbly dough forms. Shape the dough into a ball, wrap it with cling film and chill in the refrigerator for about 30 minutes.

Remove the dough from the refrigerator and roll it out evenly between two pieces of baking paper. The dough should be between 0.5 and 1 cm thick. Cut out stars using a cookie cutter and place them on a parchment paper-lined baking tray.

Preheat the oven to 320°F / 160°C.
Icing
Whisk the aquafaba with a wire whisk until it forms stiff peaks, then slowly start to mix in the powdered xylitol.

Brush the icing generously on the Zimtsterne and bake for 10-15 minutes.
Nutrition
Calories:
66
kcal
|
Carbohydrates:
5
g
|
Protein:
2
g
|
Fat:
4
g
|
Sodium:
5
mg
|
Potassium:
4
mg
|
Fiber:
1
g
|
Sugar:
2
g
|
Calcium:
24
mg
|
Iron:
0.4
mg