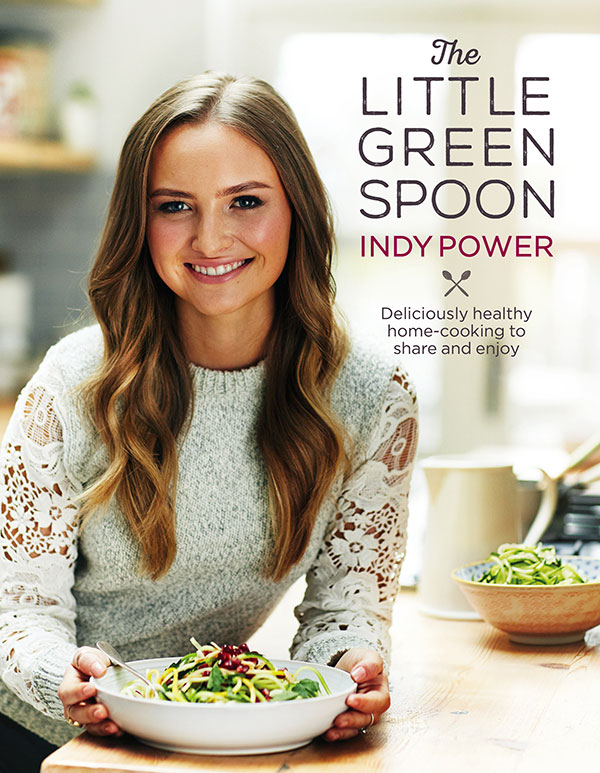 The Little Green Spoon By Indy Power Cookbook Review
When Indy Power's first cookbook The Little Green Spoon got released I couldn't wait to get my hands on a copy. In her book, she includes over 100 gorgeous recipes that don't compromise on anything, least of all taste! Her easy recipes will make you fall in love with healthy food. Indy Powers has created a stunning collection of nourishing dishes that taste just as amazing as they will make you feel.
Influences from around the world
With a half-Japanese, half-American mother, various family dotted all around the world and a passion for travelling it doesn't come as a surprise that Indy's recipes take influences from across the world.
Personally, I love her approach of using healthy whole foods and to infuse them with multi-national flavours.
Ingredients and techniques
If you are a regular reader of The Healthy Tart you will probably be familiar with most ingredients on The Little Green Spoon's pantry list. Of course, will a cookbook like this include quinoa and tamari but that is almost as exotic as it gets. You won't have to go on a quest to find moonlight harvested "whatever-ingredients" like certain cookbooks call for.
You couldn't imagine the strange looks and comments I received during my recent attempt to source black garlic on the streets of Dublin.
All required ingredients can be purchased in well-stocked supermarkets and health food stores. What I particularly like about The Little Green Spoon cookbook is the simple way Indy introduces basic cooking techniques, tools, and ingredients.
Most noteworthy, you will never feel overwhelmed, detailed explanations and beautiful photographs make this cookbook suitable for novices and experienced cooks alike.
Special dietary requirements
Little circles indicate if the recipe is vegan, gluten-free, dairy-free and/or paleo- friendly. You will be able to spot at a glance if the recipe is for you.
Indy perfectly illustrates that healthy eating doesn't have to be boring or to compromise on flavour.
Healthy doesn't automatically translate into low-calorie count
The main focus in the Little Green Spoon cookbook is to make recipes as nutritious and flavoursome as possible. When it comes down to treats, healthy, unfortunately, doesn't automatically translate into weight loss-friendly. Even though all the treats are nutritious, indulging in too many might still result in weight gain. Certainly, there won't be any harm in consuming moderate amounts of Indy's incredible Almond Butter Swirl Brownies or Banoffee Jars, they are absolutely delicious.
Let's be honest, no one would want to live in a world without treats, would you? On my part, I will certainly give preference to treats that nurture my body rather than those delivering "empty calories".

Get your book here!
I may earn a small commission if you purchase through the link above. Your purchase helps support my work in bringing you healthy recipes and real information about nutrition.
To get a little taste of what awaits you check out Indy's healthy rocky road recipe! It has become one of my absolute favourites.
Have a look at the entire list of my favourite cookbooks, they also make great gifts for friends and family!
Your turn
Would you enjoy more cookbook reviews on The Healthy Tart? I'm looking forward to reading your comments.
Sign up to our Newsletter to get healthy recipes and my eBook "10 Easy Dessert Recipes " for FREE.
Follow us on Facebook, Twitter, Instagram or Pinterest for more updates.