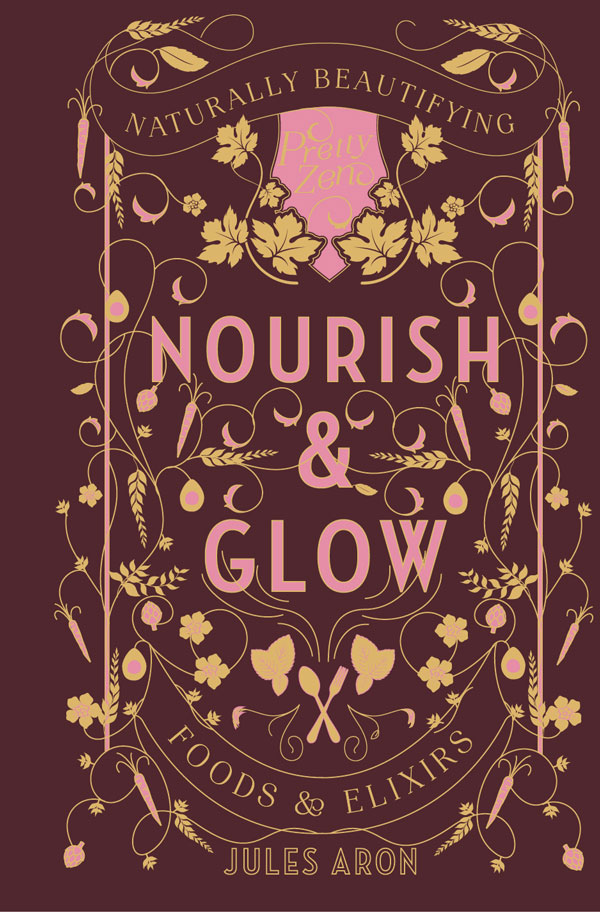 75 recipes for beauty from the author of Zen and Tonic.
Beautiful radiance is more than skin deep. What we eat directly affects the appearance of our complexion and determines how we age. Something I have covered in more depth in my recent post about How To Nourish Your Skin From Within.
Diets rich in protein, healthy fats, and good carbohydrates, such as fresh fruit and vegetables, not only yield beautiful skin but also have protective and preventative qualities that slow the ageing process.
I couldn't agree more with the approach holistic health coach Jules Aron is taking in her latest book Nourish & Glow. This isn't simply a cookbook, it takes you on a journey to nourished and glowing skin by tackling the problem from more angles than just food.
Jules explains in very easy, understandable ways which building blocks your body requires to achieve glowing skin and where to find them.
Nourish & Glow also contains a full "Beauty Kitchen Pantry List" with a short explanation of each item and a list of kitchen tool essentials.
If you have been following myself for a while you are likely to have most of the ingredients in your cupboard.
I love the fact that she emphasizes the importance of mindful eating and eating with the seasons throughout her book.
Something I am particularly fond of are the little "Kitchen Notes" or "Beauty Food Spotlights" that she attaches to most of her recipes. These are very insightful and help you understand how to get creative in the kitchen without the need to strictly follow recipes.
What Recipes To Expect
Her dishes are truly colourful and should satisfy amateur cooks as seasoned cooks alike.
Unfortunately, all the temperatures are displayed in Fahrenheit only but it's well worth to quickly convert them into Celcius if you are based outside the US.
The recipes are broken down into the following categories: Morning Starters, Supercharged Snacks, A Cup of Comfort, Salads and Slaws, Entrees and Mains, Sweet Endings, Sipping Pretty and Homemade Provisions.
With guidance from Jules Aron, eating for beauty is simple and pleasurable—a great experience inside and out. The book contains seventy-five simple, fun recipes including:
Rejuvenating Hibiscus Rose Tonic
Energizing Raw Chocolate Beauty Bites
Detoxifying Honeydew and Cucumber Gazpacho
Green Goddess Frozen Pops
Nourish & Glow is lavishly illustrated with colourful photographs and lets you indulge in snacks, soups, salads, and desserts you can feel good about.
Jules Aron also published a sister-book at the same time called Fresh & Pure which shows you how to create your own beauty products without any nasties. You can read my review of Fresh & Pure here.
Get your copy of Nourish & Glow, now!
Your turn
Make sure to enter the Giveaway below to be in with a chance of winning a copy of Fresh & Pure and Nourish & Glow by Jules Aron!
For more updates follow me on Facebook, Twitter, Instagram, Pinterest or subscribe to my YouTube channel!
Print Recipe
Rainbow Noodles with Marinara and Lentil Balls by Jules Aron
Tender and savoury, these protein-rich meatballs, high in folate, support cell building and repair for enviable hair, skin, and nails. Perfect atop a vibrant bowl of nutritious vegetable noodles and zesty homemade marinara sauce.
Ingredients
Lentil balls
1/2

cup

white onion

minced

3

cloves

garlic

minced

1/2

cup

walnuts

1

cup

yellow lentils

cooked and cooled

1/2

cup

dried apricots

diced

1

teaspoon

dried basil

1

teaspoon

dried oregano

1

tablespoon

dried parsley

1/4

cup

nutritional yeast

optional

sea salt

black pepper

freshly ground

2

tablespoons

ground flaxseeds

optional
Rainbow noodles
1

zucchini

1

carrot

1

parsnip

1

beet

1/2

cup

olive oil

4

cloves

garlic

medium -sized

1

teaspoon

dried herbs

optional
Marinara sauce
1

red onion

diced

2

cloves

garlic

peeled and minced

1

cup

sun-dried tomatoes

chopped and soaked for 1 hour in water

1

cup

tomato

diced

1/2

cup

olive oil

juice of 1/2 lemon

2

teaspoons

Italian seasoning
Instructions
Make the lentil balls:
Preheat the oven to 375°F/190°C. Line a baking sheet with parchment paper.

Heat the oil in a skillet over medium heat. Add the onion and garlic and sauté for 2 to 3 minutes. Remove from the heat. Place the walnuts in a food processor and pulse to break them into small chunks. Add the cooked lentils, sautéed onion mixture, apricots, herbs, nutritional yeast, if using, and salt and pepper to taste. Pulse to combine, leaving a little texture.

If the mixture is too wet, add flaxseed meal 1 teaspoon at a time until you can form balls with your hands. Using a tablespoon, scoop out the mixture and carefully form into 1½-inch balls. Arrange on baking sheet.

Bake for 30 minutes, turning the balls at the 15-minute point. Remove from the oven and let cool slightly—they will firm up the longer they are cooled.
Make the noodles:
Cut the veggies lengthwise into thin strips, using a mandoline or spiral slicer, then mix together in a bowl and set aside. Pour the olive oil into a small sauté pan and use a garlic press to crush the garlic cloves directly into the oil. Add your favourite herbs or spices. Gently heat the oil over medium-low heat, stirring often, until the garlic is crispy and golden brown and the aromatics release their fragrance, 3 to 5 minutes. Remove from the heat immediately and transfer to a bowl to cool. Strain the oil.

Use 1 tablespoon of the infused oil to coat the vegetable noodles. Toss gently to combine. Allow to infuse for 5 minutes.

The flavoured oil can be stored in an airtight container, refrigerated, for up to 2 weeks.
Make the marinara sauce:
Blend all the ingredients until smooth.

To serve, divide the noodles among individual plates, add a serving of lentil balls and top with fresh marinara sauce. Sprinkle with Seed Parmesan (page 200).

This dish is best when fresh, although leftovers keep in the freezer up to 1 month. Reheat in a 350°F/175°C oven until warmed through.
Nutrition
Calories:
864
kcal
|
Carbohydrates:
61
g
|
Protein:
16
g
|
Fat:
66
g
|
Saturated Fat:
8
g
|
Sodium:
115
mg
|
Potassium:
2055
mg
|
Fiber:
16
g
|
Sugar:
28
g
|
Vitamin A:
3800
IU
|
Vitamin C:
40.2
mg
|
Calcium:
169
mg
|
Iron:
7.7
mg
Giveaway
Disclosure
The Countryman Press has kindly given me a free copy to review and a copy to give away. I haven't been paid for this review and all opinions are my own.
The recipe above has been republished with the permission of the author.