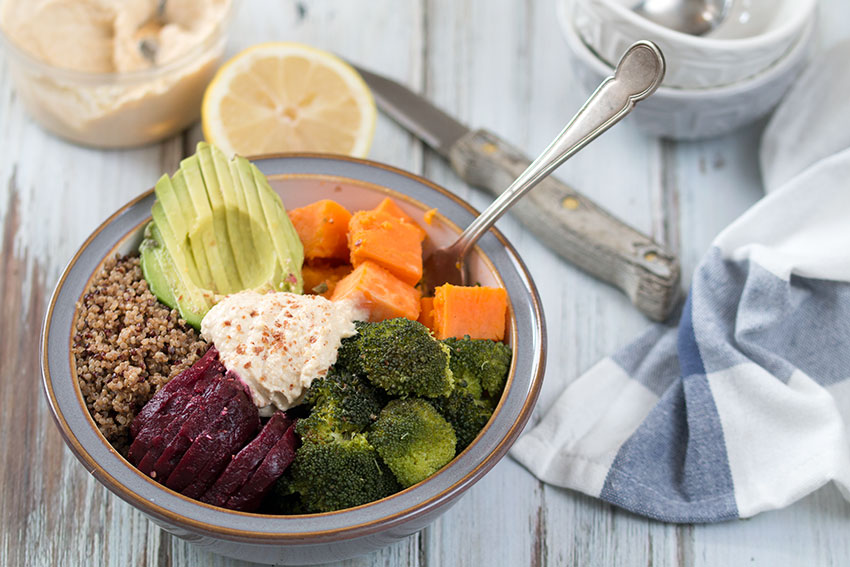 Nourishing Harvest Buddha Bowl
This Nourishing Harvest Buddha Bowl is the perfect way of getting all the nutrients you need during the cold winter months.The pleasure of creating a nourishing bowl comes from the fact that you can work with what you already have in your pantry or fridge. I always try to make them as colourful as possible to ensure that I am getting the full range of nutrients.
It is up to yourself if you would like to keep your Nourishing Harvest Buddha Bowl vegan, vegetarian and/or gluten-free. You can also check out my Butternut Squash & Spiced Chickpea Buddha Bowl and Tempeh, Sweet Potato and Butternut Squash Hash for more healthy recipe inspiration.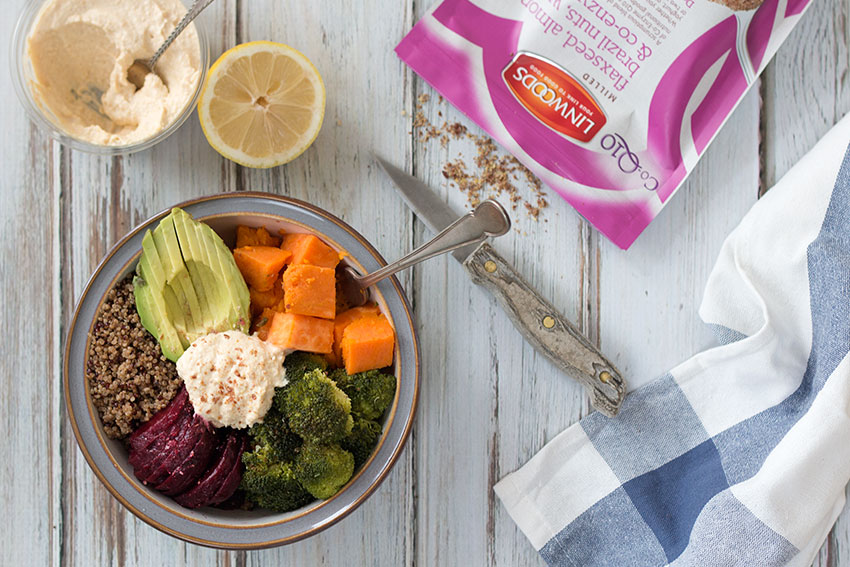 Eat The Rainbow
Fruit and vegetables fall into five different colour categories: red, purple/blue, orange, green and white/brown. Each colour carries its own set of unique disease-fighting chemicals called phytochemicals. It is these phytochemicals that give fruits and vegetables their vibrant colour and of course some of their healthy properties.
Red
Red fruits and vegetables are coloured by a natural plant pigment called lycopene. Lycopene is a powerful antioxidant that can supposedly help reduce the risk of cancer and keep our heart healthy.
Tomatoes, beetroot, pink grapefruit, watermelon, strawberries, red peppers, raspberries, apples, adzuki and kidney beans, blood oranges, cranberries, cherries, goji berries, grapes, onions, plums, pomegranate, radishes, rhubarb, rooibos tea, red rice, red quinoa.
Yellow/ Orange
Carotenoids give this group their vibrant colour. A well-known carotenoid called Beta-carotene is found in sweet potatoes, pumpkins and carrots. It is converted to vitamin A, which helps maintain healthy mucous membranes and healthy eyes. Another carotenoid called lutein is stored in the eye and has been found to prevent cataracts and age-related macular degeneration, which can lead to blindness.
Banana, lemon, corn, peppers, pineapple, ginger root, star fruit, squash, yellow chard, corn on the cob, apples, yellow courgettes, honeydew melon, yellow tomatoes.
Carrots, mangos, apricots, cantaloupes, pumpkin, acorn squash, winter squash, sweet potatoes, red lentils, turmeric, oranges, tangerines, peaches, papayas, nectarines, yams, cantaloupe, bell peppers.
Green
Green vegetables contain a range of phytochemicals including carotenoids, indoles and saponins, all of which have supposedly anti-cancer properties. Furthermore, leafy greens such as spinach and broccoli are also excellent sources of folate.
Broccoli, Brussels sprouts, cabbage, Chinese cabbage, bok choi, kale, artichoke, asparagus, avocado, bean sprouts, peppers, melon, celery, cucumber, edamame, green beans, green peas, green tea, chard, lettuce, spinach, limes okra, pears, watercress, courgette, olives.
White, brown & beige
White fruits and vegetables contain a range of health-promoting phytochemicals such as allicin (found in garlic) which is known for its antiviral and antibacterial properties. Some members of the white group, such as bananas and potatoes, are also a good source of potassium.
Leeks, scallions, garlic, onions, celery, pears, white wine, endive, dates, cauliflower, mushrooms, nuts, ginger, cocoa, coconut, coffee, tahini, tea, sauerkraut, seeds, chickpeas, butter beans and hummus.
Blue, indigo & violet
The plant pigment anthocyanin is what gives blue/purple fruits and vegetables their distinctive colour. Anthocyanin also has antioxidant properties that supposedly protect cells from damage and can help reduce the risk of cancer, stroke and heart disease.
Blackberries, blueberries, blackcurrants, figs, purple grapes, red wine, plums, prunes, raisins, purple broccoli, aubergine, purple potatoes, cabbage, onions, kale, olives, rice, carrots, cauliflower, aubergine.
What Your Ideal Plate Should Look Like
The graphic below provides an easy to understand guideline of what your ideal plate should look like.
Like it? Pin it!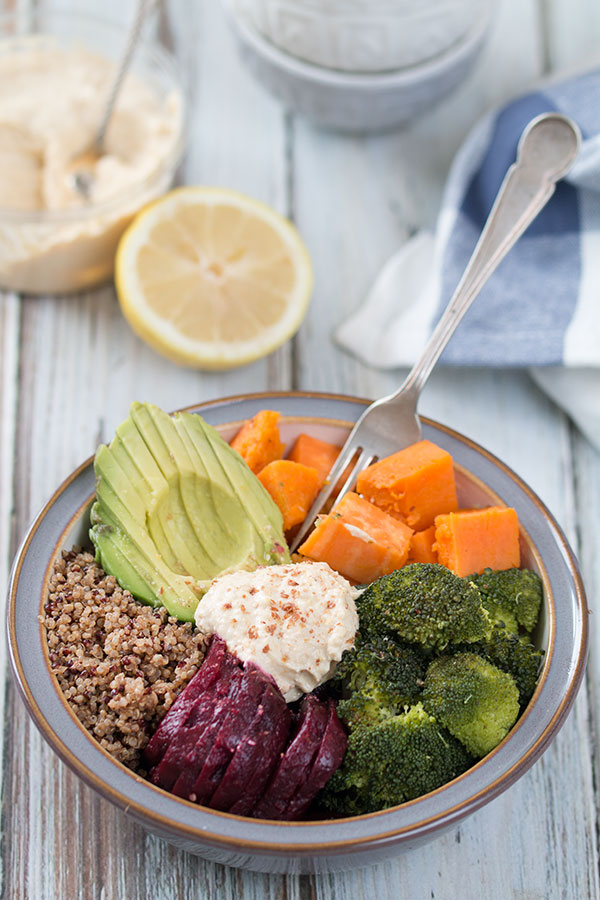 Your turn
What is your favourite way of using up leftovers? Let me know, I'm looking forward to reading your comments.
For more updates follow me on Facebook, Twitter, Instagram, Pinterest or subscribe to my YouTube channel!
Rating 5.0 from 1 reviews
Prep time:
Cook time:
Total time: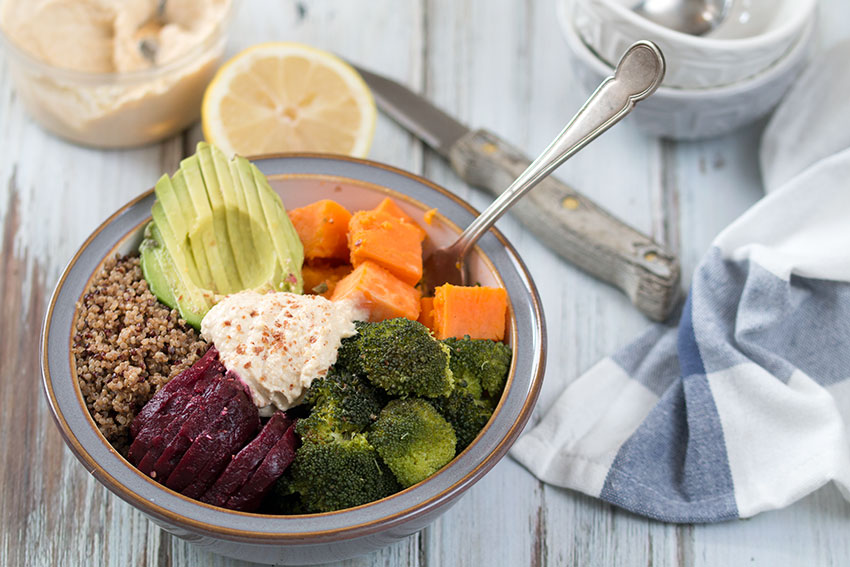 This Nourishing Harvest Buddha Bowl is the perfect way of getting all the nutrients you need during the cold winter months.The pleasure of creating a nourishing bowl comes from the fact that you can work with what you already have in your pantry or fridge. It's up to you if you want them to be vegan or gluten-free.
Ingredients
½ cup sweet potato, roasted and cut into cubes
½ cup cooked quinoa
1 ripe avocado
1 cup steamed broccoli florets
1 teaspoon seed and nut mix (almonds, brazil nuts, flax seeds)
½ cup cooked beetroot, cut into slices
1 heaped tablespoon hummus
½ lemon, juice only
2 tablespoons extra virgin olive oil
½ teaspoon sea salt
freshly ground black pepper
Instructions
Preheat the oven to 220°C.
Prick your sweet potato 2-3 time with a fork, then place it directly on a roasting tray in the middle of the oven and bake for 45-60 minutes. When soft to touch, remove from the oven and cut into cubes.
Meantime cook the quinoa according to the package instructions and steam the broccoli florets over a pot of boiling water for 15-20 minutes.
Arrange all ingredients in a large bowl.
Add seed mix, hummus, olive oil and lemon juice and stir to combine.
Season with salt and pepper and serve.