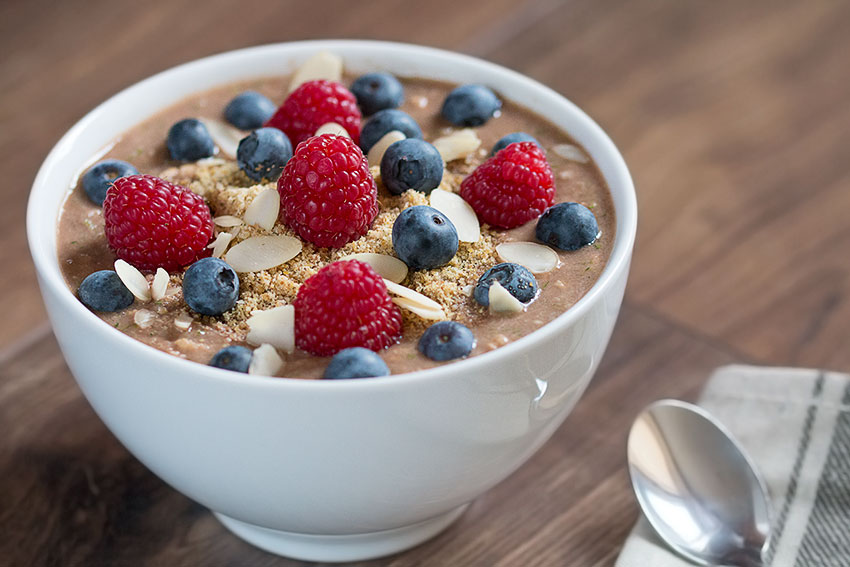 What are Zoats?
Zoats? What's that? I can almost picture you guys pulling faces.
Zoats is simply the marriage of the two words Zucchini and Oats. Yes, I can hear the first of you already calling for a divorce but hang in there, let me explain why I believe that this should be an eternal bond.
What are the benefits of Chocolate Zoats?
Zucchini is well known to reduce weight, yet still boosting the nutrient value of your diet.
Besides vitamin C, vitamin A and folate this summer squash contains moderate levels of thiamin, pyridoxine, riboflavin and minerals like iron, manganese, phosphorus, and zinc.
Plus, it adds fibre to your breakfast, one bowl offers almost 12 grammes, which is more than one-third of your daily recommended amount.
Chocolate Zoats are also low in sugar, under 15 grammes if you don't go all out with sweeteners and toppings. This is the kind of filling breakfast that'll keep you satisfied all the way until lunchtime.
So no excuses, make your way to the next farmers market or grocery store and get yourself some delicious zucchini or courgettes how we call them in Ireland. We just figured that Courgoats doesn't sound as nice as Zoats. Well, maybe if I tried it with a French accent? Naah, let's just stick with zoats.
If I still haven't convinced you to try Chocolate Zoats, check out my incredibly delicious Almond Butter Porridge With Roasted Bananas.
Your turn
Are you up to give chocolate zoats a try or do you prefer your good auld porridge?  I'm looking forward to reading about your favourite breakfasts in the comments.
For more updates follow me on Facebook, Twitter, Instagram, Pinterest or subscribe to my YouTube channel!
Like it? Pin it!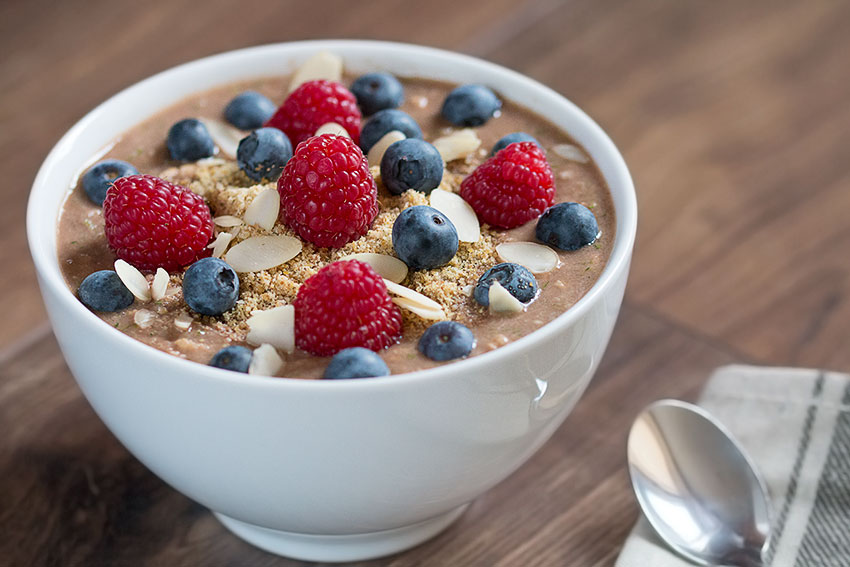 Print Recipe
Best Chocolate Zoats Recipe Ever
These delicious chocolate zoats are packed with nutrients and lots of fibre.
Instructions
Place gluten-free oats, zucchini, plant-milk and water in a saucepan and simmer until most of the liquid is absorbed, about 7minutes.

Stir in flaxseeds, mashed banana, cinnamon and raw cacao and cook for another few minutes.

Place cooked zoats in a bowl, top with fresh berries and almonds, enjoy!
Nutrition
Calories:
411
kcal
|
Carbohydrates:
68
g
|
Protein:
12
g
|
Fat:
12
g
|
Saturated Fat:
1
g
|
Sodium:
190
mg
|
Potassium:
914
mg
|
Fiber:
13
g
|
Sugar:
24
g
|
Vitamin A:
605
IU
|
Vitamin C:
29.9
mg
|
Calcium:
235
mg
|
Iron:
3.3
mg