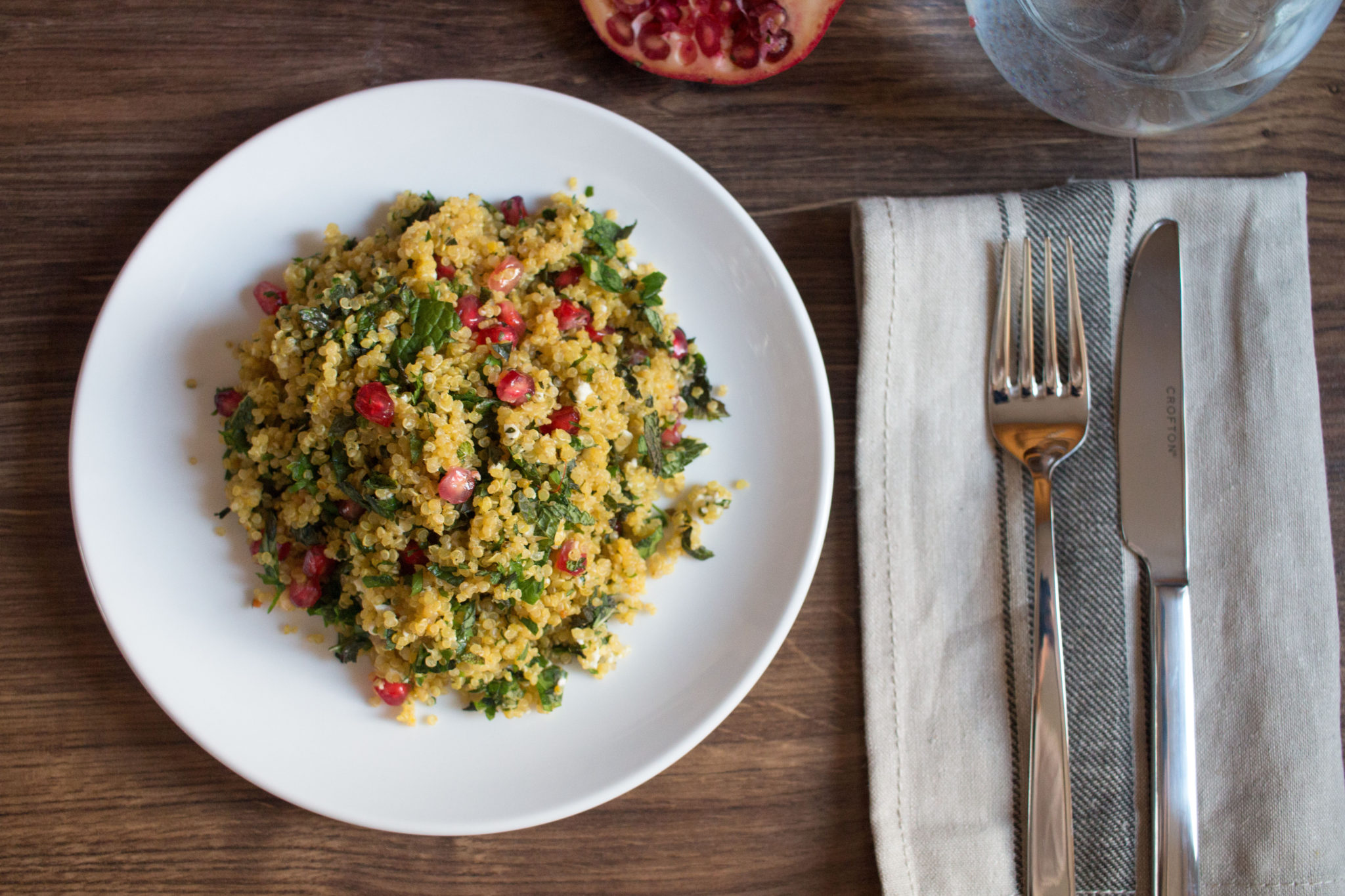 Middle Eastern Pomegranate Quinoa is a real nutritional powerhouse. Pomegranate is packed with anti-oxidants and anti-inflammatory compounds, together with quinoa it turns into an absolute superfood.
The smell of Middle Eastern spices such as saffron and fresh mint will give you the feeling of standing in the middle of a Moroccan food market. Okay, in fairness, you would probably find couscous rather than quinoa in a traditional Moroccan food market. But as my blog is all about healthy and nutritious food from around the world I will just exercise my right to creative freedom. Did you know that you can enjoy quinoa in sweet dishes as well? My Quinoa And Strawberry Parfait is a great example it makes the perfect breakfast or summer dessert.
Benefits of Quinoa
Quinoa has become one of the most popular health foods in the world and its nutritional values speak for themselves.
This is the nutrient content in 1 cup (185 grams) cooked quinoa:
Protein: 8 grams.
Fibre: 5 grams.
Manganese: 58% of the RDA.
Magnesium: 30% of the RDA.
Phosphorus: 28% of the RDA.
Folate: 19% of the RDA.
Copper: 18% of the RDA.
Iron: 15% of the RDA.
Zinc: 13% of the RDA.
Potassium: 9% of the RDA.
Over 10% of the RDA for vitamins B1, B2 and B6.
Small amounts of calcium, B3 (niacin) and vitamin E.
This is coming with a total of 222 calories, with 39 grams of carbs and 4 grams of fat including a small amount of omega-3 fatty acids.
Quinoa is also has a low glycemic index, which is good for blood sugar control and is perfect for people with gluten intolerances.
How to cook Quinoa?
When I cook quinoa I use one part quinoa and two parts of water or vegetable stock.
Always rinse the quinoa first, rinsing removes its natural coating, called saponin, which can make it taste bitter or soapy. Although boxed quinoa is often pre-rinsed, it doesn't hurt to give the seeds an additional rinse at home.
Bring the water to a boil, add the quinoa, cover the pot with a lid and simmer for 15-20 minutes.
Don't stir while simmering or the quinoa won't become fluffy.
Once the cooking time is over and all the liquid has evaporated you can fluff it up by using a fork. Cover the pot with a lid and let it rest for another 5 minutes.
This way you will always end up with perfectly cooked quinoa. Make sure to check out all my other Vegan Recipes as well.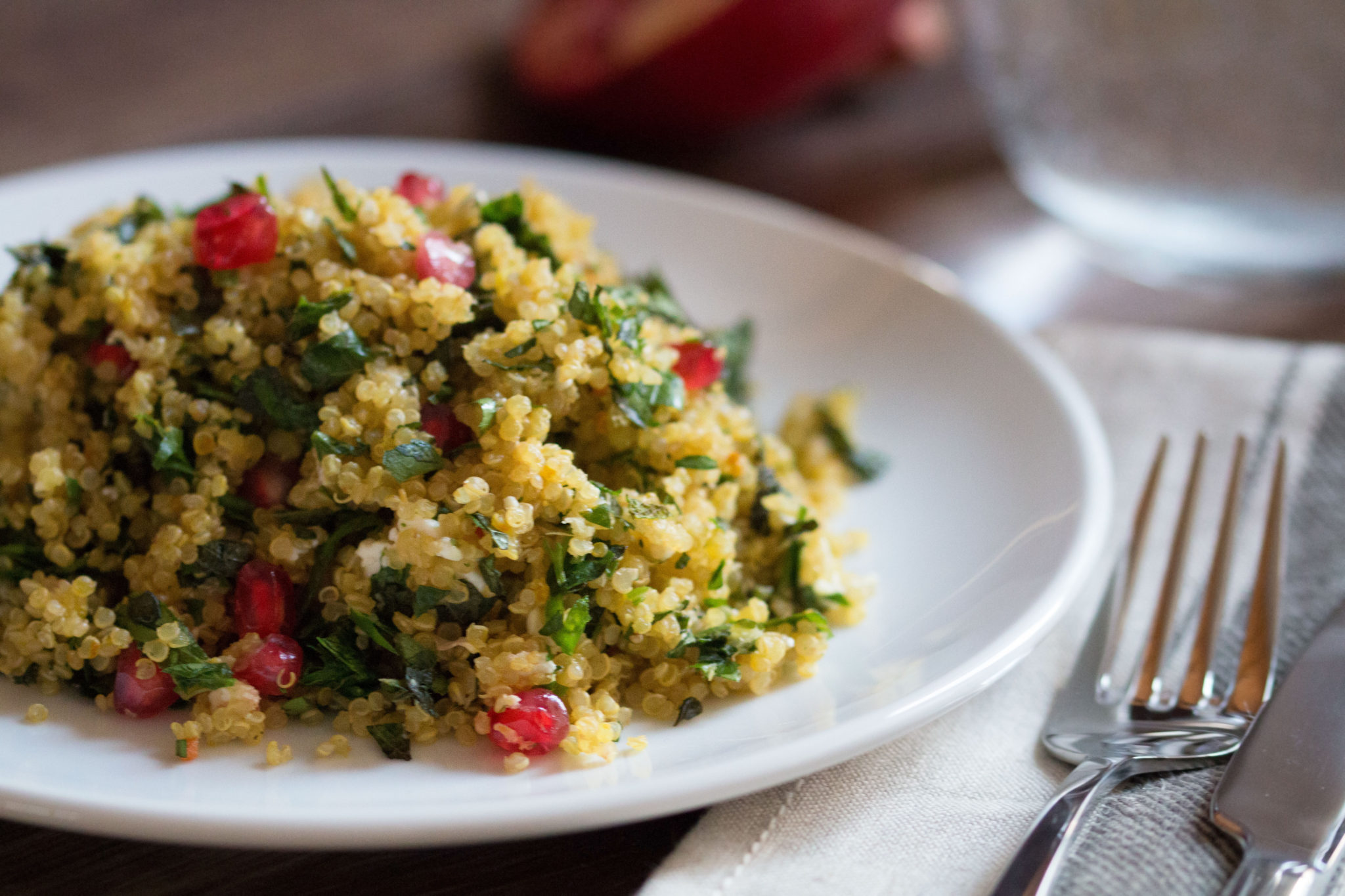 Your turn
How do you like to flavour your quinoa?  I'm looking forward to reading your comments.
For more updates follow me on Facebook, Twitter, Instagram, Pinterest or subscribe to my YouTube channel!
Like it? Pin it!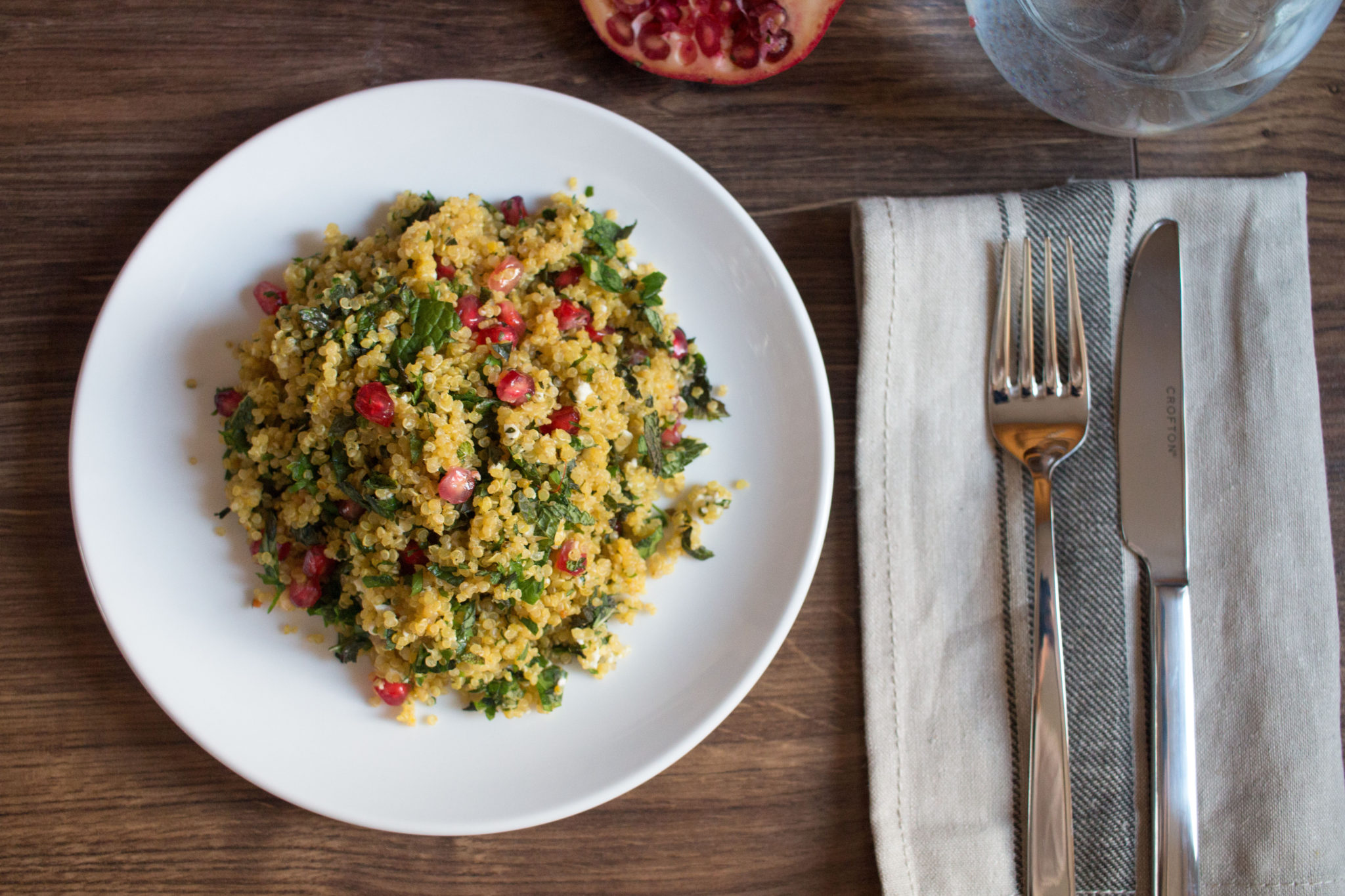 Print Recipe
Middle Eastern Pomegranate Quinoa
Simple and easy, Middle Eastern Pomegranate Quinoa is a very versatile recipe which can be served as a salad or hot as a side or main dish.
Ingredients
Instructions
In a big saucepan bring the vegetable stock to a boil, then add the saffron.

Rinse the quinoa and add it to the boiling stock. Cover with a lid and let simmer at low temperature for 15-20 minutes.

Turn off the stove, add the pomegranate seeds and let it rest with the lid on for another 5-10 minutes.

Fluff up the quinoa using a fork.

Stir in the olive oil, lemon juice and lemon zest and sprinkle with fresh mint, parsley and feta cheese (omit if vegan).
Nutrition
Calories:
223
kcal
|
Carbohydrates:
26
g
|
Protein:
8
g
|
Fat:
9
g
|
Saturated Fat:
4
g
|
Cholesterol:
22
mg
|
Sodium:
602
mg
|
Potassium:
328
mg
|
Fiber:
3
g
|
Sugar:
4
g
|
Vitamin A:
1435
IU
|
Vitamin C:
18.1
mg
|
Calcium:
171
mg
|
Iron:
2.5
mg