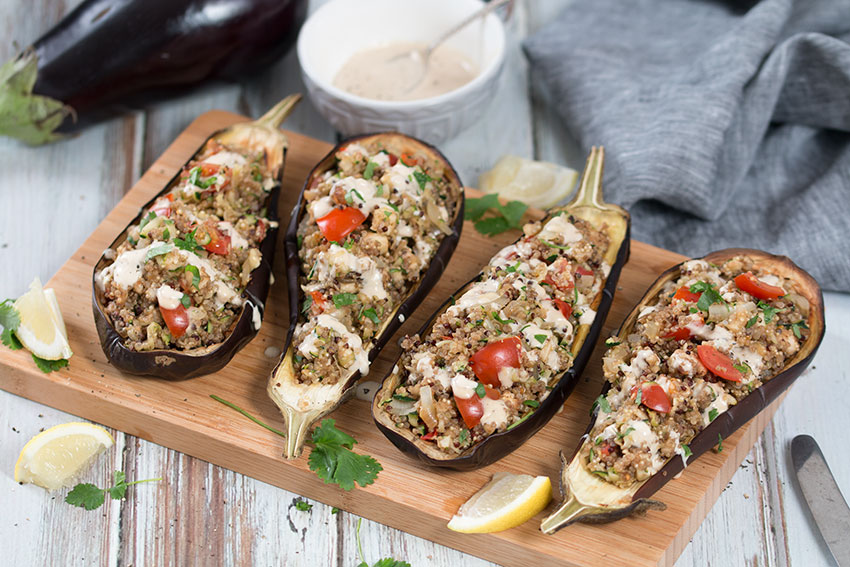 Quinoa Stuffed Eggplant With Lemon Tahini Sauce
This healthy Quinoa Stuffed Eggplant with Lemon Tahini Sauce is an easy, vegan and gluten-free dish which is full of goodness and flavour.
For a long time, I have been neglecting eggplants (aubergines) in my kitchen for no particular reason. Occasionally, I add them to stews or stir fries but I never thought about any other options. Since I have recently become obsessed with stuffing all sort of vegetables such as my Grilled Zucchini Boats or Beef And Millet Stuffed Peppers I thought it was time to give Quinoa Stuffed Eggplants a go.
Gosh, I wish I would have done that sooner, it presents the perfect opportunity to hide lots of vegetables from fussy eaters or to simply up your vegetable intake.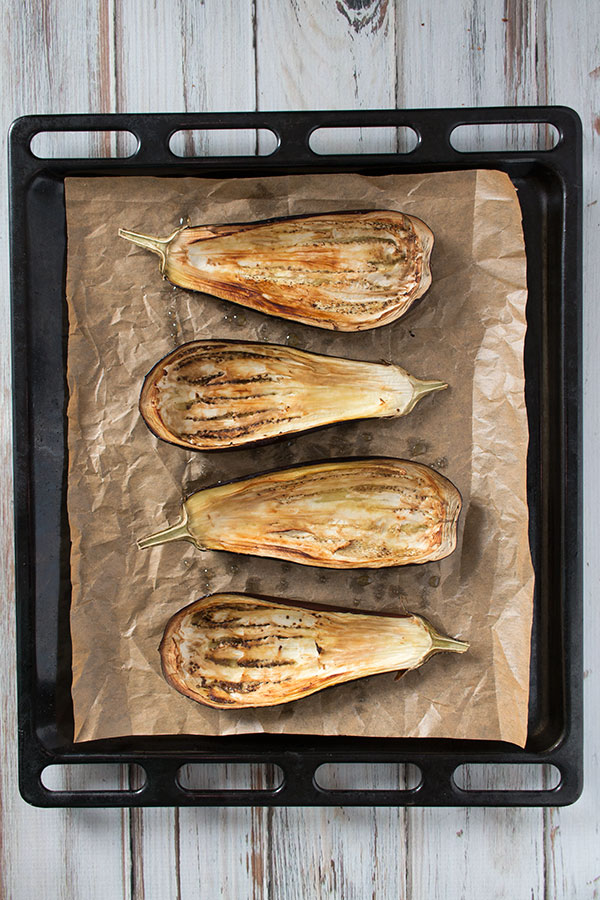 How to cook eggplant
Contrary to popular belief, eggplants (aubergines) aren't vegetables, they are fruits and are commonly used in Indian, Middle Eastern and Mediterranean cuisine. Many cultures tend to deep-fry them which I wouldn't recommend from a nutritional point of view. They will absorb a lot of oil which gets damaged at the high temperatures and it also counteracts the eggplant's nutritional benefits.
Eggplants have a similar consistency to a tomato, in terms of texture and density and are a perfect addition to soups, stews, and sauces. To maintain its nutritional value it works best to roast them for 30 minutes at 200°C or to prepare them in a slow cooker. Quinoa Stuffed Eggplant with Lemon Tahini Sauce is obviously the reason why you are here, therefore feel free to skip to the recipe at the bottom of the page if you are not interested in its nutritional values.
Benefits of Eggplants
Even though eggplants don't have an outstanding amount of one particular vitamin or mineral, they do contain an impressive array across the board of many vitamins and minerals, such as excellent amounts of fiber, folate, potassium and manganese, as well as vitamins C, K, and B6, phosphorus, copper, thiamin, niacin, magnesium, and pantothenic acid.
They are a part of the nightshade family which are known to cause severe allergic reactions in certain people. However, they aren't as common in terms of being an allergen as tomatoes or bell peppers, which are also considered nightshades. As with any new food in your diet start with small quantities and pay attention to your body's reactions.
Like it? Pin it!
Your turn
What is your favourite vegetable to stuff and have you tried stuffed eggplant before? Let me know, I'm looking forward to reading your comments.
For more updates follow me on Facebook, Twitter, Instagram, Pinterest or subscribe to my YouTube channel!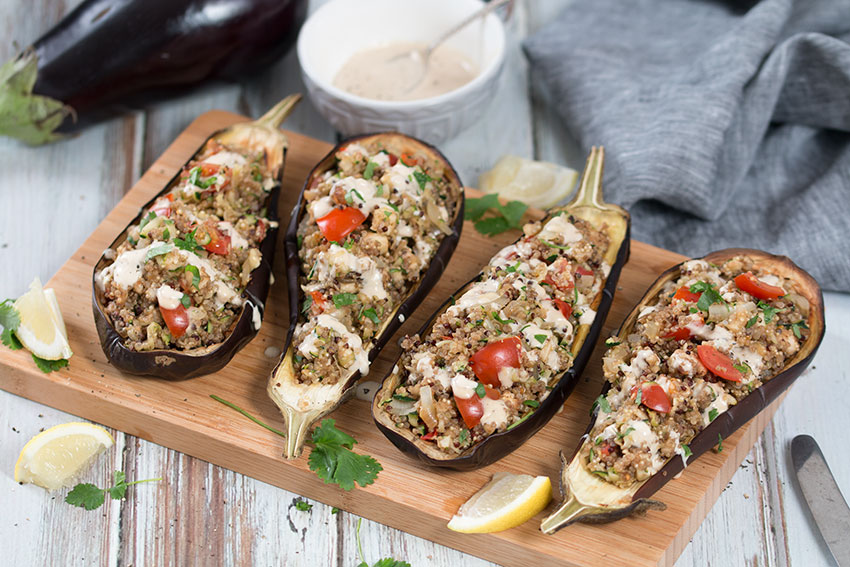 Print Recipe
Quinoa Stuffed Eggplant With Lemon Tahini Sauce
This healthy Quinoa Stuffed Eggplant with Lemon Tahini Sauce is an easy, vegan and gluten-free dish which is full of goodness and flavour.
Ingredients
Stuffed Eggplants
Lemon Tahini Sauce
1/4

cup

light tahini

1

clove

garlic

minced

1/2

cup

water

1

lemon

juiced

salt

pepper
Instructions
Preheat the oven to 400°F/200°C.

Cut the eggplant in half length-wise and scoop out the flesh using a spoon. Place the scooped out flesh in a bowl and set aside, you will need it later for the filling. Put the eggplant halves onto a parchment paper-lined baking tray, drizzle with olive oil and season with salt. Bake for about 30 minutes or until soft to touch.

Meantime prepare your Lemon Tahini Sauce: In a small bowl or food processor, mix all the ingredients for the sauce except for the water. Add the water gradually according to your desired consistency, set aside.

Prepare the quinoa according to the package instructions, usually, it is 1 part quinoa to 2 parts water and boil for about 15 minutes.

Chop the flesh from the eggplant into about 1cm big cubes.

Heat 2 tablespoons of olive oil in a large pan and add in the chopped onions. Cook for about 2 minutes or until they turn translucent. Add the garlic and cook for another minute.

Now add the diced eggplant, tomatoes, zucchini, season with salt and pepper and cook for 2-3 minutes or until soft.

When the quinoa is fully cooked remove it from the heat and stir it into the pan with the vegetable.

Use a tablespoon to fill the quinoa mixture into the eggplant halves. Drizzle the Lemon Tahini Sauce on top and garnish with cilantro or parsley.
Nutrition
Calories:
276
kcal
|
Carbohydrates:
38
g
|
Protein:
9
g
|
Fat:
10
g
|
Saturated Fat:
1
g
|
Sodium:
21
mg
|
Potassium:
512
mg
|
Fiber:
5
g
|
Sugar:
3
g
|
Vitamin A:
150
IU
|
Vitamin C:
27.5
mg
|
Calcium:
67
mg
|
Iron:
3.1
mg