Vegan Pineapple Pancake Mess
This healthy Vegan Pineapple Pancake Mess comes with a big warning, it will turn your Sunday morning breakfast routine upside down. After having tasted it once you will want to have it again and again.
The sweet caramelised flavour of the pineapple combined with the slight tanginess of the yoghurt and zing from the lemon blend together perfectly. While the cashew nuts add crunch to the delectable soft texture of the wholesome pancake base, your taste buds are guaranteed to go into overdrive. If you prefer less mess also check out my Fluffy And Gluten-Free Banana Oat Pancakes for more inspiration.
Why Vegan Pineapple Pancake Mess Is Good For You
Most noteworthy is that it comes with an abundance of vitamins, omega 3s, minerals, protein and fibre. Due to its rich nutritional profile, it's the perfect breakfast which will provide you with lots of energy until your next meal. Another sweet bonus of this vegan pineapple pancake mess is that it doesn't contain refined sugar.
If you haven't got coconut products in your pantry and aren't vegan you can substitute the coconut yoghurt with a regular natural yoghurt (click the links to learn how to make each yourself). The coconut milk can be replaced with organic whole milk, always choose whole milk over skimmed milk as it contains Vitamin A.
No matter if you are vegan or not, try to stick with the coconut variants in this case as they tremendously enhance the tropical flavour of this dish.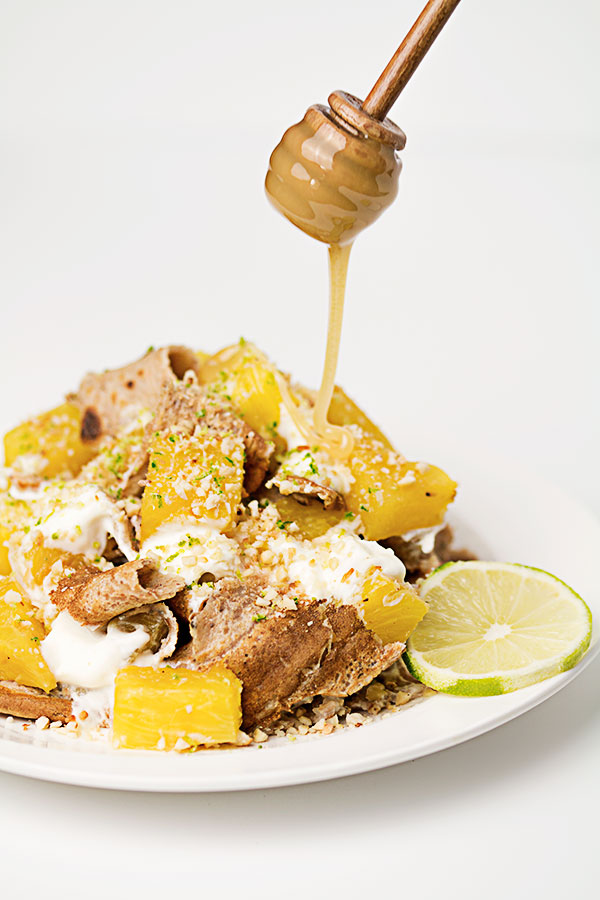 Your turn
How does it sound? Are you going to try them? I'm looking forward to finding out in the comments. 🙂
For more updates follow me on Facebook, Twitter, Instagram, Pinterest or subscribe to my YouTube channel!
Print Recipe
Vegan Pineapple Pancake Mess
This healthy, Vegan Pineapple Pancake Mess will turn your breakfast routine upside down. It's simply delicious and easy to make. The natural sweetness of the pineapples combined with the slight tang of the coconut yoghurt and the fluffy pancakes are a match made in heaven.
Instructions
Make a "Chia egg" by mixing the milled chia seeds with water and let sit for 10 minutes.

Toast the cashew nuts and coconut flakes in a non-stick pan for about 30 seconds and then slightly crush them with a pestle and mortar or your food processor.

Trim the skin, top and bottom of the pineapple and cut the flesh into 1 cm big chunks.

Fry the pineapple chunks in a dry pan for about 10-15 minutes until they start to caramelise and set aside.

Crush the cardamom pods, putting just the inner seeds into a blender with the flour, milk, chia egg, vanilla extract, cinnamon and a pinch of sea salt. Blitz until smooth.

Add a tiny amount of oil to the pan and wipe it with a dry ball of kitchen paper. Repeat wiping the pan with the oily kitchen paper after each pancake.

Only use a small amount of batter and fry it from both sides until golden-brown. Stack the pancakes and cover them with a clean kitchen towel to keep them warm.

Layer the pancakes with the pineapples, nuts and soy yoghurt and randomly tear them apart.

Grate a little lemon zest on top and drizzle with honey if you fancy.
Nutrition
Calories:
526
kcal
|
Carbohydrates:
69
g
|
Protein:
11
g
|
Fat:
25
g
|
Saturated Fat:
16
g
|
Sodium:
19
mg
|
Potassium:
548
mg
|
Fiber:
10
g
|
Sugar:
24
g
|
Vitamin A:
130
IU
|
Vitamin C:
116.2
mg
|
Calcium:
99
mg
|
Iron:
6.4
mg
This recipe was inspired by Jamie Oliver's Pineapple Pancake Mess.