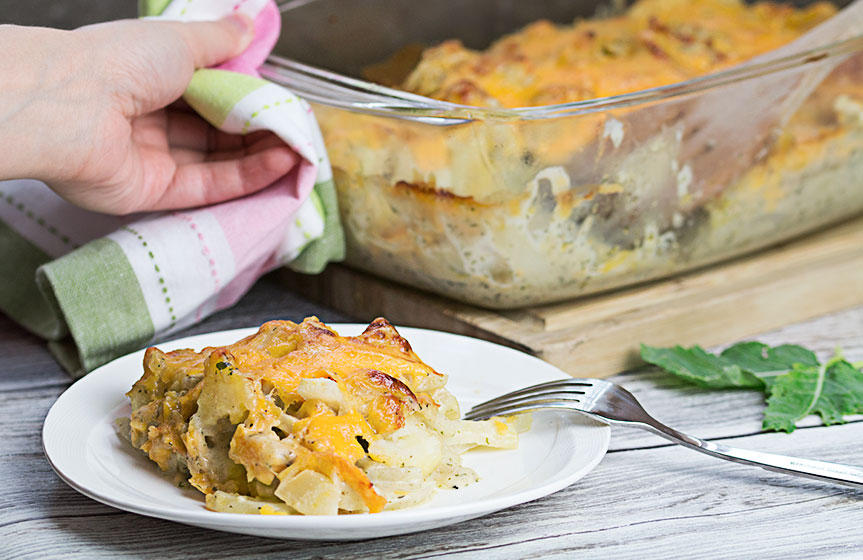 Kohlrabi And Potato Bake With Basil Sauce
Kohlrabi And Potato Bake With Basil Sauce is a very healthy and delicious way of incorporating this beautiful vegetable into your diet. Since I moved to Ireland I hadn't noticed it being sold in any of the big shops across Dublin, therefore, I was even more delighted to find them on sale in one of the Asian markets. So far I used to believe that this vegetable was only consumed in Germanic countries, consequently, I was surprised to learn that it's also popular in North India and Bangladesh.
The word kohlrabi is German for "cabbage turnip" (kohl as in coleslaw, and rübe for turnip) though kohlrabi is not a root vegetable at all. It's a brassica—like cabbage, broccoli, and cauliflower—and those cute bulbous shapes grow above ground, not below.
If you can't find kohlrabi or just like a good bake as much as I do, you might want to check out this Vegan Shepherd Pie Recipe, too.
How to use Kohlrabi
Kohlrabi tastes somewhat like a broccoli stem, although a bit more palatable and often softer, it can even take the consistency of an apple at times. While the roots/stems are often used in salads in a similar way as carrots or broccoli, the leaves are typically interchanged for kale or spinach. You can consume Kohlrabi raw, cooked or baked, whichever you fancy most, my favourite recipe is definitely this Kohlrabi And Potato Bake With Basil Sauce.
Some countries even use kohlrabi as food for their livestock, as it is packed with beneficial nutrients and grows relatively easily in certain climates.
Health Benefits Of Kohlrabi
Kohlrabi is full of nutrients and minerals like copper, potassium, manganese, iron and calcium, as well as vitamins, such as vitamin C, B-complex vitamins, vitamin A and vitamin K.
Along with that, kohlrabi is high in dietary fibre and antioxidant compounds which aid digestive health and weight loss.
It is low in calories and the fibre makes us feel full, so even if the volume of food consumed isn't that great, we resist the urge to snack between meals or overeat.

Your turn
What about you, have you ever had kohlrabi before and how do you like to prepare them? I'm looking forward to finding out in the comments. 🙂
Sign up to our Newsletter to get healthy recipes and my eBook "10 Easy Dessert Recipes " for FREE.
Follow us on Facebook, Twitter, Instagram or Pinterest for more updates.
Enjoy 🙂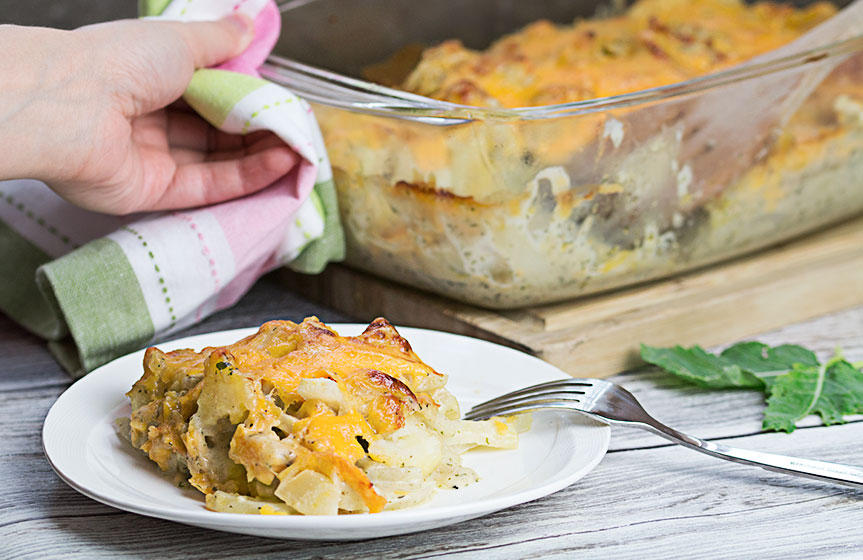 Print Recipe
Kohlrabi And Potato Bake With Basil Sauce
Kohlrabi And Potato Bake With Basil Sauce is a very healthy and delicious way of incorporating this beautiful vegetable into your diet.
Ingredients
1

onion

2

tablespoons

oil

2

cups

water

1

vegetable stock cube

gluten-free

1.7

lb

potatoes

2.2

lb

kohlrabi

salt

1/3

cup

soy cream

1

tablespoon

butter or vegetable spread to keep it vegan

1/3

cup

buckwheat flour

1/2

bunch of fresh basil

1

pinch

nutmeg

one squeeze of lemon juice

7

oz

grated red cheddar cheese/ or vegan cheese
Instructions
Finely chop the onions and blanch them with a bit of oil in a medium-sized saucepan for about 2 minutes.

Peel and chop the potatoes into bite-sized chunks and the kohlrabies into sticks.

Add water and vegetable stock cube to the saucepan and bring to boil.

Layer the potatoes and kohlrabi in 2-3 bamboo steam baskets on top. It is also possible to simply boil them instead, but steaming will preserve more nutrients.

Sprinkle a little salt over the potatoes and kohlrabi and steam them at high heat for about 20 min.

Meantime grease an oven prove dish and layer the steamed vegetable in it once finished.

Make sure to keep the vegetable stock you might need to add a little water to gain a total amount of liquid of approximately

1 2/3

cups.

Preheat the oven to 425 °F/220 °C.

Add the soy cream, butter or vegetable spread and flour to the vegetable stock and boil for 4 minutes.

Roughly chop the basil leaves, and add them to the sauce, mix carefully with an immersion blender.

Salt, pepper, nutmeg and lemon juice can be added to taste.

Pour the basil sauce over the steamed vegetable in your oven prove dish and cover with your choice of grated cheese.

Bake for 15 minutes.
Nutrition
Calories:
542
kcal
|
Carbohydrates:
52
g
|
Protein:
23
g
|
Fat:
29
g
|
Saturated Fat:
13
g
|
Cholesterol:
59
mg
|
Sodium:
596
mg
|
Potassium:
1854
mg
|
Fiber:
15
g
|
Sugar:
10
g
|
Vitamin A:
675
IU
|
Vitamin C:
178.7
mg
|
Calcium:
490
mg
|
Iron:
8
mg