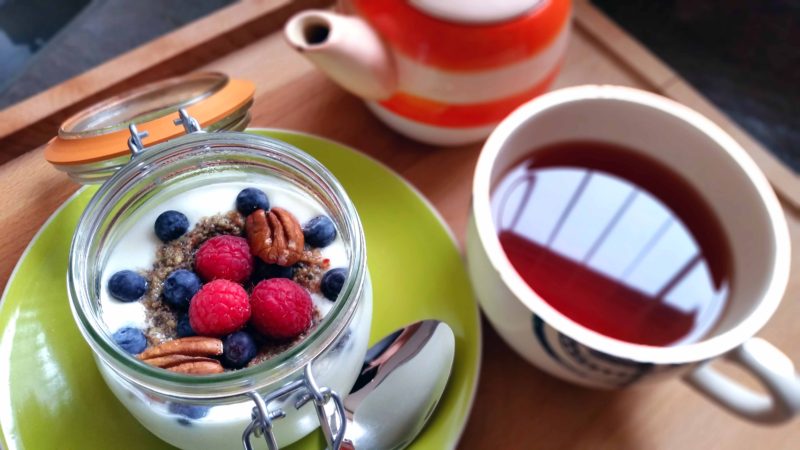 The perfect healthy breakfast
Breakfast is honestly the most difficult time of the day for me to eat something healthy. Most shop-bought yoghurts and cereals are bursting with sugar and preservatives nothing I fancy for the start of my day.
Even opting for the healthier granola versions from the health food stores can be tricky. Many are expensive and contain high amounts of dried fruit which are high in fructose and should only be consumed in moderation. I like to switch things up in the morning and one of my favourites is homemade yoghurt with berries and seeds or coconut milk yoghurt if you prefer a vegan version.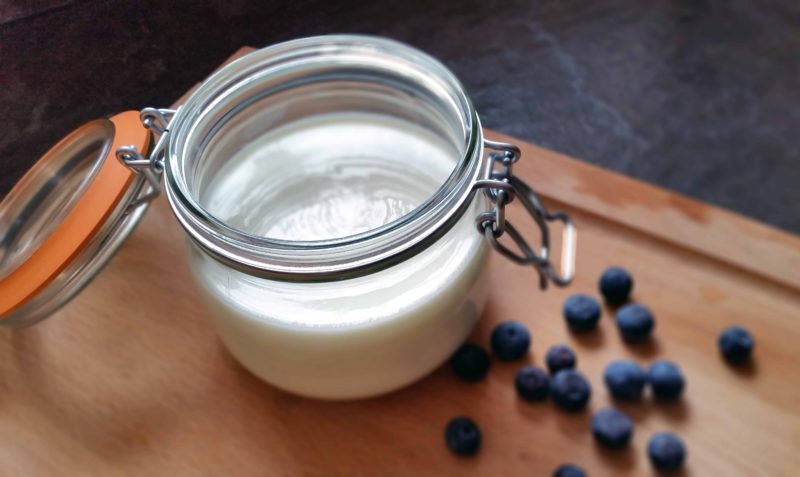 Even if you don't want to start making your own yoghurt (which is really simple by the way) opt for buying a yoghurt that contains "live cultures" or reads probiotics.
Probiotic, which literally means "for life," refers to living organisms that are believed to benefit health when eaten in adequate amounts.
Health benefits of homemade yoghurt
Yoghurt may help prevent osteoporosis
May reduce the risk of high blood Pressure
Active cultures may help certain gastrointestinal conditions, including:

Lactose intolerance
Constipation
Diarrhoea
Colon cancer
Inflammatory bowel disease

Yoghurt with active cultures may discourage vaginal infections
Team Yoghurt With Flaxseed
Get in the habit of stirring in a tablespoon of ground flaxseed every time you reach for a yoghurt. A tablespoon of ground flaxseed will add almost 3 grams of fibre and approximately 2 grams of healthy plant omega-3s. This also works very well with my Nourishing Breakfast Porridge With Berries & Seeds.
Eat Yoghurt at Work
Buy some yoghurt and keep it in the office refrigerator (don't forget to put your name on it). On those days when you need a morning or afternoon snack that yoghurt will be ready for you. Personally, I like to carry it in a mason jar, it looks nice and is also very convenient.
Your turn
With what food do you like to start your day? Let me know, I'm looking forward to reading your comments.
For more updates follow me on Facebook, Twitter, Instagram, Pinterest or subscribe to my YouTube channel!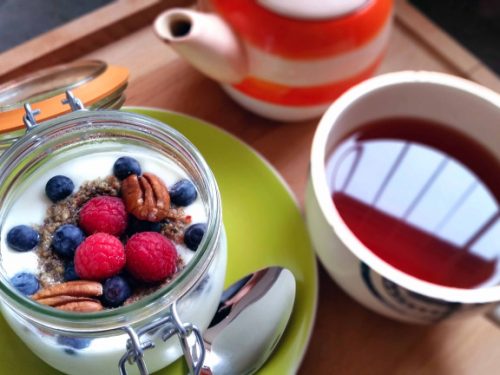 Print Recipe
Homemade yoghurt with seeds and berries
The perfect, healthy breakfast.
Ingredients
1

cup

yoghurt

with living cultures

1/2

cup

blueberries

1/2

cup

raspberries

2

tablespoons

milled chia seeds

2

tablespoons

ground flaxseeds

milled

5

pecan nuts

chopped
Instructions
Add all ingredients to a mason jar or breakfast bowl, stir with a spoon until combined. Enjoy!
Nutrition
Calories:
494
kcal
|
Carbohydrates:
46
g
|
Protein:
18
g
|
Fat:
29
g
|
Saturated Fat:
7
g
|
Cholesterol:
31
mg
|
Sodium:
123
mg
|
Potassium:
787
mg
|
Fiber:
20
g
|
Sugar:
22
g
|
Vitamin A:
240
IU
|
Vitamin C:
24.1
mg
|
Calcium:
514
mg
|
Iron:
3.6
mg