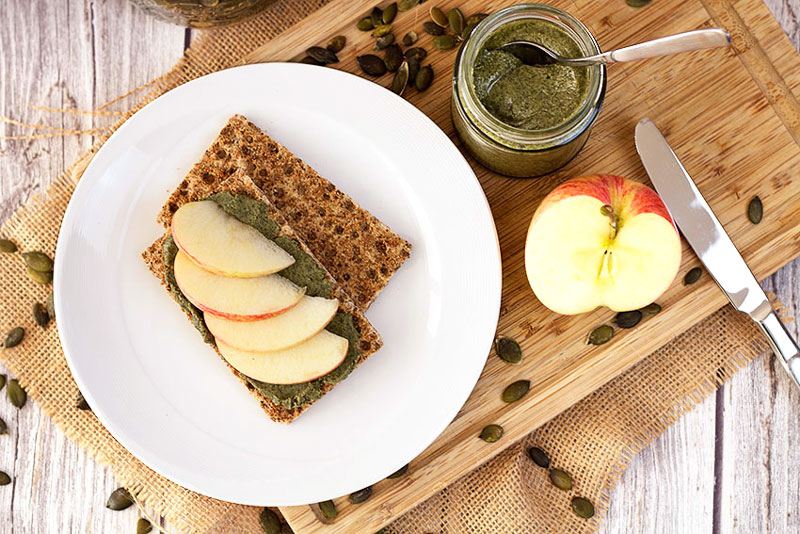 Raw Pumpkin Seed Butter
Raw Pumpkin Seed Butter is the perfect replacement for any kind of nut butter, coming from seeds rather than nuts it can be enjoyed by people suffering from nut allergies.
In my opinion, it is also richer in flavours and has a creamier consistency which makes it easier to spread.
Health benefits of Raw Pumpkin Seed Butter
Containing high levels of minerals such as magnesium, phosphorus, manganese, iron, copper, zinc and Vitamin E & K it is a great way of boosting your immune system.
Roasting the seeds, unfortunately, lowers their vitamin content so think twice if you are really willing to sacrifice the vitamins for some roast flavours.
Furthermore, pumpkin seeds are an excellent vegetarian source of protein, with a good amount of the amino acid tryptophan, which supposedly helps you dealing with stress and improving sleep patterns.
How to use Pumpkin Seed Butter
My favourite way of enjoying pumpkin seed butter is as easy as it gets, I simply spread it on my homemade Rye Sourdough Bread or crisp bread and top it with bananas or apples.
It also makes a fabulous addition to your lunch box for dipping those vegetable sticks in, (this is the perfect snack for children attending schools with nut-free policies). A great alternative to switch things up a little is this tasty Roasted Carrot Hummus Recipe, make sure to check it out, too.
Another delicious way of sneaking more nutrients into your diet is by adding raw pumpkins seed butter to soups and sauces, it adds a good dash of rich flavours.
Do you want more pumpkin recipes? Check out this delicious Pumpkin Cheesecake Roll Recipe from Erin at EatPrayGetWell.com .
How to make Raw Pumpkin Seed Butter?
While it's fairly easy and considerably cheap to make your own raw pumpkin seed butter it will require a reasonably strong blender or food processor.
You will want to make sure that the pumpkin seeds have reached a creamy consistency before you start adding other ingredients.
When you finally add the oil and maple syrup (if you would like to sweeten it a bit) don't process it for much longer.
Only pulse briefly until everything is combined, otherwise, it might cause seizing of the butter.
Your butter should look like this before you start adding the oil until it reaches your desired consistency.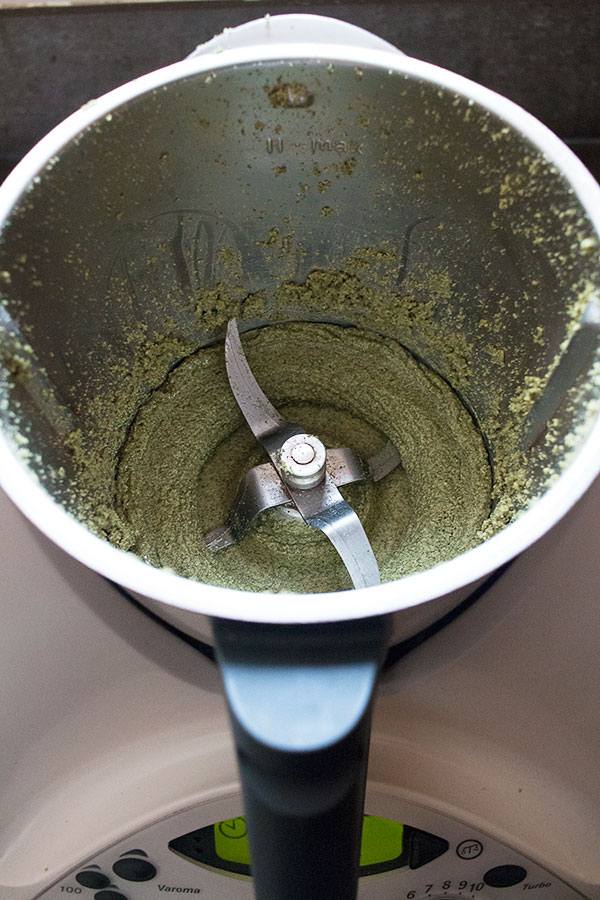 And here is the final result in all its delicious glory.
Like it? Pin it!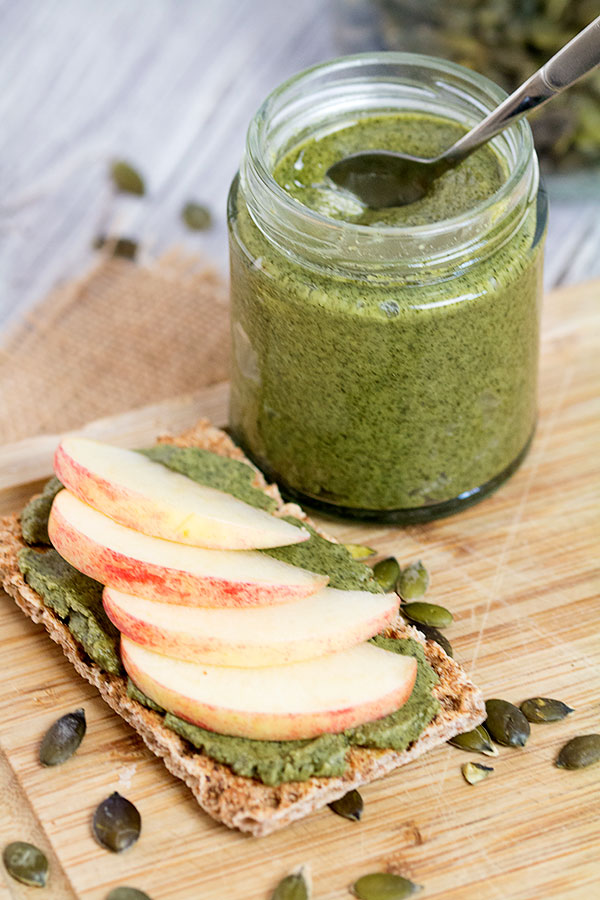 Your turn
Have you tried making your own nut or seed butters yet? Please share your experience I'm looking forward to reading your comments.
For more updates follow me on Facebook, Twitter, Instagram, Pinterest or subscribe to my YouTube channel!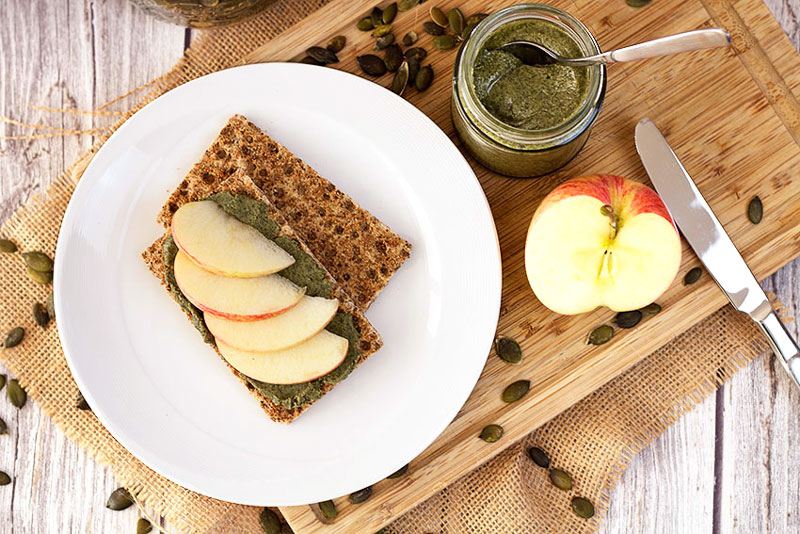 Print Recipe
Raw Pumpkin Seed Butter
Raw Pumpkin Seed Butter is the perfect alternative for people suffering from nut allergies.
Ingredients
1

cup

raw pumpkin seeds

1-2

teaspoons

olive oil

extra virgin

1

pinch

sea salt
Instructions
Process the raw pumpkin seeds in a blender or food processor until you achieve a creamy consistency. Depending on the power of your blender it can take up to 5-8 minutes, make sure to scrape down the sides once in a while.

Add all other ingredients and only pulse briefly.

Enjoy
Notes
Optional: You can roast the pumpkin seeds in the oven for 10-12 minutes at 175°C before processing them. This will give them a lovely roasted flavour, but you would lose out on a few nutrients during the process.
Nutrition
Calories:
36
kcal
|
Carbohydrates:
1
g
|
Protein:
1
g
|
Fat:
2
g
|
Sodium:
3
mg
|
Potassium:
43
mg
|
Vitamin C:
0.1
mg
|
Calcium:
4
mg
|
Iron:
0.5
mg