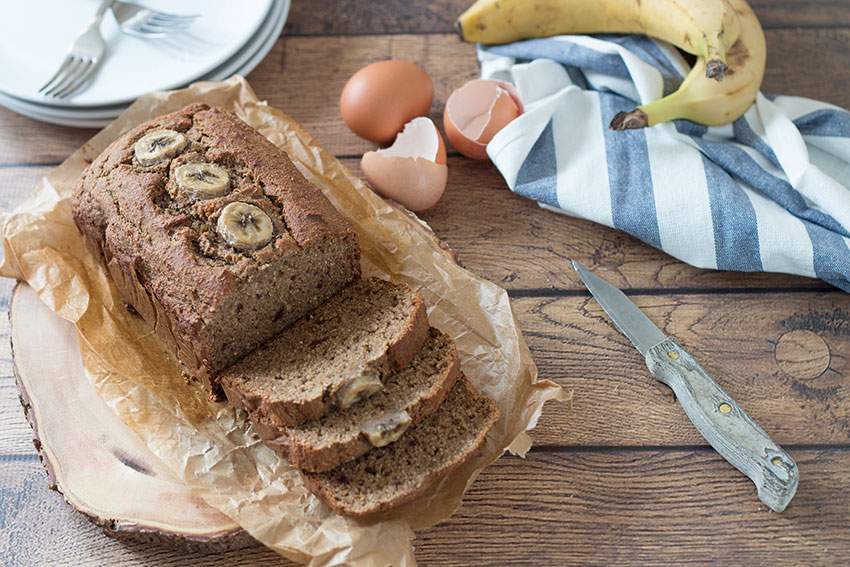 Delicious Rye Banana Bread Recipe
Looking for a healthier version of the good, old banana bread? This easy Rye Banana Bread Recipe will give you perfect results every time. It uses only small amounts of natural sweeteners while giving you a mouthful of perfect scrumptiousness.
What are the benefits of using rye flour?
Rye helps to lose weight
Rye fibre is rich in non-cellulose polysaccharides, which have an exceptionally high ability of binding water.This quickly gives you a feeling of being full. Eating rye bread can be a real help for anyone trying to lose weight.
Rye is composed of larger molecules, which are not broken down as quickly as the smaller ones found in wheat. Therefore, they have less of an effect on blood sugar and don't leave you with cravings. Rye contains four times the fibre and 20% fewer calories than standard white sliced bread.
One slice of regular rye bread has about 70 calories, make sure to replace your regular bread with it, rather than adding it on top of your regular diet or you will most likely gain weight.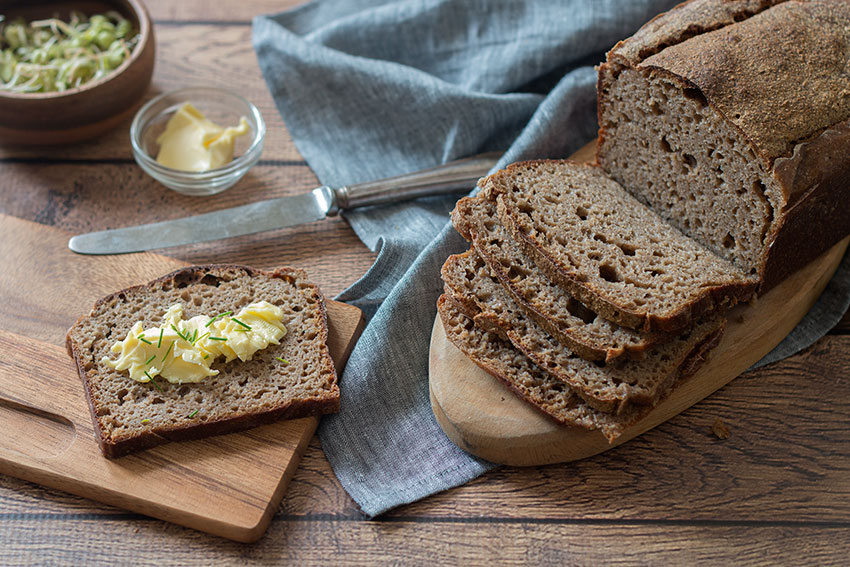 Rye can help to improve your digestion
Rye bread is 100% wheat-free, which can help to eliminate bloating and discomfort. Feeling generally better on a daily basis, isn't that what we are all looking for?
As mentioned briefly in the weight loss section, the impressive composition and density of dietary fibre in rye makes it perfect for everyone who is suffering from constipation or other blockages of the bowels. It also eases stomach pain, stomach cramping and might help to prevent more serious conditions like ulcers, gallstones or even colon cancer.
Is rye gluten-free?
Rye contains gluten, even though wheat and rye affect the body in slightly different ways it isn't suitable for anyone suffering from coeliac disease or gluten intolerance. In case you feel bloated a lot of the time and only suspect that you might be gluten intolerant it makes sense to test if you are okay with rye. I don't recommend restricting your diet any more than absolutely necessary. Many people who are intolerant to wheat are able to tolerate ancient grains such as rye or spelt, particularly when they are fermented like in sourdough.
If you want to make this Rye Banana Bread Recipe completely gluten-free, just replace the rye flour with more coconut flour but be aware that the result will be much denser.
Like it? Pin it!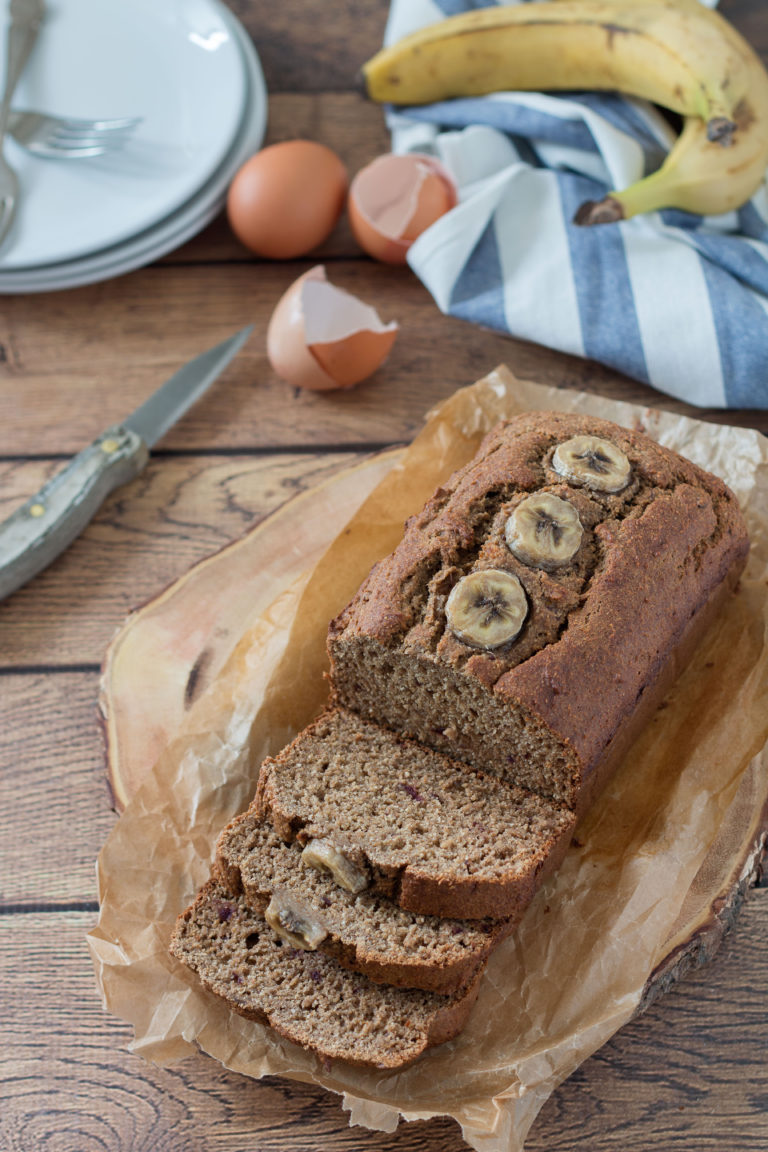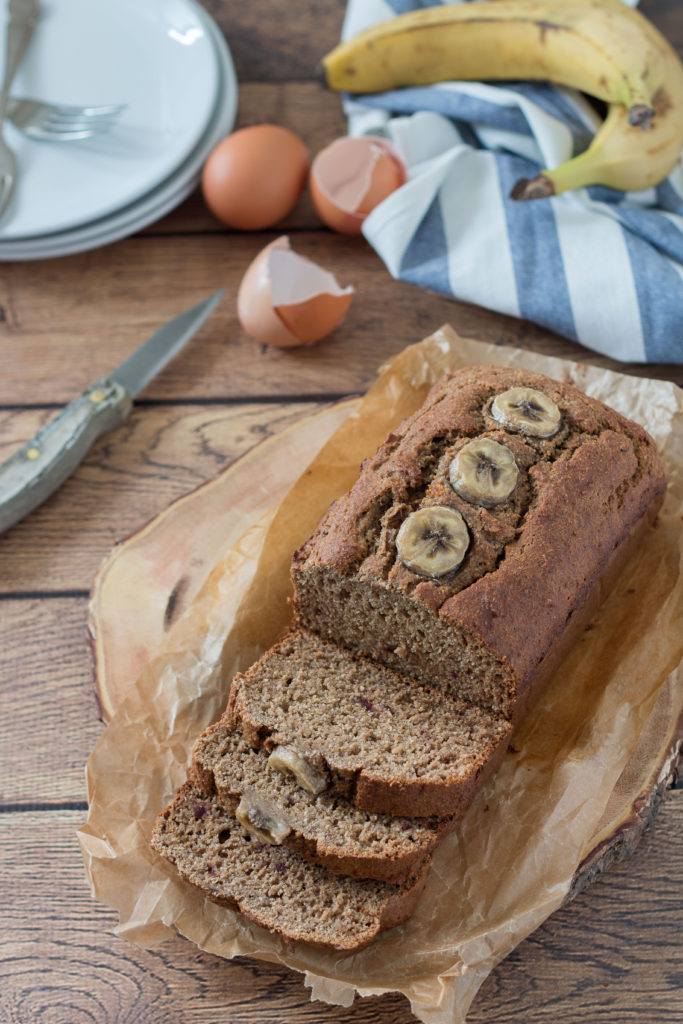 Your turn
What is your favourite kind of flour for baking? Let me know, I'm looking forward to reading your comments.
For more updates follow me on Facebook, Twitter, Instagram, Pinterest or subscribe to my YouTube channel!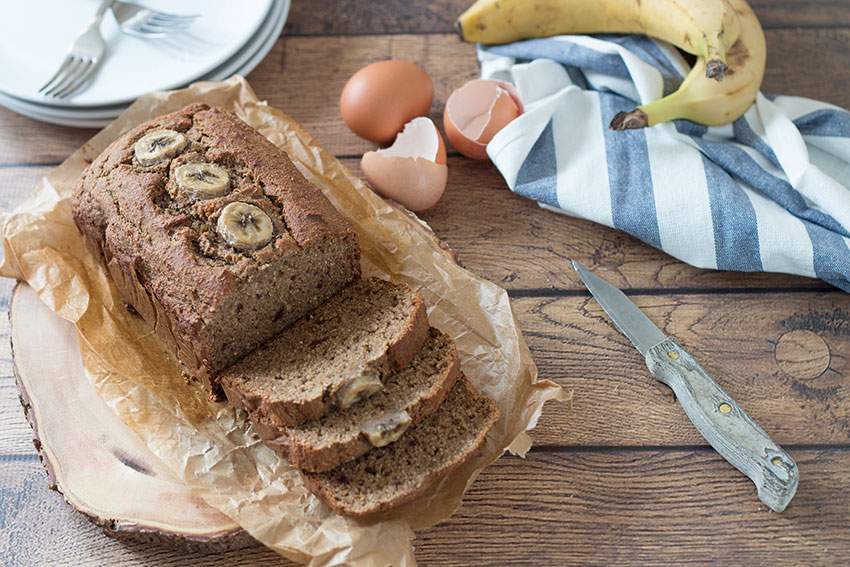 Print Recipe
Rye Banana Bread
Looking for a healthier version of the good, old banana bread? This easy Rye Banana Bread Recipe will give you perfect results every time.
Instructions
Preheat the oven to 350 °F/180 °C.

Line a small to medium loaf pan with parchment paper.

Get two large bowls ready, one for the dry and one for the wet ingredients.

In the first bowl stir the flours, dates, cinnamon, baking powder and salt together.

In the second bowl beat the eggs until foamy, add the remaining wet ingredients and blend well.

Combine the two mixtures by adding the wet on top of the dry mix and beat with a balloon whisk.

Transfer the dough into the lined loaf tin.

If you have some banana left, slice it up and use them to decorate the cake.

Bake it in the oven for 50 minutes and cool on a wire rack.
Notes
If the banana bread starts to brown too quickly you can cover the top with tinfoil after 30 minutes.
Nutrition
Calories:
212
kcal
|
Carbohydrates:
28
g
|
Protein:
4
g
|
Fat:
9
g
|
Saturated Fat:
7
g
|
Cholesterol:
49
mg
|
Sodium:
258
mg
|
Potassium:
254
mg
|
Fiber:
5
g
|
Sugar:
9
g
|
Vitamin A:
95
IU
|
Vitamin C:
3.1
mg
|
Calcium:
31
mg
|
Iron:
0.9
mg