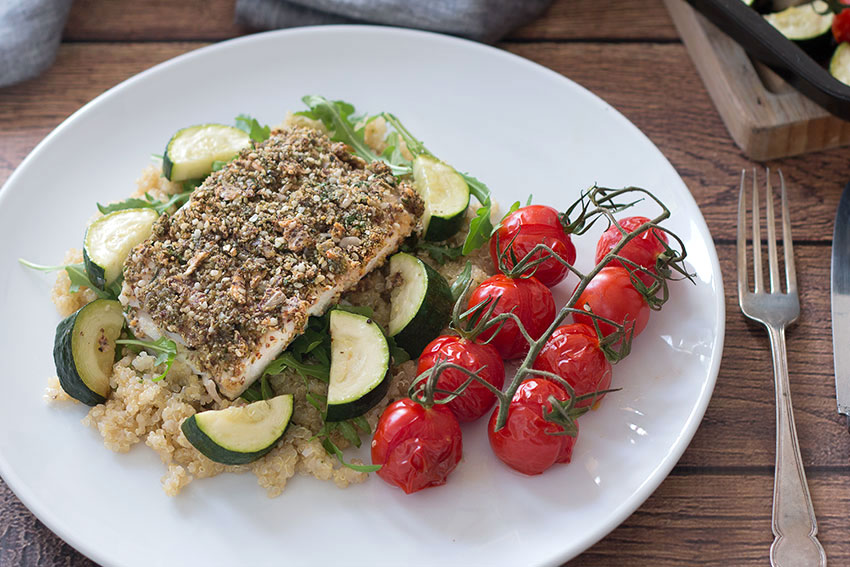 Roasted Hake With Hemp & Herb Crust
This healthy and flavoursome Roasted Hake With Hemp & Herb Crust is gluten-free and put together in a breeze, it's a dish that the entire family will enjoy.
I like serving it with some Mediterranean quinoa, rocket leaves and roasted vegetables but feel free to substitute it with your favourite side dish. Roasting the vegetables and hake in the same tray will save you time and keep the mess in your kitchen to a minimum.
For this recipe, I have teamed up with Linwoods Healthfoods and I am sure at this stage most of you know how much I love their products. In this Roasted Hake With Hemp & Herb Crust recipe, I incorporated Linwood's Shelled hemp and Super Seeds Snackettes. The shelled hemp helps to up the nutrient profile of this dish even further and the Super Seeds Snackettes keep it gluten-free and add some crunch. If you like it a bit spicier feel free to use the Spicy Tomato Snackettes instead they work really well with this recipe.
How to cook fish
A lot of home cooks seem to be afraid of serving fish because they don't know how to prepare it. Just stick with me and I will try to convince you how delicious, nutritious and easy to prepare fish can be. If you prefer salmon over hake check out this Delicious Raspberry Salmon and Oven-Baked Salmon with Parsley Salad recipes. Perfectly cooked fish is moist and has a delicate flavour, overcooking is the most common cooking error. Fish is done when the flesh has just begun to turn from translucent to opaque and is firm but still moist. It should flake easily when tested with a fork. An easy rule of thumb to cook the perfect fish every time is called the 10-minute rule.
First, measure the fish at its thickest point. If the fish is stuffed or rolled, measure it after stuffing or rolling.
Cook the fish about 10 minutes per inch in height, turning it halfway through the cooking time. For example, a 1-inch fish steak should be cooked 5 minutes on each side for a total of 10 minutes. Pieces that are less than 1/2 inch thick do not have to be turned over. To test for doneness flake with a fork.
Add 5 minutes to the total cooking time for fish cooked in foil or in a sauce.
Double the cooking time for frozen fish that has not been defrosted.
Use this rule as a general guideline since fillets often don't have a uniform thickness.
Benefits of Hemp Seeds
Research shows that hemp seeds like the ones used in this Roasted Hake With Hemp & Herb Crust recipe provide an excellent source of nutrition. (1)
Here are just a few key facts about the health benefits of hemp seeds:
Excellent 3:1 balance of omega-3 and omega-6 fatty acids, which are believed to promote cardiovascular health
High in GLA, an essential omega-6 fatty acid that has been proven to naturally balance hormones (worked great for me to relieve my PMS)
"A complete protein" not only does it contain all 20 amino acids, but also each of the nine essential amino acids that our bodies cannot produce
28 grams of hemp seeds contain about: (2)
161 calories
3.3 grams carbohydrates
9.2 grams protein
12.3 grams fat
2 grams fibre
2.8 milligrams manganese (140 percent DV)
15.4 milligrams vitamin E (77 percent DV)
300 milligrams magnesium (75 percent DV)
405 milligrams phosphorus (41 percent DV)
5 milligrams zinc (34 percent DV)
3.9 milligrams iron (22 percent DV)
0.1 milligram copper (7 percent DV)
Benefits of Omega 3s
Hemp seeds contain Omega-3 fatty acids which are essential for good health. Your body can't make them, so you need to get them from food. Omega-3 fatty acids are believed to help to lower your risk for a number of health conditions, including heart disease, arthritis and cancer. Sources of omega-3 fats include the oils from plants, fish and nuts, including hemp seeds, which are technically nuts.
Like it? Pin it!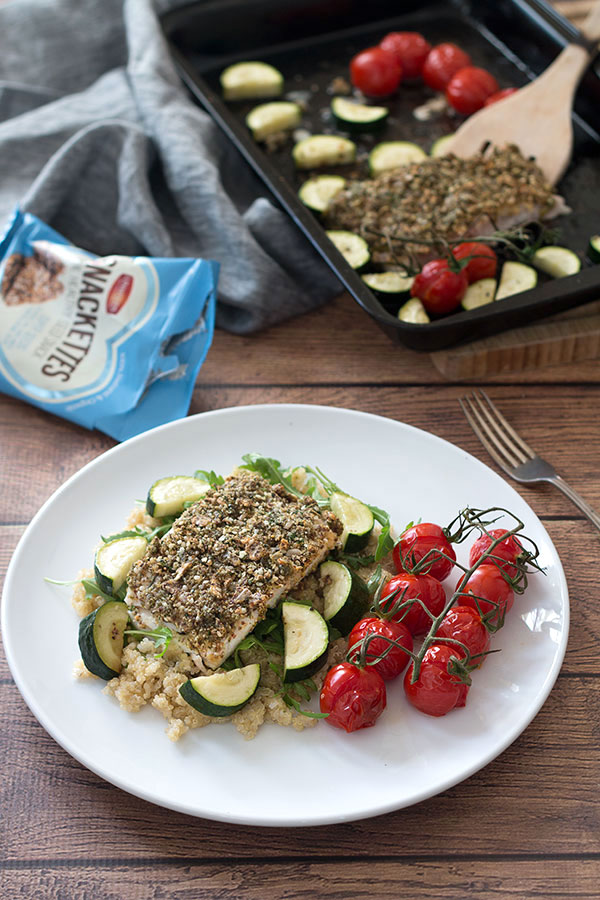 Your turn
What is your favourite way to prepare fish? Let me know, I'm looking forward to reading your comments.
For more updates follow me on Facebook, Twitter, Instagram, Pinterest or subscribe to my YouTube channel!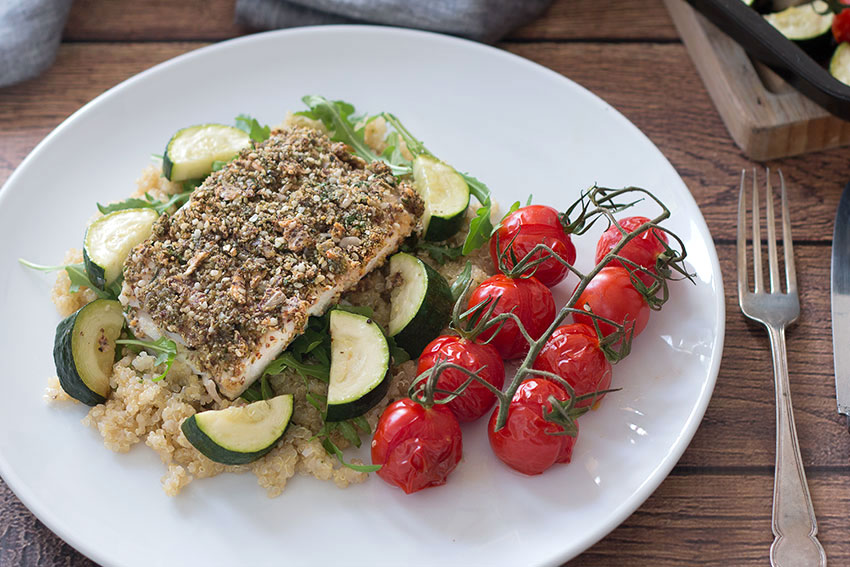 Print Recipe
Roasted Hake With Hemp & Herb Crust
This quick and healthy Roasted Hake With Hemp & Herb Crust is gluten-free and put together in a breeze. It's a dish that the entire family will enjoy.
Ingredients
Hake with Herb & Hemp Crust
2

hake fillets

sea salt

Black pepper

freshly ground

2

teaspoons

creamed horseradish

2

teaspoons

capers

1

tablespoon

fresh herbs of your choice

I used parsley, thyme and basil

1

packet

Linwoods Super Seeds Snackettes

or 1 slice of a stale seed bread

1

tablespoon

Linwoods Shelled Hemp

2

teaspoons

olive oil

extra virgin
Roasted Vegetables
16

cherry tomatoes

preferably on the vine

1

zucchini
Mediterranean Quinoa
1

cup

quinoa

rinsed

2

cups

water

pinch

salt

3

tablespoons

fresh green pesto

1

handful

rocket leaves
Instructions
Preheat the oven to 420°F/220 °C.

Season the hake fillets with salt and pepper, then spread a thin layer of the creamed horseradish on top.

Fill your capers, herbs and Linwoods Snackettes into a blender and blitz until crumbly. Add the Linwoods hemp seeds and sprinkle the mixture on top of the horseradish layer and press them in firmly using your fingers.

Place the hake on a lightly greased baking tray. Chop the zucchini into bite-sized chunks and arrange them together with the tomatoes around the hake. Drizzle a little oil over the herb crust and vegetables.

Bake for 10-12 minutes or until the crust is crisp and lightly golden and the fish is cooked through.

Meantime prepare the quinoa, fill it together with the water into a small pot and bring to a boil. Then lower the heat and let simmer for about 10-12 minutes.

Mix in the fresh green pesto and stir until well combined.

Arrange some quinoa on each plate, and top it with some rocket leaves before you finish it with the roasted hake and vegetables.
Nutrition
Calories:
564
kcal
|
Carbohydrates:
68
g
|
Protein:
20
g
|
Fat:
24
g
|
Saturated Fat:
3
g
|
Cholesterol:
1
mg
|
Sodium:
333
mg
|
Potassium:
1122
mg
|
Fiber:
9
g
|
Sugar:
7
g
|
Vitamin A:
1590
IU
|
Vitamin C:
51.8
mg
|
Calcium:
160
mg
|
Iron:
7.2
mg