Once you realise that 60% of what we put onto our skin gets absorbed by our body it becomes pretty obvious why you would want to use natural skin care products.
When I heard that Dublin Herbalists were looking for bloggers who wanted to test their products it couldn't have come at a better time. I know what you are saying, you are a health food blogger are you turning beauty blogger now? The simple answer is no but because I am all for a healthy lifestyle beyond food, I decided to give it a go.
After I had heard so many good things about Dublin Herbalists I was intrigued and grateful that I could test their natural skin care products for free. I haven't been paid to write this review and you can be assured that all the opinions are my own.
My own skin ordeal
4 years ago my Candida overgrowth had required me to change to a healthier diet and lifestyle. Even though I had seen tremendous improvements in my well-being and physical appearance it never occurred to me how many chemicals we absorb through our skin.
Since puberty, my skin has never been spotless and glowing like the models in beauty magazines. My issues also seemed to have some hormonal component to it.
For many years I went from dermatologists to beauticians without seeing major improvements. Only when I changed to a mainly unprocessed diet my skin condition got better.
For the last couple of years, I have been using skin care products from the pharmacy which had been recommended by my dermatologist. They worked to a certain extent but weren't natural by any means and they still wouldn't give me that glow that I was longing for.
Whenever I thought about changing my skin care products I got overwhelmed by that fear of the unknown. It had taken many years to find a skincare range that "kind of" worked for me. The thought of having to spend hundreds of euros and experiencing lots of frustration until eventually finding something seemed daunting.
How we became a chemical-free household
About a year ago I attended a talk on "How to balance hormones naturally" by Dr Marilyn Glenville PhD the UK's leading nutritionist specialising in women's health and she simply blew my mind.
Never had I wasted a thought on all the non-obvious hormone-disrupting chemicals lurking in our food containers, detergents, shampoos and household cleaners just to mention a few. I came home with a sense of activism, convinced to turn our home into a chemical-free zone. My boyfriend wasn't very impressed, to say the least. He prevented me from throwing all our plastic containers, skin care products and cleaners straight into the bin.
Retrospectively, it was probably a more sensible approach to swap everything bit by bit. Admittingly I really enjoyed that experimental phase. At the shops, I realised that the eco-friendly versions often come with a hefty price tag so I decided to make my own.
I enjoy making things myself so I ordered a big container of organic castile soap and started making our own natural skin care and cleaning products. First I experimented with mouthwash, laundry detergent, hand wash and household cleaners. Later I moved on to replacing our plastic containers with mason jars and glass containers from Ikea.
Looking back I am not sure why it took me so long to change to natural skin care products as it certainly would have been the most obvious thing to do.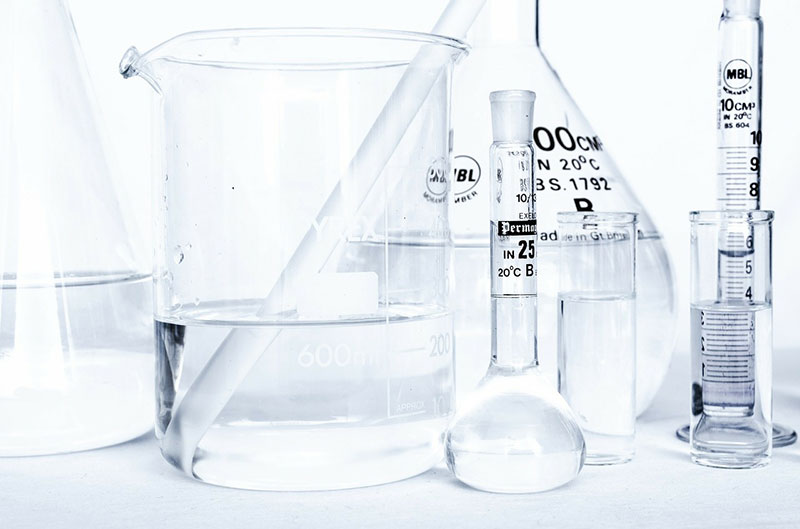 Why you should switch to natural skin care products
Many products are made from harmful artificial ingredients which place an unnecessary burden on our body's detoxification processes and immune system.
Good quality brands like Dublin Herbalists ingredients contain no chemicals, parabens, sodium lauryl sulphate or other harsh additives. Their natural products aren't tested on animals, and their packaging should also be kind to the earth. Most of Dublin Herbalists natural skin care products are also vegan.
Harmful ingredients in cosmetics aren't just a personal issue anymore. Every product we use on our skin will eventually end up in soil and waterways, where it can further impact microorganisms and marine life.
Natural ingredients are usually a much safer alternative, though bear in mind that plants can also trigger unwanted reactions in some people.
Check the labels, many ingredients labelled as natural or naturally-derived have undergone extensive chemical processing which can alter their nutritional profile and reduce their benefits to the skin. The most active, pure and beneficial cosmetic ingredients are minimally processed (look for cold pressed extra virgin plant oils and steam-distilled essential oils) and come from organic or biodynamic plants.
This Exfoliating Cleansing Gel with Bamboo and Cupuaçu is my absolute favourite, I have never come across any similar product before.
It is a 3-in-1 exfoliating cleanser that transforms from a gel to a cleansing oil to a moisturising milk. First I was sceptical when I read that it will turn into an oil because my t-zone can be quite oily. But, my skin felt deeply moisturized and glowing after I rinsed it off, not oily at all. The fact that this cleansing gel had taken the dead skin cells away despite feeling gentle on my face was a nice bonus. Dublin Herbalists recommend using it on dry skin which I found surprising but as soon as the gel touched my skin it filled my nostrils with a gorgeous orange scent and melted into a beautiful oily texture. Once I applied the warm water it turned into a moisturising milk which could be easily removed. I will definitely keep buying this product.
This is a vegan product.
Key Product Benefits
– Exfoliates
– Brightens
– Invigorates
Price: €18.95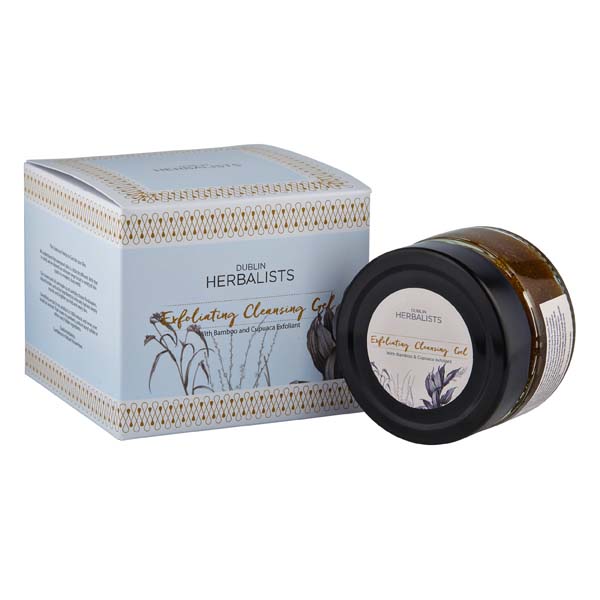 This Restorative Gel Face Mask With Lavender and Papaya Extract is packed with antioxidants and rich in minerals. This mask refreshes tired and dull looking skin, it immediately brightens and gives your skin a soft feel. Despite it being a gel I found the product to be very rich, if you have dry skin it will be a perfect fit for you. I loved the subtle lavender scent and gel texture but overall I felt like it was slightly too rich for my oily skin.
This is a vegan product.
30 masks per pot
Key Product Benefits
– Renews
– Restores
– Rehydrates
Price: €29.95
This Refreshing Facial Toner With Rose, Cucumber Extract and D-Panthenol is suitable for all skin types. Facial Toners have been jumping in and out of my personal skin care routine. They are designed to act as a shield for your pores while brightening up tired skin. Many regular facial toners contain alcohol which dries out the skin but this natural skin care product doesn't. The blend of floral waters including Rose, Witch Hazel and Chamomile smells gorgeous and it helps me maintain the delicate pH balance of my skin.
This is a vegan product.
Key Product Benefits
– Lifts
– Tones
– Brightens
Price: €14.95
Honey Lip Balm With Beeswax and Shea Nut Butter applied beautifully to my dry lips without being sticky. It has a lovely texture and instantly softens my lips which lasts the entire day. I only applied it twice a day, once after getting up and once before going to bed and the effect lasted the entire time. The balm contains only Beeswax, Shea Nut Butter and Oils, no preservatives or fillers.
This product is not vegan.
Key Product Benefits
– Moisturises
– Soothes
– Revitalises
Price €3.95
This All-Healing Salve With Arnica and St John's Wort must have been godsent after my sinus surgery this week. When I first received it I was wondering how I was going to test it. How would I know if it really works without suffering from any injuries or skin conditions? But then I had my sinus surgery which left me with a slightly swollen nose and dry cracked skin around my nostrils. Sorry if this is a case of too much information. While I was also taking Arnica C200 internally I applied this cream 2-3 times a day and each time it gave me instant relief.
According to Dublin Herbalist's website, it is a first aid kit in a tube. Arnica is known to heal bruises and St John's Wort has pain-relieving and anti-inflammatory properties. Calendula Oil supposedly accelerates wound healing and Chickweed Oil calms inflammation and soothes itchy and irritated skin. Anti-bacterial Tea Tree Essential Oil relieves pain while healing burns and cuts and also reduces itching caused by new scars, insect bites and chicken pox. Suitable for cuts, scrapes, bruises, stings, rashes, minor sports injuries and new scars. As I have experienced most of the ingredients healing benefits individually I am quite confident to keep a tube in my first aid kit and put it to the test if the need arises again.
Key Product Benefits
– Protects
– Relieves pain, inflammation and itching
– Heals
Price: €9.95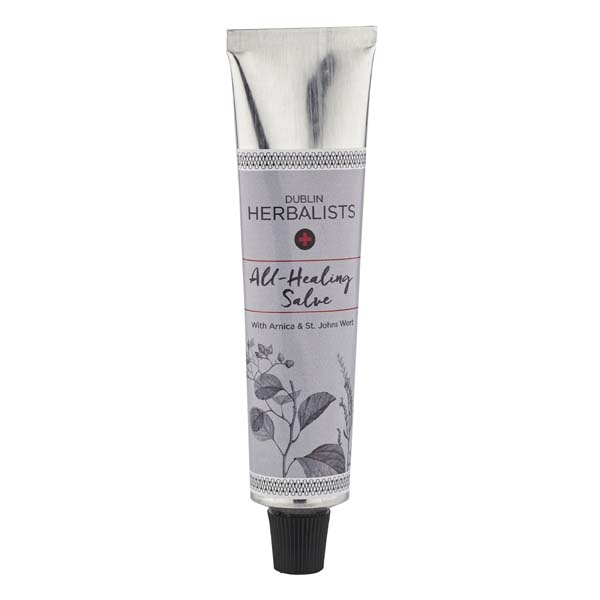 Conclusion
At this stage, I am pretty confident that I will swap my entire beauty regime (which is quite minimal, to be honest) to natural skin care products. I honestly loved the products from Dublin Herbalists and I will test some more until I have found replacements for everything I need.
One thing I would wish for is the product range to be divided into skin types. Even though some products on their website contain the suitable skin type in the description, I found it difficult to find products suitable for my skin type.
Apart from that, they get a pretty big thumb up from me. I have seen that they offer gift boxes and I think I might put one on top of my wishlist. If you are looking for more gift ideas also check out my 20 Ultimate Gift Ideas For Foodies.
Your turn
Even though the main focus of The Healthy Tart will always be healthy recipes I really enjoyed sharing this post about natural skin care products with you. Let me know if you enjoyed it too and if you would like to read more healthy lifestyle advice on my blog! I'm looking forward to reading your comments.
For more updates follow me on Facebook, Twitter, Instagram, Pinterest or subscribe to my YouTube channel!