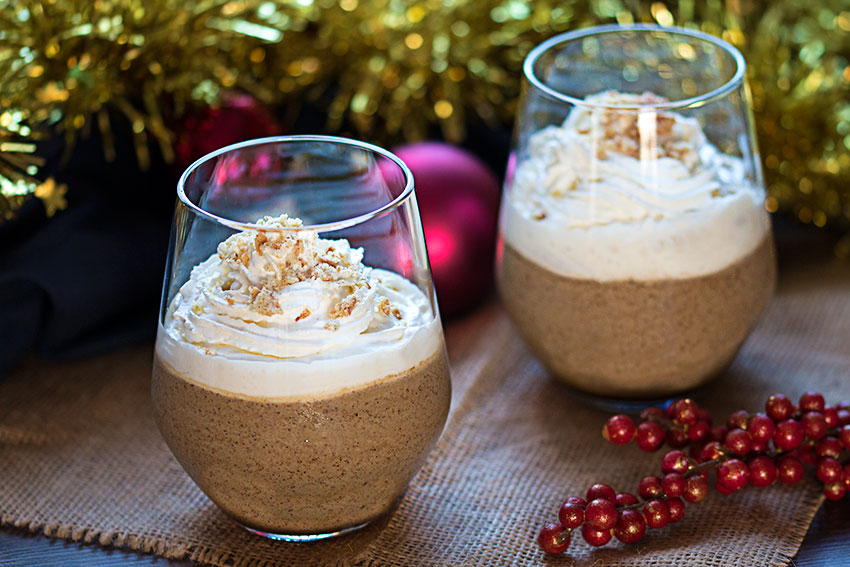 Magical Vegan Gingerbread Mousse
A delicious, "healthyish" coconut mousse with the warm flavours of gingerbread. Vegan, gluten-free and absolutely addictive, this easy gingerbread mousse is sure to become a favourite!
Christmas time is usually the time where the entire family gets together to enjoy an opulent Christmas dinner. For the last 4 years, I happened to spend my Christmas with my partner's family in Northern Ireland while my own family stayed in Germany. This year is going to be an exciting one, my parents are coming to Ireland and are going to meet my partner's family for the first time. Admittedly my first Christmas in Northern Ireland came in form of a massive cultural shock, as an only child I was used to having a quiet and peaceful Christmas where the family would enjoy Christmas dinner and sit around the Christmas tree until the first person was going to turn on the TV.
My first Irish Christmas morning
In hindsight, I wasn't prepared for what was expecting me up "North", it turned out to be like nothing I had ever experienced before. It was the first time that I was going to meet his family and I was bursting with excitement. Finally, I was going to meet the people I had heard so much about. Christmas day started off at his mother's house where the entire family was set to meet and within an hour the tiny kitchen and living room filled with 9 great-grandchildren, 8 grandchildren and about 15 adults.
The kids proudly presented their new Christmas clothes before generously covering them in their favourite chocolate treats.
While everybody was busy introducing themselves I was trying to make sense of the Northern Irish accent and phrases.
Almost everyone who entered the room started the conversation with an elongated "Weeell" which left me utterly confused. What was I supposed to reply? Was this a statement or a question? And what was the correct answer to it? After consulting my boyfriend, I was told that the expected reply would be "well", too.
I'm still not sure what to make of it but I figured that "well" was probably the second most popular thing after the consumption of a morning beer. Irish Christmases are quite boozy compared to our little German family Christmases. The morning beer was followed by an afternoon hot brandy, one or two glasses of wine for dinner and came to a full circle by an uncountable amount of pints at the "After-Party". I certainly prefer a Protein Hot Chocolate for myself, I am not a big drinker by any means.
Christmas dinner
While the men went to the pub and the kids played with their Christmas presents, the women got busy in the kitchen preparing enough food to feed the entire town. Any traditional Irish Christmas food you can possibly imagine such as ham, lamb, turkey, sausages, Brussel sprouts, broccoli, carrots, peas, potatoes, potato mash and fries were lining the table. After this feast, we all struggled to fit some Christmas pudding, Healthy Vegan Mince Pies, cakes or Pavlova into our tummies. It took us about 2 hours to recover from the indulgence before the actual Christmas party was ready to start. This year I'm hoping to introduce them to this delicious Gingerbread mousse which might sound naughty but is in fact very nutritious.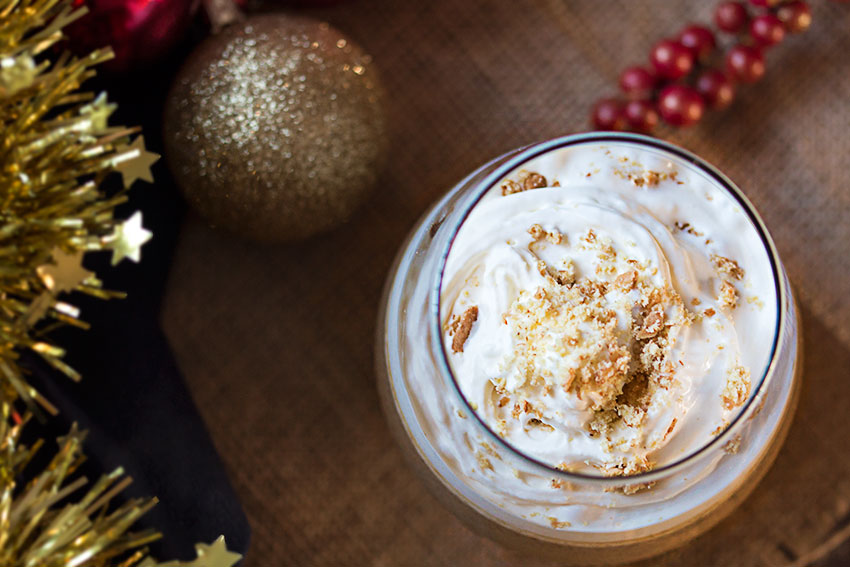 Christmas party
And what a party it was, neighbours and friends ( some in "Santi-onesies" ) joined the party bringing along their guitars. People were dancing and singing until the early morning hours and despite all the Christmas decoration, it just didn't feel like Christmas to me, but surely it was a heck of a party. This year my parents are going to join this madness and with my father not speaking any English and my mother speaking traditional school English I'm sure this Christmas will come with its own challenges. I utterly hope that they will be enjoying this mad get together as much as I do. It will be fabulous to see all the children running around enjoying their presents and to celebrate with the entire family united.
Like it? Pin it!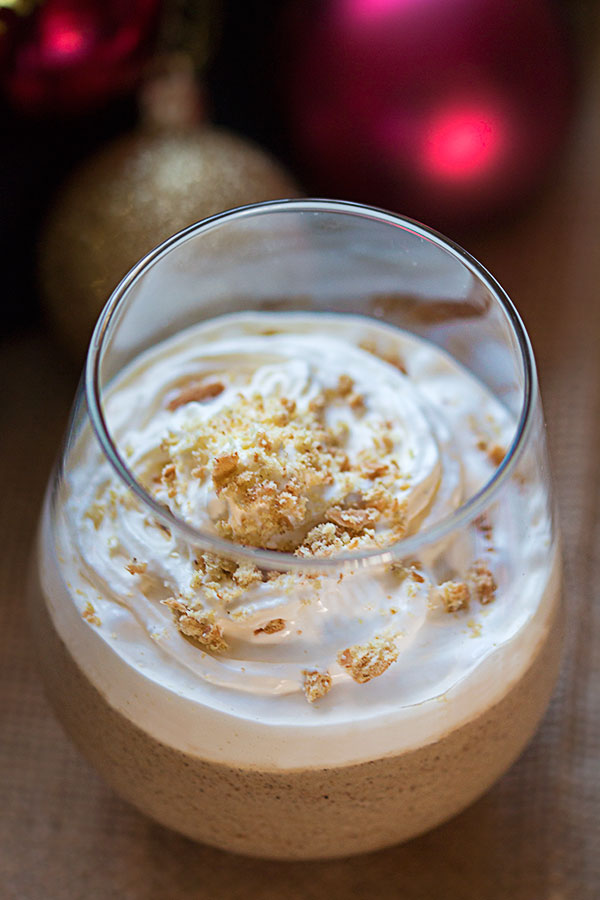 Your turn
I would love to find out more about your Christmas traditions, do you celebrate big time like my boyfriends family or more sedentary like my family? What do you serve for Christmas dinner? I'm looking forward to reading your stories in the comments.
For more updates follow me on Facebook, Twitter, Instagram, Pinterest or subscribe to my YouTube channel!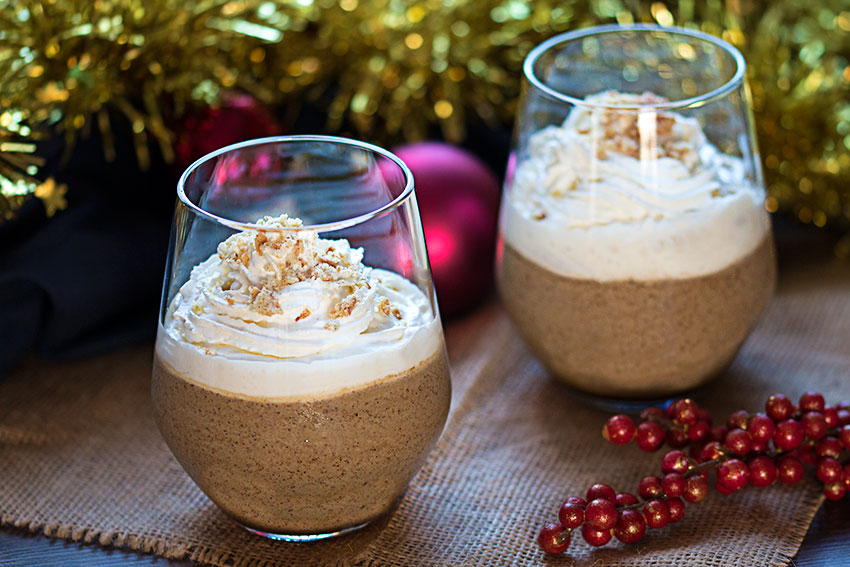 Print Recipe
Magical Gingerbread Mousse
A delicious, "healthyish" coconut mousse with the warm flavours of gingerbread. Vegan, gluten-free and absolutely addictive, this easy gingerbread mousse is sure to become a favourite!
Instructions
Place the coconut cream or milk overnight into the refrigerator. *

In a medium-sized bowl, combine coconut cream, maple syrup, blackstrap molasses and vanilla extract and mix with an electric mixer.

Add cinnamon, ginger, nutmeg and cloves to the mixture and whisk until it turns into a mousse (3-4 minutes). It is okay if it's slightly thin, it will firm up in the refrigerator.

Spoon the gingerbread mousse into two glasses and refrigerate for at least 1 hour.

Top with a whipped dairy-free cream like rice or soy cream and sprinkle a crumbled sugar-free cookie on top. Enjoy straight away.
Notes
*If you are using coconut milk take the cans gently out of the refrigerator and make sure not to shake them. Spoon out the coconut cream that has solidified on top, save the leftover coconut milk for another dish like my Easy Pumpkin Soup With Coconut Milk.
Nutrition
Calories:
461
kcal
|
Carbohydrates:
43
g
|
Protein:
3
g
|
Fat:
33
g
|
Saturated Fat:
28
g
|
Sodium:
23
mg
|
Potassium:
516
mg
|
Fiber:
3
g
|
Sugar:
30
g
|
Vitamin C:
2.6
mg
|
Calcium:
99
mg
|
Iron:
2.8
mg