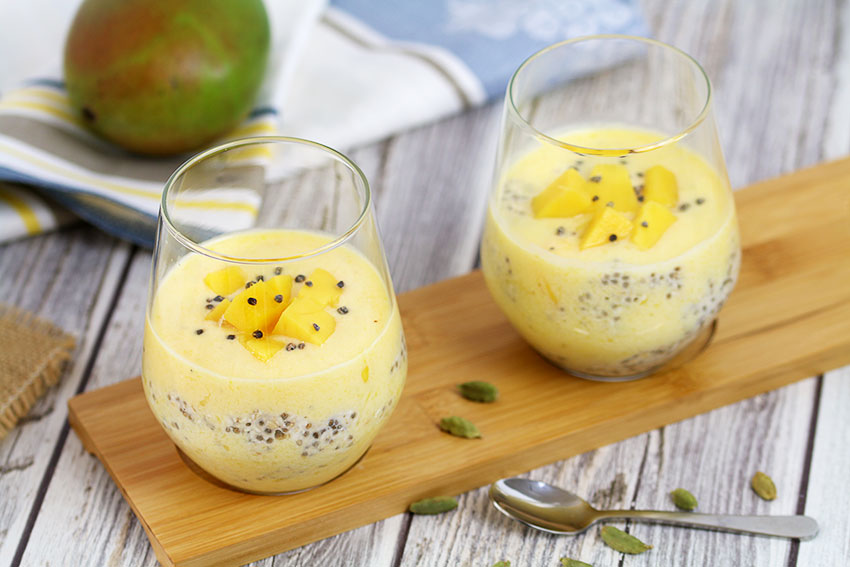 Mango Lassi Overnight Oats
Once more I would like to pay a tribute to my recent India trip. Beside my love for Chai tea (check out my Chai Chia Pudding Recipe) I also discovered my love for mangos and lassi. Lassi is a refreshing yoghurt drink which can be enjoyed sweet or savoury.  For this breakfast option, I decided to play safe and go with the sweet lassi version. Since overnight oats have grown tremendously in popularity it seemed like a no-brainer to combine the two.
Benefits of eating overnight oats
Surely your mommy told you that eating porridge is good for you but soaking oats overnight might be even better. The process of soaking the whole grains in an acid mixture helps break down phytic acid, an antinutrient that interferes with digestive enzymes and inhibits mineral absorption. Therefore the nutrients are better absorbed by your body. Soaking the oats overnight makes them easier to digest while they help you to stay full for longer. Oats are also a great provider of magnesium, fibre, plant-based protein, potassium, and contain absolutely no sugar.
This will change your morning routine
In the future, all you have to do is to walk up to the fridge, grab your overnight oats, sprinkle some fruits or seeds on top and enjoy your healthy breakfast.
Finally, the days standing at the cooker preparing your porridge while simultaneously brushing your teeth are a thing of the past. If you are not ready to give up the comforting warmth of your beloved porridge just yet, check out my yummy Almond Butter Porridge With Roasted Bananas Recipe.
Your turn
What is your favourite breakfast food? Let me know, I'm looking forward to reading your comments.
For more updates follow me on Facebook, Twitter, Instagram, Pinterest or subscribe to my YouTube channel!
Like it? Pin it!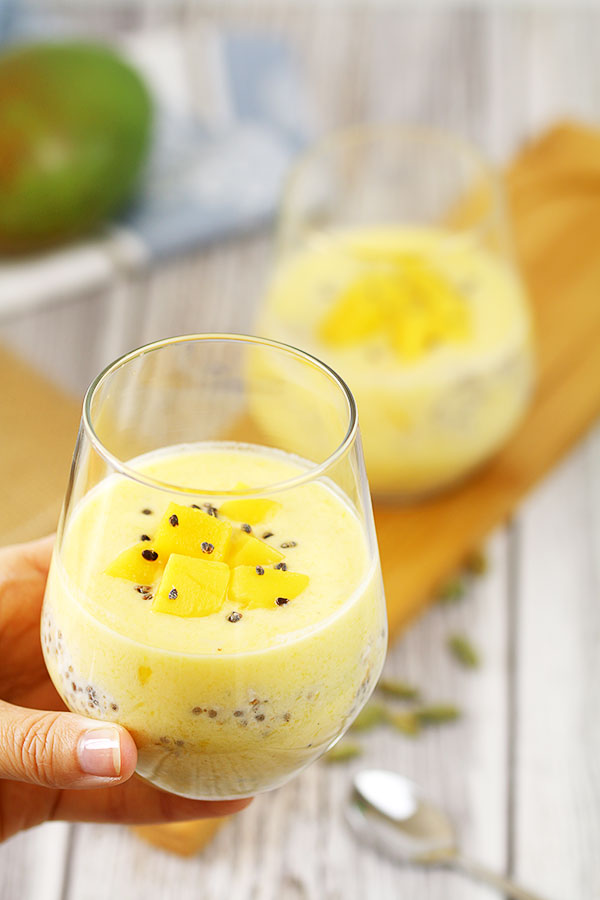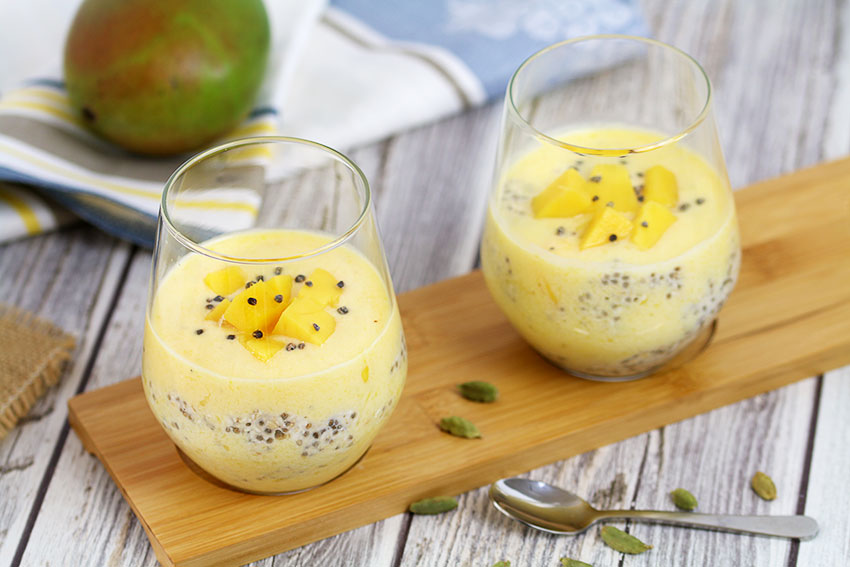 Print Recipe
Mango Lassi Overnight Oats
Delicious and easy peasy overnight oats recipe.
Instructions
Combine the oats, chia seeds, non-dairy milk and stevia if desired in a medium-sized bowl.

Cover the bowl or container of your choice and place it into the refrigerator overnight.

The next morning chop the fresh mango and place 3/4 of the mango, the

coconut yoghurt

and cardamom in a blender and pulse until smooth.

Layer your ingredients alternating the oats mixture and the mango lassi.

Add some of the remaining diced mango into the middle and some as a topping.

Sprinkle a tiny bit of cardamom over the top.
Nutrition
Calories:
412
kcal
|
Carbohydrates:
69
g
|
Protein:
12
g
|
Fat:
11
g
|
Saturated Fat:
1
g
|
Sodium:
264
mg
|
Potassium:
472
mg
|
Fiber:
11
g
|
Sugar:
29
g
|
Vitamin A:
1785
IU
|
Vitamin C:
75.1
mg
|
Calcium:
490
mg
|
Iron:
2.9
mg