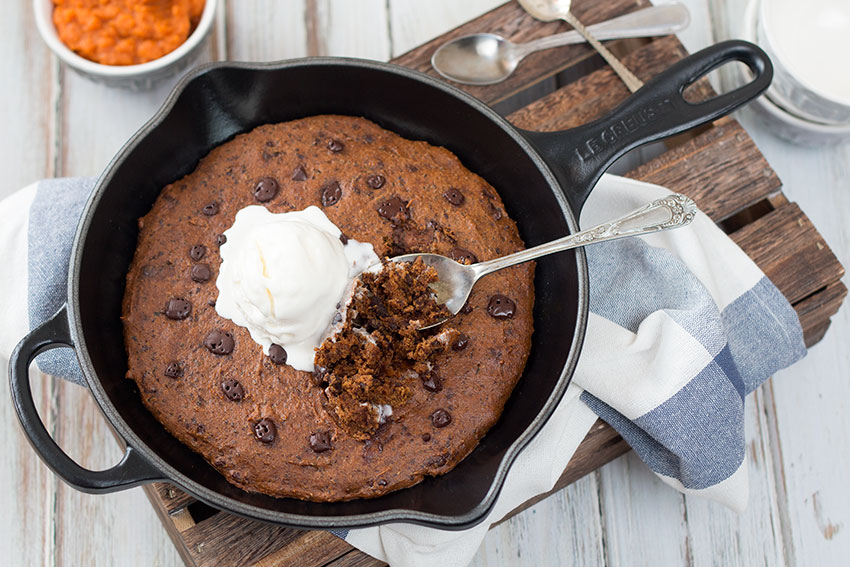 Pumpkin Chocolate Chip Skillet Cookie
This Pumpkin Chocolate Chip Skillet Cookie is vegan, gluten-free and uses only natural sweeteners. It makes a quick and easy dessert that the entire family will love.
On one of my recent shopping trips to the health food store, I noticed a bag of chickpea flour, also called gram flour sitting on the shelf. I had heard about it before but I had never actually used it. Even though I bought it that day it took me another couple of weeks to finally give it a try. Let me tell you, I wish I would have tried it sooner, I really enjoyed baking with it and its slightly nutty flavour.
Here is a quick tip for you, most gluten-free flours are best to be stored in the refrigerator because of their high-fat content. This isn't particularly true for chickpea flour because it is one of the gluten-free flours with the lowest fat but highest protein and fibre content but surely it wouldn't do any harm to keep it in the fridge.
So far I have been using chickpeas in many different ways such as my Roasted Carrot Hummus, Spicy, oven-roasted Chickpeas or Butternut Squash & Spiced Chickpea Buddha Bowl just never in form of chickpea flour. I really like the texture and flavour it has added to my Pumpkin Chocolate Chip Skillet Cookie but don't worry, you can simply replace it with a gluten-free all-purpose flour.
The same applies to the cocoa nibs and chocolate chips if you don't have any at home simply smash up some dark chocolate.
If you are rather looking for a small snack that you can take with you simply check out my Healthy Chocolate Chip Cookies as well.
Benefits of Chickpea flour
Chickpea flour can be used in many ways and especially makes a good substitute for gluten-containing flours. Generally speaking, it is advisable to mix it with other gluten-free flours like rice or potato flour when baking. The rule of thumb is to replace about 25% of the flour with chickpea flour, you could also mix it with regular flours to add some fibre and protein. In certain recipes like in my Pumpkin Chocolate Chip Skillet Cookie, it can also be used on its own or in combination with eggs.
When mixed with an equal proportion of water, it can be used as an egg replacer just like chia seeds and flaxseeds can. This makes it a great addition to recipes for vegan cooking or for anyone with an allergy to eggs.
Chickpeas also offer a good array of vitamins and minerals. For example, they're thought to have calcium and magnesium in an ideal ratio, a very high amount of folate, which is essential for a healthy pregnancy, a good dose of energizing B vitamins like vitamin B6 and a decent amount of heart-healthy potassium. They even contain some of the powerful antioxidant mineral selenium, as well as iron and plenty of plant-based protein. Gluten-free diets are also becoming more popular, so you'll love the addition of this flour to your pantry if you've recently decided to go gluten-free. You can purchase it in most health food stores or Asian markets.
Nutritional Values of Chickpea Flour
½ cup of chickpea flour (or gram flour) has about: (2)
178 calories
3 grams of fat
10 grams protein
5 grams fibre
5 grams of sugar (no added sugar)
101 milligrams folate (50 percent DV)
0.75 milligrams manganese (37 percent DV)
0.4 milligrams copper (21 percent DV)
76 milligrams magnesium (19 percent DV)
146 milligrams phosphorus (15 percent DV)
0.2 milligrams thiamine (15 percent DV)
2 milligrams iron (12 percent DV)
0.25 milligrams vitamin B6 (12 percent DV)
778 milligrams potassium (11 percent DV)
3 milligrams zinc (9 percent DV)
7 milligrams selenium (6 percent DV)
Just like eating whole chickpeas or any other legumes, some people might experience digestive discomfort when increasing their fibre intake too rapidly. If your diet is generally low in starch and fibre I recommend to gradually introduce chickpea flour into your diet instead of consuming large amounts at once. Also, drink plenty of water when eating fibre, this will help your digestion and avoid unwanted symptoms like bloating, cramps and gas.
Like it? Pin it!
Your turn
What is your favourite gluten-free flour? Let me know, I'm looking forward to reading your comments.
For more updates follow me on Facebook, Twitter, Instagram, Pinterest or subscribe to my YouTube channel!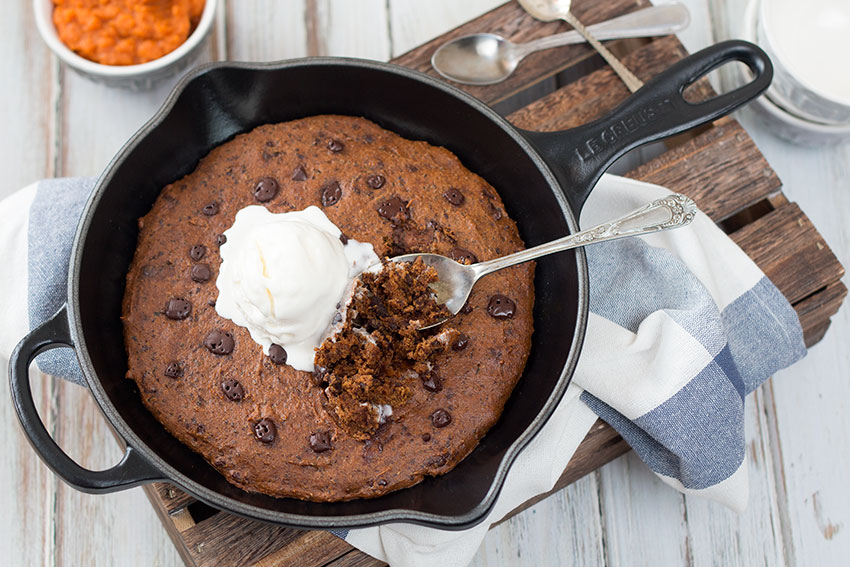 Print Recipe
Pumpkin Chocolate Chip Skillet Cookie
This Pumpkin Chocolate Chip Skillet Cookie is vegan, gluten-free and uses only natural sweeteners. It makes a quick and easy dessert for the entire family.
Ingredients
Topping
dairy-free vanilla ice cream

optional
Instructions
Preheat the oven to 350°F/175°C.

In a cup, mix the chia seeds and water to make a "Chia egg" and let sit for 3-5 minutes.

In a big bowl, combine chia egg, pumpkin puree, coconut sugar, maple syrup, almond butter, coconut oil and vanilla extract and stir until you get a smooth texture.

In a second bowl, mix together all the remaining ingredients except for the cocoa nibs and chocolate chips.

Add the dry ingredients to the wet ingredients and keep stirring until you receive a heavy and sticky dough. Now gently fold in the cocoa nibs and chocolate chips and fill everything into a greased, 9-inch, oven-proof skillet.

Bake for about 15 minutes.
Nutrition
Calories:
173
kcal
|
Carbohydrates:
20
g
|
Protein:
4
g
|
Fat:
8
g
|
Saturated Fat:
3
g
|
Sodium:
125
mg
|
Potassium:
177
mg
|
Fiber:
2
g
|
Sugar:
11
g
|
Vitamin A:
1555
IU
|
Vitamin C:
0.4
mg
|
Calcium:
62
mg
|
Iron:
0.9
mg