Apple Cake With Date Caramel Filling
I won't lie to you, this cake is a treat and I won't promote it as being healthy as such but I have done my very best to make it as nutritious as possible.
Instead of filling the apples with marzipan and rum soaked raisins I filled them with a delectable gooey almond date caramel. For the cake crust, I replaced the plain flour with healthier whole grain spelt flour, reduced the amount of sugar and substituted refined sugar with more nutritious coconut sugar.
The coconut sugar and the Medjool dates give it an unexpectedly flavoursome caramel taste.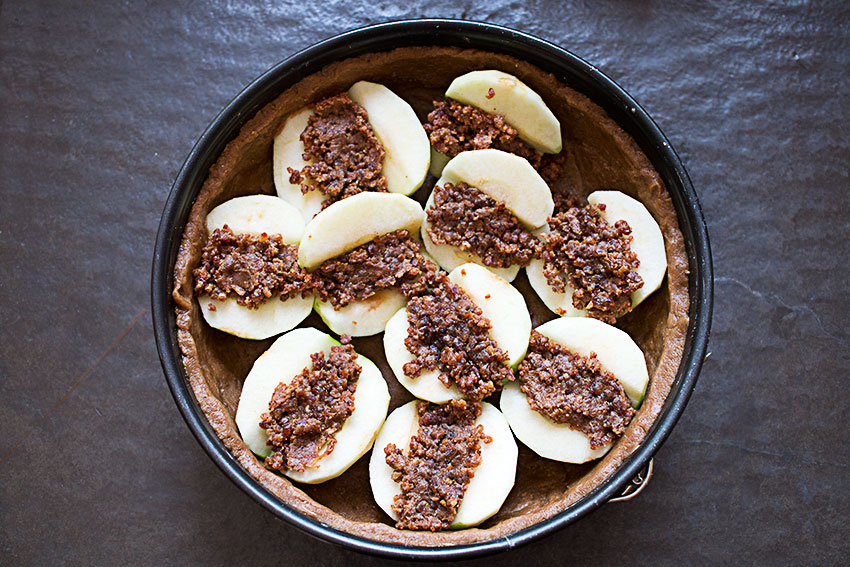 Health Benefits Of Coconut Sugar
Refined sugar doesn't contain any nutrients and therefore supplies "empty calories". Coconut sugar, on the other hand, contains minerals such as Iron, Zinc, Calcium and Potassium, along with some short chain fatty acids, polyphenols and antioxidants.
With a glycemic index of 35, it is notably lower than table sugar with a GI of 60. Coconut sugar contains a form of fibre called Inulin which supposedly slows down the sugar absorption into your blood.
Inulin is a prebiotic which feeds your good gut bacteria.
Even though coconut sugar might be slightly healthier than table sugar it should still only be consumed in small amounts. Unfortunately, it does contain the same amount of calories as regular sugar.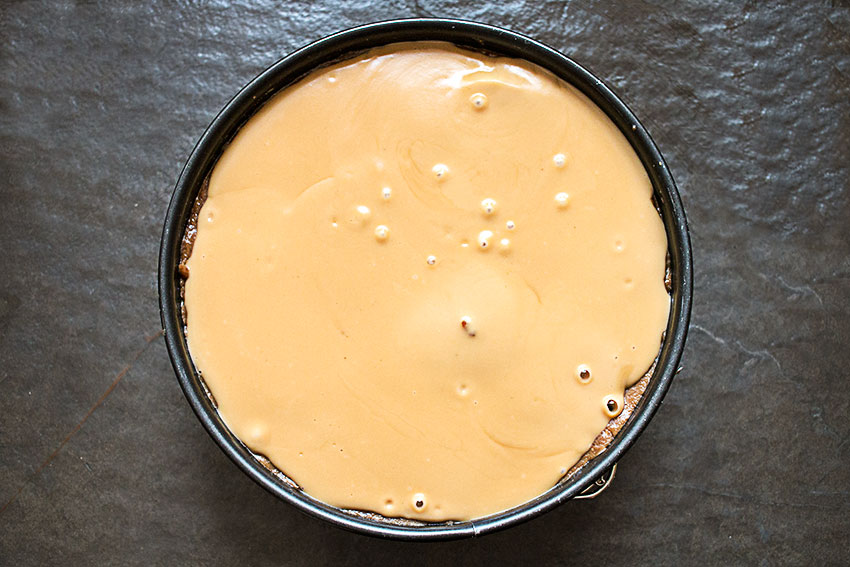 Pudding
Usually, I use a dairy product called Schmand for cooking pudding because it makes it extra creamy.
This time I replaced it with sour cream as Schmand doesn't seem to be available in Ireland and it turned out to be just as good.
Initially, I was intending to use only almond milk to make it vegan-friendly, but then I got cold feet that it wouldn't set. If you are brave enough to try making this cake without dairy, please let me know how it turned out, vegans shouldn't be excluded from enjoying this awesome winter cake. 😉
The egg in the dough can simply be substituted with a chia egg ( 1tbsp chia seeds and 3 tbsp water).
If you are looking for delicious vegan treats, make sure to check out my Raw Vegan Bounty Cake and my Healthier Vegan Zimtsterne (Cinnamon Stars).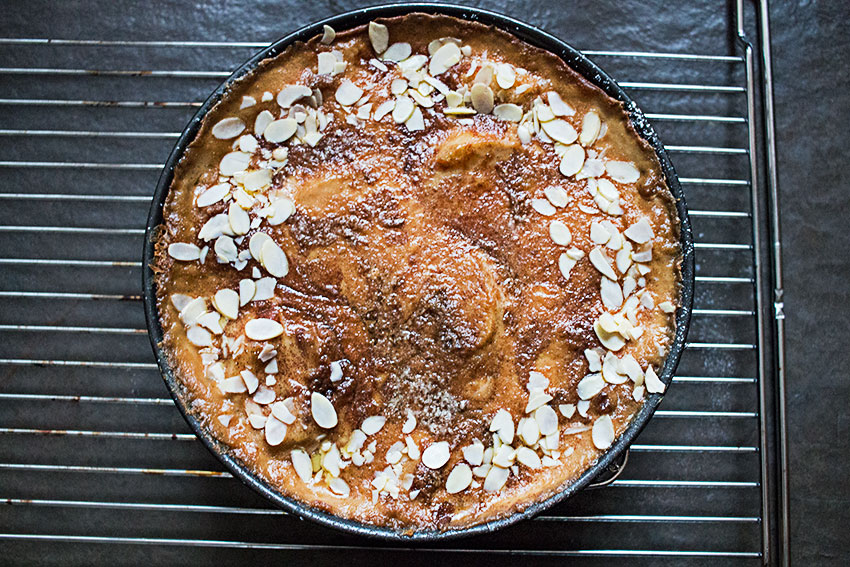 If you like going the extra mile you can roast some almond flakes and sprinkle them along with coconut sugar and cinnamon on top. To let it caramelise, place the already baked apple cake under the grill of your oven until it turns golden brown.
Enjoy 🙂
Your Turn
What is your favourite winter cake? I'm looking forward to finding out in the comments. 🙂
For more updates follow me on Facebook, Twitter, Instagram, Pinterest or subscribe to my YouTube channel!
Like it? Pin it! 🙂
Print Recipe
Apple Cake With Date Caramel Filling
This Apple Cake With Date Caramel Filling is the perfect pre-Christmas treat. October is apple season in Ireland and this is as delicious as it gets.
Instructions
Crust
Mix all the ingredients with a hand mixer in a big bowl until it's well combined.

Wrap the dough in cling film and chill in the refrigerator for about 1 hour.

Roll out the dough evenly and press it into a greased 10-inch springform pan. ( The dough should cover the sides of the pan completely.)

Apples: peel, core and halve the apples before you place them into the baking pan. The inside of the apple should face upwards.

Date caramel: pit the Medjool dates and add them along with the almond butter and cinnamon into a food processor. Pulse the mixture until it turns into a nice caramel paste and fill it into the cored apple halves.

Preheat the oven to 350 °F/175 °C.
Pudding
In a medium saucepan heat up the sour cream and

2

cups of fresh cream. Meantime whisk the cornflour into the remaining

1/2

cup of fresh cream until it has dissolved. Once the mixture in the saucepan is warm, add the cornflour/ fresh cream mixture and bring it to a boil. Add the coconut sugar and vanilla essence and boil for about 3 minutes or until the pudding starts to thicken. Stir frequently.

Fill the pudding into the springform pan while it's still warm and bake at 350 °F/175 °C for 75 minutes.
Optional
Roast the almond flakes in a dry pan until golden-brown and sprinkle them with the sugar and cinnamon onto the baked cake. Place the apple cake under the grill of your oven until the sugar caramelises.
Notes
The cake needs to cool down completely before serving otherwise it won't be set in the middle.
Nutrition
Calories:
571
kcal
|
Carbohydrates:
65
g
|
Protein:
6
g
|
Fat:
33
g
|
Saturated Fat:
18
g
|
Cholesterol:
109
mg
|
Sodium:
152
mg
|
Potassium:
360
mg
|
Fiber:
6
g
|
Sugar:
34
g
|
Vitamin A:
1145
IU
|
Vitamin C:
3.9
mg
|
Calcium:
103
mg
|
Iron:
1.5
mg