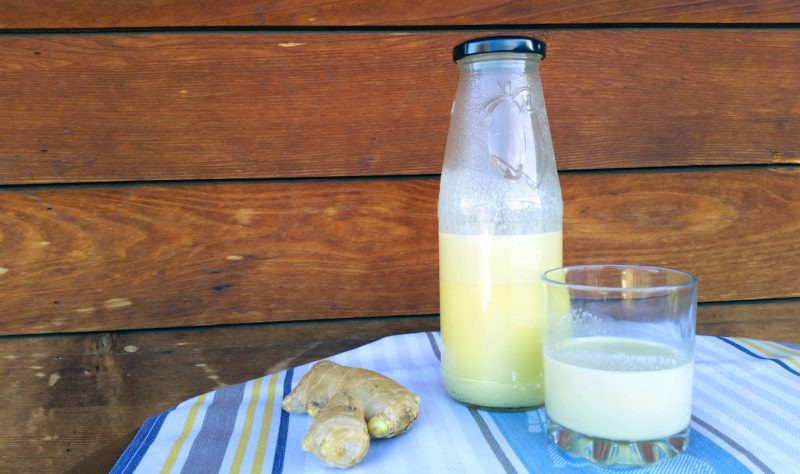 Golden Turmeric Almond Mylk Recipe (Dairy-Free)
Golden Turmeric Almond Mylk has recently been hailed as the new, life-extending and rejuvenating super elixir. Vegans and savvy celebrities are all over it, let's have a look at its benefits.
What are the benefits of Turmeric Mylk?
Turmeric has been used as a spice in Indian recipes and as the Ayurvedic medicine for many thousands of years. Turmeric offers many health benefits since it has both anti-inflammatory and anti-oxidant properties.
Turmeric mylk is anti-inflammatory
Turmeric mylk is anti-inflammatory and can be beneficial in preventing arthritis and stomach ulcers. It is also known as 'natural aspirin' in Ayurvedic medicine and is used to combat headaches, swelling and pain.
Relieves cough and cold
It's my first choice during the cold and flu season to help relieve a chronic cough and throat irritation. The antiseptic and astringent properties of turmeric combined with the soothing effect of mylk are possibly responsible for providing quick relief from respiratory problems including a dry cough.
Blood and liver detox
Turmeric mylk is also a great way for an overall body detox. Taking turmeric mylk daily might help with blood purification and liver detox. Blood impurities can lead to severe health problems and turmeric mylk is a great way to combat it.
Weight loss
Turmeric mylk supposedly helps in the breakdown of dietary fat. This can be useful in controlling the weight.
High in anti-oxidants
Almond mylk and turmeric are anti-oxidants. Turmeric mylk might help fight free radicals that damage skin and make it lose its glow and elasticity. Turmeric face masks are well known to help skin, but the internal usage of turmeric (as mylk or otherwise) might also help.
Simple Turmeric Paste Recipe
If you don't want to go through the entire process of making your own mylk, here is a simplified version which will last for a month in the refrigerator.
Ingredients:
¼ cup of a good quality (organic) turmeric powder
½ cup of pure water
Combine both and simmer over a medium flame for around 7 minutes until thick paste forms.
If the paste gets too dry, add a little bit more water.
Let it cool before putting it into an airtight container and storing it in the refrigerator.
To make an organic golden turmeric milk, take one teaspoon of the paste and combine it with a cup of organic milk. The milk can be oat, goat, cow, rice, coconut, almond or any other milk of choice.
Bring this mixture to boil.
Take it off the stove, let it cool slightly and add a tiny bit of honey or maple syrup to taste.
If you like you can add ½ teaspoon of organic sesame, almond oil or ghee (clarified butter).
Your turmeric milk is ready to enjoy.
Here is the full recipe: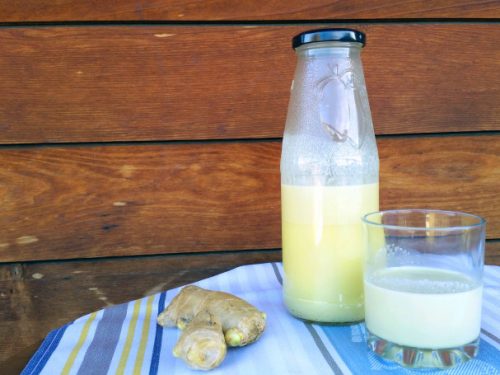 Print Recipe
Golden Turmeric Almond Mylk
Delicious, dairy-free Golden Turmeric Mylk.
Ingredients
1

cup

raw almonds

2

cups

filtered water

1

inch

ginger

unpeeled

1

tablespoon

raw honey

1

teaspoon

ground turmeric

or 1 inch of fresh turmeric

1

teaspoon

ground cinnamon

2

green cardamom pods
Instructions
Place the almonds in a big jar and cover with filtered water, soak overnight. After 10-12 hours drain and rinse thoroughly.

Add soaked almonds in a blender, pour

2

cups ( not more than

500

ml) of filtered water on top and add the remaining ingredients.

Blend on high speed for 15- 60 seconds, you will need a very powerful blender for this step. Once it's all well combined and foamy, turn it off.

Place a muslin cloth or nut milk bag into a big bowl or jar and fill with the mylk.

Strain the mylk by squeezing the bag or muslin cloth tightly, it shouldn't take you more than 20 seconds.

Discard the dry pulp in the cloth, fill the mylk into a screw top bottle and enjoy your scrumptious Golden Turmeric Almond Mylk.
Notes
The Golden Turmeric Almond Milk last up to 3 days in the refrigerator.
Nutrition
Calories:
42
kcal
|
Carbohydrates:
8
g
|
Fat:
1
g
|
Sodium:
117
mg
|
Potassium:
31
mg
|
Fiber:
1
g
|
Sugar:
5
g
|
Vitamin C:
0.2
mg
|
Calcium:
117
mg
|
Iron:
0.5
mg