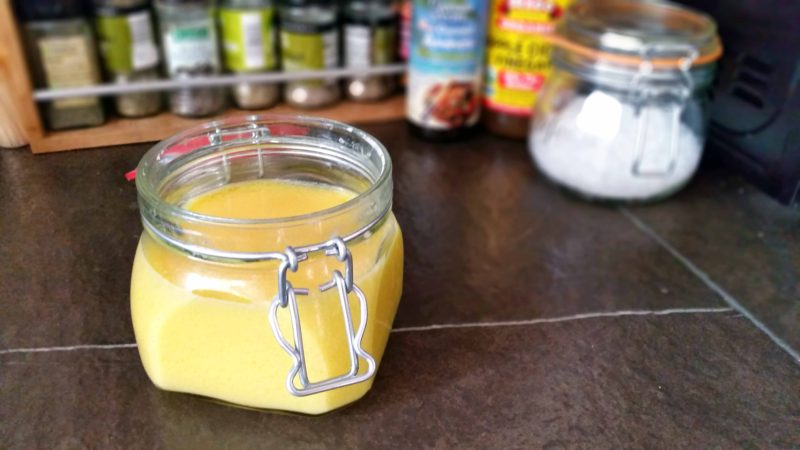 How to make Ghee?
Ghee is clarified butter it is made by melting butter, discarding the dairy solids and just using the pure, clear fat that is left. Ghee goes through an extra step of gentle cooking to evaporate the moisture.
Why using Ghee instead of butter?
Ghee has a higher smoke point than most other fats. Like coconut oil, it can withstand the heat up to 220°C.
As soon as any fat reaches its 'smoke point', the point at which the fat begins to decompose and make free radicals, the fat will lose any nutritional purchase it once had.
Benefits of Ghee
Long shelf life: Ghee is very stable and won't go off if left at room temperature. It retains its original flavour and freshness for up to a 6 month without refrigeration.
Fat busting: Ghee is a natural source of the essential fatty acid conjugated linoleic acid (CLA) found in animal fats. Bodybuilders often beef up on CLA or take supplements as studies show that it may improve the fat to lean muscle tissue ratio. One of its functions is that boosts the enzymes that help metabolise body fat and also resist new fat cells from forming.
Vitamin rich: Ghee is rich is vitamin A, D, E and K which are vital for a healthy immune system, bones, brain, heart healthy and blood clotting.
May improve vitamin absorption: Ghee may aid the absorption of fat-soluble vitamins and minerals from other foods. This has been a problem before in very low-fat diets.
Aids digestive health: Ghee may help heal and restore the integrity of the gut lining. It supposedly reduces inflammation, has anti-viral properties and has been shown to be beneficial for sufferers of ulcerative colitis and Crohn's disease.
There are benefits to making your own ghee as the better quality butter you use, the more nutritious it will be. And we all know that Ireland produces the best butter, don't we?
Learn here how to make Ghee!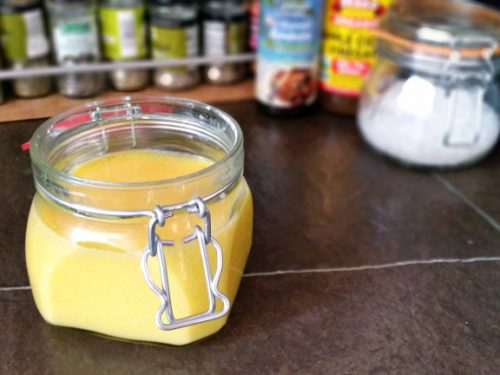 Print Recipe
How to make Ghee
It couldn't be any simpler to produce your own Ghee.
Instructions
Bring the butter to a boil in a medium-sized, heavy saucepan.

Reduce the heat to a low to medium flame and let simmer for 20-25 min.

Don't stir, the milk solids will sink to the bottom of the pan. Expect a foam to coat the top, which you can simply remove with a spoon.

After around 20 min. you will notice a delicious smell of Parmesan crackers filling the air. This is the sign that it has been done.

Remove the pan from the flame.

Filter out the milk solids by pouring the melted butter through a tight-woven muslin or cheesecloth.
Nutrition
Calories:
3557
kcal
|
Protein:
4
g
|
Fat:
402
g
|
Saturated Fat:
254
g
|
Cholesterol:
1066
mg
|
Sodium:
3542
mg
|
Potassium:
119
mg
|
Vitamin A:
12400
IU
|
Calcium:
119
mg