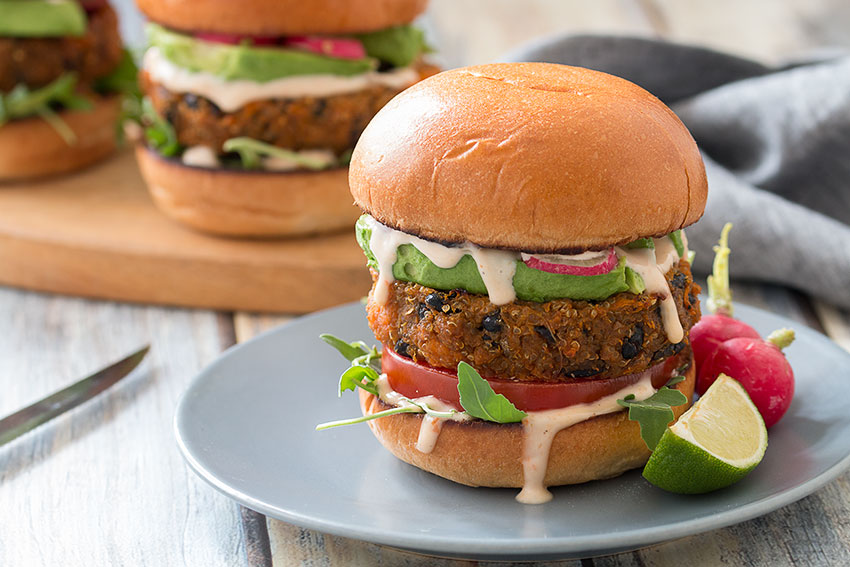 How to make Quinoa And Black Bean Burgers
Quinoa and Black Bean Burgers with Chilli Lime Vegenaise will satisfy all your BBQ cravings without the need for meat. They are deliciously juicy, vegan, dairy and gluten-free.
Even though I don't get many cravings for unhealthy stuff since I changed to a healthier diet a couple of years ago I do get occasional cravings for a good burger. A lot of the veggie burgers simply didn't make the cut for me. After trying quinoa and black bean burgers for the first time in a restaurant in Bray I was hooked. I went home and got straight to work trying to recreate it. It took me a couple of attempts until I was finally happy with the result but well, it was sooo worth it.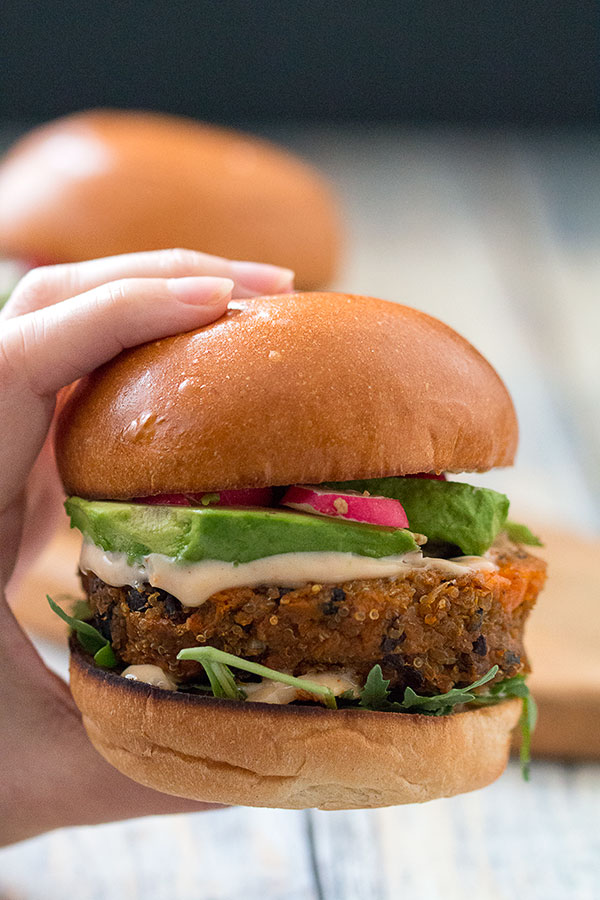 Treat yourself
In the pictures, I am using brioche buns which are neither gluten-free nor healthy in any way but this was part of my 80:20 rule for this week. Personally, I am a big believer in not denying yourself all things unhealthy a 100% of the time. If you are always trying to be perfect you will only set up yourself for failure. It's not meant to be an excuse to dig into that jar of cookies but don't beat yourself up over having a slice of birthday cake at a party. Simply look at it as an occasional treat. If you don't want to lose your brownie points for this burger you can replace the buns with either gluten-free buns or lettuce wraps (for the really determined ones).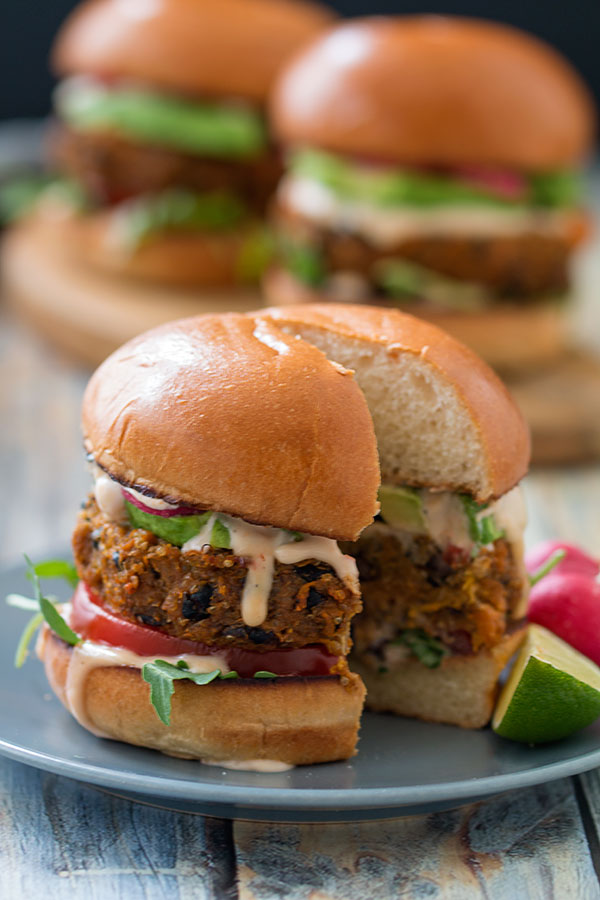 Benefits of Quinoa and Black Bean Burgers
Over the last two years, I have created many recipes with quinoa or sweet potatoes like my Stuffed Sweet Potatoes With Avocado Sauce, Sweet Potato Waffles Two Ways or Middle Eastern Pomegranate Quinoa but I had never attempted to combine them in one dish. Well, let me put it this way, it won't be the last time.
Quinoa and beans are a great source of plant-based protein. While all the veggies weigh in with their abundance of vitamins and minerals, the avocado will supply you with healthy fats. Arugula is known to support a normal liver function and by the time you finish your Quinoa and Black Bean Burger, you will have eaten almost the entire rainbow.
If you are looking for more healthy takeaway inspiration check out my cook book review of Chef Adrian's Fakeaway, Fast Food Made Healthy.
Like it? Pin it!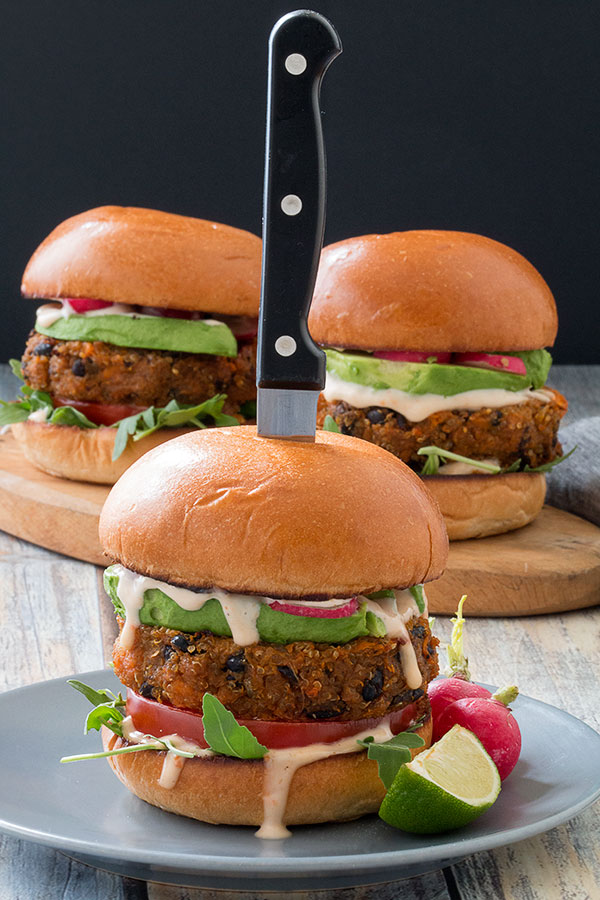 Your turn
What unhealthy treat do you miss the most? Let me know, I'm looking forward to reading your comments.
For more updates follow me on Facebook, Twitter, Instagram, Pinterest or subscribe to my YouTube channel!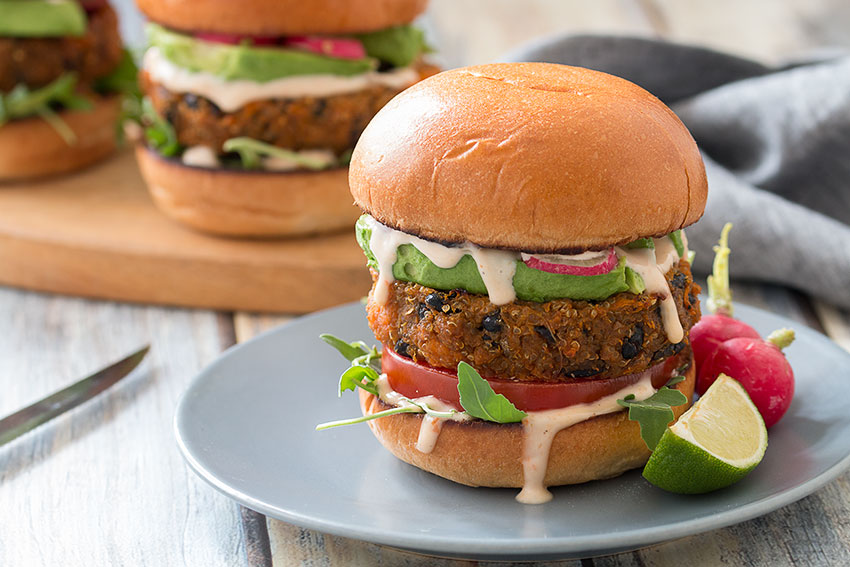 Print Recipe
Quinoa And Black Bean Burgers
Quinoa and Black Bean Burgers with Chilli Lime Vegenaise will satisfy all your BBQ cravings without the need for meat. They are delicious, vegan, dairy and gluten-free.
Ingredients
Quinoa and Black Bean Burger Patties
1 1/2

cups

quinoa

cooked

2

sweet potatoes

medium-sized, halved lengthwise

1

can

black beans

rinsed and drained

1/2

onion

finely diced

2

cloves

garlic

finely minced

1/4

teaspoon

sea salt

1

teaspoon

chilli powder

1/4

teaspoon

dried oregano

2

teaspoon

cumin powder

1/4

teaspoon

black pepper

olive oil

extra virgin
Chilli Lime Vegenaise
1/4

cup

vegenaise or mayonnaise

1

teaspoon

chilli sauce

juice of 1/4 of a lime
Burger buns
8

burger buns

gluten-free or buns of your choice
Toppings
2-3

handfuls

arugula

2-3

tomatoes

sliced

2-3

avocados

1

handful

radish
Instructions
Preheat the oven to 400°F/200°C.

Halve the sweet potatoes lengthwise and bake them with the cut side down for 30 minutes.

Meantime cook the quinoa according to the instructions on the package.

Now prepare the Chilli Lime Sauce by adding all the ingredients to a small bowl and stir until smooth. Keep refrigerated until needed.

In a large bowl, add black beans and cooked sweet potatoes. Mash until the consistency is only slightly chunky. Some beans will be completely mashed and others will not this will help create a nice texture.

Add quinoa, onion, garlic and spices, mix until well combined.

Divide the mixture into 8 even portions and form them with your hands into a patty shape.

Place quinoa and black bean patties onto a parchment-paper-lined baking tray and brush the top with a thin layer of olive oil. Bake for 20 minutes, flip them and brush with olive oil. Bake for another 10 minutes or until they start to firm up.

Switch your oven to grill and grill your cut buns with the cut side up until they start to brown.

Assemble your burger with your favourite toppings, watch my video to find out which strategy works best for me.
Nutrition
Calories:
401
kcal
|
Carbohydrates:
63
g
|
Protein:
13
g
|
Fat:
11
g
|
Saturated Fat:
1
g
|
Sodium:
325
mg
|
Potassium:
813
mg
|
Fiber:
10
g
|
Sugar:
5
g
|
Vitamin A:
5140
IU
|
Vitamin C:
12
mg
|
Calcium:
132
mg
|
Iron:
4.6
mg