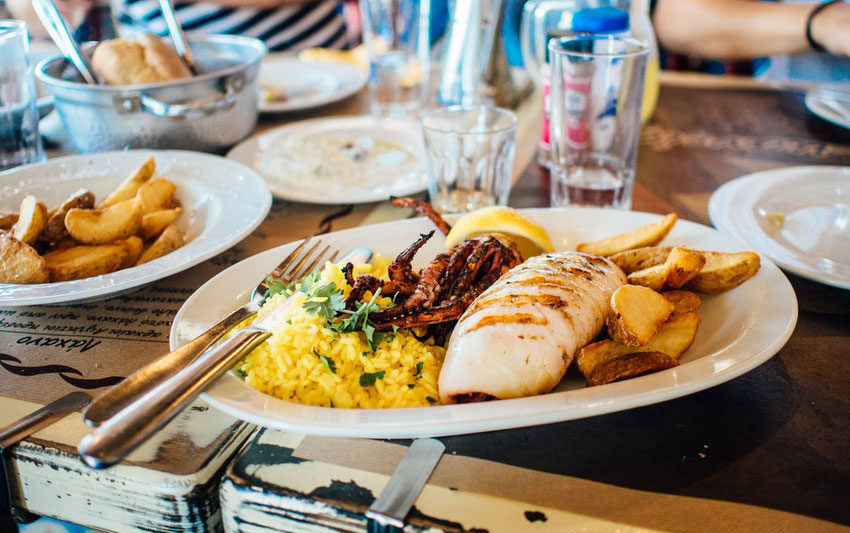 The 15 Best Restaurants In Dublin To Get A Healthy Lunch

At Umi, they share the passion for the freshest and most authentic falafel in Dublin. Their bread is freshly baked and the salads, pickles and sauces are made to a family recipe. Umi is also a great choice for vegans and vegetarians.
At Umi Falafel on Dame Street, you can enjoy your falafels and salads in a casual and relaxing atmosphere. The Dame St restaurant has a modern seating area which can seat up to 50 falafel enthusiasts.
Umi Falafel Restaurant, 13 Dame Street, Dublin 2
Open 7 days a week from 12.00 to 22.00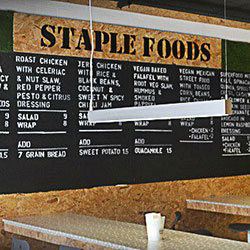 Staple Foods is all about fresh, healthy and delicious staple foods and drinks. When they say staple they mean balanced, unprocessed foods that are fundamentally good for you. Their focus lies on two of the main modern diets; paleo or caveman-style eating and the vegan, dairy-free diet. They take these two diets and plate them with a creative and innovative approach which makes healthy eating more accessible.
Staple Foods, 24A Grattan Street, Dublin 2
Open Mon to Fri 8:30am – 3:30 pm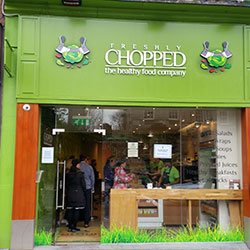 At Chopped they serve a crisp lettuce selection, garden fresh vegetables, incredible salad dressings. More than 30 ingredients are 'Chopped' and freshly dressed into their unique salad bowl. To make it more interesting they offer a "Create Your Own Salad" experience for their guests. Their special dressings are made from the finest ingredients possible, with a focus on the healthier style of food and low carbs. You can enjoy your salads served in a salad bowl or in a sealed savoury wrap.
Chopped, 109 Grafton Street, Dublin 2
Open Mon-Fri: 7am-8pm Sat-Sun: 9am-7pm collections only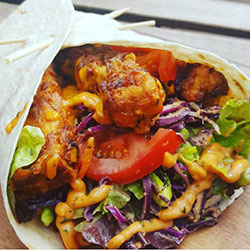 Happy Food was one of the first restaurants in Dublin that made the decision to go all vegan.
Since January 2016 you can choose from a fabulous range of Vegan Breakfast, Lunch, Dinner, Treats, Snacks, Smoothies, Juices, Teas and Coffees.The location is slightly hidden in a little laneway far away from the buzz of Camden street. Here you can enjoy your lunch in the relaxed atmosphere of the YogaHub.
YogaHub, 27 Camden Place, Dublin 2
Open Mon- Fri 8:00 am – 3:30 pm Evenings Thursday to Saturday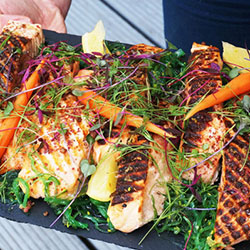 At Eathos they have a passion for international food which is inspired by the world's most pioneering chefs. They have harnessed this fervour for world cuisine to create a menu of delicious food from fresh savoury dishes to patisserie delights. They pay particular homage to Eastern Mediterranean cuisine throughout their menu, which is made with the best artisan Irish ingredients and produces.
Eathos, 13a Baggot Street Upper, Dublin 4
Open Mon-Fri 7am-5:30pm Saturdays from 8:30am-4:30pm

Blazing Salads Food Company is an independent, multi-award-winning, family-run, vegetarian, wholefood deli. They offer a wide range of delicious soups, salads, cakes & savouries. All Their food is made daily on the premises using only the highest quality ingredients.
At Blazing Salads Food Co. they do their best to serve you healthy food emphasising whole & seasonal ingredients. The salads are sold by weight.
Blazing Salads, 42 Drury Street, Dublin 2
Open Mon to Sat 9 am to 6 pm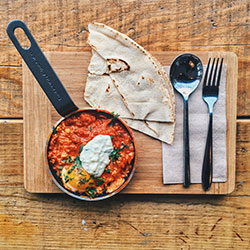 After the success of their frozen yoghurts and breakfast menu at Yogism, they decided it was time to go savoury!
They developed a new menu for Tang, their new savoury sibling. With their vision to incorporate yoghurt into almost everything they do, it was a natural adventure into middle eastern food. There's lots of tzatziki and twists on tzatziki, flavoured yoghurts, citrus, honey, black olive. They have done a great job incorporating yoghurt into all the dishes without making it in any way restrictive.
Tang, 23C Dawson St, Dublin 2
Open Mon to Fri 7:30am — 6pm Saturday 9:30am — 5:30pm
Eat. Energize. That's the Freshii mantra. Their nutritionist developed menus contain bowls, burritos, salads, wraps, soups, smoothies and juices. They make superfoods like kale and quinoa convenient and serve them at affordable prices. The menus keep changing according to the latest culinary health trends. All of their packagings are made from biodegradable corn & potato resin or is easily recyclable. With multiple stores around the city, Freshii is the perfect place to grab a quick and healthy lunch. I love one of their bowls followed by a turmeric juice and energy bites.
Freshii, 25/26, The CHQ Building, North Dock, Dublin 1
Open Mon to Fri 8:00 am – 5:00 pm Sat 11:00 am – 5:00 pm Sun 12:00 pm – 4:00 pm

The two FARM restaurants in Dublin are Irish owned, family run premises in the heart of Dublin which love Irish food and ingredients. As many ingredients as possible, and a large proportion of their meat, vegetables, and other ingredients are organic – free from GM, artificial additives, fertilisers, growth promoters and herbicides. Many gluten-free and vegetarian options are available. The Farm is a great place to take a break from the buzz of the city.
Farm Restaurant, 3 Dawson Street, Dublin 2
Open every day from 12pm – 10pm

Cornucopia is an attractive and comfortable casual dining restaurant, with counter service. It is one of few well-established restaurants in Dublin that produces delicious, home-cooked vegetarian and vegan-friendly breakfasts, lunches, dinners, snacks, juices, bread, cakes and desserts seven days per week. They cater for coeliac, sugar-free, vegan and raw/living menu options and offer a small and well-chosen organic wine list.
Cornucopia Restaurant, 19/20 Wicklow Street, Dublin 2
Open Mon-Sat 8.30am – 22.00pm Sun 12.00pm – 22.00pm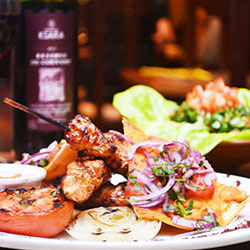 The Cedar Tree has steadily become one of my favourite Lebanese restaurants in Dublin, where they do things the right way. All of their dishes are cooked fresh to order. They source locally where possible and they even bake their own bread daily. You will be able to see, smell and taste just how fresh the food is. It is a great place to share food with friends. Lots of vegan and vegetarian options are available.
The Cedar Tree Restaurant, 11 St. Andrews Street, Dublin 2
Open 11:30am- 11:00 pm

Póg serves freshly chopped salads, fresh fruit and vegetable juices, smoothies, frozen yoghurt, smoothie bowls, gourmet coffee and lots of vegan healthy treats. All of their products are carefully selected to ensure their customers are eating good food that is high in protein, vitamins, minerals, good fats, and lots more.
Pog, 32 Bachelors Walk, Dublin 1 
Open 8am – 5pm

Technically the Happy Pear Cafe isn't located in Dublin, but Greystones is just a short train ride away. A list of healthy lunch places simply wouldn't be complete without The Happy Pear. They are passionate about serving healthy, nutritious and above all delicious food. Their enthusiasm about vegetables is simply contagious and so it doesn't come as a surprise that the cafe has become an integral part of Greystones life. Besides lots of vegetarian and vegan options, the soups and one of their daily mains are always gluten and dairy free.
The Happy Pear, Church Road, Greystones
Open Mon – Thur 9am – 6pm, Fri & Sat 9am – 8pm, Sunday 10am – 8pm

Brother Hubbard is a small, independent, owner-run café that aims to serve simple, fresh food and drinks that are made with a lot of love and effort. The menu changes constantly, in accordance with the seasons, what is locally available and what is fun and interesting for their customers! They have a strict policy of making everything themselves (except for their bread).
Brother Hubbard, Capel Street, Dublin 7
All day brunch being served from 8 am- 4:30 pm

Sova Vegan Butcher is the new kid on the block, as the name suggests they exclusively serve vegan and vegetarian food.
They are aiming to promote vegan food prepared according to their own delicious and unique style. With great care, they compose vegetarian and vegan dishes that taste excellent while providing all the essential nutrients with the benefit for body and soul.
Sova Vegan Butcher, 51 Pleasants Street, Dublin
Open Wed-Sat 12:00 pm – 3:00 pm, 5:00 pm – 10:00 pm, Sun 12:00 pm – 4:00 pm
I would love to hear your favourite restaurants in Dublin to grab a healthy lunch, share them with me in the comments!
For more updates follow me on Facebook, Twitter, Instagram, Pinterest or subscribe to my YouTube channel!