The 10 best places for vegan & gluten-free desserts in Dublin
No matter if you are vegan, gluten intolerant or suffering from other food intolerances, you will be well aware of how difficult it can be to find suitable desserts and cakes in Dublin. The good news is that more and more cafes and restaurants are starting to cater for special dietary requirements.
Wouldn't we all like to live a little healthier? Let's face it whenever our brain calls for salad and carrots our stomach screams cake, cake, cake…..The beauty of this list is that most places strive to cater for both, your head and your stomach.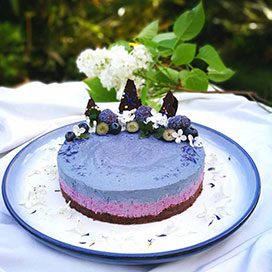 Wild Sage Bakery is a home bakery that specialises in making healthy, natural bespoke cakes and treats – both sweet and savoury.
Everything they make is 100% plant-based and using natural ingredients. Their wish is to create food that is nourishing for your mind, body, soul and the earth. They feel that this is best done by making and baking with love, kindness and following principles of non-violence. Wild Sage Bakery make customised, bespoke pieces and so are happy to accommodate people with food intolerances or allergies. This raw blueberry cheesecake is decorated with chocolate shards, truffles coated in blue coconut, blueberries, chocolate mint, cornflowers and lilac, do I need to say anymore?  If you are looking for something delicious for a special occasion simply email them at [email protected].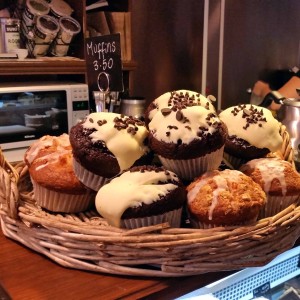 A cosy lounge with comfortable couches all over the place gives you the feeling of being in someone's living room. Besides delicious fair-trade, organic coffee and their award-winning hot chocolate, they have a lot to offer for vegans and coeliacs. Your taste buds will never get bored due to the weekly changing dessert menu. One thing that never changes is that there are always 2-3 vegan and a couple of gluten-free options available. Make sure to try the banana walnut bread and the raspberry, pear muffin as it seems to be everybody's favourite. Accents Coffee & Tea Lounge is the perfect alternative to socialising in a pub. It is one of the very few places in Dublin where you can get your coffee fix until 11 pm.
Accents Coffee & Tea Lounge, 23 Stephen Street Lower, Dublin 2
Just a minute away from St. Patrick's Cathedral you can find another gem, the Fumbally Cafe. Here you can indulge in multiple gluten-free and dairy-free cakes. Sometimes vegan treats, such as the "Everything Free Cookie" are offered as well. My recommendation is to try the raspberry upside down cake, so yummy. The Fumbally Cafe started to reduce their sugar use in all their sweet treats by a whopping 15%, which should be music to your ears. All ingredients and influences here may vary, but they will be local and organic whenever possible. Ethical and sustainable sourcing of food is something they feel strongly about. Nothing goes to waste here, they experiment a lot with ferments and make their own drinks. Recently they became self-sufficient in vinegar made from the leftover pulp from juicing.
The Fumbally Cafe, Fumbally Ln, Merchants Quay, Dublin 8

I have been a big fan of The elbowroom for many years but I am absolutely in love with their new concept of Yin & Tonic. Their Specialities include a selection of healthy supercharged lattes, superfood smoothies, medicinal teas, tonics for gut health, delightful treats with no refined sugars. They also serve amazing coffee and cakes. I promise you are going to get the moistest Vegan Carrot Cake (GF) and gluten-free Lemon Drizzle cake you have ever had. They also offer a range of truffles, scones, breakfast bars and muffins.
Most importantly their ethos is to produce homegrown, organic, locally sourced fare where possible. Raw, vegan, gluten, wheat and sugar-free options are available with healthy child-friendly selections.
Their dream for Yin & Tonic is to fashion an inclusive community space where you can chill, gather & create while you boost your vital goodness.
The elbowroom, 32 North Brunswick Street, Stoneybatter, Dublin 7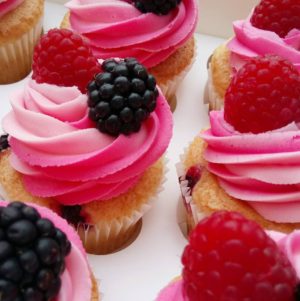 Buttercream Dream is a 100% vegan baking business that operates from a commercial kitchen in Dublin. Their ingredients are all 100% vegan, everything from food colourings to vegan butter! They substitute butter with soy or sunflower spreads and use plant-based milk instead of dairy – usually soy. Eggs are substituted with a variety of things, but primarily oil or flax seeds. They try to use fair-trade and Irish produce as much as possible and cater to special dietary requirements such as gluten-free, nut-free or soy-free on request. You can order their cakes from their Buttercream Dream Facebook page.
The Eathos experience begins when you set foot inside the front door. You will be greeted by a mouth-watering display of delights in their patisserie. Each treat is freshly baked and made early in the morning in their state-of-the-art kitchens. Just have a quick inspection as you walk by at what you'll savour for dessert! Coconut blondie, chocolate and macadamia brownie and dark chocolate and coconut ganache tart, are all gluten-free and that's just to name a few. But the experience doesn't stop here, Eathos is also a great choice for gluten-free breakfasts and lunches. The salad and protein counter is full of vibrant, comforting and wholesome food. Each dish has been thoughtfully made with the right balance of ingredients, flavour and goodness in mind.
Eathos 13a Baggot Street Upper, Dublin 4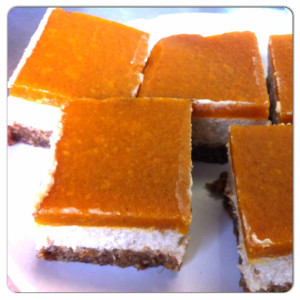 Blazing Salads is a multi-award-winning, family-run, vegetarian, wholefood deli. They offer a wide range of delicious soups, salads, cakes & savouries. All their food is made daily on the premises using only high-quality ingredients. At Blazing Salads, they do their best to serve you healthy food using whole & seasonal ingredients. When it comes to treats they offer delectable vegan options such as Brazil and Orange Protein Balls, Mince Pies and "to die for" Tofu Cheesecake with Pumpkin Topping. With their non-vegan tea brack, they also provide a sugar-free option. Check out their new book, it is packed with fuss-free recipes to cook every day, but with a twist: all the recipes are versatile so you can change them to suit you and your family's tastes, or your store cupboard.
Blazing Salads, 42 Drury Street, Dublin 2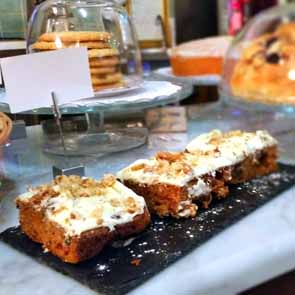 Oolong Flower Power is the largest tea room of its kind in Ireland, with over 250 different types of tea and 40 coffees. A variety of non-dairy milk is available on request. Whether you're getting your caffeine fix on your lunch break or you want to spend an evening relaxing with friends. All their teas and coffees are available for sale! They are constantly adding new and exciting dishes to the menu, including tea infused pizzas, gourmet sandwiches, tea and essential oil infused smoothies. The most exciting part is their cakes, each and every single one is homemade and exquisite (really!) You can choose from lots of gluten free option, such as Lemon Cheesecake, Spanish Orange cake and my all time favourite Carrot Cake. Even though the vegan selection is quite small I definitely recommend trying the vegan and paleo friendly Date, Walnut and Chocolate truffle.
Oolong Flower Power, No 4 Stephens Street Lower, Dublin 2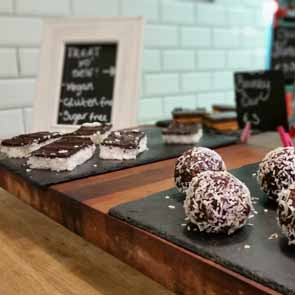 The location in the Yoga Hub might be a bit tricky to find, but trust me it's so worth looking for it. The service is extraordinarily friendly and all dishes are 100% homemade. Besides the extensive vegan selection, you can choose from a wide range of gluten-free and dairy-free products. There is something for everyone they offer vegan breakfast, lunch and dinner, treats, snacks, smoothies, juices. teas and coffees. In my opinion, the taste of their vegan Bounty bar beats the original by far. Every week they have a different raw cake on special. Tip: Don't leave the shop without buying a jar of their homemade Pumpkin Seed Butter, this combined with some banana slices on toast is unbeatable. Besides Sova Vegan Butcher which you can read about on my The 15 Best Restaurants In Dublin To Get A Healthy Lunch list this is the only 100% vegan restaurant in Dublin at the moment.
Happy Food at the YogaHub, 27 Camden Pl, Saint Kevin's, Dublin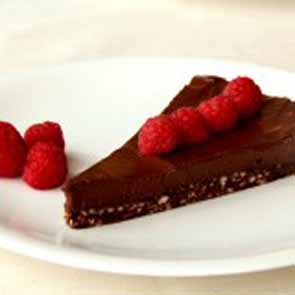 For any vegetarian or vegan living in Dublin, Cornucopia doesn't need an explanation. With Cornucopia having been around for 30 years, they have developed the reputation as the place to go to, when it comes to vegetarian eating. Maybe less known than their heavenly lunches and dinners are their delectable cakes and desserts. Providing the widest selection for people with special dietary requirements you can get all excited about treats such as, coconut and vanilla silken torte, vegan chocolate fudge cake, gluten-free chocolate and hazelnut brownies, mixed berry oat bars, warm apple & raspberry crumble, oat and raisin cookies or the sticky toffee slice with agave caramel. Believe me, if you have never been here, you are missing out. Grab your jacket and off you go, if you see me sitting in my favourite spot at the window come over and say hello.
Cornucopia Restaurant, 19/20 Wicklow Street, Dublin 2
Not living in Dublin but would like to enjoy delicious desserts suitable for your dietary needs? Check out my Special Diets Recipe Section and guide to Eating out on a gluten-free diet.
Your turn
What is your favourite spot for desserts in Dublin? Let me know, I'm looking forward to reading your comments.
For more updates follow me on Facebook, Twitter, Instagram, Pinterest or subscribe to my YouTube channel!