You seriously can't go wrong with a healthy Raspberry Ripple Protein Popsicle. Protein popsicles are a delicious way to have a satisfying treat. For this recipe, I have teamed up with Linwoods who kindly sent me their new vegan Hemp Protein+ with flax seed, chia seed, cocoa and beetroot powder, and a range of vitamins and minerals.
Protein Popsicles are a delicious and fun alternative to the blandness of protein shakes. They double as a sweet treat and the protein helps negate the insulin-spiking effects of the fruit, helping to keep your hunger at bay. They're also perfectly portioned.
Great Pre and Post Workout Snack
The protein in these popsicles helps with muscle recovery which makes them a perfect pre and/or post-workout snack. Eating more protein increases the synthesis of muscle protein, and prevents the breakdown of it as well.
Meanwhile, carbohydrates from sugar or starchy foods help to replenish glycogen in your muscles. That's not a big deal after a short workout, but it can help you recover after a really taxing one.
How to make Raspberry Ripple Protein Popsicles
We have been really lucky with the weather in Ireland this summer which keeps inspiring me to make lots of refreshing treats like my Vegan Mango and Coconut Popsicles, this delicious Avocado Ice Cream or vegan Melon and Lime Sorbet.
You will only need a few ingredients to make Raspberry Ripple Protein Popsicles and feel free to omit or substitute ingredients according to your liking.
Coconut Cream
A few of you have asked me where to get coconut cream and therefore, I decided to include a simple way of showing you how to make it yourself. You can either place a can of full-fat coconut milk in the fridge and only use the solid part on top or you make some yourself with creamed coconut.
Creamed Coconut
Creamed coconut and coconut cream are not the same, coconut cream and milk are made from grating the flesh of a mature coconut and mixing this with water. Less water gives coconut cream and more water gives coconut milk.
Creamed coconut is made from mature coconut flesh which has been ground up, dehydrated and compressed into a block shape. It's then wrapped in plastic and sold in a block. You sometimes see that it has separated a little with the fat gathering at one end. You will find it in every Asian or health food store.
How to make coconut cream
1 part creamed coconut
2½ parts water (100 g creamed coconut + 250 ml of hot water)
Stir until you achieve a smooth texture.
Like it? Pin it!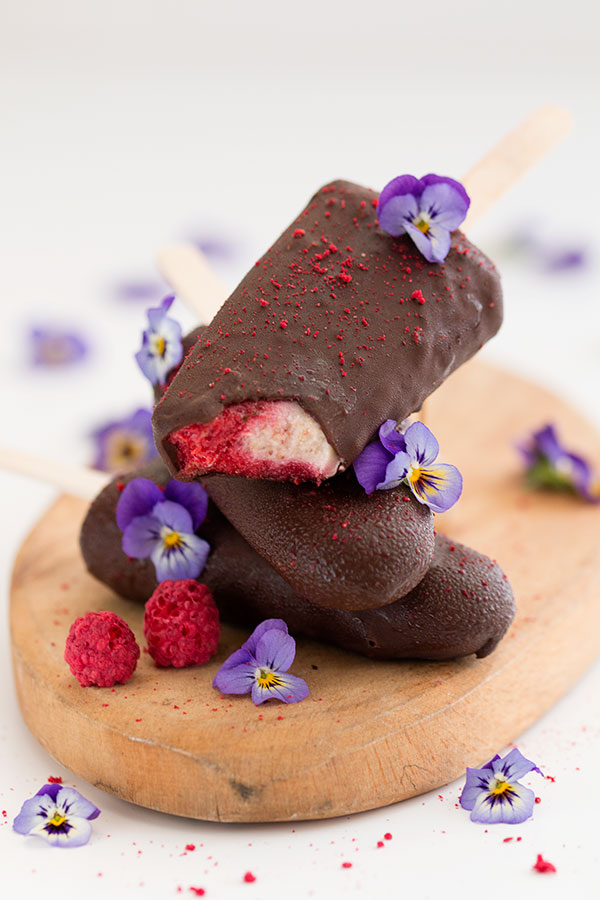 Your turn
What is your favourite summer treat? I'm looking forward to reading your comments.
For more updates follow me on Facebook, Twitter, Instagram, Pinterest or subscribe to my YouTube channel!
Print Recipe
Raspberry Ripple Protein Popsicles
You seriously can't go wrong with a healthy Raspberry Ripple Protein Popsicle. Protein popsicles are a delicious way to have a satisfying treat.
Ingredients
Raspberry Chocolate Magic Shell
10

oz

semi sweet chocolate

dark chocolate without dairy can be used for a vegan magic shell sauce

1/2

cup

coconut oil

melted

5

teaspoons

freeze-dried raspberry powder

can be omitted for a regular chocolate magic shell

1

pinch

salt
Instructions
Raspberry Ripple Core
Add your raspberries and 1 tablespoon of maple syrup to a blender and mix until smooth, set aside.

In a small bowl, combine coconut cream, hemp protein powder, maple syrup and vanilla extract.

Now, fill about 1 1/2 tablespoons of your raspberry sauce into the bottom of each popsicle mould, carefully layer the coconut cream mixture on top, leave a bit of space and add another tablespoon of raspberry sauce to go on top.

Use a popsicle sticks to carefully swirl through the mixture in the mould to achieve a marble effect.

Freeze for at least 3-4 hours or until fully solid.
Raspberry Chocolate Magic Shell
Break your chocolate into small little pieces and put them into a tall, slim, microwave-proof jar.

Add the coconut oil and freeze-dried raspberry powder (can be omitted) and carefully melt it in the microwave. Use short intervals and stir multiple times, of course, you can do it in a bain Marie instead. Don't make it too hot or it might melt your ice cream.

Take your popsicles out of their moulds and dip them into the melted chocolate, the magic shell will harden within seconds.

Optional: Sprinkle with freeze-dried raspberry powder.
Nutrition
Calories:
616
kcal
|
Carbohydrates:
38
g
|
Protein:
5
g
|
Fat:
50
g
|
Saturated Fat:
38
g
|
Cholesterol:
2
mg
|
Sodium:
14
mg
|
Potassium:
465
mg
|
Fiber:
7
g
|
Sugar:
24
g
|
Vitamin A:
35
IU
|
Vitamin C:
9
mg
|
Calcium:
54
mg
|
Iron:
4.3
mg