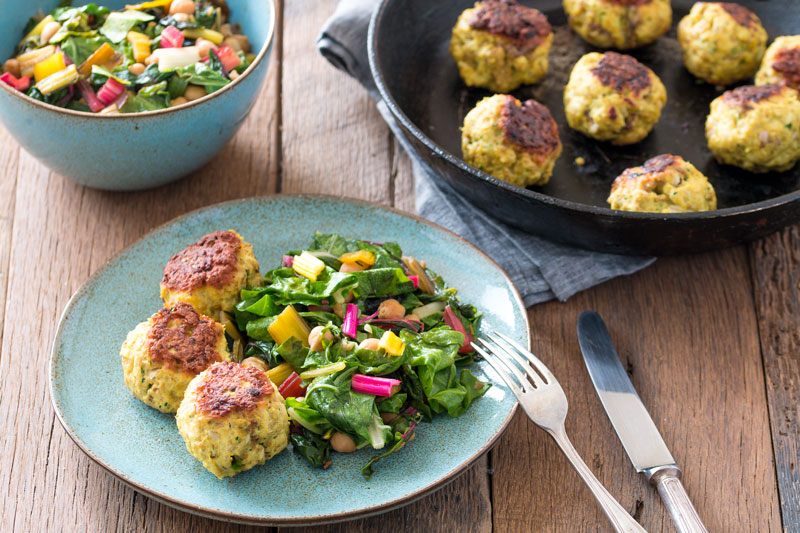 This quick and healthy turkey meatballs recipe has become one of my favourite workout meals. It is high in protein, bursting with flavours and made in just 20 minutes.
I have adapted this recipe from my mom's traditional German Frikadellen recipe but made it more nutritious. The turmeric gives it a vibrant yellow colour and the ginger and fresh coriander add a hint of Asian flavour.
Last Sunday, my friend and I went to the farmers market in Dun Laoghaire and I spotted this beautiful looking rainbow chard. I had admired it many times before but was unsure how to cook rainbow chard.
Needless to say that I was so intrigued by it that I simply picked it up and decided to figure out what to do with it at a later stage. You can use any chard variety, it will work out exactly the same but will be less colourful.
As I had already opted for an Asian flavour in my turkey meatballs I decided to stick with that flavour choice. To give the meal a little more substance and extra protein I added a can of chickpeas but feel free to omit it and serve with a side dish of your choice. If you prefer vegan protein sources check out my Tempeh, Sweet Potato And Butternut Squash Hash Recipe.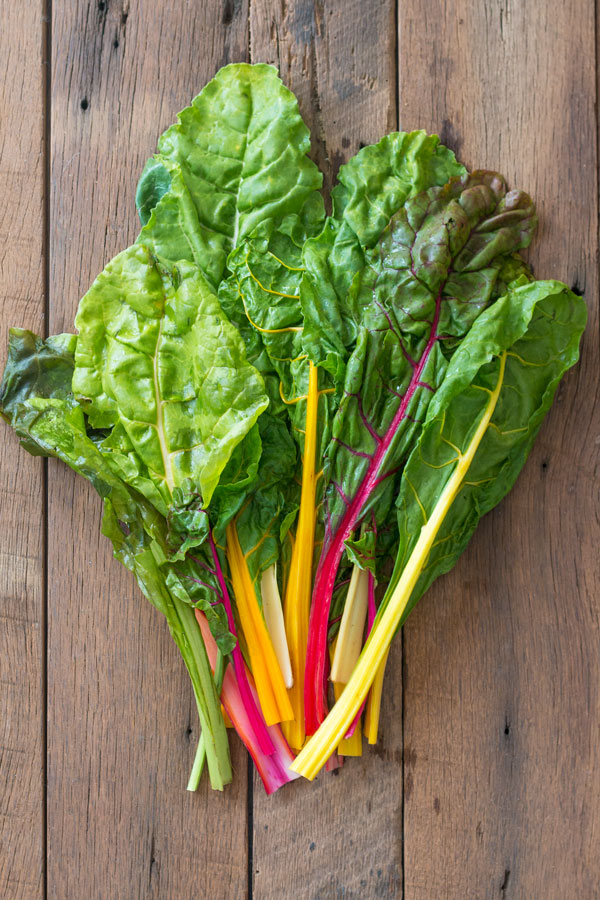 What is Rainbow Chard?
Chard – sometimes called Swiss chard or rainbow chard (when it sports brightly coloured stalks) really is a relative of the beet. But unlike traditional beets which put their energy into producing finger-staining roots, chard instead produces big, tender leaves and crunchy stalks.
'Rainbow Chard' is a mix of other coloured varieties that is often mistaken for a variety unto itself. Chard has shiny, green, ribbed leaves, with petioles that range from white to yellow to red.
How to Buy Rainbow Chard?
Look for rainbow chard with a good mix of the different colours, all of which have bright green leaves and fresh-cut stems. Avoid bunches with yellowing or wilting leaves, or browned stalks.
In the fridge, it will keep for up to a week.
How to cook Rainbow Chard?
It's perfectly suitable for stir-frying or sauteing. The stalks will need to cook longer than the leaves, so, make sure to add them to the pan first. Personally, I give them about 4 minutes before I slowly add a handful of leaves at a time and allow it to wilt before I add the next one.
Once cooked the taste becomes much more subtle and becomes similar to the flavour of spinach.
Keep in mind that the bright pink colour will bleed out a bit and might give other food a slightly pink hue.
Sweet, tangy, and creamy things help temper the mineral edge of all chard. A bit of balsamic vinegar, a squirt of lemon juice, or a bit of crème fraîche or goat cheese are all fabulous with chard.
Like it? Pin it!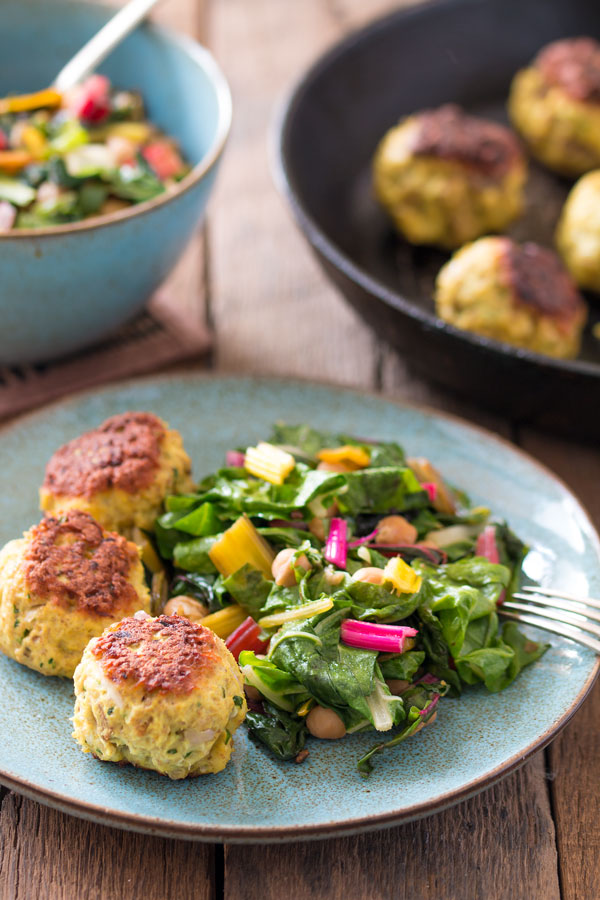 Ground Turkey Nutrition
Since I have been exercising a lot lately I have been struggling to eat enough protein. A couple of years ago I cut down heavily on my meat consumption and unfortunately, dairy doesn't sit well with my tummy. Occasionally, it is okay for me to have a small amount of dairy but I don't like pushing my luck.
Protein is an essential nutrient for maintaining your lean muscle mass, a strong immune system and for allowing vital processes to occur in your body. The protein from ground turkey is "high quality," or complete. This means it provides each of the essential amino acids you need to get from your diet, according to the Harvard School of Public Health.
A 4-oz. serving of raw, fat-free ground turkey has 127 calories, 2.21 grams of fat, 62 milligrams of cholesterol and 27 grams of protein. Vitamins and minerals in this serving include 11 milligrams of niacin, 1 milligram of vitamin B-6 and 257 milligrams of phosphorous.
Healthy Turkey Meatballs
There are many ground turkey recipes available on the internet but most of them seem to be for turkey burgers. My healthy turkey meatballs can easily be turned into burger patties if you simply change the shape from a ball into a patty.
I like making a few more and to snack on the leftover turkey meatballs for the next couple of days. They store well in the fridge and can be enjoyed hot or cold.
They are also a great way to use up any stale bread. I simply soak it in water for a couple of seconds before squeezing out the excess water. It gives the turkey meatballs a fluffier texture and helps to hold them together.
Alternatively, you could bake the turkey meatballs in the oven but I prefer making them in the pan because it is quicker and they develop a nice brown crust.
If you prefer preparing dishes in the oven my Beef And Millet Stuffed Peppers might tickle your fancy.
Your turn
What is your favourite workout meal? Let me know in the comments.
For more updates follow me on Facebook, Twitter, Instagram, Pinterest or subscribe to my YouTube channel!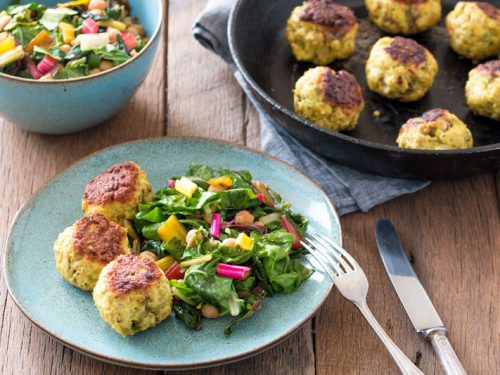 Print Recipe
Healthy Turkey Meatballs with Asian-Style Rainbow Chard
This quick and healthy turkey meatballs recipe has become one of my favourite workout meals. It is high in protein, bursting with flavours and made in just 20 minutes.
Ingredients
Turkey Meatballs
14

ounces

ground turkey

1

egg

organic

1

bread roll

or two slices of stale bread, briefly soaked in water and squeezed dry

1

onion

finely chopped

1

inch

fresh ginger

grated or finely chopped

1

tablespoon

ground turmeric

1

teaspoon

ground coriander

optional

1

teaspoon

sea salt

1/2

teaspoon

black pepper

1

small bunch

fresh coriander

finely chopped

1

teaspoon

coconut oil
Asian-Style Rainbow Chard
1

pound

rainbow chard

or regular Swiss chard

2

cloves

garlic

finely chopped

1

pinch

red pepper

or chilli flakes

14

ounces

chickpeas

canned

2

teaspoons

tamari

or soy sauce

1/2

teaspoon

sesame oil

1

teaspoon

coconut oil
Instructions
Turkey Meatballs
Add all the ingredients except for the coconut oil to a medium-sized mixing bowl and combine well, using a fork. Roll the mixture into about 12 golf ball-sized balls.

Heat the coconut oil in a frying pan and fry the meatballs for about 4 minutes on each side or until fully cooked through. They should turn golden-brown.
Asian-Style Rainbow Chard
Separate the rainbow chard stems from the leaves and chop them into 1/2 inch sized pieces. Roughly chop the leaves and set aside because they cook slower.

Heat the coconut oil in a pan over low-medium heat. Add the garlic and red pepper and cook for about a minute. Make sure that the garlic doesn't burn.

Now add the rainbow chard stems and chickpeas and cook for about 4 minutes. Then slowly add a handful of the rainbow chard leaves at a time until each batch has wilted. Stir occasionally.

Pour in the tamari sauce and sesame oil, give it a stir and cover for a few more minutes until the rainbow chard has softened.
Nutrition
Calories:
514
kcal
|
Carbohydrates:
55
g
|
Protein:
49
g
|
Fat:
11
g
|
Saturated Fat:
4
g
|
Cholesterol:
127
mg
|
Sodium:
1504
mg
|
Potassium:
1497
mg
|
Fiber:
14
g
|
Sugar:
9
g
|
Vitamin A:
9420
IU
|
Vitamin C:
51
mg
|
Calcium:
183
mg
|
Iron:
9.3
mg
Pin this recipe for later!