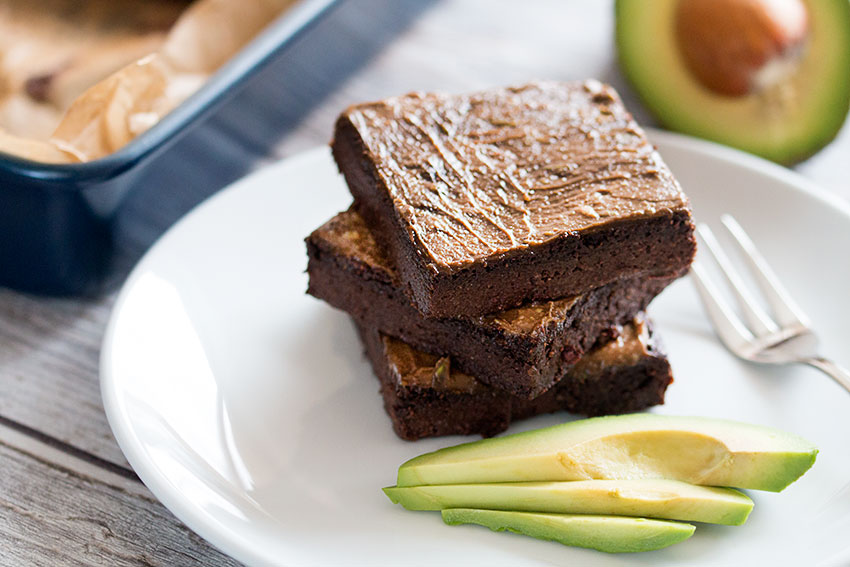 How to make Fudgy Vegan Avocado Brownies
If you like your brownies fudgy this is probably going to become your favourite healthy avocado brownie recipe. At least, that is what happened to me. Don't worry, if you like your avocado brownies a little bit more cake-like just leave them in the oven for a little longer.
Life has been so busy recently that I, unfortunately, had to practice a bit of slow blogging. Did you know that this was an actual thing? Lots of bloggers recently started to write about it but I am not sure it is for me. For the last two weeks, I didn't find time to publish my weekly recipe and it somehow felt like something was missing in my life.
Of course, I didn't stop baking and cooking meantime, therefore, you can be looking forward to some great goodies coming up. They are all up my sleeve, they simply need to be written down.
I thought these Fudgy Vegan Avocado Brownies might be a good comeback just before Valentine's day, you know, this "sweets for my sweets" kind of thing. If you are a bit in a hurry and have no time to bake for your sweetheart check out my Vegan Chocolate Mug Cake Recipe.
In this recipe, I actually experimented with another form of sweetener called xylitol.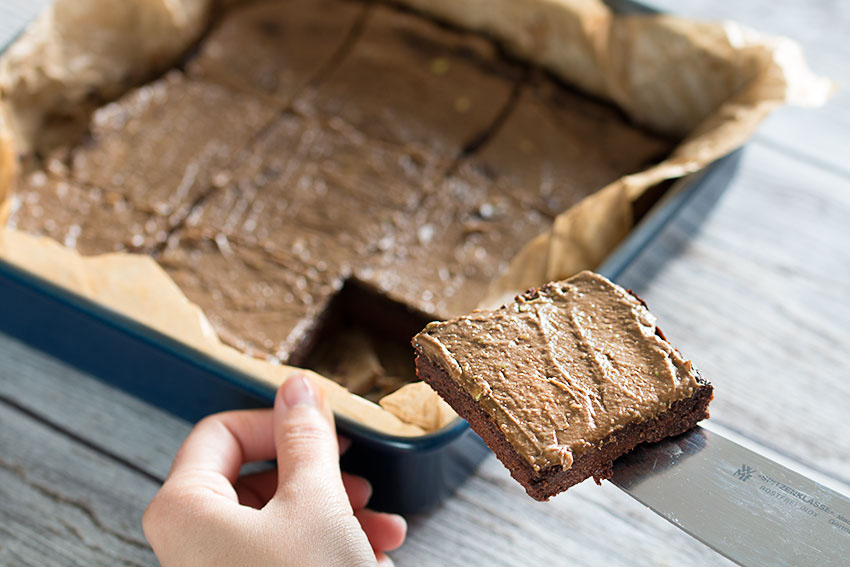 What is Xylitol and how to use it?
Recently I was sent a bag of Total Sweet Xylitol to experiment with and this seemed like the perfect opportunity. For those of you who haven't heard about xylitol yet, xylitol is a naturally occurring substance that is widely used as a sugar substitute. Chemically, it is a sugar alcohol and found naturally in berries, plums, corn, oats, mushrooms, lettuce, trees, and some other fruits.
Xylitol
has 40% fewer calories than sugar
has a GI value of 7
is non-artificial 
actively promotes healthy teeth
has less than half the available carbohydrates of sugar
good quality brands derive xylitol from birch& beech wood
can be substituted for regular sugar 1:1
Some companies derive it from GMO corn which I would strongly advise against using.
It almost sounds too good to be true, doesn't it? But there are three things you should know about it:
It still is a sugar alcohol, therefore, consume it in moderation.
If you consume huge amounts, xylitol may have a mild laxative effect.
Xylitol can cause hypoglycemia in non-primates which can be life threatening. NEVER share your goodies with your pet.
But now, let's get started with these delicious squares of chocolaty avocado goodness.
Like it? Pin it!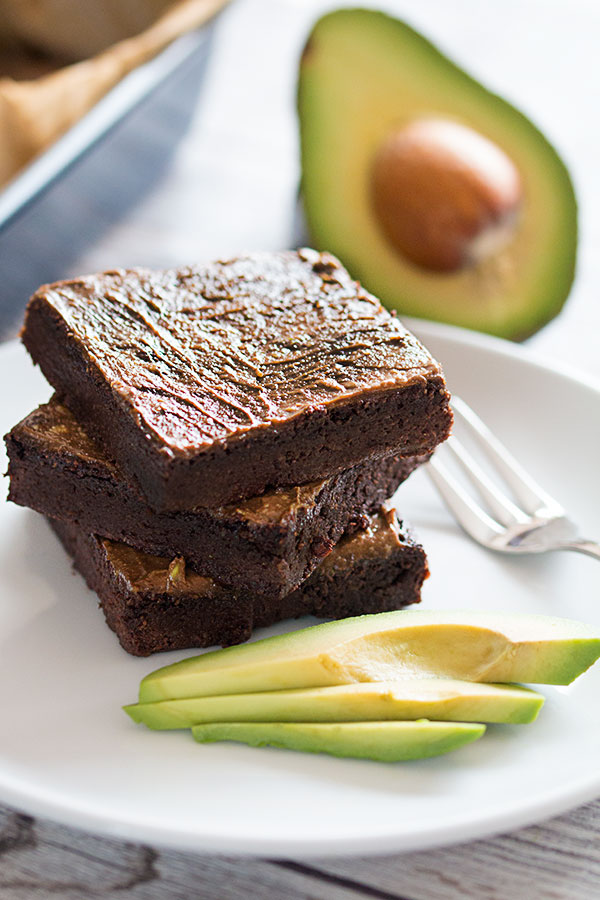 Your turn
How do you like your brownies fudgy or cake-like?  I'm looking forward to reading your comments.
For more updates follow me on Facebook, Twitter, Instagram, Pinterest or subscribe to my YouTube channel!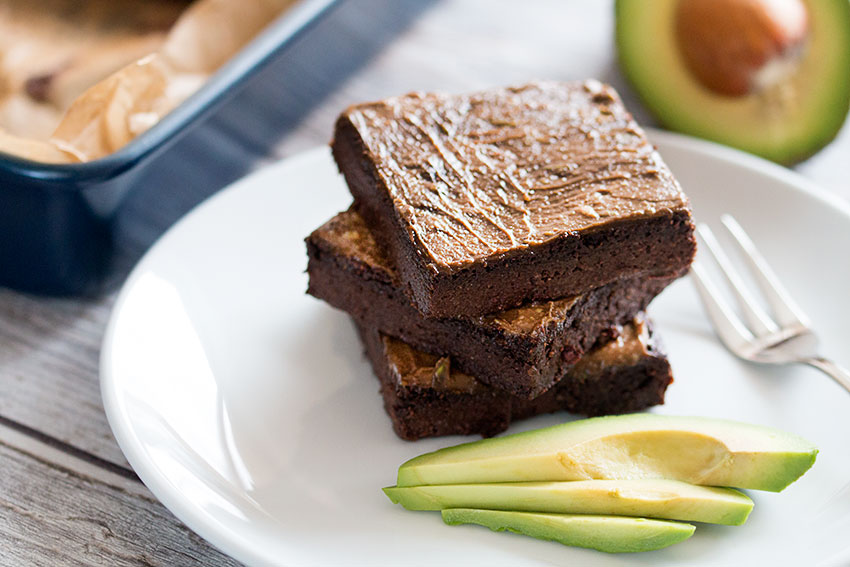 Print Recipe
Fudgy Vegan Avocado Brownies
If you like fudgy brownies this is going to become your favourite vegan avocado brownie recipe. The cashew butter frosting will simply melt in your mouth.
Ingredients
Cashew nut butter frosting
Instructions
Brownie batter
Preheat the oven to 350 °F/180 °C.

In a cup, make 3 "Chia eggs" by mixing the milled chia seeds with water and letting it sit for 5 minutes, it will turn into a goopy, egg-like texture.

Add avocado flesh, unsweetened applesauce, chia eggs and vanilla extract to your blender or food processor and blend until smooth.

Mix in xylitol, coconut flour, unsweetened cocoa powder, sea salt and gluten-free baking powder and mix until well combined.

Line an 8x8 inch baking dish with baking paper and add the batter.

Place in oven to bake for 30 minutes (slightly less for fudgier brownies or slightly longer for more cake-like brownies). You can insert a wooden skewer into the centre to test if the brownies are done, if it comes out mostly clean with only a view dry crumbs sticking to it it's fine. In case there is wet dough clinging to it you want to bake it for approximately another 7-8 minutes.

Let cool completely before adding the frosting.
Cashew nut butter frosting
In a small bowl, make the frosting by mashing the avocado with a fork very well. Stir in the cashew butter and maple syrup and mix again. Add the cacao powder and coconut milk. Mix everything together until it's smooth.

Put the frosting into the fridge to firm up until the brownie has cooled completely.

Spread the frosting on top of the brownies with a spatula, cut the brownie into 9 squares and enjoy.
Nutrition
Calories:
144
kcal
|
Carbohydrates:
16
g
|
Protein:
3
g
|
Fat:
9
g
|
Saturated Fat:
3
g
|
Sodium:
85
mg
|
Potassium:
348
mg
|
Fiber:
7
g
|
Sugar:
3
g
|
Vitamin A:
50
IU
|
Vitamin C:
3.5
mg
|
Calcium:
62
mg
|
Iron:
1.7
mg