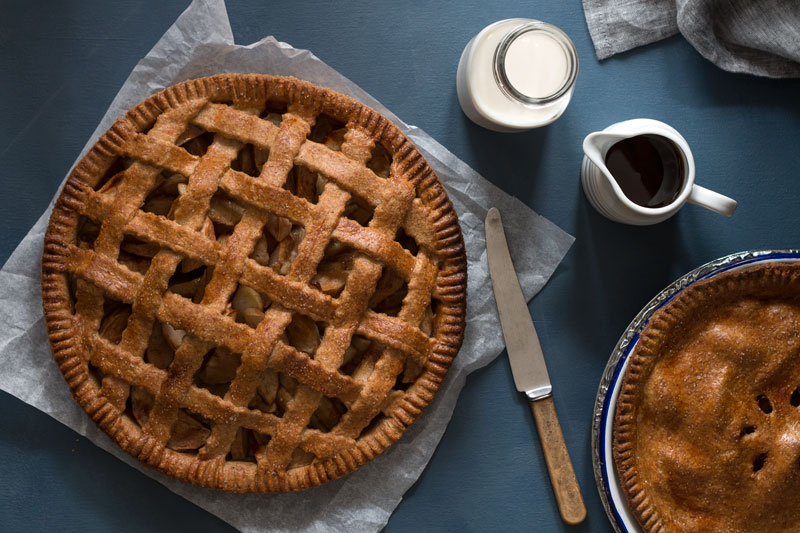 This healthy apple pie recipe is easy to follow and extremely delicious.  By calling it a healthy apple pie I mean healthier than regular apple pie recipes. With only 250 calories per slice, it is much lower in calories and sugar than most pies but it should still only be enjoyed occasionally.
I love apple season and baking apple pies and cakes have always been my favourite. Every year, my granny and I made lots of different pies and jams from the harvest in our garden.
For the last couple of years, I have been trying to recreate healthier versions of her favourite cakes like this Apple Cake With Date Caramel Filling.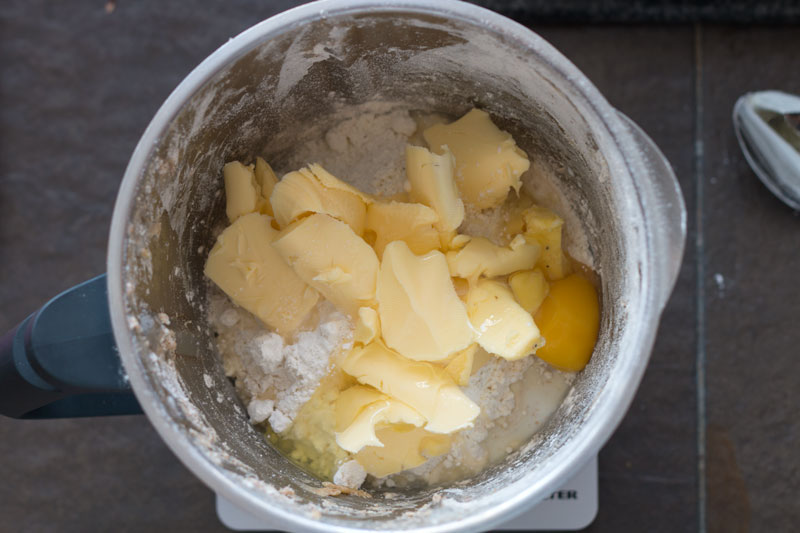 How to make the perfect pie crust
Flour
Most home bakers use all-purpose flour but because this is going to be a healthier pie I opted for spelt flour. I am intolerant to regular wheat but I can tolerate the protein in spelt which is slightly different.
For the crust, I used a mix of wholemeal spelt flour and white spelt flour. The wholemeal spelt flour gives it extra fibre and nutrients and the white spelt flour prevents the dough from becoming too dense.
Fat
This is an all-butter pie crust, which in my opinion can't be beaten. It creates the richest and flakiest crust but there are a couple of tricks to keep in mind when working with butter. Never use low-fat butter or butter substitutes for a pie crust!
Make sure that you are using cold butter. Only handle the dough for as long as needed or it will cause the fat to melt.
Chilling the dough makes the fat solid again so when it bakes it will create a flaky texture. Warm dough will just melt in the oven because the bond between the fat and flour isn't firm.
Don't skip the chilling, I sometimes even freeze the assembled pie for another 10 minutes before putting it into the oven.
Salt
Salt is added to pie crust mainly for flavour.
Liquid
Be sure to always use cold milk or ice water. Using cold water will reduce the chances of the butter melting. You want the fat in as solid of a state as possible for the texture to remain flaky.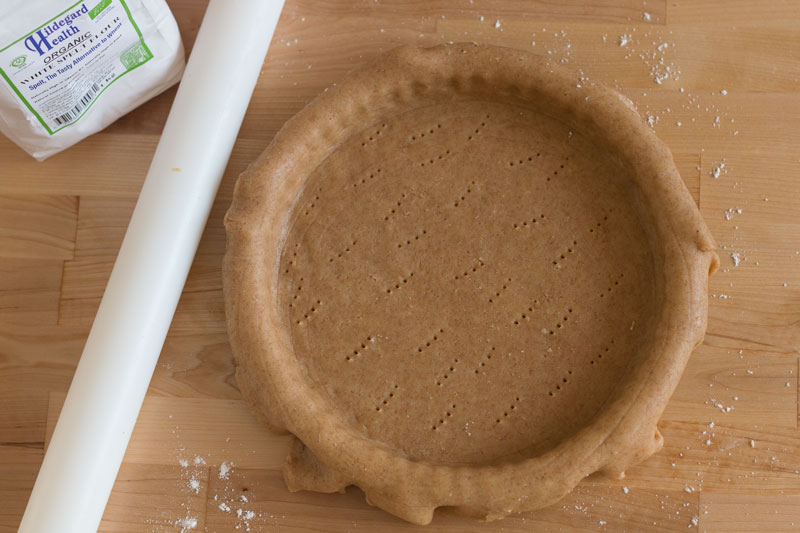 Poking Holes
Poking holes in the rolled-out pie dough allow the steam to escape while it's baking. Without this, the steam would puff up in bubbles and pockets throughout the crust, which would make some parts of the crust cook too quickly and also result in an uneven surface for your filling.
Rolling out the dough
I roll out my dough with a silicone rolling pin on a silicon baking pad or between 2 sheets of clingfilm which makes it easier to transfer it to a greased 9-inch pie dish.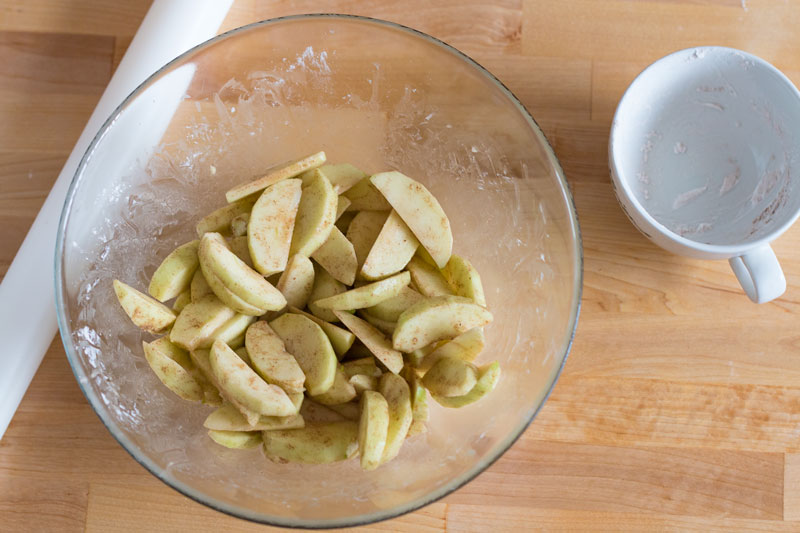 How to make the perfect Apple Pie Filling
Granny Smith apples are my preferred sort of apples because they are a little bit tarter and hold the shape better than most eating apples. Since it's a lunchbox staple, it's available at supermarkets everywhere.
The apples will release juices during the baking process, therefore, I added a little cornstarch to thicken it. First, I mix the spices with the cornstarch and then toss the apples in it until they are evenly coated.
My secret ingredient is Highbank organic apple syrup which is simply made from boiled apples but if you can't source it simply replace it with maple syrup or honey.
Also, I like adding a tiny amount of water to help soften the apples a bit more. You can slice the apples chunky or slightly finer which helps to eliminate air pockets. Make sure to mount them in the middle of the pie because they will cook down.
Latticework
You can either cover the pie with a second crust with some holes to release the steam or with a latticework. If you want to keep it fairly simple, the amount of dough should be sufficient but if you are planning on doing something elaborate you would probably want to double the pie crust recipe.
I use a lattice cutter or fondant ribbon cutter to create the pattern on top.
Finish off the pie with applying an egg white wash mixed with a teaspoon of water and brush it on the lattice to achieve a nice shine and light browning.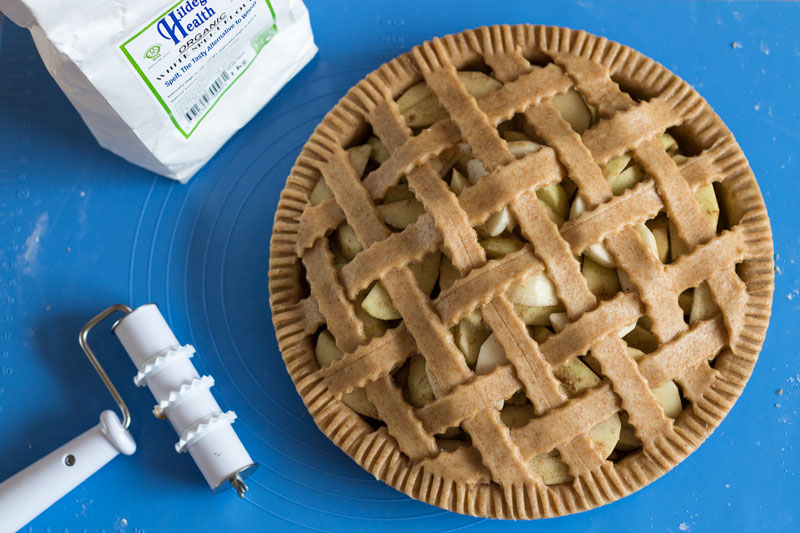 I like serving my healthy apple pie with some homemade Vegan Oatmeal Cookie Ice cream and some additional organic apple syrup.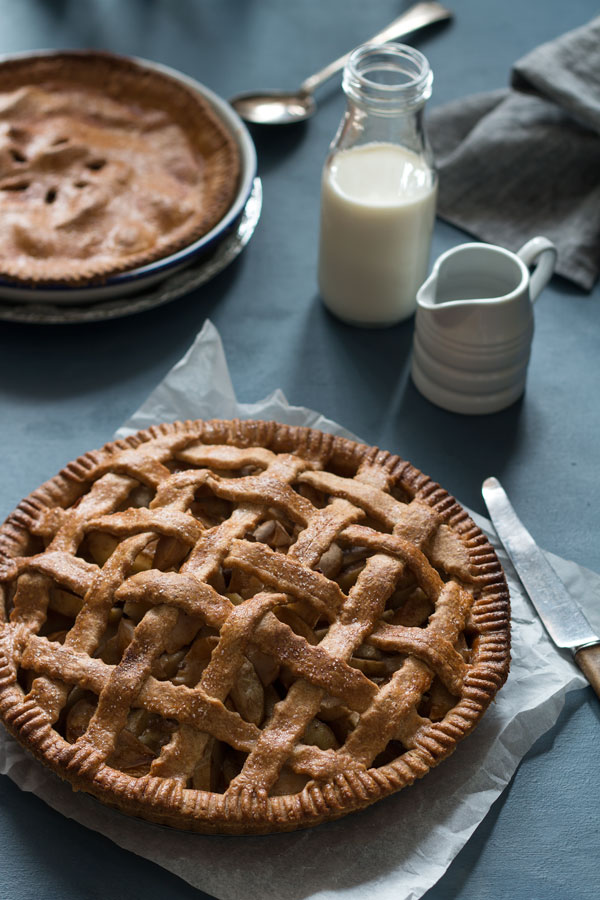 Your turn
What is your favourite way of serving healthy apple pie? What do you serve it with and do you eat it while it's still warm or do you wait until it's fully cooled down?
I'm looking forward to reading your comments.
For more updates follow me on Facebook, Twitter, Instagram, Pinterest or subscribe to my YouTube channel!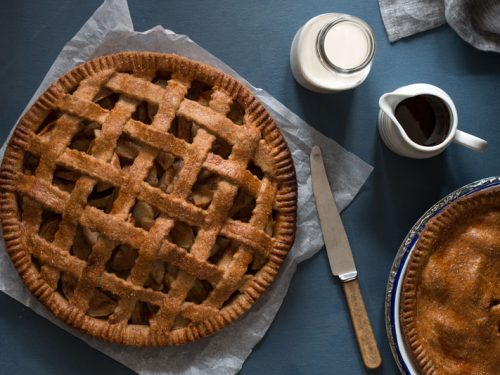 Print Recipe
Best Healthy Apple Pie
This healthy apple pie recipe is easy to follow and produces a delicious, flaky pastry crust & juicy apple filling. It's perfect for any occasions.
Ingredients
Wholemeal Pie Crust
1

cup

wholegrain spelt flour

organic

1

cup

white spelt flour

organic

2/3

cup

butter

cold and cubed

1

teaspoon

salt

1

pinch

brown sugar

fine

1

egg

organic

1

tablespoon

milk

cold or ice water
Egg Wash
1

egg white

1

teaspoon

water
Apple Pie Filling
8

apples

Granny Smith, peeled, cored and sliced

3

tablespoons

cornstarch

2

teaspoons

ground cinnamon

1/4

teaspoon

ground nutmeg

1/2

cup

apple syrup

organic or replace with 3 tablespoons maple syrup

3

tablespoons

water
Instructions
Wholemeal Pie Crust
Add all ingredients into the bowl of a mixer and mix until combined. If you don't have a mixer, heap the flour onto a clean surface and make a well in the centre. Place the butter, salt, sugar and egg into the well.

Using your fingertips, mix these ingredients together. Now, little by little, draw in the flour to work the dough until it has a grainy texture.

Add the milk and incorporate gently with your fingertips until the dough begins to hold together. Knead the dough about 5 times by pushing the dough away from you until it is smooth.

Divide into 2 portions, cover with clingfilm and refrigerate for 20-30 minutes, meantime prepare the filling.

Roll out the first dough on a silicon baking pad or between 2 sheets of clingfilm and transfer to a greased 9-inch pie dish. Poke little holes into the crust using a fork.
Easy Apple Pie Filling
Preheat the oven to 425°F/220°C.

Place the sliced apples into a big bowl and sprinkle with cornstarch, cinnamon and nutmeg. Toss until all the apples are evenly covered.

Pour in the water and organic apple syrup or maple syrup and toss again until the apples are evenly coated.

Transfer the filling on top of the pie dough, and gently but firmly press down to eliminate as much space between the apples as possible.

Roll out the second pastry dough and cover the pie filling with it. You can either cover it completely and cut a few holes into the middle to release the steam or cut it into strips to create a latticework.

Mix together the egg white and water and brush on the pastry dough to achieve a nice shine and light browning.

Bake for 15 minutes, then drop the temperature to 350°F/175°C and bake for another 30-40 minutes.
Notes
If you want to make a truly elaborate latticework double the pie crust recipe for real Insta-worthy results.
Serve with my Vegan Oatmeal Cookie Ice Cream.
Nutrition
Calories:
250
kcal
|
Carbohydrates:
33
g
|
Protein:
3
g
|
Fat:
11
g
|
Saturated Fat:
6
g
|
Cholesterol:
40
mg
|
Sodium:
296
mg
|
Potassium:
141
mg
|
Fiber:
5
g
|
Sugar:
12
g
|
Vitamin A:
400
IU
|
Vitamin C:
5.6
mg
|
Calcium:
17
mg
|
Iron:
1.2
mg
Like it? Pin it for later!