Why I had to win a Health and Fitness Blogger Award to get back into Fitness
Most of us know about the importance of exercise or movement in general, yet many of us struggle to commit to exercising regularly, including myself.
Those who have been following me for a while might know that I recently won the Nutramino Health & Fitness Blogger of the Year Award. BUT, what not many of you know is that I felt like an imposter. While my content is all about nutrition and health it was falling quite short on the fitness part.
How could they have possibly picked my blog? A lot of questions started running through my mind.
Of course, I am utterly grateful for winning the award but it gave me a wake-up call, I had to practice what I preach.
While I used to be very active as a teenager and in early adult life things changed dramatically 5 years ago. I started working from home which as awesome as it might be, took away the need for leaving the house on a daily basis. All of a sudden, my life had changed from being quite active to extremely sedentary.
Nowadays, scientists assume that more people die because of a sedentary lifestyle than from smoking cigarettes. Just let this sink in!
Reality vs expectations the mindset-shift
About a year ago, I had become a member of the 1 Escape Health Club in Dublin but hadn't utilised it as much as I should have. I signed up for this particular gym because of their extensive class range and wellness/ sauna area. They are part of Iconic Health Clubs which you get to use as well as a member.
The sauna was a big selling point for me because I used to go regularly in Germany. It is great for relaxation and detoxification, even though I find it weird having to wear swimwear in a sauna but that is a different topic, haha.
While I had the best intentions to exercise regularly, reality hit me after attending a few classes. I was physically too unfit to finish most of them. Usually, I hid in a corner so people wouldn't see how little weight I was putting onto my bar or that I would feel nauseous halfway through a class. Not that anybody cared or probably even noticed, yet most of us know this little voice in our head telling us that we aren't good enough.
And there were my self-sabotaging beliefs: I am not good enough, I can't do it, I will never get to the level of the other members. Guess what, they all started at some stage as well and I am pretty sure that most of them will remember that and not judge you. Actually, most people are pretty helpful and nice if you let them.
Naively I had expected to be able to pick up where I had left off many years ago. In the beginning, I felt under pressure to deliver because I didn't look unfit and I am living an otherwise so healthy lifestyle. What would the other people think of me?
With this mindset, I knew that I wasn't going to keep it up because my expectations towards myself were too high. Only when I started comparing myself to my most recent performance instead of comparing myself to others I started feeling a little proud of the small progress I made.
Don't compare yourself to others! Compare yourself to the person from yesterday!
How I got back to exercising regularly
In March, I decided to take baby steps and began attending yoga classes once or twice a week. The yoga classes were very enjoyable and I could see improvements in my posture and flexibility but they weren't doing much for my fitness level. So I started attending a Pilates class once a week as well. Pilates was more exhausting than yoga and I could really feel my core muscles afterwards.
After winning the Health and Fitness Award I began adding Body Pump classes to the mix. At first, I was barely able to move for 5 days but I managed to stick with it because the exercises are more static. This is where it started to get interesting, after just 4 weeks I saw big improvements in my strength and endurance and my hunger for more was awakened.
It's most important to find some form of exercise that you find enjoyable and to turn it into a habit. If you have an accountability partner joining you or you become a member of a group, even better.
Initially, I scheduled every training in my calendar and was vigilant about letting nothing get in its way. It didn't matter if I felt in the mood that day or not, I just went with it. About three weeks later it had become a habit and I didn't even have to think about it anymore. Most surprisingly, I even started looking forward to the classes.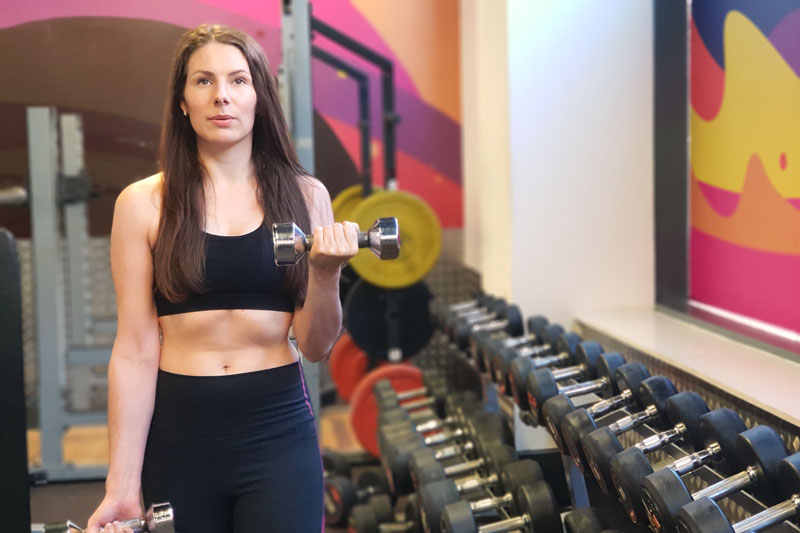 My 8-Week Transformation Challenge
This time I wanted to do it right and I wanted to show you that if I can do it that you can do it too.
I got in touch with Barry Walsh from the 1 Escape Health Club and we decided to team up for an 8-week transformation challenge. Admittingly, I am very impressed by their Personal Trainers, besides being always friendly and helpful, they are also highly qualified.
The weight section of a gym has always been quite intimidating to me, therefore it was a no-brainer to get someone qualified to show me how to exercise properly. Not only do I want to get the most out of this 8-week program but I also want to minimise the risk of injury. Plus, having someone cheering you on and keeping you accountable gives you that little extra motivation.
Martin Stoynov got assigned as my personal trainer and we kicked off the program with a health check. This included a consultation about my goals, which are becoming fitter and more toned and a body composition analyses. I am not intending to change my diet except for adding a little more protein, check out my recent article about The Importance Of Workout Nutrition: What To Eat And When.
I will be sharing videos of my training routines on @thehealthytart 's Instagram stories and IGTV. If you are confident in your training skills just follow along or get help from a personal trainer.
We will focus on resistance training but I'll also explore their new Aqua Pump, Aqua Jump and Aqua Combat classes.
In 8 weeks I will share a full training routine breakdown including before and after pictures.
One Escape Health Club has generously offered to give you a 50% discount on their signup fees if you quote #thehealthytart (I am not affiliated and I won't receive anything whether you sign up or not). I only ever recommend products and services that I use and love.
If you are still not convinced to integrate exercise in your life here are some …
Benefits of Excercise
Exercise increases energy and fights fatigue

Any increase in physical activity or exercise level can help you feel more energetic. Try increasing exercise level for a week and see if you feel more energy.

Exercise improves immunity

Exercise can boost the immune system, which helps fight off minor infections and illnesses. A regular routine of exercise helps the body stay healthy and avoid illness. Another benefit is less money spent on doctor visits, prescriptions and remedies.

Exercise can reduce inflammation

It seems that regular moderate exercise can reduce inflammatory markers. Intense exercise, on the other hand, may raise inflammation markers during recovery, and
may even become chronic unless sufficient rest is factored into training programmes.

Exercise reduces stress

Just as the body responds to certain cues and situations with a stress response, it can also respond to relaxation. Regular meditation can aid most health concerns that are caused or worsened by chronic stress. This includes conditions like high blood pressure, anxiety disorders, insomnia, gastrointestinal disorders and even fibromyalgia.

Exercise improves mood

Exercise can boost mood and balance emotions. When you exercise, the body releases endorphins, adrenaline, serotonin and dopamine.

Exercise slows brain ageing and cognitive decline

Exercise seems to slow brain ageing. Studies show that routine exercise can help prevent age-related dementia and other cognitive problem.

Morning exercise improves sleep

Exercise can improve the quality of your sleep. Researchers have found that morning exercise is best for improving sleep quality.

Exercise is essential for strong bones

Bones need exercise, as well as good nutrition, to be as strong as they can. Weight-bearing exercises increase bone mass and density, especially while young and up to mid-life and menopause. Exercise helps prevent osteoporosis (and its precursor, osteopenia) from developing. In later life, it helps maintain existing bone density and strength to prevent the fragility and brittleness
that can easily lead to a fracture after even a minor fall. Maintaining muscle mass as we age is also very important.

Exercise to Improve Balance

Exercise and movement routines (e.g. yoga, T'ai Chi) are the best way to improve confidence and balance. They help to prevent falls, injuries and
osteoporosis-related fractures. You can do your routines at home as it will also help greatly.
Your turn
If you would like to join me in my transformation challenge I would love to hear about it. Please comment with your story or tag The Healthy Tart on social media.
For more updates follow me on Facebook, Twitter, Instagram, Pinterest or subscribe to my YouTube channel!
Pin it for later!